Another installment on my mixed orders from
Global Beer Exchange
. Friday night, after dinner of the
14th January 2011
, my 2 older sons and I tried out some...
Southern Tier Brewing Company Jahva Imperial Coffee Stout
- Again, this is a rich, luscious, powerful, mouth-filling stout displaying roasted coffee beans, bit of semi-sweet cocoa, just a hint of vanilla bean and moderate roasted malt. This less sweet than and not as dense or heavy as the Crème Brûlée and Mokah Imperial Stouts. Not as broad on the attack as well, but it expands nicely mid-mouth. It is evidently more focused and neater than the mentioned two. Of the three, my sons and I like the Jahva the most, though we did enjoy all of them. This is most definitely a repeat buy for me.
The afternoon of
Saturday the 15th
, before a dinner for Sandy at Tonji & Sylvia's, my eldest and I split a bottle of the
Southern Tier Mokah Imperial Stout
- which I wrote about a few days ago. Actually, I had around a third of the 650ml bottle, the eldest had the rest.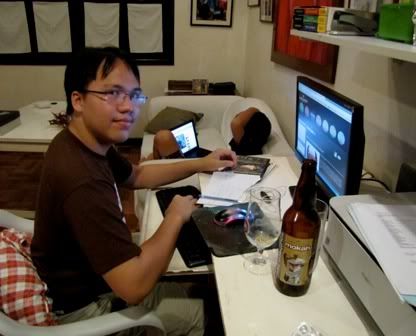 Very nice and it mellowed me out nicely. The second opted for a
Rogue Juniper Pale Ale
which he slugged down while watching tv in the playroom.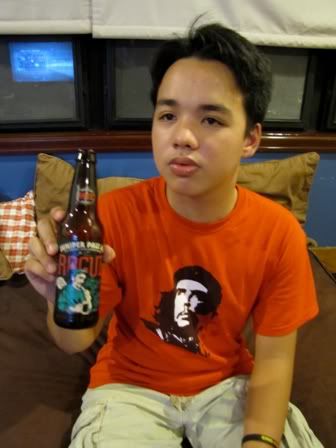 They then decided to order some burgers and called in a couple from Brothers Burger. I mentioned that I liked having the
Rogue Juniper Pale Ale
with the burger at Elbert's Steak Room, so my eldest tried out the pairing after finishing the Mokah.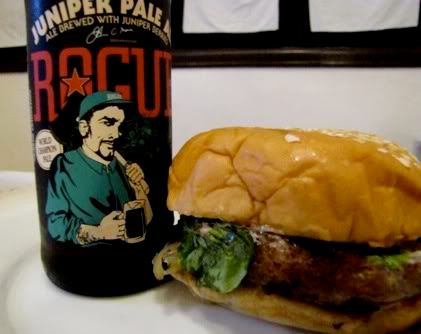 When I asked him what he thought of the two together, he said he enjoyed the pairing since the dry ale cut the fatty burger's richness and cleansed the palate between bites.
Sunday lunch of the 16th
was at our place instead of my in-laws'. Catha prepared and cooked the usual
USDA Prime Grade Rib-Eyes
instead of I - her first try at it. Pretty good effort, I must say - the steaks were nicely rare-to-medium-rare. Before that, however, we started off with some
Fresh Strawberry Salad
(sorry, I forgot to take a photo of it) and...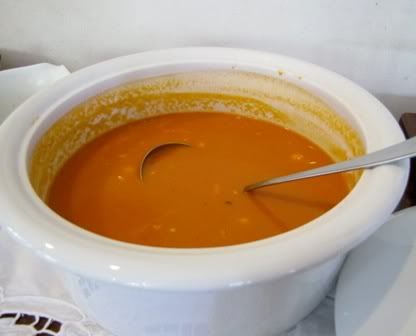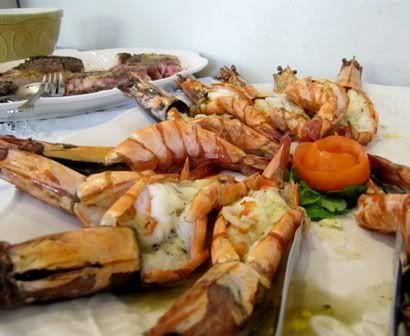 There were
Baked Prawns
...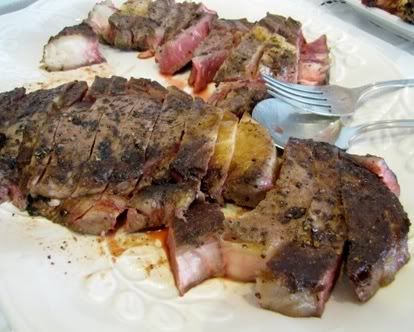 ...as well as the mentioned steaks.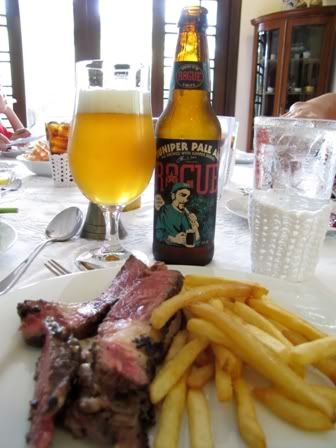 Rogue Juniper Pale Ale
- As I remember it from Elbert's: notably fresh and dry, it shows, as its name indicates, notes of juniper berries, as well as very mild citrus in its moderate malt and hops. Very nice with a Sunday steak lunch. My father-in-law, who doesn't really drink any beer, took a small taste and obviously liked it since he asked for some to take home with him.
After desserts of
Chocolate Ice-Box Cake
,
Brazo de Mercedes
and
Fresh Strawberries & Cream
, I popped open another
Javah Imperial Stout
and shared a bit with my niece and eldest.
Jimmyton wasn't kidding. This put me to sleep the same way as Chimay Grande Réserve does. I don't take naps unless I'm sick. Well, I'm not sick, but fell asleep shortly after while watching Avatar in my room with my youngest. It made for a beery nice day.