Feeling a bit relieved and quite tired today due to lack of sleep and concern over my dad's health. Hoping things continue looking up. I hate the wait, but nothing can be done about that. Blogging about recent happy occasions that I've not previously posted on will, hopefully, keep my mind off things for a while.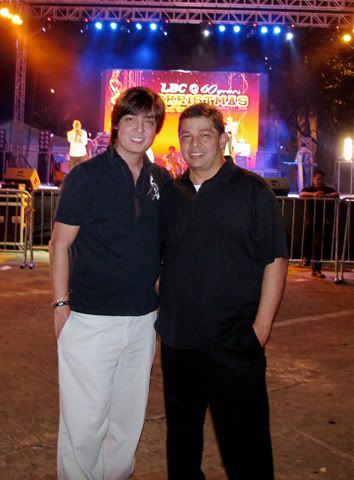 As legal consultant/general counsel of LBC Express, Inc., I attended their 2010 Christmas party which doubled as the culminating bash of LBC's 60th anniversary. It was a huge event held at the CCP grounds. Around 3500 were in attendance. I've been doing work with Santi's family-owned company for only a few months and getting up to speed was challenging; but the fact that I have good friends/regular drinking buddies in LBC has made it fun as well.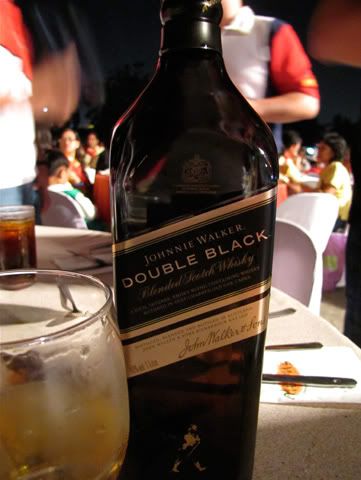 Rene's large bottle of Johnny Walker Double Black got me lacquered up pretty quickly...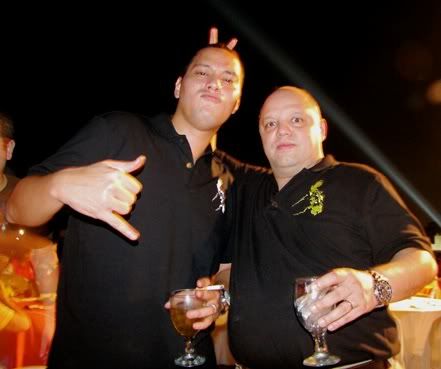 ...and surely I wasn't the only one.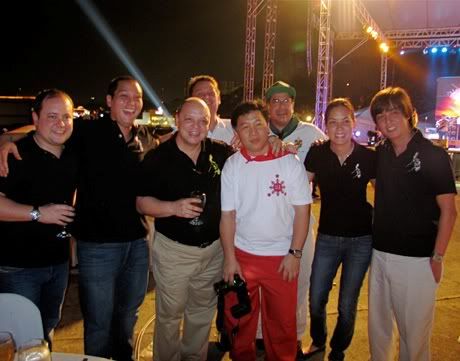 Food, beer, wine, rum, scotch and camaraderie were overflowing.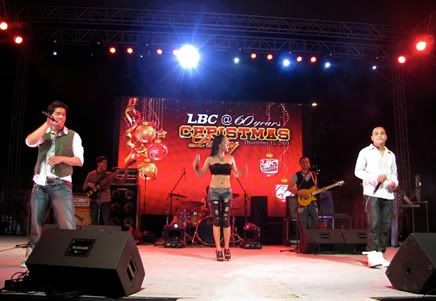 The succession of bands...
...and dance groups certainly didn't hurt...
...nor did a rare appearance by Tito Linggoy...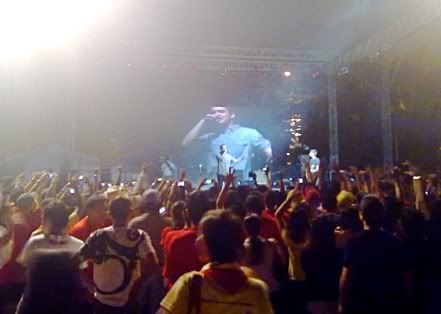 ...or a thunderous performance by Bamboo, for that matter.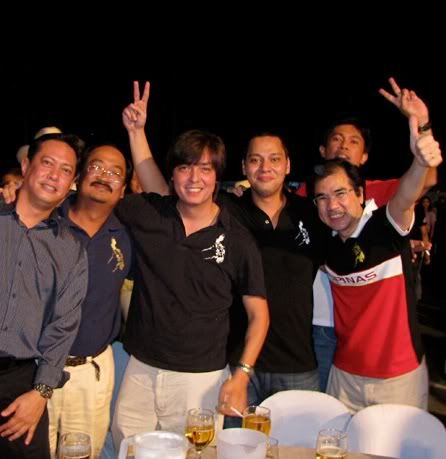 Great fun indeed. I got slightly hammered and sleepy, so had to stop drinking over an hour before heading home.
My firm's Christmas lunch at Café Ysabel was quite a bit smaller and relatively sedate in comparison, but also fun. Gene Gonzalez laid out a huge spread for us, but I, of course, focused on the...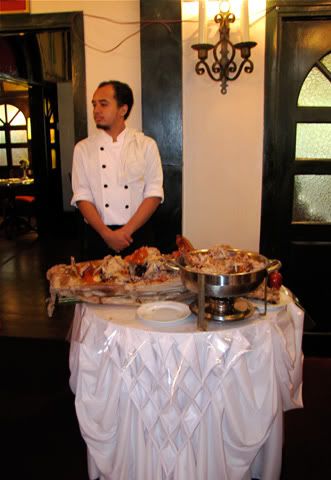 ...Lechon and...
...Gene's patented, heart-stoppingly sinful Menudo Sulipeño.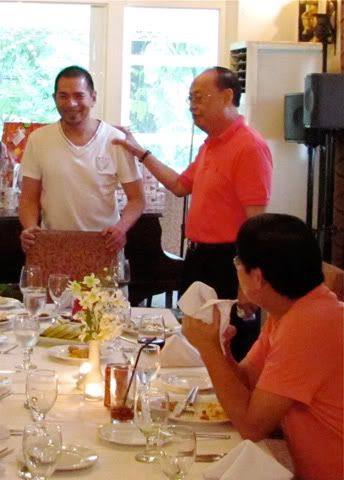 Gene & my Dad.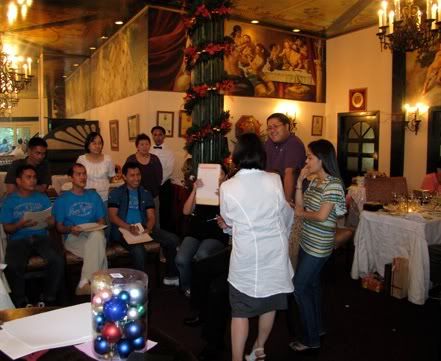 Catha took charge of all the games...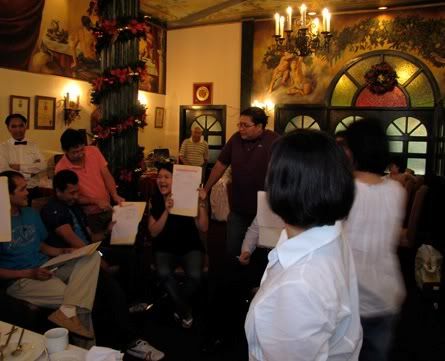 ...with the help of the partners, of course.
I also got to attend Toñico's birthday party at his brother's place, but I joined later in the evening for drinks and pica-picas. His sister brought in some delicious
jamón Ibérico calidad bellota
,
chorizo
,
vela de lomo
, etc. from Madrid, which I greatly enjoyed with some glasses of...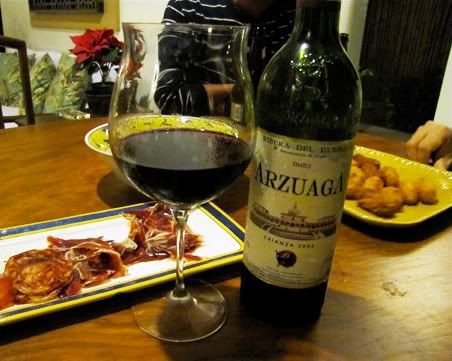 2006 Tinto Arzuaga Crianza (Ribera del Duero)
- Densely concentrated, highly extracted black cherry, kirsch, cassis, espresso, underlying leather and a good deal of toasty oak notes (bit of unsweetened chocolate and licorice). Notes of torrefaction as well. Full, challenging, robust. I detect American oak, which is hardly surprising.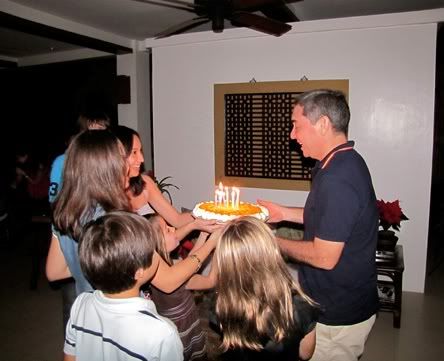 The birthday boy receives his cake from the children.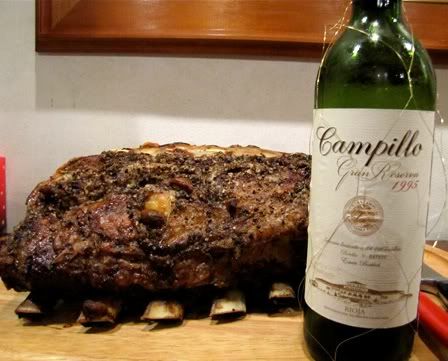 The above was a large slab of roast beef with which I opened a bottle of
1995 Bodegas Campillo Rioja Gran Reserva
at home. We were supposed to have it at my dad's place for our usual January 1st dinner, but he was hospitalized that morning. Of course, the dinner was cancelled, so Tad, Chako, Catha and I just had it for a very late dinner that night after leaving Reena at the hospital for the night watch. Get well soon, dad.