After work in the late afternoon, Thursday, the 6th January 2011, I headed for Masetto for
Premium Wine Exchange
's (PWX) tasting of its first batch of
Domaine Huët l'Échansonne*
. The Stockbroker, part-owner of both PWX and Masseto, organized and hosted this small, by-invitation event.
*
"échansonne" means a "cupbearer" - particularly, a female cupbearer as denoted by the extra "ne" suffix. "Échanson/ne" was the title/position of a person who serves drinks to a king or another high ranking member of the royal family or court.
I arrived a bit early (around 5:35pm) and chanced upon the Stockbroker preparing for his little lecture...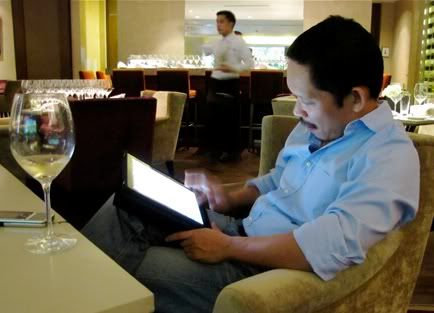 ...so I sat with him and, not having had lunch, ordered for a couple of pica-picas for me to munch on with a glass of
2009 Huët Vouvray Le Haut-Lieu
(more on that wine later). Not wanting to bother the Stockbroker, I stepped out for a smoke and was joined shortly by J-Lab, Richard Joye (a wine-loving, recently Manila-based Swiss-French investment banker) and David Ong of CAV. By a little past 6pm, the group was complete and, thus, the tasting began.
The lecture was very concise, the Stockbroker focusing on the basics of the mainly
chenin blanc
-based wines of Vouvray (east of Tours in the central Loire region) and Domaine Huët. Having spent a week in the Loire (including, among others, the tiny, limestone-based town of Vouvray with Catha, Walden and Berck back in July 2006) where I drank several of Huët wines (they were on the
carte du vin
of most every single restaurant I went to in the Loire - and I went to many), I could take photos, concentrate on the wines and chat with friends.
The Inseparables: Sevrine, Felicia & Barbara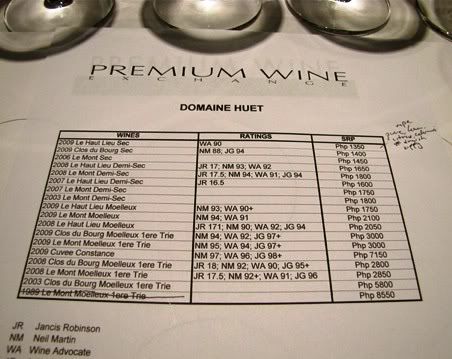 The PWX Huët pricelist, which doubled as my tasting notes card.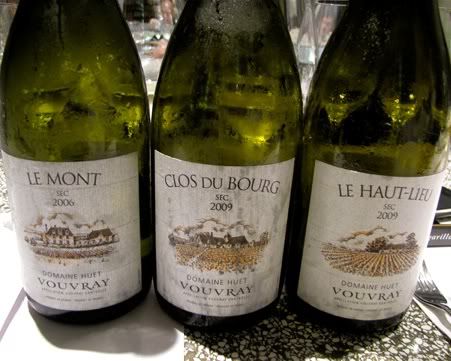 The Stockbroker served the wines in flights from driest to sweetest (sec, demi-sec, moelleux and moelleux premièr trie), with the 3 Secs together as the 1st flight.
2009 Huët Vouvray Le Haut-Lieu Sec
- The comparatively driest, leanest, steeliest and possessed of the most piercing fresh acidity and tense, cold limestone notes of the three. Fruit profiles were zippy, Mexican mango, crunchy green apple, pineapple, with, as Richard noted, white grapefruit and citrus - the latter two coming on strong just past mid-mouth and through to the finish. The citrus, towards the back and through the finish, was reminiscent of calamansi (Philippine lime) juice with a moderate amount of syrup-sweetener. Ramrod backbone and very firm structure in this.
I liked this a lot, extremely fresh, laser-focused, pure, vibrant and mouth-watering - perfect for the Philippine summer. Rather simple now, but will surely gain in complexity as it ages (as could everything we tasted that night). I had my first bottle of Huët's Le Haut-Lieu Sec wine back in July 2006. It was the vintage 2004 which I had with my langoustines appetizer at Les Tuffeaux in Tours. Very crisp and mouth-wateringly dry I recall.
J-Lab and I later on discussed possible pairings with local dishes. I recall kinilaw (our version of ceviche) of tuna, lapu-lapu (i.e., grouper) and small squid being mentioned. The possibility of salmon sashimi came up as well (sans the wasabi and soy sauce I'd think).
2009 Huët Vouvray Clos de Bourg Sec
- There was pretty much a consensus that this was the most favored Sec at this point, with Sevrine, Felicia, Barbara, J-Lab, Richard and myself giving it our nods as such. Notably fleshier, rounder, moderately softer and not as piercing, dry or challenging as the 2009 Le Haut-Lieu. More widely accessible too, I'd wager.
2006 Huët Vouvray Le Mont Sec
- Softer in fruit, heftier, more rounded, seemingly lower in acidity and with vanilla/oak very noticeable (for me at least). Shorter and with seemingly more residual sugar than the previous two wines, this, again, to me, was, comparatively, the least pure and focused of the three (though fairly focused and pure in itself). Pleasant enough in all. I'd never refuse a glass of this, I'll tell you.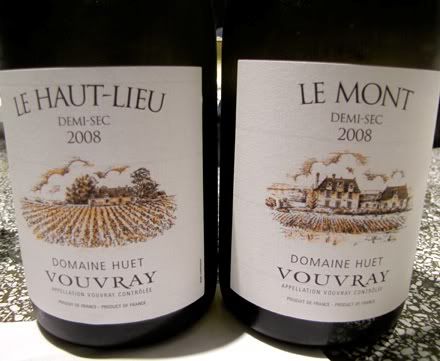 The pair of 2008 Demi-Secs.
2008 Huët Vouvray Le Haut-Lieu Demi-Sec &
2008 Huët Vouvray Le Mont Demi-Sec
Both inherently/naturally weightier, rounder sweetishly riper than the previous 5 wines. Between the two, I found the Le Haut-Lieu Demi-Sec marginally purer and cleaner than the Le Mont Demi-Sec - the latter exhibiting a somewhat prominent toasty-leesy-woody notes. The Le Haut-Lieu Demi-Sec had a whisper of sulfur in it. Richard mentioned he found one of the two was "slightly corked" (which is different from having a sulfur note - sulfur being used to help preserve the wine as it ages, the note of which normally disappears over time). Perhaps we are referring to the same wine?
2007 Huët Vouvray Le Haut-Lieu Demi-Sec &
2007 Huët Vouvray Le Mont Demi-Sec
Both 2007s stood out for me in terms of over-all current enjoyability, and, I recall, for Richard as well. Between the two 2007 demi-secs, I favored the Le Mont for me which I found comparatively/moderately deeper, riper and rounder.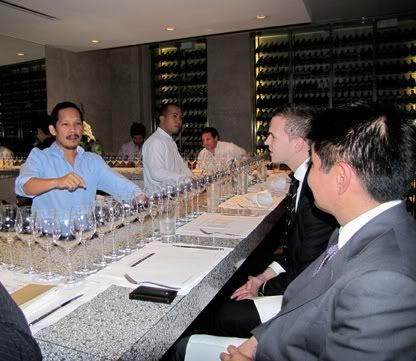 The Stockbroker with the representatives of the Manila Peninsula Hotel.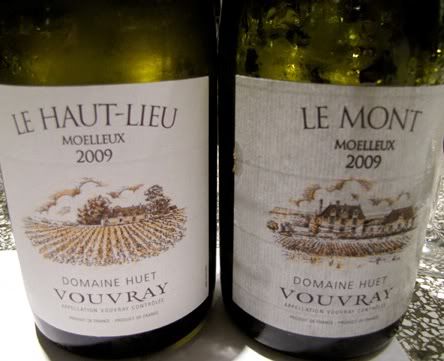 2009 Huët Vouvray Le Haut-Lieu Moelleux &
2009 Huët Vouvray Le Mont Moelleux
Inherently/naturally sweeter, rounder, heftier and, to me, more concentrated and deeper than the previous 7 wines. Between the two, I gave the slight edge to the 2009 Le Haut-Lieu Moelleux, and noted that the 2009 Le Mont exhibited additional nuances of pomelo and slight lychee.
David and Richard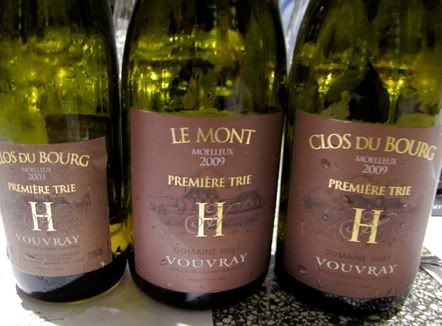 2009 Huët Vouvray Clos du Bourg Moelleux Première Trie,
2009 Huët Vouvray Le Mont Moelleux Première Trie &
2003 Huët Vouvray Clos du Bourg Moelleux
Première Trie
The term "
premièr trie
" indicates that the fruit is from the domaine's best selection. These are slightly botrytised wines, each rich and luscious, but maintaining the hallmark precise Huët acid freshness/balance. Every one of them I would buy, but the 2003 much more for current and vigorous enjoyment. Between the two 2009 Moelleaux Première Tries, I favor the Clos du Bourg for its hedonistic edge (both are hedonistic, by the way) but with a marginally more refined character (that in this tasting, I tended to favor the Clos du Bourg over Le Mont across the different cuvées did not escape me).
Thus ended the tasting. It being rather late (and smack in the middle of CBD rush hour as well), Richard and I decided to have dinner there and did not have any trouble at all convincing J-Lab to join us.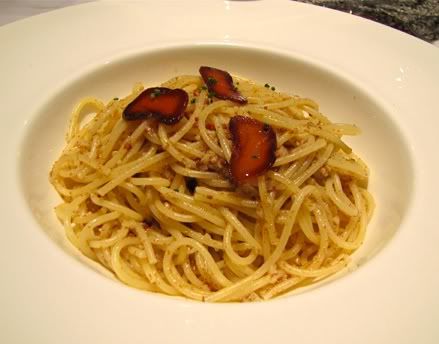 I started off with the
Spaghettini Bottarga
which I enjoyed with more of the 2009 Le Haut-Lieu Sec. I also tried some of the demi-secs as well and both did rather well with the dish in their own ways - the sec to cut and brighten, the demi-secs for a sweetish foil for the pressed fish roe's saltiness.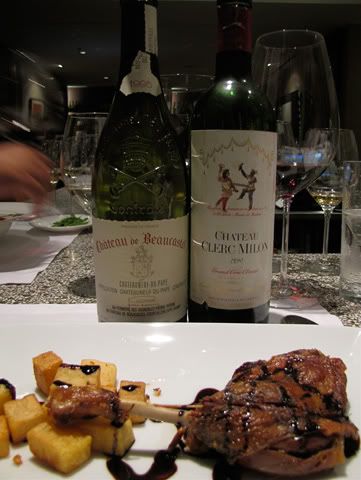 With my main course of
Duck Leg Confit
, we had some
1995 Château de Beaucastel Châteauneuf-du-Pape
and
1990 Château Clerc Milon
, both courtesy of the Stockbroker, as a reward of sorts for all our "hard work".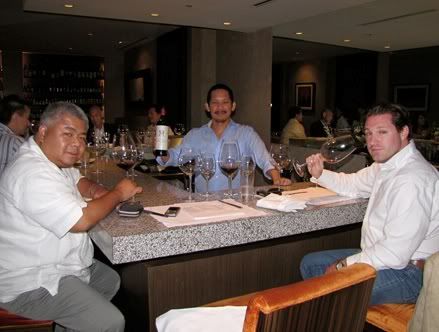 I must admit that I was no longer in note-taking mode at the time and just enjoyed both the wines with my meal. As pairings with the duck leg confit, both did nicely, but, that evening, I preferred the way the 1990 Clerc Milon paired with my meal.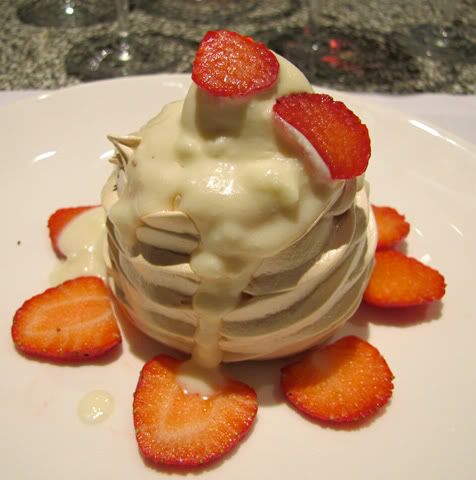 With my dessert of
Strawberry Pavlova
, I had one of the 2009 Moelleux Première Tries, but I cannot recall which one.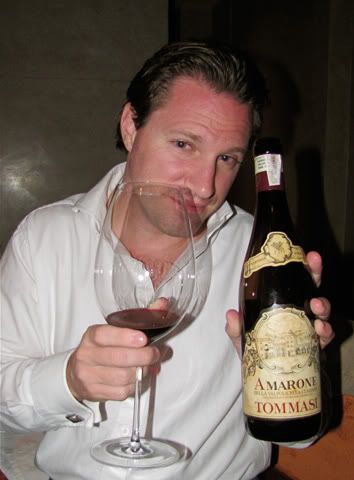 Thereafter, Richard and I ordered and split a bottle of
2006 Tommasi Viticoltori
Amarone della Valpolicella Classico
from the Masseto wine list with a cheese platter. It's been years, probably 3, since I've had an Amarone. Big, soft, rich, concentrated, dense, very extracted, full-bodied with notes of kirsch, sweetly confited cherry and dark berries, dried figs, prune, vanilla, slight muscovado and balsamico reduction. Very nice with the cheeses and grapes, if a bit difficult for me to drink by itself.
I'm certainly very happy that the Huët wines are back in Manila with a vengeance! Many, many thanks to the Stockbroker for the invitation. I'll certainly be getting my fair share of these wines.