I know, it's been a while. An over 2-month backlog of posts has overwhelmed me, so I'll just play catch-up from hereon in - picking and choosing past and current meals to post on. Hopefully, I'll whittle away the backlog somehow....
The last Usual Suspects get-together was a year-end lunch (30 December 2012) at Champêtre during which Marc made us a couple of roast geese (I'll post on that another time). Two months later, upon the Stockholder's call, we reconvened at
Champêtre
for dinner. We were 9 in all, Johnny catching up after dinner for a few glasses of wine.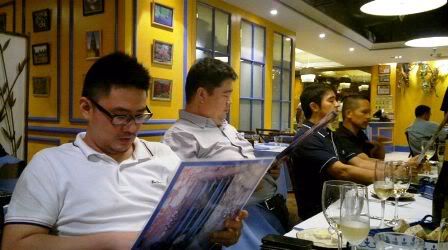 Ordering one's meal is serious business for this group...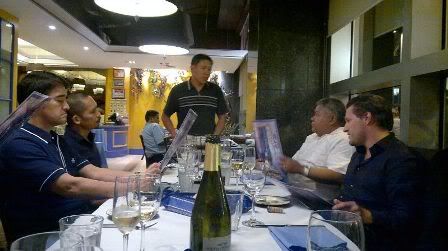 ...but we eventually manage to get it done.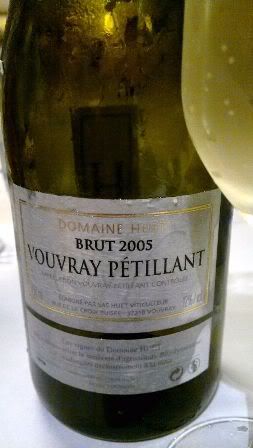 We started off with glasses of bubbly as usual, namely,
2005 Domaine Huet Vouvray Pétillant Cuvée Brut
- from Jojo, 100% chenin blanc. Lively, bright, precise pear, peach and ripe lemon with a faintly creamy, biscuity underlay and whispers of honeysuckle. Not bracing, but nicely zippy. Lovely stuff. PWX brought this in, but it was quickly sold out. I hope they re-stock soon.
There was also a bottle of
2002 Domaine Michel Redde Pouilly-Fumé Cuvée Majorum
from Richard (very apt to have Loire white and pétillant as apéritifs as summer is creeping in). Last I had this was a little over 2 years ago at
the 1st IWFS Wine Fair
. I've always favored this comparatively pricey Pouilly-Fumé ever since I first had it from Jerome Philippon sometime in early 2008, and have had it many times since then - beautiful with chèvre. This is one of the few Pouilly-Fumés that can age well. Unfortunately, I forgot to take a photo of the bottle.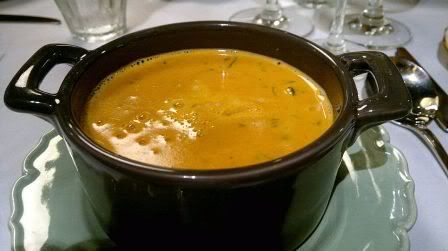 My hearty and delicious
Seafood Bisque
with which the Loire whites did well.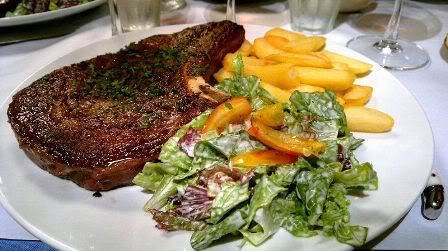 For all the reds, I had the
Dry-Aged US Prime Grade Rib-Eye w/ Frites & Salad
- rare of course.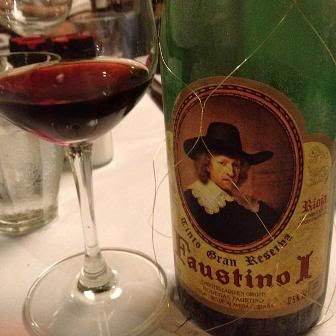 The Stockbroker started the reds off with a bang, his bottle of
1964 Bodegas Faustino Faustino I Gran Reserva
. We've had it many times as Aaron and I import this wine, so I'll just stop at saying that this wine, from a legendary Rioja vintage, by a traditional Riojan producer specializing in gran reservas, has never disappointed.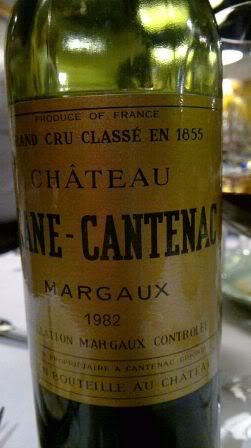 Another special wine, this time from Aaron:
1982 Château Brane-Cantenac
- Deeply-veined, meaty fruit, smoothly muscular, warmly comforting,
very
Margaux with gravelly, cedary cassis, dark plum, violets, loam, hint of tar, underlying Cuban tobacco and ceps. Lovely. Very masculine Margaux. Very nice.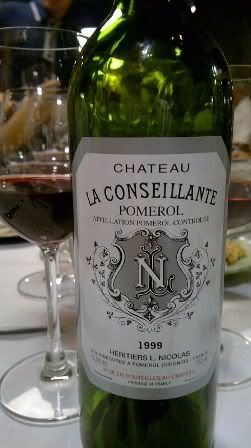 From me:
1999 Château La Conseillante
- I decanted it for a bit, probably 35-40 minutes at most, and served it blind. The closest guess was Richard as a St-Emilion, which was close enough as some plots of this Pomerol estate actually lie within the bounds of St-Emilion, across the street from Cheval Blanc. Its Pomerol neighbors are no less than Pétrus, L'Evangile and Vieux Château Certan. Mostly merlot (around 70-75%) the rest of cabernet franc.
Though, with added time in glass, it fleshed out and showed its Pomerol power and elegance, its vintage did show in that it wasn't as solid as it would be in warmer/drier vintages. Initially a bit clipped per Arnie, but Greg thought the length was good. Marked poise, fair depth, good refinement. I thought it was fine considering its vintage. Medium-bodied, softly/silkily fruited, deep/dark plum, slight tobacco, tar, cedar and violets, good focus and acid balance. Nice enough for the vintage, in my assessment. The middle could stand a bit more presence though.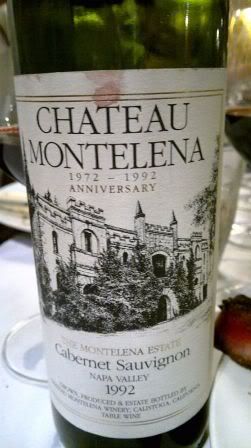 With my nutty, slightly cheesy dry-aged US prime rib-eye, though, my favorite pairing wine was Rene's
1992 Chateau Montelena
- I've had this more than a few times (from the Stockbroker and Rene) and enjoyed it every time. Full-bodied, ripe, mouth-filling, comparatively chewy crème de cassis, licorice, tobacco, tar, hint of charcoal, slightly minty topnote. Never loud, though always hefty, with a strong, confident palate-presence and admirable balance. Loved it with my steak.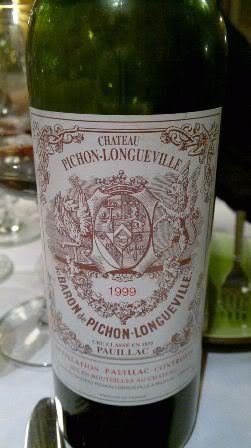 Miguel's
1999 Château Pichon Longueville Baron
, like Aaron's 1982 Brane-Cantenac, was another wine marked with good typicity. It was very Pauillac in its cedar-laced, pencil lead shavings infused cassis, black cherry and violets. A couple of notches over medium-bodied. Refined masculinity. For me, its typicity and over-all balance were what struck me the most; plus, with its good cut, it was my second favorite wine as a pairing for my steak.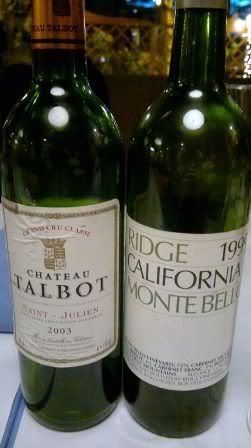 I got to Arnie's
1999 Ridge Monte Bello
after my steak, during the cheese course. Ridge, for me, makes some of the most Bordeaux-esque California cabs. I first tried this vintage '99
back in late July 2009
because J-Lab spoke so highly of it. Approximately 2½ years later, though it did feel a bit softer on my palate, my old notes still ring true (which, to my mind, is a testament to its ageing capabilities):
Because of J-Lab's glowing review of the

'99 Ridge Monte Bello

, I simply had to try it out. Having a dinner to attend in Serendra, I stopped by CAV for some of this wine, chancing upon old friend Felicia there, as well as owners David Ong and chef Marcus Gfeller. I asked for one of their proper, bigger glasses and got a full serving from the wine dispenser.

I found the nose and palate mirrored each other exactly with blackcurrants, mint, demure cedar, mere hints of tobacco leaf and licorice underneath. Wood was quite apparent, but very well-integrated and not at all obtrusive. Very self-possessed character, with precise balance and impressive, minty length. It doesn't shout out like most Cali reds I've tried and it is not at all over-ripe, jammy, syrupy or high in alcohol. I was texting J-Lab while I was sipping, telling him that, if served blind, I think this could probably easily fool me into calling it from Bordeaux.
Unfortunately, Greg's bottle of
2003 Château Talbot
(3rd Growth, St-Julien) was drained by the time I got to it; so, sorry, no notes on that one.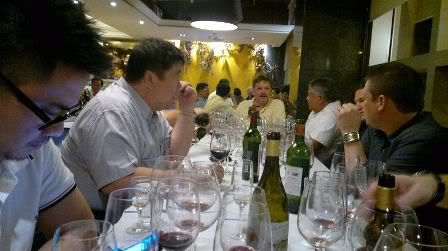 As usual, with Arnie around, a lot of teasing and off-color jokes started flying early on...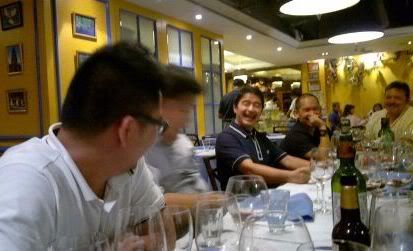 ...resulting in bursts of raucous laughter.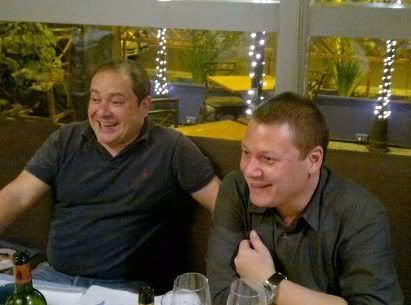 "¡Joder! That's so funny, coño!"
For some reason, I suddenly felt like having a
Chocolate & Grand Marnier Soufflé
for dessert. Though not on the menu, Marc effortlessly whipped one up for me. It was as delicious as it looks. Excellent. Loved it, and I'll definitely have this again next I'm at Champêtre.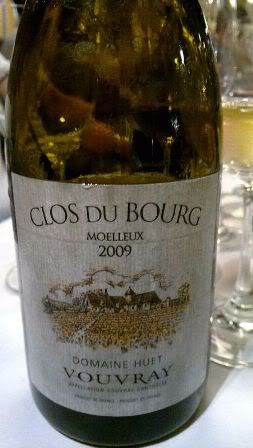 To commemorate Noël Pinguet's recent retirement from Domaine Huet, the Stockbroker (PWX is the Philippine distributor of Domaine Huet) opened a bottle of
2009 Domaine Huet Vouvray Clos du Bourg Molleux
. I've had the 2009s of Huet's Le Haut-Lieu and Le Mont before, but not the Clos du Bourg, so it was a treat to get to try. Nicely honeyed, slightly creamy yellow fruit and a hint of membrillo. Zippy acidity to its plump fruitiness. Sweet, yet palate-cleansing. I could have sipped this all night. Lovely, and will get even lovelier as years pass I'm sure.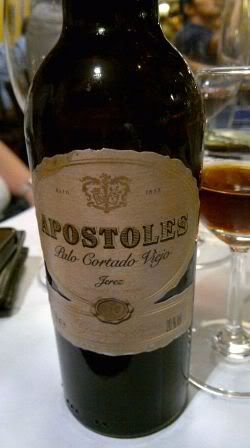 A closing sherry from Arnie was
González Byass Apostoles Palo Cortado Viejo 30 Años
- I remember well the only other time I had this was from J-Lab
during a wine lunch at Elbert's Steak room back in early January 2010
. This had a decidedly more pronounced oxidized note than that first bottle and was not as sweet. It did still show nice rancio, walnuts, slight caramel and apricot though. Good stuff; a nice way to end a meal.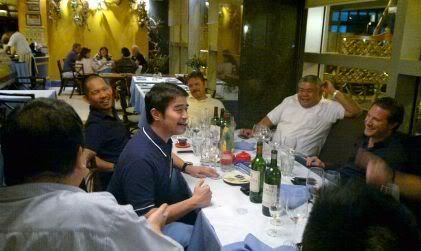 The fun continued as I capped the night off with a double espresso.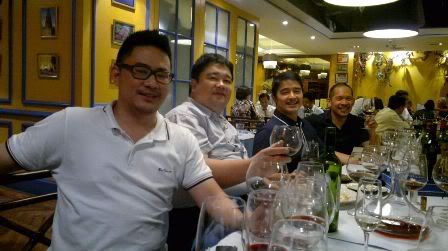 Cheers!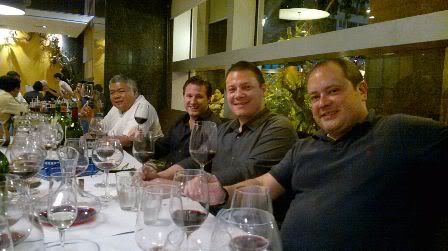 Until the next!