Since fellow WLDG member, Mon Cabrera, will soon return to NYC, J-Lab called for a send-off wine lunch for him. This took place on Thursday, the 7th January 2010 at
Elbert's Steak Room
. We were only 5 in all, namely, J-Lab, Rene, Mon, Miguel & myself.
Rene went for the ordinary Elbert's Double-Patty Burger and J-Lab got the confit de canard, while Mon, Miguel and I had pre-ordered
Elbert's Chef's Burger
. As I understand, the Chef's Burger is made of hand-chopped steak shavings, foie gras and whatever else the chef feels like throwing in at the time - in our case, it was blue cheese.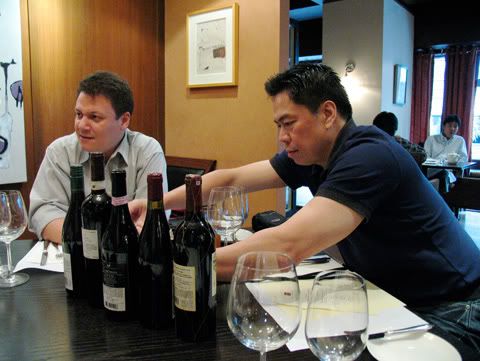 Mon arranges the reds for a photo shoot.
Of course, we had several bottles of reds on deck of which J-Lab decided the order of service....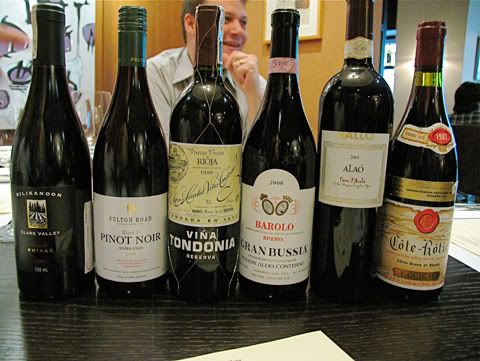 ...and, with our salads...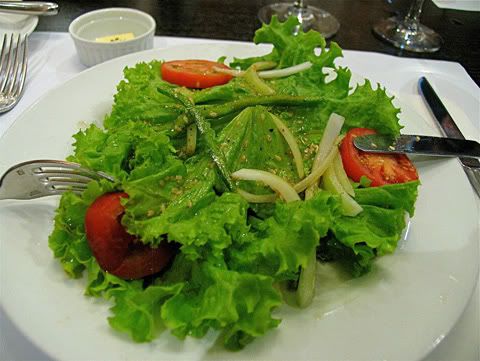 Elbert's Green Salad, though very basic, is very good because they use high quality, fresh ingredients.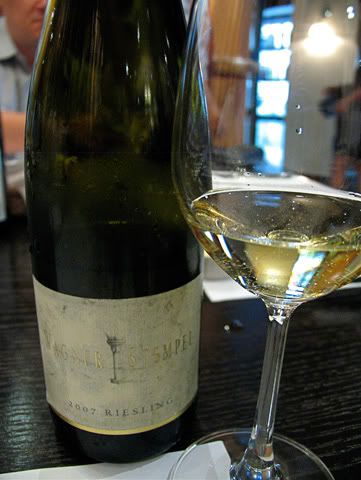 2007 Wagner Stempel Siefersheimer Riesling QbA Trocken Vom Porphyr
-J-Lab's bottle, naturally. Unlike he, I have trockens (i.e., literally, "dry") every once in a while, most always in my dad's house (he pretty much avoids sweet wines of all kinds), and, with the right food (e.g., chili-garlic prawns, chili crab, etc.), I like them fine.
Light, clean, snappy, lightly spritzy, slightly honeyed lemon, bit of green apple and hints of white peach and underlying orange rind; with a crisp acidity, it does a cheerfully bright, fruity little dance on the tongue. It actually went nicely with the crisp salad greens and the sweetish Asian salad dressing.
I imagine the trocken would have gone pretty well with J-Lab's French Onion Soup too.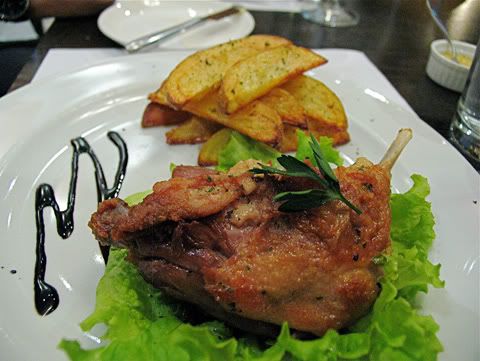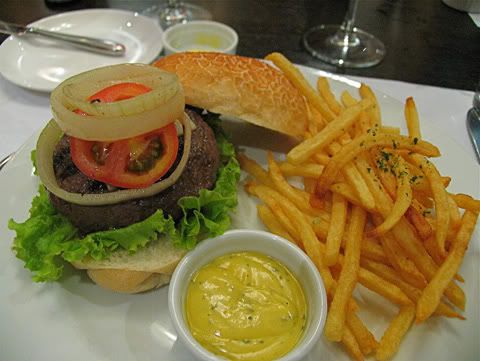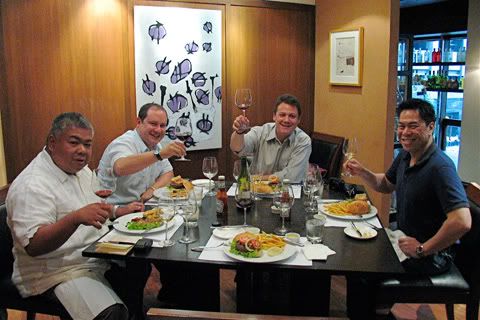 2008 Felton Road Block 3 Pinot Noir
- Rene's bottle. This shows off sweetishly ripe, concentrated, moderately extracted, somewhat smokey cherry, kirsch, raspberry, bit of chocolate, hint of cinnamon on a body probably halfway between medium and full. Very hefty and moderately dense, but not as rich, thick and (at times overly) flamboyant as, say, pinot noirs such as those from Golden Eye (California, by Duckhorn) and Domaine Serene (Oregon) or as well-balanced as those of Tony Soter (Oregon) that I have tried.
Quite pleasant in a straightforward way, it went pretty well with the burger in a rich-on-rich manner.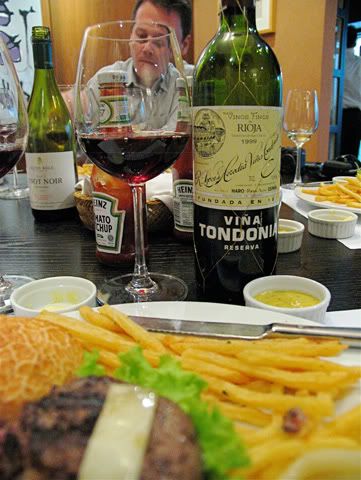 1999 López de Heredia Viña Tondonia Reserva
- My bottle, a gift from Rocky & Apple. No decanting, the bottle was just left open for around 45 minutes to an hour before I got to it. Silken, medium bodied, slightly leathery, confited dark red fruit, pinch of tobacco, whispers of ceps and anise. Notably firm yet approachable in structure. Subtle yet definitive, dignified and elegant. Remarkable balance and harmony in this. This is my type of wine. J-Lab liked it a lot too, and he's not been a big fan of López de Heredia's Viña Tondonia.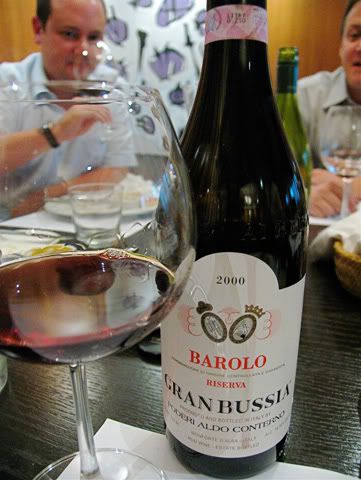 2000 Poderi Aldo Conterno Barolo Riserva Gran Bussia
- Mon's bottle. Though I had a few sips of this with my burger, I really got to it after I had finished eating. By then, it had been airing quite a bit in glass and decanter. Sturdier in structure, comparatively harder and sterner than the Tondonia (but, then, this is a Barolo after all, and younger as well), its olives, violets, slight old leather, cherry, strawberry wood notes are very focused, masculine.
There's no fooling around with this wine. Showed topnotes of balsamico, cedar and a bit of dried pine needles after a while; and, in the mouth, nuances of wet tea leaves towards the back and in the finish. Very, very nice. I wished I had more of the burger to go with this, as this is definitely a food wine. This is still very young and has a long evolution ahead of it. I'd say its future looks very good indeed.
1983 E. Guigal Côte Rôtie Brune et Blonde
- Mon's bottle; the oldest Guigal Brune et Blonde I've had by far. A mature, medium-bodied elixir of raspberry, cherry and underlying mildly cedar-infused blackcurrant, merest suggestion of black pepper in the underlying blackcurrant (but on the palate, not in the nose), cedar. Hints of wet tea leaves play with raspberry and cedar in the finish. I liked this too. Drink up now and soonest.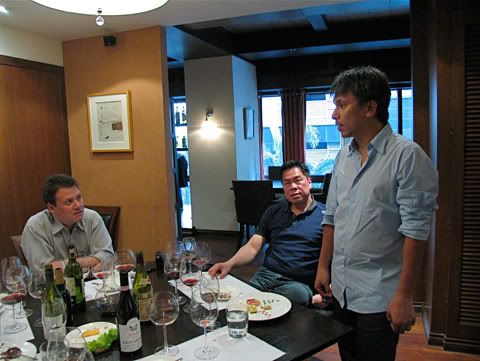 Elbert checked in on us and explained that the Chef's Burger is a case-to-case inspiration.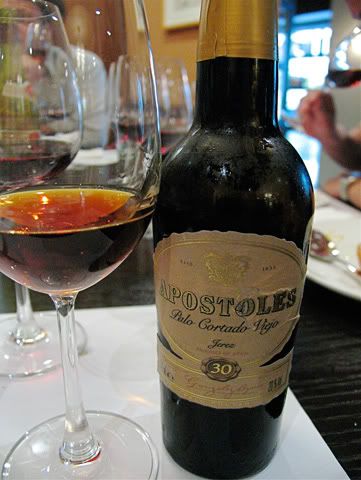 Bodegas González-Byass Apostoles Palo Cortado Muy Viejo 30 Anos VORS
- J-Lab's bottle. What a bouquet; I found it both stunning and alluring it is difficult now to describe - think wild honey, orange peel, orange blossom essence, nuts, dried apricots, caramel, vanilla - sweetly complex, spell-binding. I loved this and will get some for my wife to try. Such was my fascination with this that I completely ignored the attractive array of deserts we were served.
Bon voyage, Mon. Have a safe trip! Thanks, everyone for sharing your wines and company. Great lunch!