Last night, the 18th February 2010, was
the International Wine & Food Society Philippines Branch's ("IWFS") 1st Wine Fair
at the at the Alliance Française de Manille. The event, conceived, organized and almost single-handedly executed by Director Oscar Ong, was very well-attended and received. As far as I know, the intended 60 seats were fully booked by members, spouses and many guests.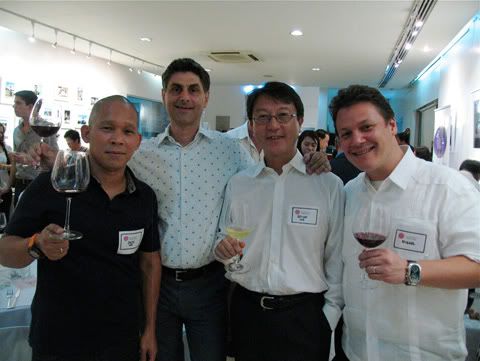 L-R: The Stockbroker, Jerome, Keiichi and Miguel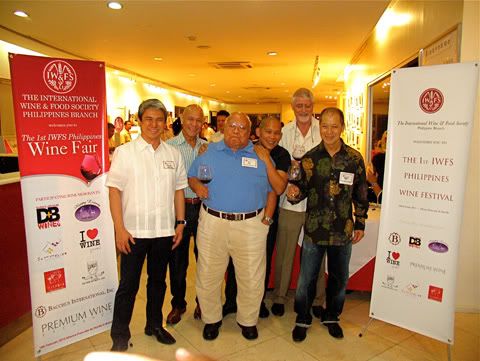 IWFS Directors and Officers in attendance.
In Oscar's words, the purpose of the event was as follows:
This undertaking is the first time in the 27-year history of the Society in the Philippines that it has ever allowed its members in the wine trade to openly market and sell their products directly to all its members in keeping with its desire not to allow membership in the society to be used for commercial purposes and to stay focused on the pleasures of the table specifically that of wine and food matching and appreciation in the company of like-minded friends.

However, we believe that this wine fair, done under very clear and specific guidelines to ensure a level playing field, will provide members in the wine business the opportunity to showcase what they have to offer to the rest of our members and, hopefully, for our members to learn more about the various wines currently made available by established distributors in their midst. If this event proves to be a success, we may continue to stage this annually.
Under the event guidelines, the wines for the Fair were limited to only within the P1000-P3000 per bottle (approximately US$21-US$63/bottle) price range.
The location of each of the 8 participants' booths was based on the luck of a draw held in the presence of the latter's respective representatives, namely:
Bacchus International (Alex Lichaytoo)
Darras + Bowler (Dondi Joseph, IWFS Cebu)
Happy Living Fine Wine (John Lim)
Manny O's (Manny Osmena, IWFS Cebu)
Premium Wine Exchange (Jojo Madrid)
Silver Secrets (Luciano Zanirato)
Sommelier Selection (Jerome Philippon)
Titania Wine Cellar (Tita Trillo, IWFS Ladies)
Drawing pole position for the booth right at the entrance of AF's
Le Coude Rouge
was Dondi Joseph's and J-Lab's
Darras + Bowler
table.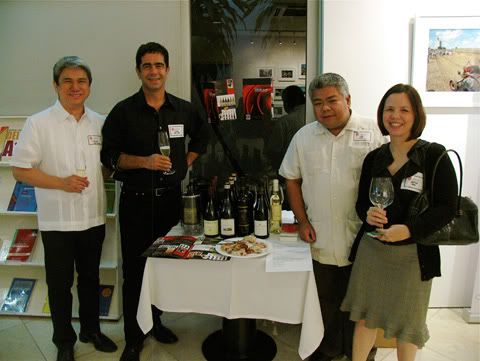 L-R: IWFS Director Oscar Ong, Dondi Joseph, J-Lab and Catha.
Aside from their enviable location and various wines on deck, they had the advantage of having a available to go with the latter the famous Cebu lechon that Anthony Bourdain proclaimed as "The best pig ever".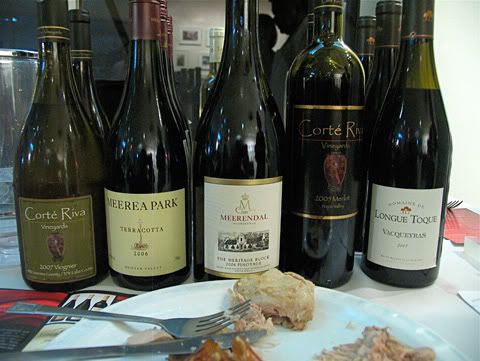 As to the wines, I started off with the
2007 Corté Riva Vineyards Viognier
- an unctuous and concentrated viognier, it is notably plump, quite ripe, low in acid and soft in its floral, faintly spicy, herby and honeyed peach, honeysuckle and apricot notes. Very round on the palate with good heft and an intriguing, slightly oily texture. Quite pleasant, very approachable and friendly.
Later on, I also tried the
2006 Meerendal The Heritage Block Pinotage
- not bad at all, probably the first pinotage I've actually liked. A big red, full-bodied, extremely ripe, jammy, sweetishly spicy (makes me think of very hot weather in the vineyard), deeply-veined dark red fruit over prune, with pretty well-integrated oak (probably a lot of it new). Long, strong wine, but, somehow it was in good balance. Whispers of metal towards the back, but very faint. A pleasant surprise.
I also tried their
2007 Domaine de Longue Toque Vacqueyras
- having read in various wine boards that 2007 was a much heralded vintage in southern Rhône (wherein the Vacqueyras AOC is situated), I made it a point to try this and was easily charmed by the clean lines of this medium-bodied, subtly earthy and dried herb-tinged wine. Rustic, honest, not overly wrought, over extracted, over ripe, over alcoholic or over-oaked (actually not woody at all) like many modern southern Rhônes. Nice, honest, slightly rustic - I liked this and got a bottle at barely over P1000. I'd have some venison or wild duck with this.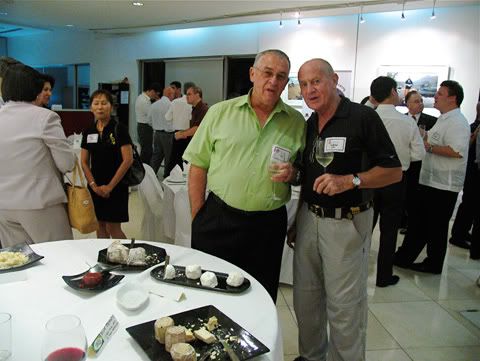 L-R: Hans Brumann and Markus Ruckstuhl at the Cheese Table.
L-R: Tita Portia, J-Lab, Chinkee Koppe and Miguel.
After the 2007 Corté Riva Vineyards Viognier, before trying any of the reds anywhere, I looked to have a glass of bubbly and wandered over to
Happy Living Fine Wine
's booth next in line.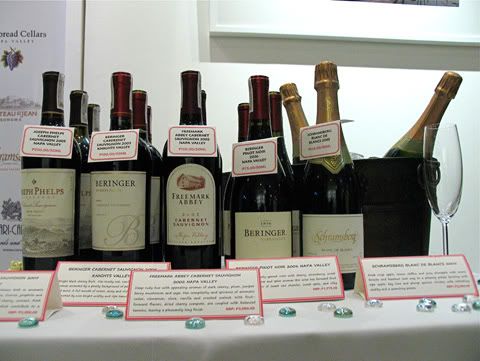 Happily, I noticed that they had on deck some...
2005 Schramsberg Blanc de Blancs
- I have extremely minimal experience with American sparkling wines, but have read many good things about Schramsberg's. Happy Living's Marketing Director, Kathy Yao Santos, urged me to try it, stating that this is the bubbly usually served in the White House - to which I jokingly replied "Oh, this is Jorge Araneta's favorite bubbly?".
Levity aside, I was impressed with how nicely clean, pure, focused, lively, refreshing and playfully charming this all-chardonnay sparkler was. Fresh, vibrant, lightly creamy apple, pear, whisper of lemon drop, small white flowers, nice white minerality. Dangerously drinkable this, I could easily finish a bottle myself at the beach (I think I got 4 servings of this that evening). At only around P1950/bottle, this is a definite buy.
I also got a taste of...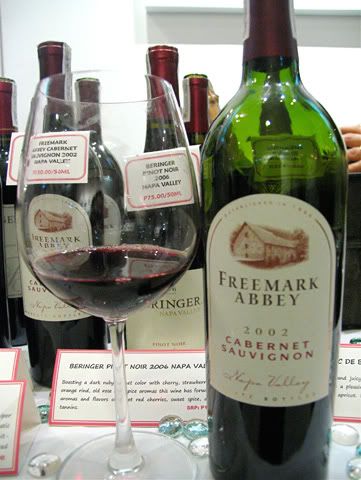 2002 Freemark Abbey Cabernet Sauvignon
- A Napa cab I've also read of but never tried. This is a mellow, comfortable Napa cab, everything seems to be in proper place. Neat, amiable cassis, plum, bit of cherry with well-integrated oak spice notes and soft tannins. Nice, fair depth, it is a very proper and correct Napa cab.
Next stop was the Stockbroker's
Premium Wine Exchange
booth: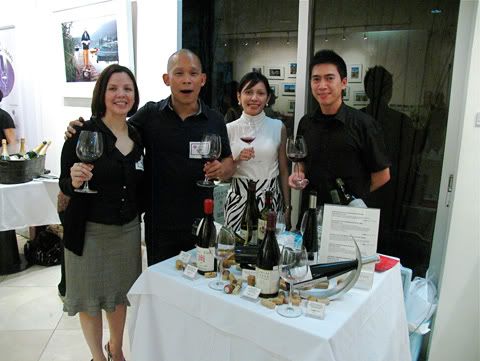 Since I am quite familiar with many of PWX's wines, I went for the new vintage of an old favorite:
2006 Tablas Creek Vineyard Esprit de Beaucastel
- I've written favorably about
the 2005 version before
and even included it in
my list of favorite locally available wines of 2009
. As stated before, this is a product of a joint venture between Châteauneuf-du-Pape star Château de Beaucastel and Vineyard Brands' Joseph Haas. While not (yet?) as meaty or sauvage as the 2005, This is more approachable for those not very familiar with Beaucastel's rather sauvage, animal hallmark notes. Still, there seemed to be traces of worn leather and bacon fat in this halfway-over-medium-bodied, mellow wine's herb-tinged dark red fruit. Another comfortably familiar wine. very nice. I served a glass of this blind to my wife (among others) and she liked it with her main course. I had one as well.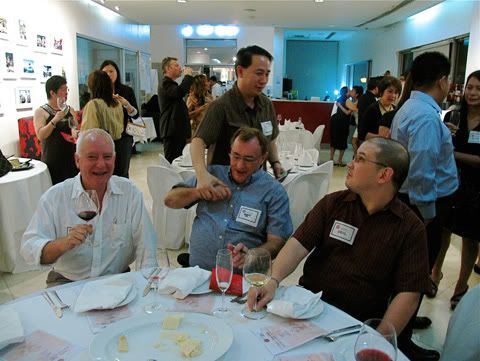 L-R: Lawrie Martin, Edwin Ong, Robert Burroughes and Eric Kahn.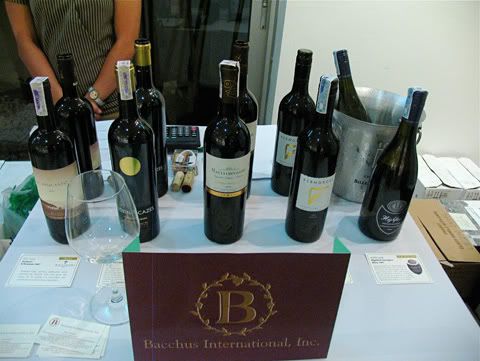 Naturally,
Bacchus Int'l
had a strong presence, as it always does in IWFS functions. Regular readers know I often purchase wines from Bacchus, lately more Tuscan and Burgundy aside from my favored Alsatian whites by Léon Beyer. The most interesting to me in this line-up was the venerable J-M Cazes'
2006 Domaine des Sénéchaux Châteauneuf-du-Pape
which I have written previously about
here
and
here
.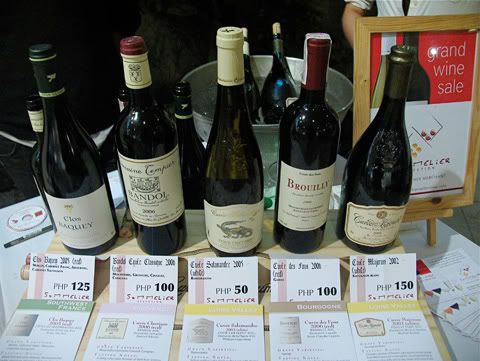 Jerome's
Sommelier Selection
was, of course, also there in force. Having been a customer for several years, I've had all the wines in the line-up repeatedly and have written about every single wine in the above photo at least once. Nontheless, I simply could not help myself from immediately purchasing a glass of the
2005 Domaine Plante d'Or Cour Cheverny Cuvée Salamandre
- a true aficionado's wine, I cannot resist the bracing minerality, alluring cold-stoniness and crisp, dry freshness of this romorantin-based wine from Cour-Cheverny in the Loire.
I also made a mental note to get a couple of glasses of the
2006 Domaine Tempier Bandol Classique Rouge
(J-Lab also favors this and bought many bottles of it around a year ago) to go with my main course later on, as well, of course, as another favorite - the
2002 Domaine Michel Redde Pouilly-Fumé Cuvée Majorum
. I am very fond of these wines, especially the latter, and have written about them more than once. Neither of these wines are to be missed - and I certainly had some during dinner that night.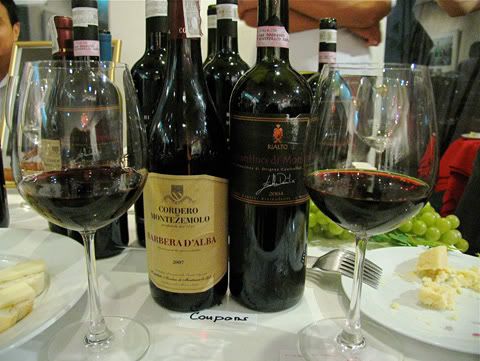 My next stop was Luciano Zanirato's
Silver Secrets
booth where their
2007 Cordero Montezemolo Barbera d'Alba
caught my eye - young, but a solid performance, good with grilled meat I thought, so picked up a glass of this as well as one of the
2004 Cantina Rialto Sagrantino di Montefalco
- big, muscular, somber, serious - almost brooding in character, boulders in its structure, good depth - screamed to be consumed with red meat - so I obliged. Both good eating wines.
In the meantime, we had seated ourselves for dinner to have more wine with our meal.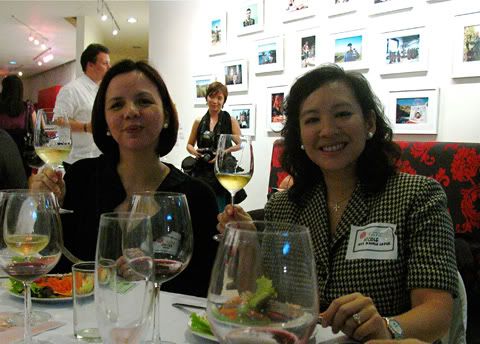 Catha and Nicole with glasses of Sommelier Selection's signature
2002 Domaine Michel Redde Pouilly-Fumé Cuvée Majorum
- a richer more structured type of Pouilly-Fumé that is made to age. Miguel and Chinkee were surprised when I pointed out to them that this is already over 8 years from vintage. Notably softer and a shade less vigorous than before, but still an excellent white to have with our starter course of
Fresh Prawn Salad
.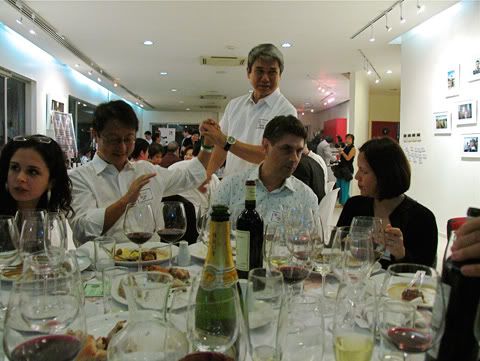 Though I already got my own glass of the 2006 Domaine Tempier Bandol Classique to go with my main course, Jerome generously treated everyone at our table to a bottle thereof to enjoy with our beef.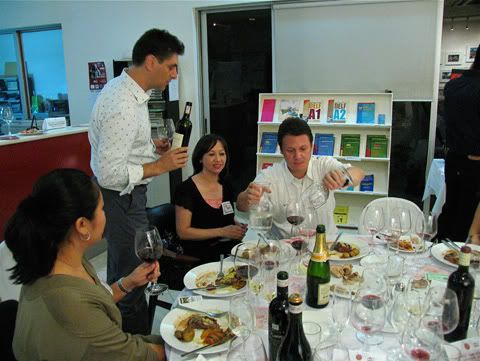 Miguel cleans out glasses to make room for more reds.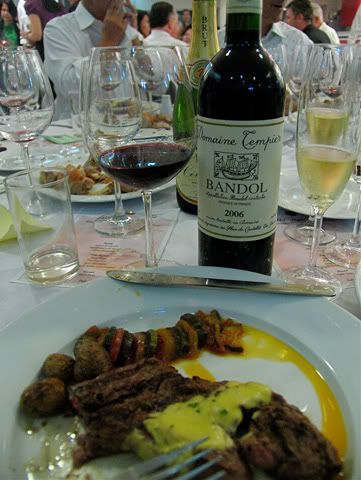 2006 Domaine Tempier Bandol Classique
- Halfway between medium and full body, firm structure and healthy acidity makes this nicely balanced wine food-friendly as well (a very important trait to me). A ruggedly handsome, macho red tinged with notes of meat and dried herbs, boasting a fine, firm structure, admirable balance and typicity. This was an excellent match with the honest beef dish. I drank a lot of this.
The 2 Italian reds of Silver Secrets were also good pairings, the '04 Sagrantino di Montefalco - to me - marrying marginally better than the '07 Barbera d'Alba because of the former's formidable structure.
As if that weren't enough, Jerome opened for us another bottle of red, an amusingly named...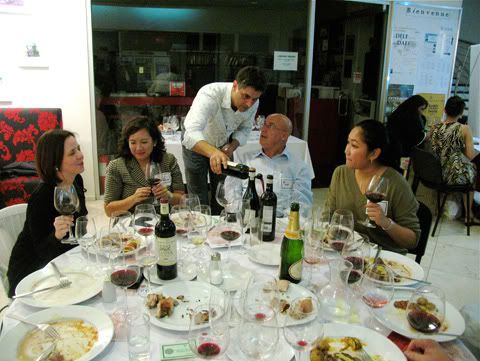 2006 Domaine Jean-Claude Lapalu Brouilly Cuvée des Fous
- I've had 2 other 2006 Brouilly wines by Lapalu: the 2006 Domaine Lapalu Brouilly Cuvée Vieilles Vignes and the 2006 Domaine Lapalu Brouilly La Croix des Rameaux, both from Jerome at his
first Beaujolais NOT Nouveau Dinner
. Through these wines (aside from Jerome's Dubost lines of cru Beaujolais), I was already well aware of how very different Beaujolais can be from the mostly insipid stuff poured out every 3rd Thursday of November.
The 2006 Lapalu Brouilly Cuvée des Fous ("wine of fools") displays comfortingly warm and smooth, soft and deeply-veined blackberry, black cherry and a bit of ripe, dark raspberry. Good depth. Charmingly rustic, very nice and easy to drink a lot of.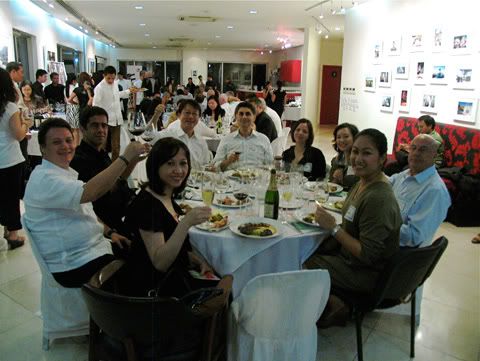 Our well-lacquered table.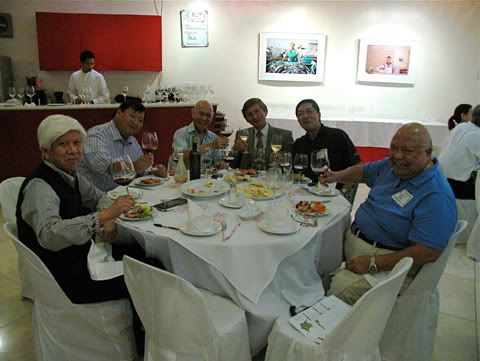 L-R: Ernie Fajardo, Alex Lichaytoo, Freddie Pio de Roda, Othmar Ober, Richard Dalao and Fil Juntereal.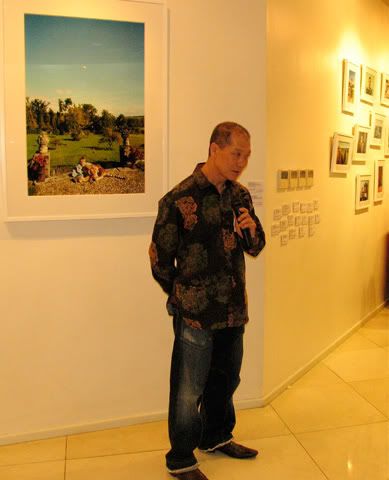 Nearing 10pm, Bernie addressed the crowd, acknowledged Oscar's huge efforts and thanked everyone for coming, especially the members-distributors who participated in the event,...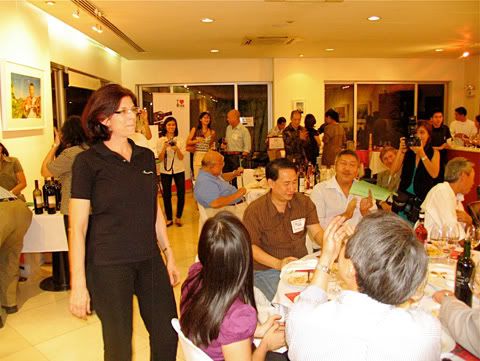 ...as well as Karin Carmona who organized the entire cheese table.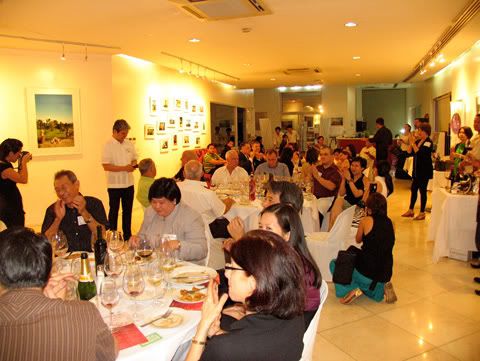 Oscar also took the floor briefly to thank all the participants, recount the purpose of the event and brief the members of upcoming events...
...and was thanked via resounding applause.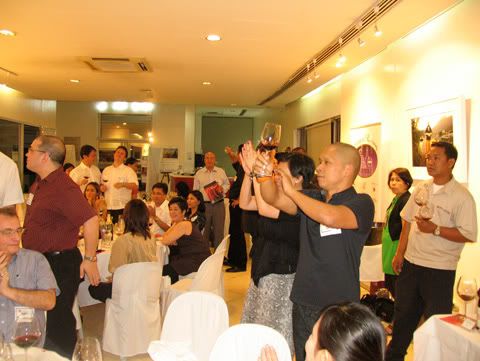 After dessert of apple tarte, a few more glasses of red, several cigarettes outside, the evening began to wind down. The last wine for me was Bernie's very mature and softly sweet, melon-fruited
Vallformosa Moscatel Bouquet d'Or
. Nice way to end an evening.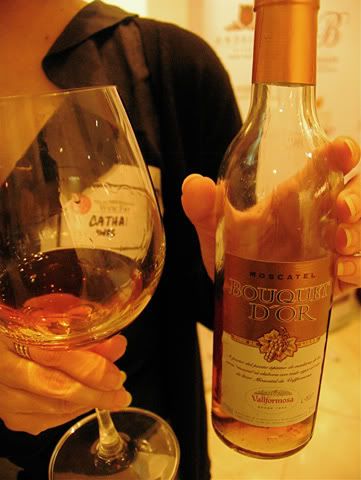 A bunch of us - Jerome, J-Lab, Miguel, Chinkee, my wife and I decided to go to Masseto for a quick nightcap, but, though we got there before 12, we were informed that they were already closed for the night. Just as well, I suppose, as I really had enough to drink by then.
In any event, congratulations to the IWFS for a very successful and fun event, and, as always, until the next!