Around a month ago, fellow intrepid diner, Alicia Sy, recommended that I try out a new Japanese restaurant in BF Parañaque, named
Sushi Sei
, that specializes in omakase dining (i.e., the menu is left entirely up to the chef, based mainly on what is freshest and/or in season, counter-seating, each dish is prepared on-the-spot as the diners watch). Since Alicia left for vacation in NYC shortly thereafter, Cyrene de la Rosa took charge of organizing the dinner. Thus, on Saturday, the 14th July 2012, 10 of us gathered at said venue for whatever chef-owner, Seiju Ohnami, decided to serve us. Sei-san professes commitment to using mainly local ingredients, the best and freshest he can get on any given day.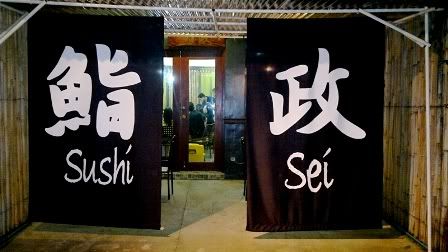 325 Aguirre Avenue, BF Homes, Parañaque. Call 0905 5135226 for reservations.
The counter-top chiller filled with the night's ingredients.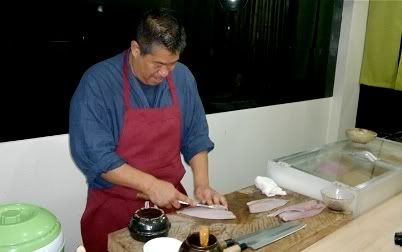 Sei-san begins the slicing...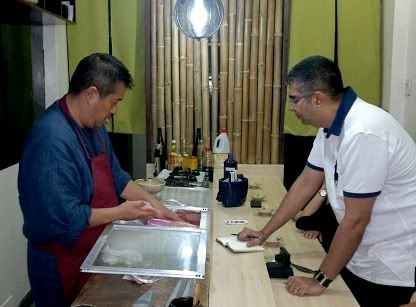 As Sanju diligently asks questions and takes notes on each dish.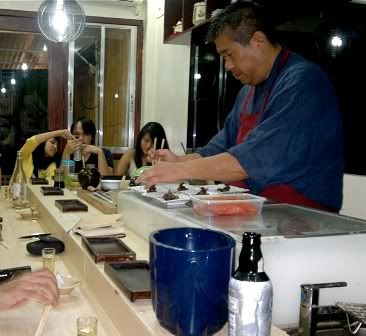 As the finishing touches were put on the appetizer course, we enjoyed some charmingly lively, cooling
Zipang Sparkling Saké
from Sanju & Cutie Gopaldas. The kids are in the background, with Mauro and Paula checking out one of the bottles of Zipang while Nicole readies her iPhone's camera.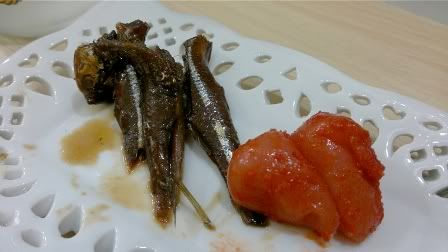 Soya-simmered Baby Smelt w/ Metaiko (cured cod roe flown in from Korea)...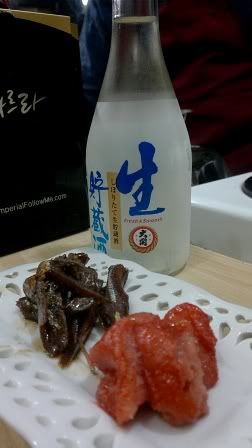 ...which we had with some bottles of chilled "Nama" Saké.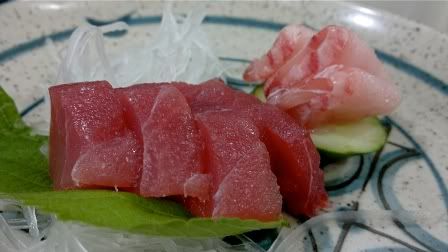 Maguro & Engawa Sashimi.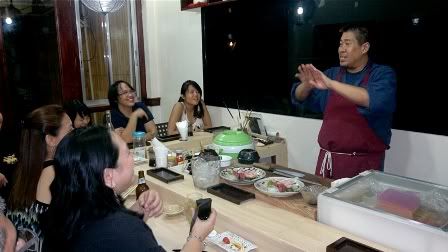 Omakase dining is marked by constant interaction with the chef.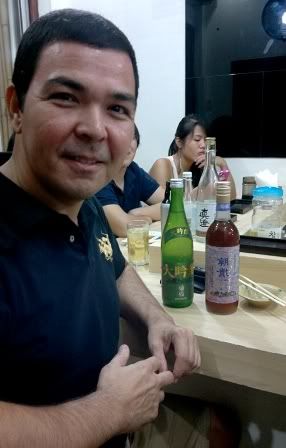 Craft Beer Master Jim Araneta brought along 2 sakés by Kiuchi Brewery...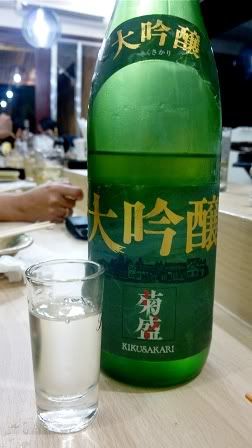 ...one of which was Kiuchi Kikusakari Daiginjo (40% polished-down Yamada Nikishi rice). Very nice. I do hope Jim decides to distribute this one day - I will surely be a customer.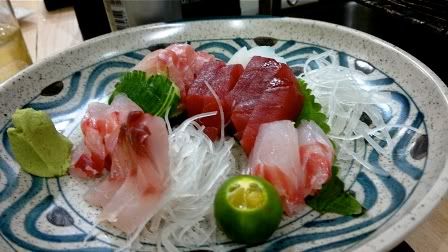 Maguro, Ika, Engawa, Flounder, and Maya-Maya Sashimi.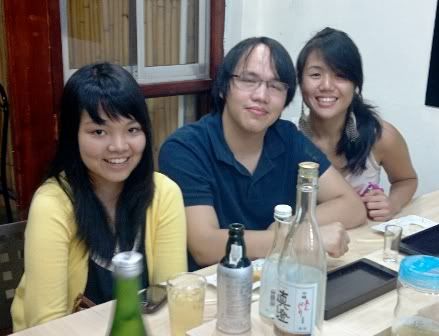 The youngsters: Paula, Mauro, & Nicole.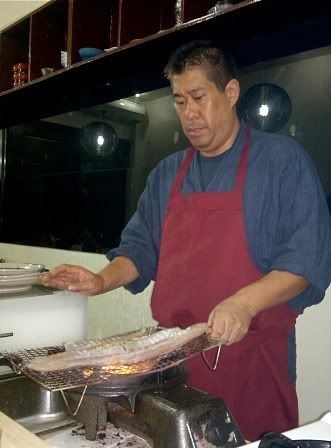 Grilling time.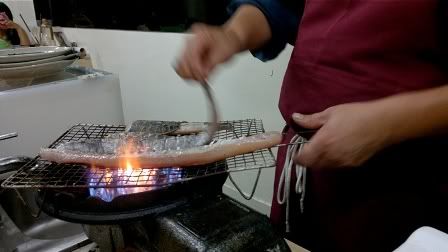 Off comes the skin.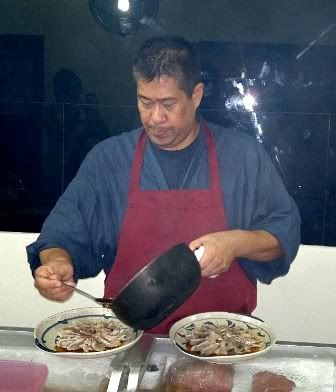 Finishing the...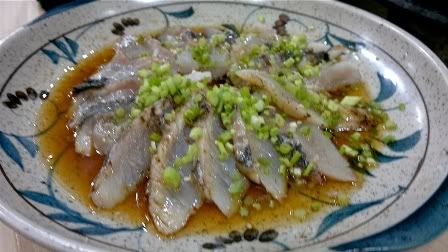 ...Slightly Seared Tanguingue w/ Ponzu Sauce & Spring Onions.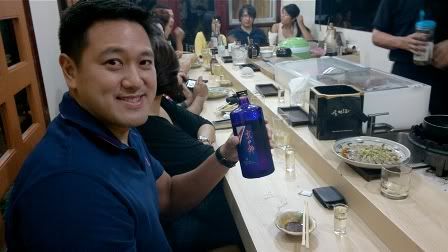 Alex Tiu, sensei of the infamous "Iki" Drinking Style (i.e., "bottoms-up" palagi), shared his bottle of Gekkeikan Kyo no Sui Junmai Daiginjo. Nice stuff! Subtle, yet firmly structured and complex.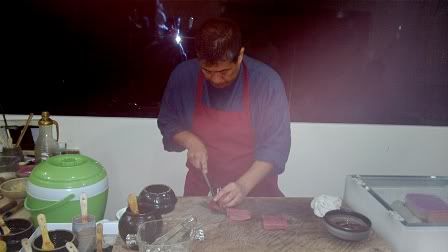 Whole lotta slicing going on...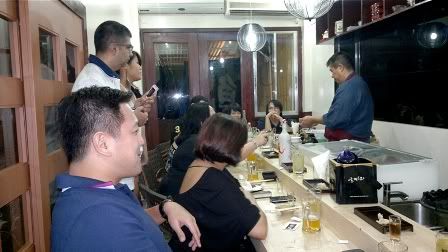 ...amidst incessant paparazzi flashes.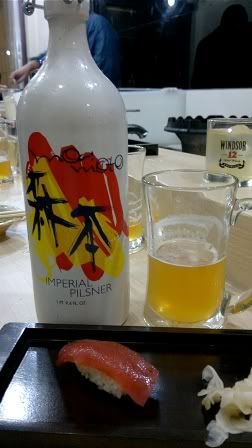 With the sushi courses, we enjoyed glasses of my favorite Rogue Morimoto Imperial Pilsner courtesy of Sanju, Cutie & Cyrene. We drank the bottles down so quickly that Jim, the exclusive Philippine distributor of all beers Rogue, didn't even get any - sorry, Jim, it was just too good! This was
Tai
(Snapper) Nigir
i w/ Bonito Innards Sauce.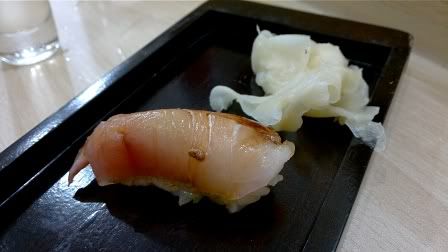 Hirame
(Flounder)
Nigiri
w/ Seaweed Sheet & Molasses-based Sauce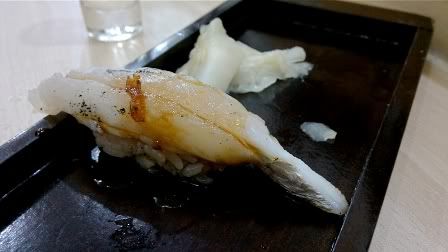 Tachi-Uo (Espada) Nigiri w/ Unagi-based Sauce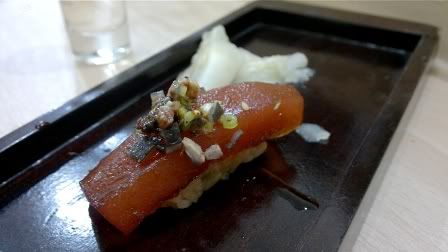 Maguro Zuke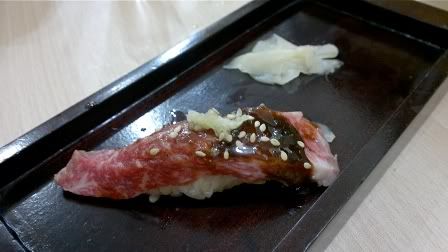 Wagyu Nigiri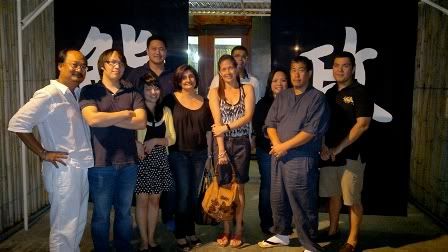 Of course, we also had bottles of
Hitachino Nest White Ale
courtesy of Jim, the bottles of which I forgot to photograph (but not partake of). We then moved on to The Appenzeller in Alabang for more drinks and heavier grub. The above meal was a mere P1500/person (
cash only
, so far), representing remarkably good value for money for this type of dining and the dishes served. The corkage charged is very reasonable too. It's pretty easy to recommend this place. Until the next!