Monday, the 16th July 2012, the Usual Suspects reconvened for dinner at Rob & Sunshine Pengson's
The Goose Station
to welcome now-Tokyo-based Suspect Keiichi Miki who is in town for a few days.
Cocktails at 7pm, I stopped by Rob & Sunshine's new Gourmandise Patisserie at nearby Serendra to take home a dozen Parisian eclairs for Catha and the kids - well, and a lemon meringue pie too as I've always had a weakness for that dessert (my late mom used to make the best I've had).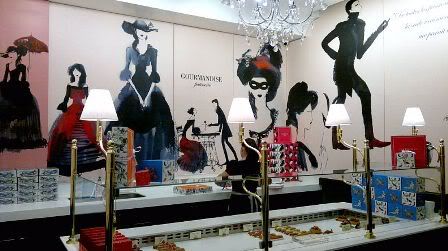 The little shop's interiors are just so chic, and their eclairs and mini pies simply delicious.
I got there on time, and, by the time Keiichi arrived, most of us were already there making good headway into some glasses of...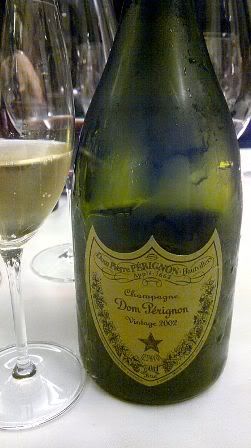 ...precociously creamy, ripely/softly fruited, mildly toasty 2002 Champagne Dom Pérignon (courtesy of Bernie Sim).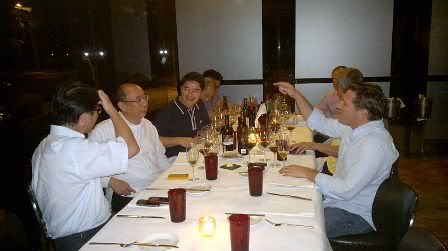 Just like old times.
Everyone brought
at least
one bottle of red each, among others. Earlier on, some of the guys started on the younger reds, namely, Johnny's
2005 Ruffino Rieserva Ducale Oro Chianti Classico
, and Greg's
2004 Monbousquet
. Some other bottles opened that night were Rene's
1999 Joseph Phelps Insignia
, my
1989 Rauzan-Ségla
, Aaron's
1996 Montrose
...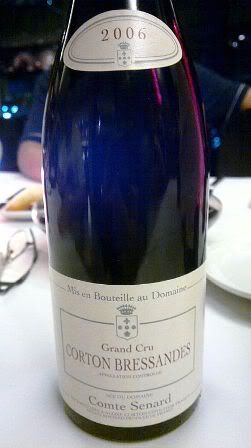 ...Vince's 2006 Comte Senard Grand Cru Corton Bressandes (which, though with a very promising nose, was really too tightly wound and primary for me to have fun with at this point)...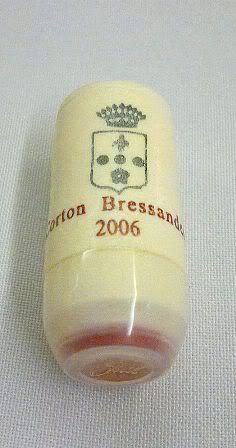 ...which had a new-fangled plastic "breathable" closure in lieu of a cork...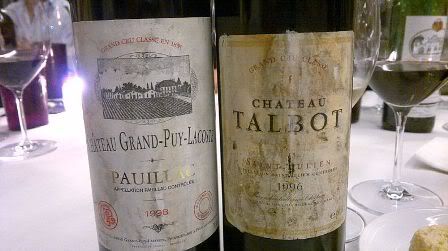 ...Bernie's 1998 Grand-Puy-Lacoste & 1996 Talbot...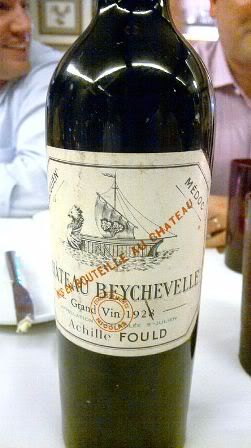 ...and, of course, Keiichi's 1928 Beychevelle (in incredibly good shape for nearing 84 years old). Bottle-sweetened cassis, black currant, red cherry and raspberry essence, demure licorice, wet tea leaves, underlying old loam, hint of worn leather, violets, cedar. Silken. Harmonious. I had it by itself.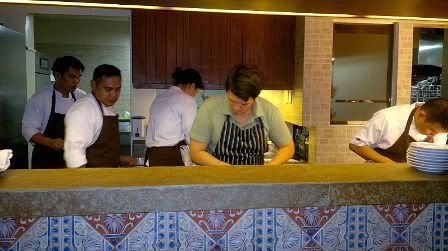 Rob Pengson hands-on at the kitchen's helm.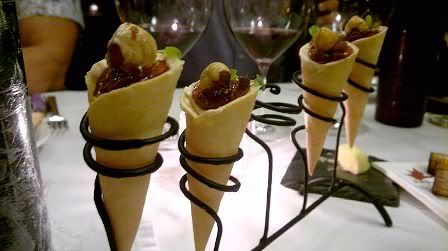 Foie Cones - always a welcome "snack".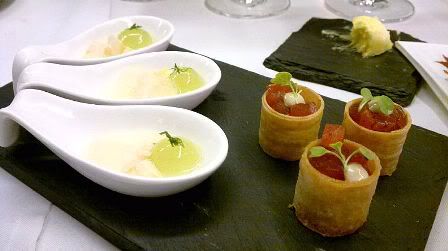 Deconstructed Lychee Mojitos and Tuna Tartare amuse bouche.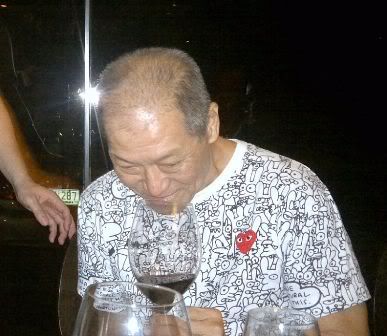 The Master, Bernie Sim, in action.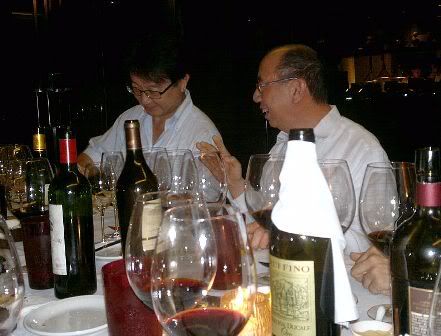 Tokyo-based Keiichi & half-the-time Vancouver-based Vince Tan.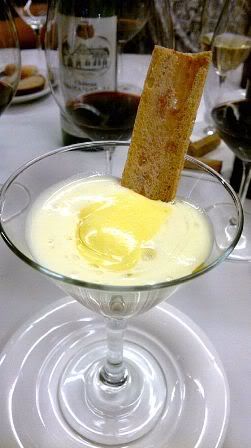 The ever-popular Eggs Benedict with Bacon Tuille.
This is one of Rob's new Spanish themed concoctions: Artichoke, Olive Aioli, Goat Cheese, Jamón Ibérico de Bellota, Falafel. ¡Olé! I do hope it makes it on the regular menu soon.
Rob then sent over bowls of the much loved Gourmandise Pumpkin Soup with a few new twists (e.g., there is a chawan-mushi like portion underneath set off with nutty bits of corn and mildly spicy chorizo). Absolutely delicious, and entertaining as well.
With my
Seared Foie Gras
, I had some of my bottle of
2007 Dönnhoff Kreuznacher Krötenpfuhl Riesling Spätlese - an old reliable from PWX, it was as disarmingly zippy and peachy as ever it was - now starting to develop a petrol nuance (which was a bit surprising at barely 5 years from vintage).
With my main course of
Roast Pigeon
, I focused on only 3 of the reds:
1989 Château Rauzan-Ségla
- My bottle. A bit tight and unyielding at first, it opened up after around an hour or so in the glass. It's bouquet included violets, cassis, cedar and warm asphalt (Bernie noted that this was notably more open and showing better than his last bottle of this). On the palate, it was a few notches above medium-bodied, sturdy in structure, properly reserved, mirroring its bouquet with added notes of slight licorice, black cherry, dark raspberry, damson, all with a discreet pipe tobacco-leather underbelly. Neatly knit. Quite nice enough now, and, although it is almost 23 years old, I'd give this maybe around 4-5 more years before trying it again.
1996 Château Montrose
- Aaron's bottle (my last notes on this wine were from back in
9 May 2008
). Admirable, masculine structure. Sturdy, confident, dark minerally cassis, black cherry, darkly ripe raspberry, leather, tobacco, violets, cedar, slight licorice. A vigorous light-heavyweight, but not at all loud. Impressive balance. At 16 years from harvest, this is still a relative youngster (enjoyable as it is now) with a long, long way to go. When asked what was my red of the night, I had to give my nod to this wine.
1999 Joseph Phelps Insignia
- Rene's bottle. Big, full-bodied, roundly/smoothly muscled, very deep, well-concentrated, lowish acid, darkly ripe crème de cassis, black cherry, dark plum, licorice. Well-woven in creamy vanilla bean and underlying dark chocolate and the absence of coconut-cream notes suggest a lot of new French oak. Though not really my personal style, this is, to my mind, a well-crafted Napa red. Many of the guys were quite vocal in praising it.
There were other reds, such as Arnie's
2000 Château Gazin
, that I was not able to photograph or partake of. I was too busy enjoying the company and dishes to make sure to try everything.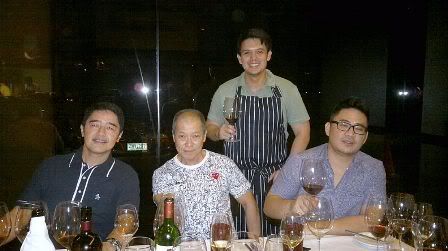 Rob with Greg, Bernie, & Aaron.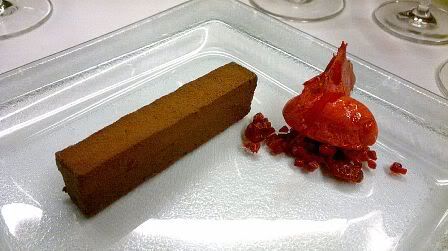 My Chocolate Bar dessert. Always have it. Always love it.
It was certainly great to get together again, especially with Keiichi, and, of course, Vince, in town. Unfortunately, Jojo, Miguel, and J-Lab couldn't make it, but no matter, there will always be another day. Bon voyage, Keiichi & Vince! See you guys again soon! Until the next!