This past Friday lunch, the 27th July 2012, was an impromptu one at
Mamou
. After finishing up at the firm slightly before noon, I was actually supposed to proceed to lunch at Terry's 2º Piso to catch up with JC de Terry (who I've not seen since he left for Spain in late April).
I hopped over to LBC Express' nearby corporate offices to see if any of the guys would join me, but, due to various reasons (i.e., schedules and the fact that Catha had asked me earlier to pick up some fresh eclairs at Gourmandise Patisserie in Serendra), it turned out that Enki and I went to Mamou instead. Not having planned this, I had no bottles of wine with me...
...but, no matter, as I knew Mamou carried a few of Jim's
Global Beer Exchange
's fine brews. To start off lunch, we had
a bottle each of cool, refreshing, relatively light, yet definitively flavorful Gordon Biersch Hefeweizen - very nice as a lunch apéritif...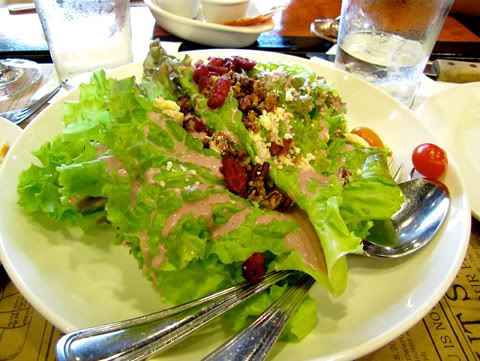 ...followed by a Healdsburg Harvest Salad para healthy (file photo).
Mamou is all about steak, so we got the usual
Double-sized Dry-Aged USDA Prime Grade Bone-In Rib-Eye
- medium rare of course, with sides of
Steak Rice
(white for me, red for Enki) and
Creamed Corn
. Delicious as always. That is why Mamou, hands-down, is my favorite steakhouse in the country.
By way of wine, since we both had stuff to finish up in the afternoon, I looked through the wine list and was pleasantly surprised to find available by the glass...
2009 Domaine Anne Gros et Jean-Paul Tollot Minervois Les Fontanilles
- Minervois received its own AOC in 1985 and is situated in the Languedoc Roussillon region of far southern France, north of Corbières, near the Spanish border. Approximately 94% of the wines produced here are reds, the allowed grapes being syrah, grenache, carignan, cinsault, and mourvèdre. The vineyards (14 hectares) of this domaine are located in tiny Cazelles in the northern part.
Though, honestly, I do not really seek out any Minervois wines, I had my eye out for this particular one as Catha & I stayed at Anne Gros' charming
Maison La Colombière
in sleepy Vosne-Romanée
back in October 2007
(the Stockbroker, whose
Premium Wine Exchange
distributes Anne's wines, tipped me off that Anne had ventured into Minervois).
That aside, I found the wine to be full-bodied, robust, slightly rustic, with deeply-veined, concentrated, minerally, slightly peppery midnight red fruitiness. This is a sturdy wine with healthy acidity that balances off the typically forward, warm fruit (the wine actually called to mind Priorat - the grenache? - but with better acidity). Oak treatment is quite apparent (caramel, café crème, vanilla - though well-folded-in and not bothersome) detectable in the sweetish syrah component. The acidity, I'm pretty sure, comes from carignan. No meaty-sanguine-animal notes detected that usually marks mourvèdre's presence. Big, sturdy, surprisingly pleasant wine (
nb
: they opened a fresh bottle for us).
In all, this is a perfect house red by-the-glass for Mamou's steaks as the former stands easily with and complements the latter (the acidity providing some cut to the luxuriously rich beef), and, at around P450 per glass (generously poured), it is very well-priced. For those who want to get this at retail, this goes for a mere P1232/bottle at PWX. Good for steaks, rich/hearty stews, roasts, game (roasted venison comes to mind).
We took our dessert of
Pecan Pie w/ Schlag
and double espressos at one of the outside tables and chatted with Annie. Finally done, we picked up Catha's eclairs and headed back to the office. Very pleasant, easy Friday lunch. Until the next!