Catha was recently elected to the board of the IWFS Manila Ladies Branch, so, ever dutiful and supportive husband that I am, I attended their French dinner event this past Tuesday, the 17th July 2012. The fact that the dinner was at Cyrille Soenen's
Brasserie Ciçou
certainly did not hurt. Aside from myself, other guests at the event were Alex Tiu, and Sanju & Cutie Gopaldas.
The Menu
Though the above menu included 2 pairing wines, we, naturally, brought a few of our own bottles. The more the merrier, especially when alcohol is involved.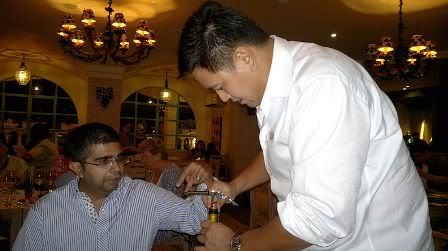 Alex opening the aged red as Sanju looks on.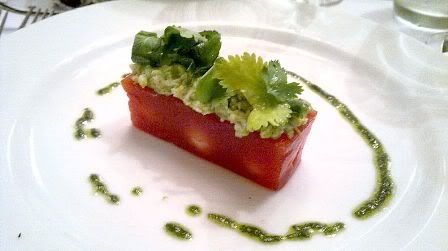 Quail Eggs in Tomato Aspic topped with Crab Meat in Snail Butter & Herb Salad. Lovely, and, of course, very French.
I enjoyed this with some 2008 Domaine Émilian Gillet Viré-Clessé (distributed locally by Jerome

's

Sommelier Selection

) - bright, zippy, well-focused, edgy, tense, vibrant green apple and crunchy pear with good acidity - a well-crafted, casual, & food-friendly chardonnay.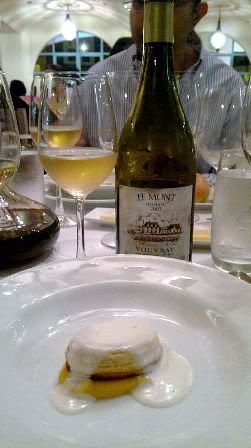 Duck Liver Flan, Cream of Squash, w/ Truffle Cappuccino
This dish, to me, was my night's favorite - moreso, paired with Cutie's bottle of
2003 Domaine Huet Vouvray Le Mont Demi-Sec
- Just off-dry preserved ginger, peach and mild pineapple with an alluring, fine white mineral, citrus rind and orange blossom base, which base notes trailed in the finish, melding seamlessly with the foie's. Beautiful pairing, the wine's mellowed acidity gave the rich foie/cream of squash precise lift and brightness - a perfect marriage as also enthusiastically noted by Barbara. Thanks for sharing the bottle, Cutie! Without question, my pairing of the night.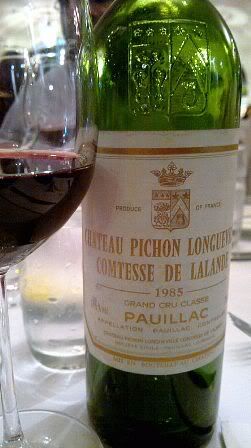 An aged red for the meat course.
The main course of Spiced Lamb Shoulder, Fricassee of Carrots, Leeks, & Shallots, Mashed Cauliflower, Truffle Cream Foam & Lamb Jus was harmonious and earthy, the gamey spice playing with my 1985 Château Pichon Longueville Comtesse de Lalande's discreet beef/sanguine notes. This particular bottle was not as vigorously masculine as bottles I've had in the past (the cork was soaked, indicating that the wine was somehow compromised on its flight from SF), but the flavors and scents were correct - cassis, black cherry, damson underbelly, touch of licorice, cedar, violets, the aforementioned discreet beef blood, walnut skins, slight loam, bit of worn leather, and, as Cutie pointed out, minty topnotes. A couple of shades over medium-bodied, soft, pliable, notably smooth texture - I loved holding/playing with it mid-mouth.
Not the best '85 Pichon I've had, but, still, a very nice wine.
Since Alex, Sanju and I are still growing boys,
we had an additional main course in a large US Rib-Eye Steak w/ Roasted Potatoes, Mushrooms, Pumpkin, Lardons, Shallots & Garlic Confit (courtesy of Alex & Sanju - thanks, guys!)...
...with which I paired my
2001 Bodegas R. López de Heredia Viña Tondonia Reserva
. Since Aaron and I have already decided to bring in this wine, I will refrain from reviewing it now, but, you may refer to my past notes of
the 24th January 2012
(
nb
: 2001 is a superb vintage for la Rioja, compared by some to the legendary 1964), to wit:
2001 Bodegas R. López de Heredia Viña Tondonia Reserva

- excellent fruit with notably pure, ripely sweetish black cherry, dark raspberry and dark strawberry with hints of new leather, violets and discreet/seamless wood spice. Evidently more rounded and heftier than their vintages 1999 and 2000. Excellent balance, precise acidity and notable structure. López de Heredia really hit their reserva out of the ballpark in 2001. My favorite of the evening. We didn't need to re-taste this, we will definitely be bringing this in.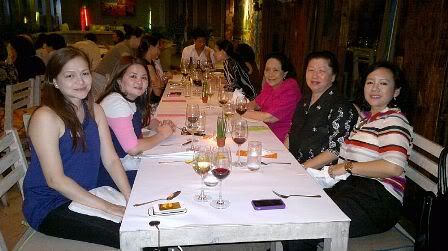 Nicole Panlilio-Morris (far right) and her table of ladies.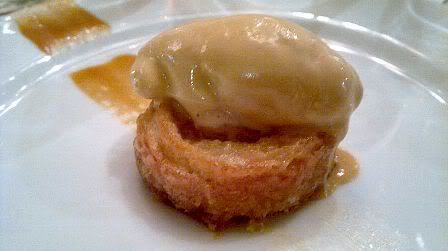 Dessert was Cyrille's sublime Kouign Amann w/ Salted Caramel Ice Cream. You simply must.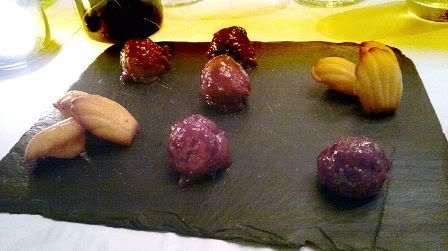 Mignardises - I loved the Mini Madeleines as always.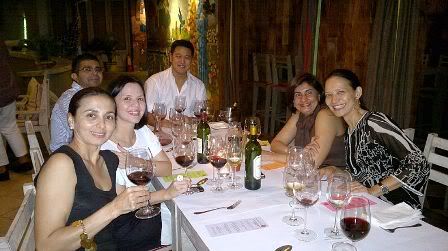 "Cheers!" from Tina, Catha, Sanju, Alex, Cutie, & Barbara.
Thereafter, we moved to The Blind Pig, a speakeasy type of bar in Makati, for a few stiffer drinks (Alex and Sanju had more than just a few).
Catha had a couple of Brandy Alexanders, while I had 3 glasses of Dark & Stormy - quite fitting for a rainy Tuesday night. Alex & Sanju treated us at The Blind Pig - thanks again, guys! Until the next!