Although we had celebrated my father's 74th birthday the day before with belly-buster of a birthday lunch at the office, he opted to hold his birthday dinner with the family the day after, Saturday the 13th October 2012, at
Champêtre
. Catha had mentioned to him that Marc Aubry had a shipment of
moules de bouchots
from Brittany being delivered that day, so, Dad, reminiscing how my kids liked the
moules à la marinièr
at
Plouf
during a trip back during Christmas break 2006, probably wanted to recreate that dinner. The family dinner was originally to have taken place at dad's place.
We were only 7 in all for dinner since Tad & Chako are currently in the US for vacation (my other sister, Pia, brother-in-law Harry, and niece Suyin live in the US).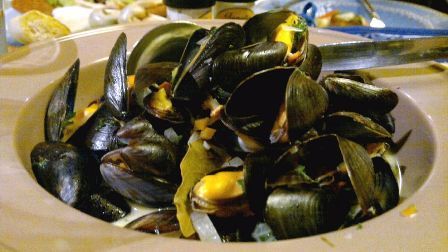 1 of 3 orders of Moules de Bouchot à la Marinièr (with fries).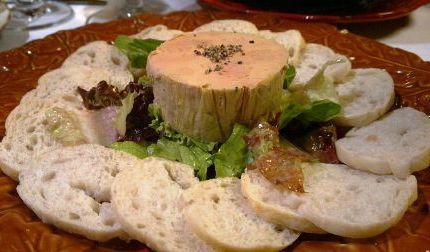 1 of 2 orders of Marc's signature Terrine of Foie Gras.
1 of 2 orders of Roasted Foie Gras on Risotto.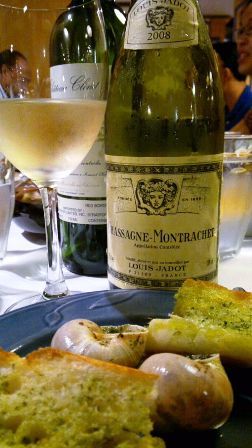 We also had 2 orders of
Escargots à la Bourguignonne
(which were attacked before I got to take a photo). With the foregoing, we had a bottle of
2008 Louis Jadot Chassagne-Montrachet
. I chose to bring this wine because my sister, Reena, only really likes whites and Catha favors chardonnay based whites. This is quite a good village level Chassagne-Montrachet - medium-bodied, smooth, very accessible, fair depth in its vaguely nutty, moderately butter and mineral infused, very lightly honeyed ripe apple, pear and minor citrus, with nuances of vanilla/oak.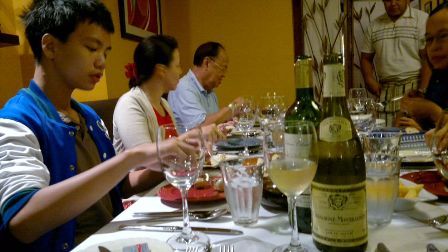 Joaqi, Catha, & Dad.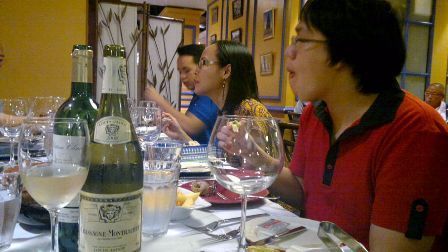 Lorenzo, Reena, & Mauro.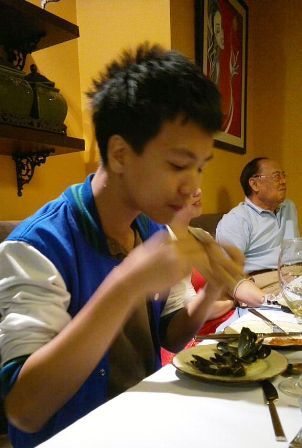 All the boys, including Joaqi, really like the moules.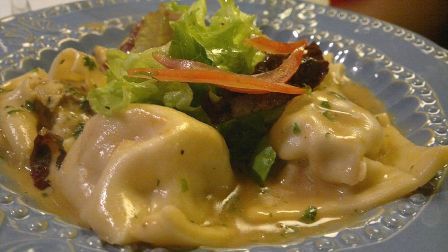 Ravioli Stuffed w/ Foie Gras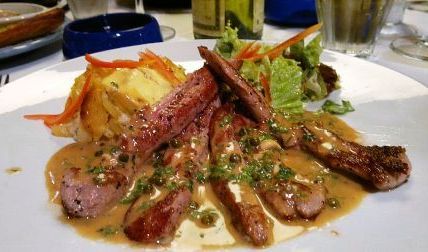 A night's special: Roasted Duck Tenderloin which Catha raved about.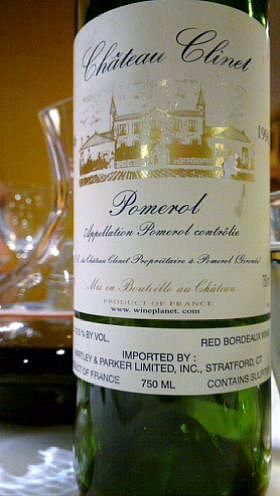 I had the red decanted upon our arrival...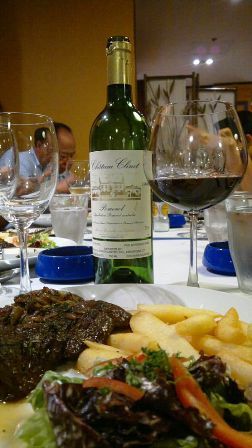 ...and served it with the main courses, mine being a rare
Boeuf Onglet
.
1996 Château Clinet - Last time I tried this was around 4 or so years ago, and it was so tightly wound and unforgiving that I reserved judgment. Now, after around 45 minutes to an hour's decanting for aeration, it opened up nicely, showing earthy, deeply-veined midnight cherry, raspberry, plum, underlying blackcurrant, pipe tobacco, hints of loam, dark chocolate and vanilla, cedar and violets. There is a quiet, masculine, smoldering power in this, though it is smoothly muscled. Still young for sure but is coming along very well. Something for the cellar and, with material aeration and hearty cuisine, for occasional current enjoyment as well. Classy wine.
Lemon Soufflé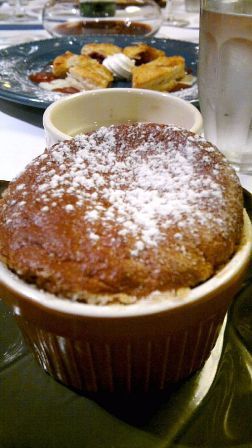 Chocolate-Grand Marnier Soufflé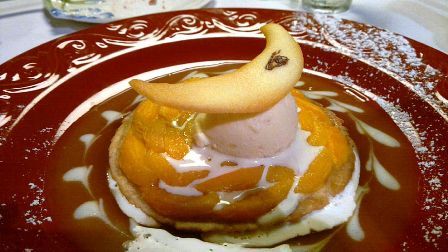 Apricot Galette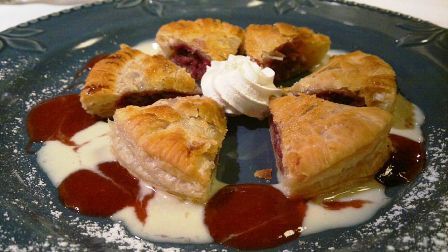 Raspberry & Almond Tart (1 of 2, compliments of Marc)
Some coffees and double espressos later, eschewing the thoughtfully offered
digestifs
, we called it a night and headed back home. All the dishes were delicious. Happy birthday again, Dad, and, until the next!