Yesterday, the 5th October 2012, was my youngest sister's (Reena's) birthday, and, it also happened that it was the
Ateneo de Manila Art Gallery's Inaugural Video Art Collection Event
, which event featured, among others, my brother's (Tad's) "twinning machine"-augmented dance performance/interactive installation. Thus, I slogged through 2½ hours of rush hour traffic to my old
alma mater
campus, missed the first performance, but was able to watch the second set.
The talented, young professional dancer for the subject performance was (small world) Tolo Maravillas, the son of Willy, an old gangmate of mine from 7th grade

.Unfortunately, Willy got stuck in the horrendous traffic and wasn't able to make the event.

I happened to bump into

Katrina Holigores

there, though, whose cousin is the gallery's managing curator.
Tad's Twinning Machine basically, as I understand it, real-time time-lapses moving images collected on camera. Used in a dance medium, it allows a dancer's self-expression as he displays inner thoughts, ideas, emotions through a series of poignant movements...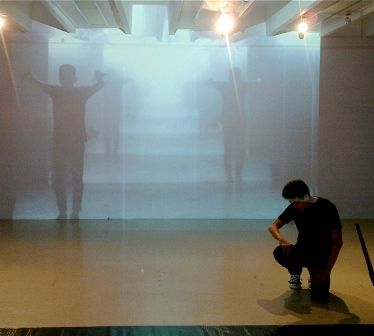 ...and poses...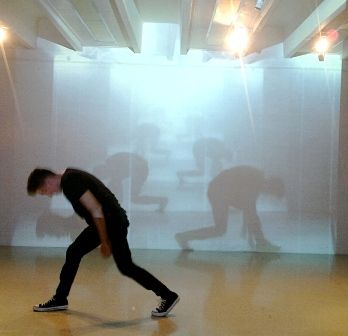 ..., which movements and poses...
...in juxtapostion with/against others of his own images at different points in time, allow him to dance and even debate with himself. The twinning machine
can also be set on "auto-pilot" mode for anyone who wants to interact with himself/herself as he/she is being filmed...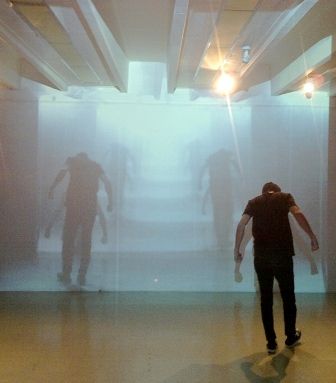 ...like so...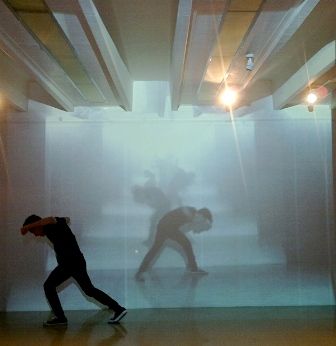 ...and like so.
It gets even more interesting when the stored moving images are jumbled or manipulated, presenting the dancer's story through different moments in time - at the same time...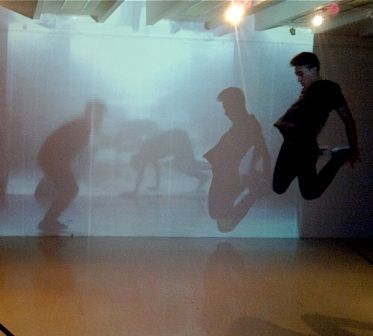 ...as may be seen above.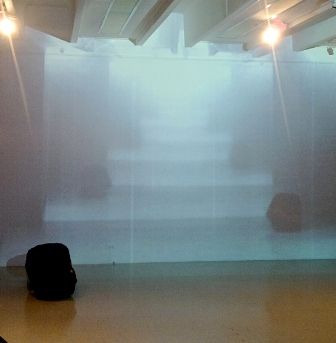 I wonder where Tolo got his dancing talent - not from Willy for sure....
Excellent show. Though I'm admittedly quite shallow when it comes to art, this was pretty thought provoking for me. My kids thought it was pretty cool too.
Thereafter, we proceeded to Brasserie Ciçou for a late dinner. Since my family was continuously picking at the generous spread at the art event (catered by Via Mare), nobody seemed to be very hungry - so everyone ate relatively lightly.
Those who opted for the current tasting menu (like me, Tad & Dad) started off with the Foie Gras et Champignons Festival's 1st course: Duck Liver Terrine, Crispy Brioche, Raspberry Mousse and Cherry Compote, Cherry Honey Sauce...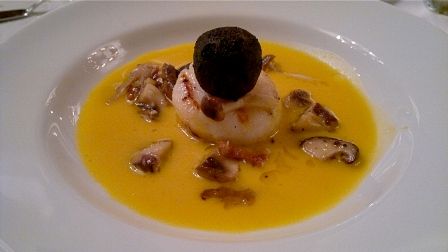 ...followed by the excellent Grilled Scallop, Fricassée of Mushrooms, Duck Liver Cromesqui, Squash Soup.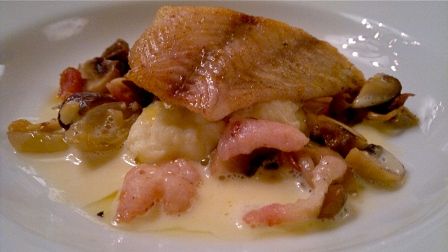 My main course was Pan-Seared Sea Bass (para healthy)...
...which I enjoyed with some floral, cold-stony, succulently tropical passion-fruit, white peach, ripe grapefruit, and gooseberry laced 2008 Domaine Raimbault Pineau Sancerre.
The wine was halfway between light and medium-bodied, with just enough acidity to keep things interesting. Very nice. Miguel, Rene and I have been enjoying this producer's Sancerre (and Pouilly-Fumé) for a number of years, and this bottle (well, we finished two bottles, actually) certainly reminded me why we so favor this wine.
The teenagers opted for the Grilled US Angus Rib-Eye for their main course.
Naturally, I had to have a bit of
Kouign Amann with Salted Caramel Ice Cream
for dessert, and brought home another order, plus a dozen each of assorted
Cannelés
and
Macarons
for Catha (who was home sick) and Joaqi (who had to go watch a school play).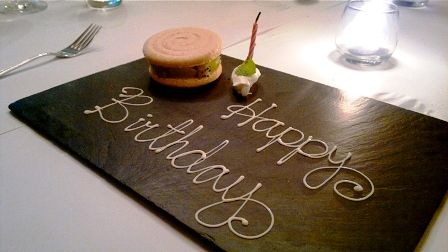 Happy Birthday again, Reena!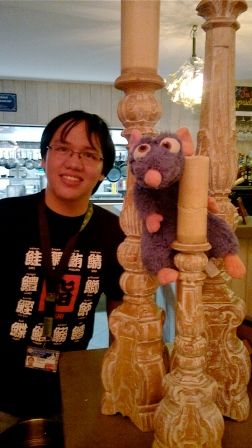 Mau w/ Brasserie Ciçou's secret chef. Until the next!