I must admit that due to the exigencies of work and life in general, I have been woefully remiss in attending IWFS functions the past few years - attending less than a handful of events per year. One event I always make it a point to attend, however, is the annual President's Dinner, having missed only one in my seven years of membership.
There was no way I'd miss this one, especially since it was concurrently the celebration of the Society's 30th anniversary. Thus, last Thursday, the 18th October 2012, Catha and I "suited up" for the annual formal, members-and-spouses-only event at The Manila Peninsula Hotel's
Old Manila
.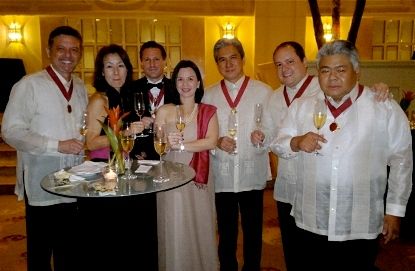 Johnny Revilla, Yuki & Richard Joye, Catha, IWFS President Oscar Ong, Rene Fuentes, Jr., & Jay Labrador.
Cocktails were served upstairs, outside The Conservatory, as usual, the members welcomed as they arrived with flutes of razor-focused, purely and vibrantly fruited, citrusy, slightly linear
Champagne Jacquesson et Fils Cuvée 735
, above depicted with some delectable
Baked Oysters
. Other pass-arounds were
Fresh Oysters
,
Parma Ham on Melon
, and
Smoked Salmon with Horseradish Mousse
.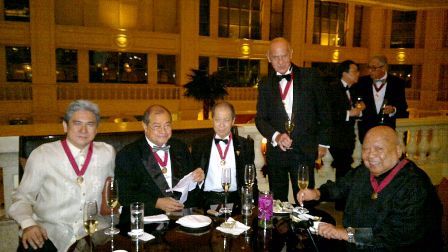 Oscar with seated past presidents Rene Fuentes, Sr., Bernie Sim, & founder Fil Juntereal. Standing behind are Markus Ruckstuhl, Mon Diokno, & Hans Brumann.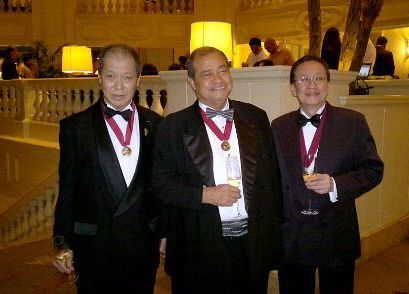 Bernie, Rene, Sr., & Mon Diokno.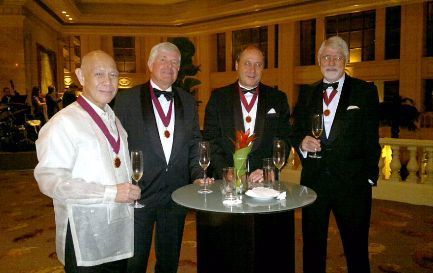 Freddie Pio de Roda, Dieter Lonishen, Martin Kleger, & Bill Stone.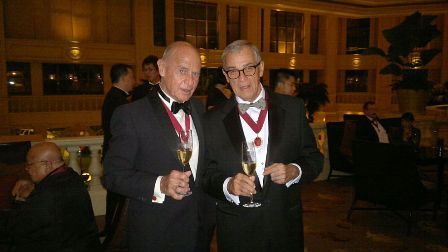 Markus Ruckstuhl & Hans Brumann.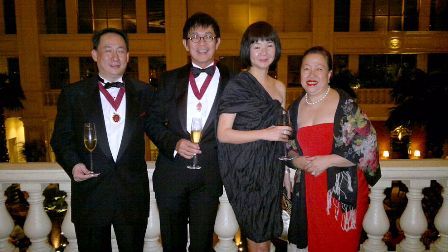 Edwin Ong, David & Mawen Ong, & Lucy Sim.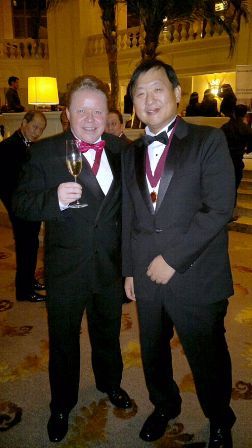 Mike Whitting & Alex Lichaytoo.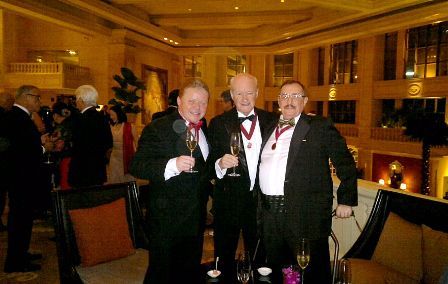 Mike Whitting, James du Vivier, & Robert Burroughes.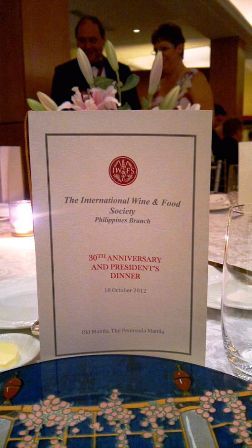 The Menu...
...listing the dishes with the pairing wines.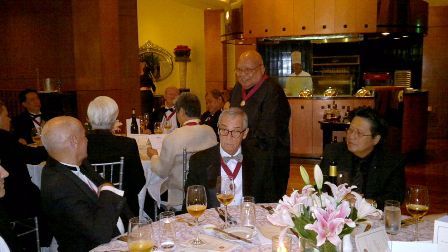 Founder Fil Juntereal makes the opening statements. On the right, with Markus and Hans, is Cilio Pedro sans better half, Irene, this time.
The 1st Course
:
Duck Foie Gras au Torchon with Melba Toast, Salad Leaves in Aged Balsamico, & Mango Relish,
paired with
2007 Domaine Zind Humbrecht Clos Windsbuhl Pinot Gris
- having had a number of bottlings and vintages of the producer's wines, including this
monopole
single vineyard pinot gris, I am rather familiar with it. This particular bottle, to me, seemed atypical in that the usually forward, round fruit was somewhat lean, linear, and restrained. The usual underlying minerality was there, but not really much else (as compared with the Clos Windsbuhl that I know).
In this connection, by way of anecdotal information, I have noted bottle variation in two specimens of the 2004 vintage opened by the Doc barely two months apart - one being similarly lean/restrained and the other being as open and luxurious as I know it to be (See:
here
and
here
). My comparative notes from early January 2009 are as follows:
2004 Domaine Zind Humbrecht Pinot Gris Clos Windsbuhl

- The Doc reminded me that he brought this before, at our relatively recent

Blind Bordeaux Challenge XI

. Right he was, of course. my notes then were as follows:
"A nicely reserved, comparatively lean (and that is a good thing for me), minerally, well-focused, just slightly sweetish pinot gris from a world-famous Alsace producer known for its rich, ultra-ripe-fruited wines with a lot of residual sugar in the more modern style.
"The dominant fruit flavors are those of clean apricot and Indian mango (as we know them here in Manila) with nuances of honeysuckle and white minerals. There is also a very slight whisper of spritziness mid-palate and towards the back. Of the hallmark vaguely almond/nutty notes of pinot gris, they become more apparent towards the back of the mouth and on the finish.
"Well-crafted with good reserve, with a nice, steely backbone and acidity that gives this wine a bright, fresh and cleansing character."
This particular bottle presented itself very differently, and, to my mind, more typically the Zind Humbrecht style - richer, more luxurious, fuller, riper, rounder with gewürztraminer-reminiscent notes of lychee to its honeyed apricot, pear and mango. No spritziness this time. I am convinced this is because the Doc had this breathing for at least an hour by the time we got to it, whereas, at the last Challenge, I recall it was it was popped and poured.
In light of my fellow member/aficionado and good friend's, Richard's, observations from the bottle served at his table, the same kind of variation as that above described with the 2004 vintage is apparent. Though it could have been a difference in aeration time, that is highly doubtful as veteran Wine Master Bernie Sim would surely have made sure all bottles were prepared in the same manner.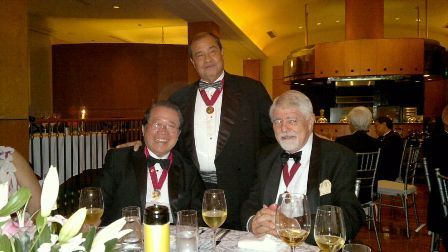 Dong Puno, Rene, Sr., & Bill Stone.
The 2nd Course
:
Lobster-Leek Ravioli served on Fine Vegetable Julienne with Chardonnay-Dill Velouté,
paired with
2004 Louis Jadot Grand Cru Corton-Charlemagne
- drinking nicely now, as it warmed a bit, it released expansively and finished with a flourish. Richly fruited, lots of California-esque heft with concentrated, ripe baked apple and pear, hints of candied orange rind, lemon drop, underlying pastry, and a bold dose of vanilla/oak.
Still quite young, somewhat primary, undeniably stylish. Unctuous. Lavish. Turbo-charged chardonnay. This is Catha's type of chard, so I guess I'll have to make a trip to Bacchus Int'l to by some. With the lobster ravioli and creamy chardonnay-dill sauce, it was a textbook "running with the dish" pairing. I'd have enjoyed more with a bit of cut, but, hey, that's picking nits. I enjoyed it well enough.
The 3rd Course
:
Slow-Cooked French Duck Breast w/ Raspberry Jus, Truffle Honey, Porcini Risotto, & Sautéed Snow Peas,
paired with
2006 Louis Jadot Beaune Premier Cru Clos des Ursules
- Another of Jadot's line I am quite familiar with. Truth to tell, from Beaune, this Jadot
monopole
bottling is one of my more favored wines. Unfortunately, this was rather tight, narrow in the middle (though it expanded
somewhat
past mid-mouth), and, at this point anyway, lacked the weight, structure and depth to stand up to the dish. I'd hazard it is just too young, and no amount of aeration would even approximate the years needed for this to be truly enjoyable. Judgment on the wine reserved. The dish, however, was delicious.
In between courses, the Society raffled off many bottles of wine. Markus was the first to win, and received a bottle of
2000 Château Figeac
. In the photo above, lucky Rene, Jr.'s name was called, and Johnny hands him...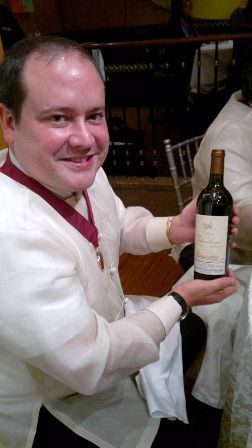 ...a 1997 Château Valandraud.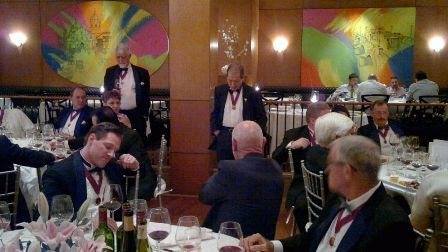 Wine Master Bernie Sim takes the floor to explain the night's pairings.
The 4th Course
:
Oven-Roasted Rack of Lamb w/ Sautéed Green Beans, Potato Gratin, Carrot Velvet, & Rosemary Jus, with which was paired 2 wines from Pauillac...
2000 Château Pontet-Canet
- Right...this producer only came to my attention sometime in 2004 or 2005, when the Stockbroker (who was selling it at the time) recommended I try their 1996 vintage. For its then very modest price, I tried a bottle and bought a few more. This vintage falls under Michel Rolland's early watch. Somewhat modern, it is a full-bodied, concentrated, well-extracted wine from a powerful, ripe vintage showing full-bodied, dark fruit compote, crème de cassis over roasted coffee grounds, bit of licorice, tobacco, loaminess and slight nuances of pencil lead shavings, cedar and violets with moderate oak-related spice. It had the stuffing for the lamb, and later on, green pepper emerged. Good enough as a pairing, but, in itself, not overly interesting at this point for me.
1998 Château Latour
- This may well be the first time I have ever tried this 1998 vintage of Latour, as I cannot find any notes of mine on it. Strange, as this has long been my most favored 1855 first growth. The refinement is there (neatness, focus, over-all harmony), but now a mere shadow of the power and dark, complex depths I know of Latour - well, maybe not yet - only time will tell. Slight green touch to the dark fruit, slight licorice, mild underlying dark minerals/pencil lead shavings and walnut skins. Medium-bodied - or a mere shade or two over. Lackluster for what it is - but I find that of many left-bank wines from 1998 (Pessac-Léognan is a different story).
Like the above-mentioned 2000 Pontet-Canet, green pepper notes emerged after more time in glass (David Ong noticed the same thing). Perhaps this was over-aerated? I don't really know. Not exactly what one expects from such a renowned producer (even in Haut Médoc 1998), but, don't get me wrong, it isn't a bad wine by a long shot - just a vintage of Latour I'd pass on given current prices - I'd rather save my money for stronger vintages of Latour. It wasn't a particularly great Latour, but it is still a pretty good Pauillac considering what is out there, and the company certainly more than made up for whatever "oomph" the wine lacked.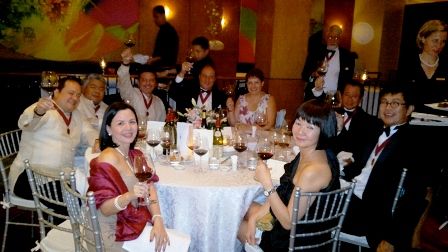 Cheers from our table! Catha, Rene, Jr., J-Lab, Johnny, the Klegers, Dong Puno, David & Mawen Ong.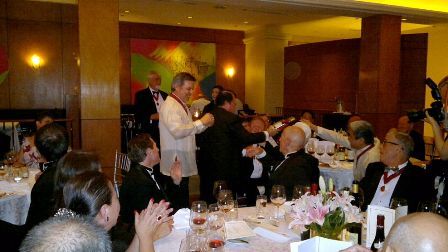 More raffle prizes - Dong's name is called...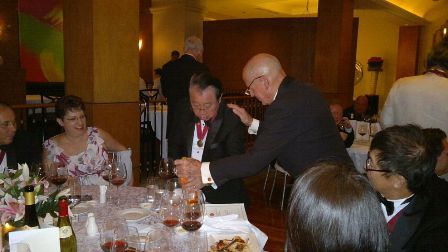 ...and he wins a bottle of...
...
1994 Château d'Yquem
- which bottle Dong immediately and generously ordered chilled and opened for our table. I enjoyed my share with
the 5th (Cheese) Course
:
Port Wine Marinated Stilton with Grape-Walnut Salad
Brie de Meaux with Grilled Watermelon.
Say what one will about vintage 1994 in Bordeaux, my own experience over the past 5 years is that many professional critics materially underestimated the wines it produced (
nb
: bottles of 1994 Angelus, Pontet-Canet, Pichon Lalande, Haut Brion, La Mission Haut Brion, Léoville Barton, Lafleur, and Vieux Château Certan, to name a few).
This 1994 Yquem was quite wonderful, showing its pedigree proudly. Unctuous, rich, unabashedly full-bodied, displaying typical crème brûlée, orange marmalade, dried apricots, orange blossom essence, vanilla bean...beautiful. Many thanks to Dong for sharing this with us.
The above depicted 1992 Graham's Malvedos Vintage Port was really meant for the cheese course - and it was plenty good enough - but, beside the Yquem, well, I had the Yquem and just sipped a bit of the port since I was driving home that night.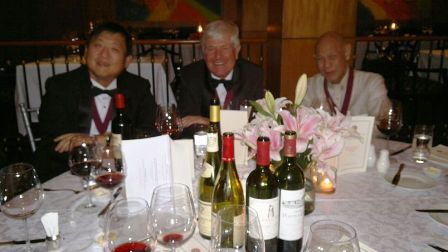 Alex, Dieter & Freddie (who won a 2002 Château Latour).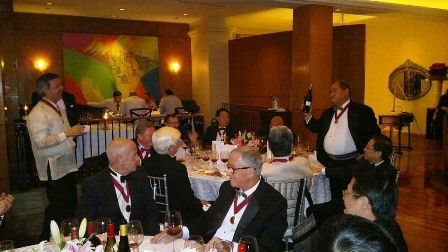 Rene Sr. wins a 1993 Château Haut Brion which Johnny urges be opened for the crowd...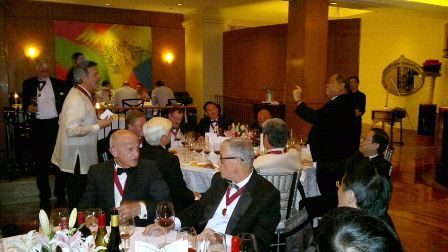 ...to which Rene Sr. replies "Sure, get thimbles for everyone!"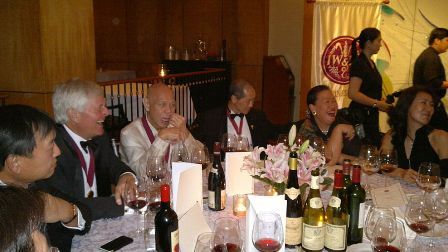 Bernie's table had a good laugh...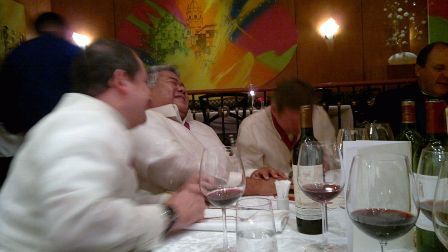 ...as did ours (easy for us as we already enjoyed Dong's Yquem).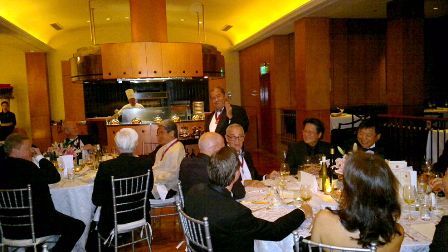 Upon Rene, Sr.'s "gentle" suggestion...
...Oscar magnanimously announced that the raffling off of bottles would continue until every single Society member present wins a bottle - and acknowledged the generosity of the members who donated for the raffle prizes, with special thanks to Joe Ledesma, who, although absent due to work, donated no less than 15 fine wines for the event (I eventually won a
2004 Château Haut-Bailly
).
Dessert was then served: Tarte Tatin with Caramel Sauce & Vanilla Ice Cream, paired with 2005 Domaine Huet Vouvray Clos du Bourg Moelleux.
Unfortunately, after the Yquem, it was simply impossible for me to fairly taste this surely fine
moelleux
as the former's honeyed richness still lingered on my palate. Judgment properly reserved.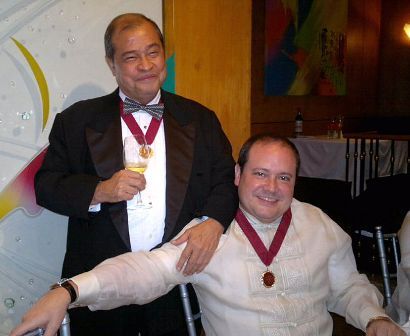 Two generations of IWFS Fuentes men: Renes Sr. & Jr.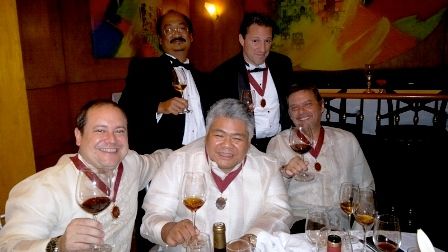 Wonderful celebration! Until the next!