Since last week was quite a busy one and my children had classes anyway, it wasn't until last Friday, the 28th September 2012, that we caught the tail-end of JC's Asturian Festival at
Terry's 2º Piso
(which festival ended Sunday the 30th). Having had
a sneak peak at the Asturian menu
the week before, Catha & I made sure to try more of the festival's featured dishes with the children. Niece, Nicole, and nephew, Zach, joined us, together with Nicole's friend, Leo (who, small world, turns out to be the son of my late IWFS co-member, Larry J. Cruz).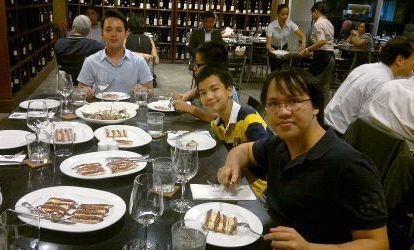 Lorenzo, Zach, Joaqi, & Mauro.
I knew from friends that the
Anchoas de mi amiga Beatriz empapadas en puré de almendras al queso La Peral ("My friend Beatrice's Anchovies drenched in Almond purée on La Peral cheese")
had
been so in-demand that orders thereof were already being tightly rationed. Due to some persistence on my part, however, we were lucky enough to have six orders of this Asturian delight last night. Not too many people like, profess to like, and/or realize they like anchovies, yet the clamor for and rave reviews of these anchovies were simply overwhelming. JC apparently didn't anticipate that it would be that huge of a hit and, apparently, didn't import all that much of it, hence the rationing.
We had even more of these artisanal Cantabrian Sea anchovies in the form of
Suspiros de Loarca
(served atop
rémoulade
and a slice of tomato, drizzled with the finest olive oil). This dish focused more on the anchovies' natural flavors, and, so was more for hard-core anchovy
aficionados
, which I am, and, evidently, Leo is as well.
Naturally, with Asturian dishes, it would be foolishness not to have some Asturian sidra alongside. Thus, I ordered a continuous stream of the pride of Asturias,
Casería Salvador de Obispo Tareco Sidra Natural
- a fresh, light, vibrantly fruity, beer-reminiscent apple cider complexed with intriguing meaty, vaguely sanguine undertones.
Everyone loved the sidra, even my youngest, Joaqi. Despite my telling the children that we were having a special Asturian dinner at Terry's that night, they simply insisted that we order some of their old favorites as well, with which I ordered a bottle of the ever reliable Bodegas Olarra Otoñal Rosado. Those old favorites that the children insisted on were...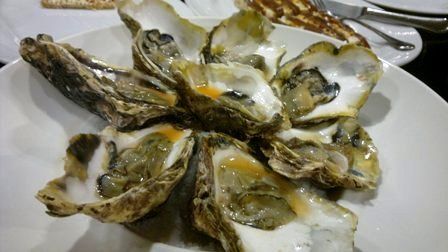 Lorenzo's Fresh Oysters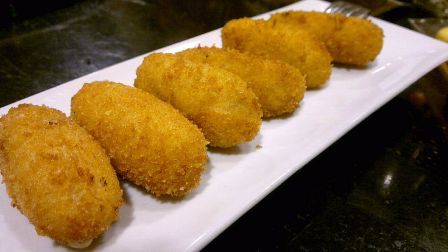 Joaqi's Croquetas de Tres Quesos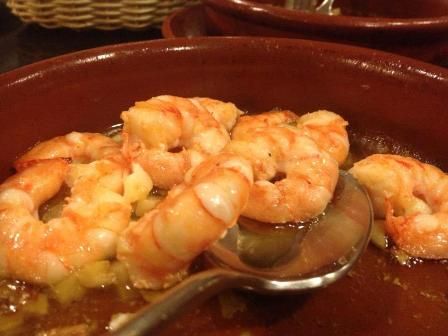 Mauro's Gambas al Ajillo (photo by Nicole Server)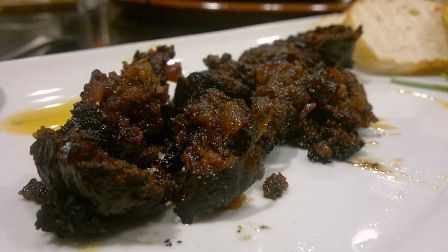 Everyone's favorite Morcilla on Piggyback
and the Asturian Stuffed Piquillos topped w/ Chorizo.
Catha, Nicole, & Leo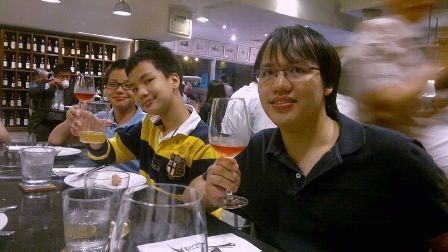 Zach, Joaqi, & Mauro
Though there was no more stock of the
Chorizos de Tineo
(I'm sure Cyrene ate them all earlier) and
Super Fabada Asturiana
, there were still more than enough Asturian dishes available - and we ordered as much as we could eat (
nb
: we had 2-3 orders each of all the dishes mentioned in this post, save for the anchovies on La Peral cheese and almonds of which we had 6 orders).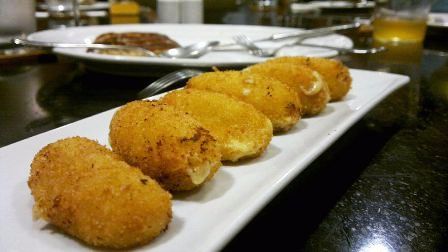 Compango Croquetas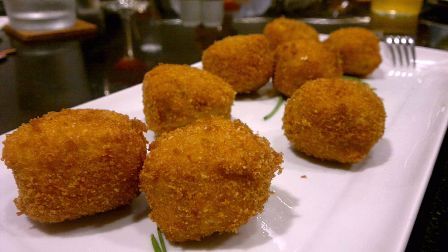 Cachopitos de Cecina y Queso de Cabra al Puré de Setas y Piquillo
(Inspirado en Casa Telva y El Tendejón de Fernando)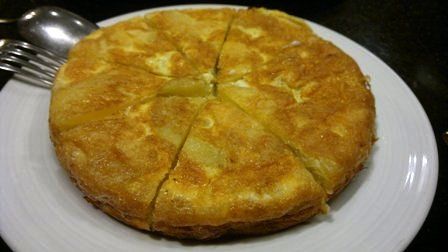 Tortilla de Patatas Stuffed w/ La Peral Cheese
Baby Squid Stuffed w/ Bacalao Cream in Sea Urchin Caviar Sauce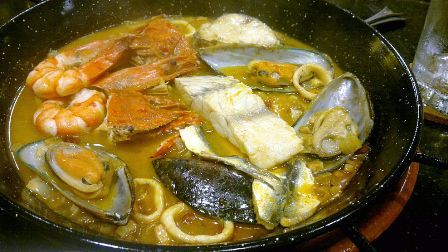 Seafood Caldereta "Cudillero Style"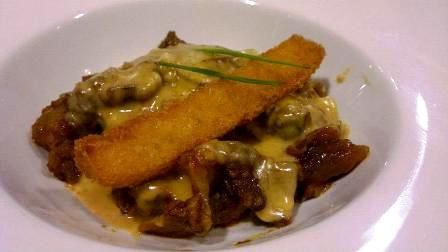 Rabo de Toro Cooked in Cabrales Concoction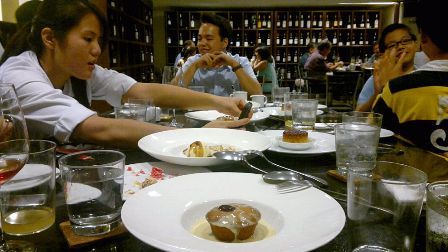 No matter how much is ordered, the children always have space for dessert.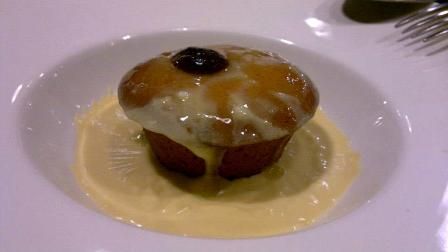 Carbayón (Almond Pastry Served w/ Natillas)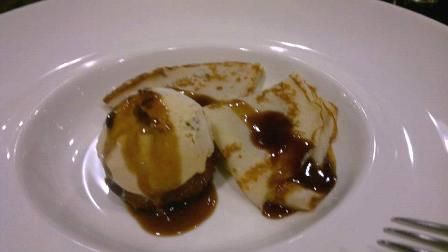 Another huge hit: Cabrales Ice Cream with Dauro Extra Virgin Olive Oil and Pedro Ximénez Grape Syrup on Frixuelos filled w/ Caramelized Apple Cream Flambéed w/ Salvador de Obispo Aged Apple Brandy
Rice Custard Carreño Style
We bumped into a few friends who were also enjoying the Asturian Festival dishes that night: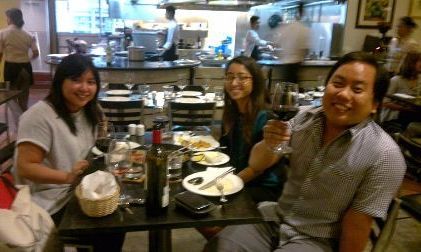 Craft beer enthusiast, Chris Yambing, w/ friends from Juice.Ph & Rogue Magazine...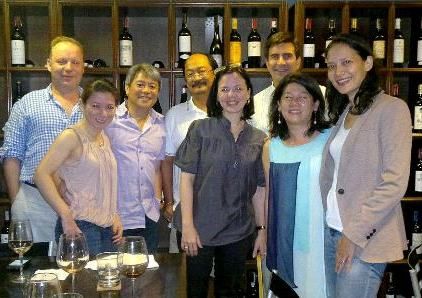 ...and Miguel & Barbara Aboitiz with a table of friends.
El Maestro, JC, dropped by later on coming from an Espa-Fil event and sat with us for a while for a chat. It goes without saying that we thoroughly enjoyed JC's Asturian Cuisine Festival. We had a fantastic meal and widened our gastronomic horizons in the process. What more could one reasonably want? Thanks, JC, for all the superb dishes. I know that many were clamoring for an extension of the festival, but, alas, the Asturian ingredients were already running low as it was, and JC would allow no substitution. Hopefully, he gets fresh stocks of the anchovies and chorizos de Tineo at least. In any event, until the next!