Dinner of Friday, the 26th April 2013,
was back at Hanakazu, as Catha requested. It was just us two for dinner as the kids were either unavailable or didn't feel like having dinner out.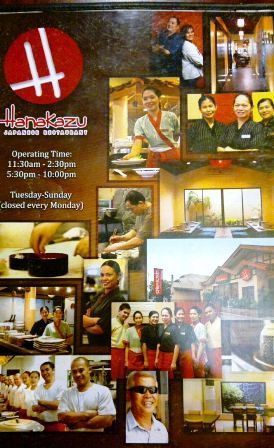 This is the back of Hanakazu's menu. I like it that every member of the staff, even the parking guy (at bottom in shades) is included, the owners themselves not hogging the layout.
Many establishments, small, medium-sized, and large, like to think of themselves as (or pass themselves off as) "families". Some are, some aren't. I think Hanakazu is.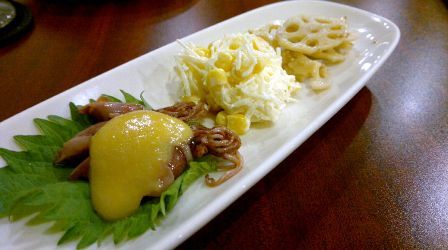 Complimentary appetizers were sent as always; this time, they were: Baby Squid, Takenoko Salad (Bamboo Shoots Salad), & Renkon Kinpira (Vegetable Root).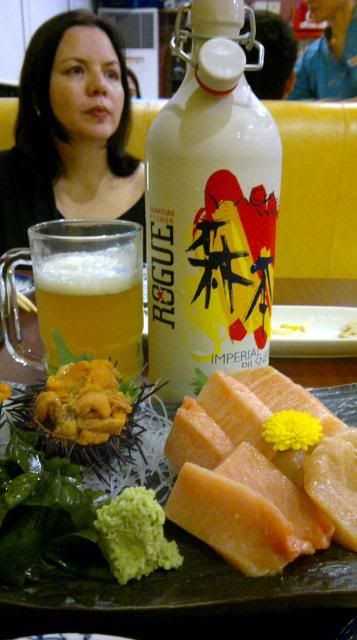 With the first of the sashimi courses...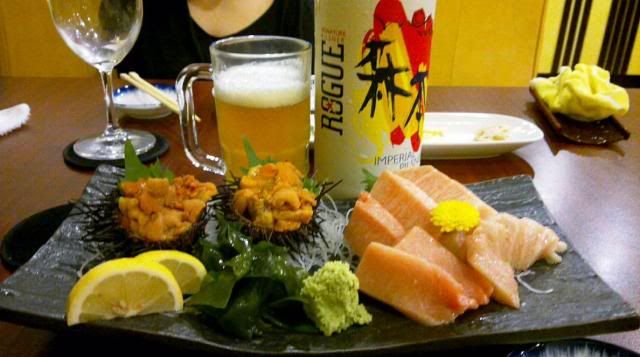 ...of
Toro
and
Uni
(flown in from Japan earlier that same day), I enjoyed a whole large bottle of
Rogue Morimoto Imperial Pilsner
all to myself. Regular readers of my blog know well that this is one of my most favored beers - a strong, substantial, and well-rounded pilsner to which no less than Iron Chef Masaharu Morimoto himself saw fit to attach his name. This is readily available locally at Jimmyton's
Global Beer Exchange
.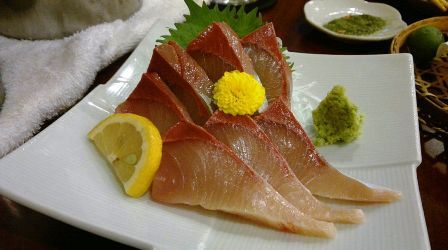 Excellent, super fresh Hamachi Sashimi.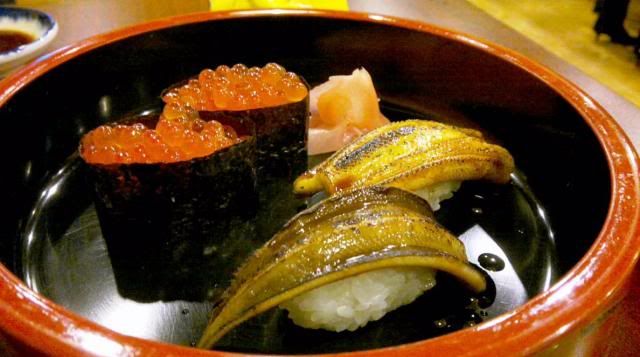 Our sushi courses followed: Ikura for me, and Anago for Catha. Just a quick note: ikura (salmon roe) is offered in most all real-deal Japanese restaurants, but, aside from the really good ones (such as Hanakazu, Tsukiji, and those of similar level), what one usually gets is dried-out, overly salty, sticky versions where the salmon eggs are stuck together like glue. The good ones serve ikura that is fresh, and each individual egg noticeably bursts in the mouth - just as they should.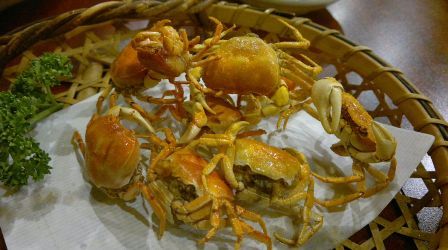 The Deep-Fried, Crispy Crablets have become a staple for us in Hanakazu, ever since good friend/regular drinking buddy, Alex Tiu, showed me how dipping them in Macha Salt opens added dimensions of taste to the little critters (just ask your waitress for the macha salt, and she'll readily oblige).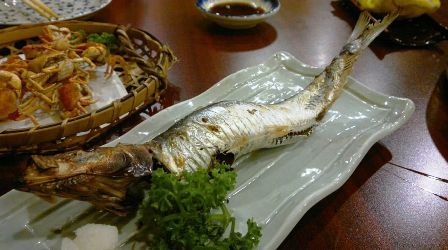 This was one of the fishes that had also just flown in from Japan that day, one that, upon our regular waitresses' recommendation, we had grilled: Iwashi Shioyaki (Grilled Tamban). Quite nice, but I can't wait until Sanma season rolls around again.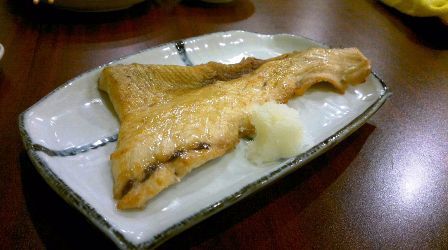 Chef-proprietor, Hiroaki Otsuka, then sent us a complimentary Grilled Hamachi, which is always good, and was greatly appreciated. Domo, Otsuka-san.
Naturally, my being typically Filipino in a Japanese restaurant, I simply had to have my Ebi Tempura on top of everything else. Since it was just the two of us, though, I had only the 3-piece order (Catha doesn't really eat prawn tempura, preferring the vegetables and cuttlefish).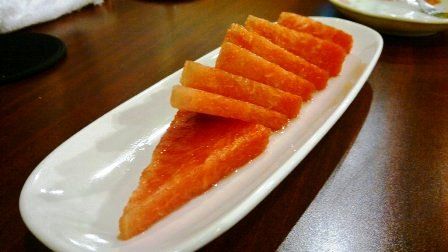 After I asked for the check, a plate of chilled, summery, ripely sweet watermelon was sent to our table - a perfect end to a fine Japanese meal...as always in Hanakazu. Until the next!