Last Wednesday, the 1st May 2013, I turned 48. Funny growing older. My mind still thinks I'm in my late 20s, but my body sends unpleasant reminders every so often (e.g., threw out my lower back carrying luggage out of the apartment in Paris). In any event, this year, after 18 holes, I just took Catha & the kids out to a simple, quiet dinner at an old favorite,
Champêtre
.
We started off with a bottle of
1999 Champagne Billecart-Salmon Brut Blanc de Blancs
- J-Lab, during a brief discussion a few months ago, had told me this still needs some years in bottle, but curiosity got the better of me (well, and because the only other champagne I had at home at the time was more of the Krug Grande Cuvée Brut which I'd been having rather frequently as of late). I had it opened to breathe for around 30 minutes before pouring and followed it for around an hour as it warmed and aerated.
Enthusiastically fresh, minerally, citrusy, lightly honeyed & slightly chalky baked pear, apple and underlying brioche. Acidity is healthy. After a while, the middle broadened and a sort of milkiness to the fruit emerged (something I don't normally get from blanc de blancs, but, rather, with pinot noir laden bubblies - but it was what it was), laced with candied ginger and nutty whispers. Nice performance as a whole.
That all said, it did seem like it was still "coming together" - either that or J-Lab's earlier comment left a subliminal mark. Either way, while it wasn't particularly memorable, it was a good blanc de blancs with a bright future. We had it with assorted, shared appetizers of: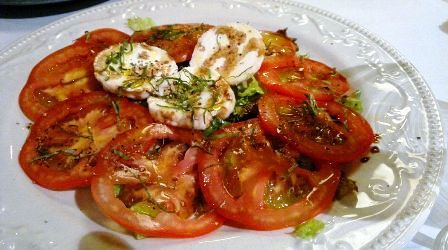 Crottin de Chavignol Salad (excellent).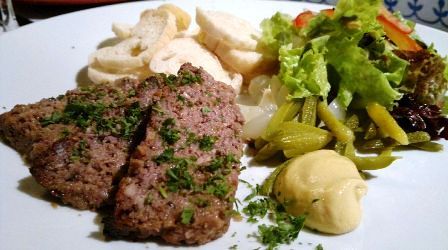 Duck Terrine in Red Wine w/
Gherkins, Pearl Onions & Mustard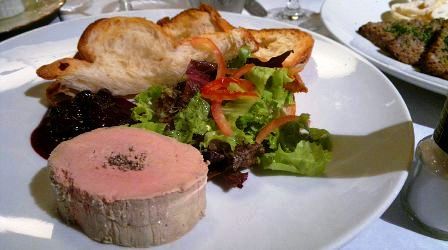 Goose Foie Gras w/ Brioche & Blueberry Compote (2 orders -excellent).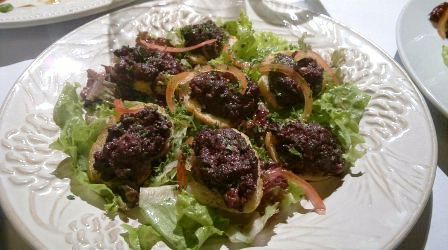 Boudin Noir on Toast (lovely).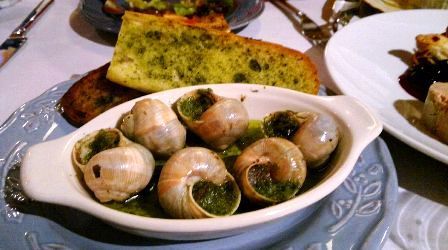 As always, Escargots à la Bourguignonne (3 orders)
Mauro's Ris de Veau & Foie Gras Pasta (a night's special).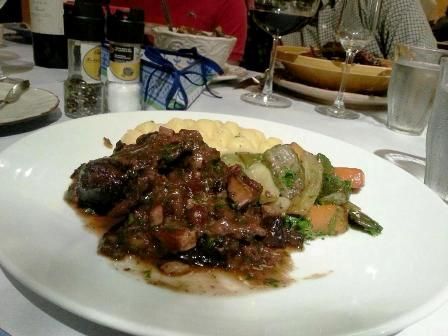 Catha's Boeuf Bourguignonne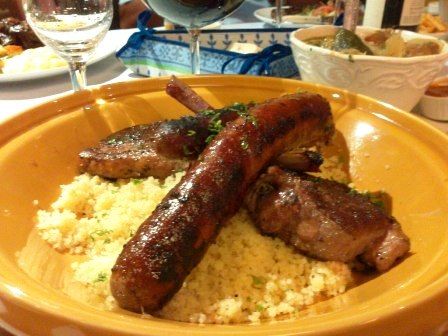 Lorenzo's Algerian Couscous
Joaqi's Tartare de Boeuf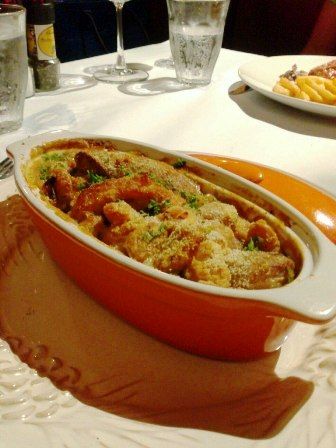 Some Cassoulet for good measure.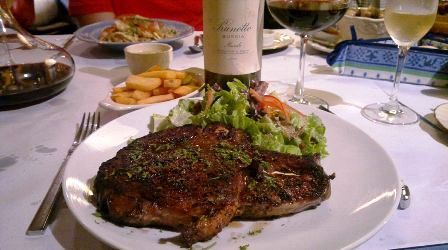 My Dry-Aged US Angus Prime Rib-Eye (rare, of course).
The red wine for the night was a
2001 Prunotto Barolo Bussia
- Last I had this particular wine was very recently:
on the 19th January 2013, also at Champêtre
. My notes at the time were as follows:
For the night's red, I opened a bottle of

2001 Prunotto Barolo Bussia

- Roses, tar, violets, cedar, blackcurrants, slight licorice, and some citrus peel in the nose. Full-bodied, properly rigid structure and concentration, precise ripeness to the moderately earthy fruit, joined by nuances of black olives and earthy tobacco notes. Clean lines. Acidity is good; could be a little better, but that's picking nits. Good focus, neatness, and typicity. Confident performance from attack to finish.
Locally available at Bacchus International. I don't recall the exact price, but it should be in the neighborhood of around P3500/bottle at full retail.
The only thing I would change from the above notes is that the acidity of the wine from this bottle was much better and more typical of Barolo as I know it.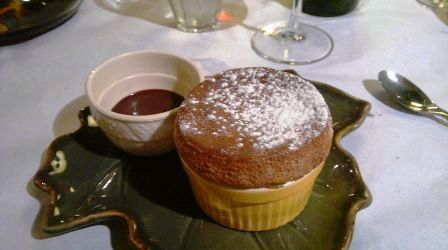 I ordered and much enjoyed my usual
Chocolate & Grand Marnier Soufflé...
...and then came my surprise gift from Marc - a birthday Paris-Brest Cake (named after the famous, old 1200 kms. bicycle race from Paris to Brest (in Brittany) and back to Paris).
Many, many thanks, Marc. I loved the cake. In the presence of my wife & children, with the great dishes and nice wines, I could not have asked for a better birthday dinner.