Monday, the 29th April 2013, some of the Usual Suspects got together at
Sala Restaurant
because
Keiichi, our little group's Tokyo-based "big potato" investment banker, was in town for a few days. It was a great reason to get together for some bottles of wine again.
J-Lab & I were the first ones there, followed shortly by Aaron and Jojo (the man previously referred to as "the Stockbroker"). With Arnie and Keiichi who arrived later, we were six in all for dinner.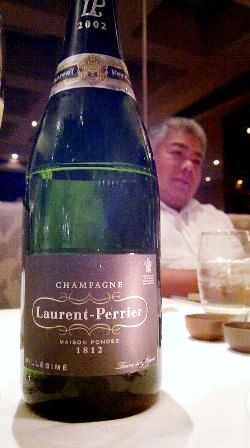 While waiting for the others, J-Lab, Aaron, & I (with Jojo following shortly) started off with J-Lab's nice, lively, toast-underpinned 2002 Champagne Laurent-Perrier Brut Millésimé.
Nice breadth, light-footed heft, and poise. Notable purity and focus too. This was materially better than the comparatively and materially tighter-wound, obstinately closed bottles I've had before (nb: J-Lab sourced this from Singapore).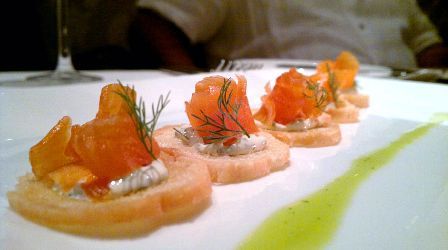 Smoked Salmon on Melba Toast amuse bouche platter.
We then started on the first of two fine whites of the evening:
2005 Domaine Paul Pernot et ses Fils Batard-Montrachet Grand Cru
- I brought this; it was a gift from O.C. California-based wine-buddy and fellow wine-berserker, Clem Nieto. Thanks again, Clem! Quite young, it was initially tight, showing only its minerals and citrus; but, with around 35-45 minutes aeration and a bit of warming down, it opened up, gained heft, and released itself into a voluptuous and expansive medium body of butter-and-hazelnut-laced slightly wild honeyed, ripe pear, ripe apple, bit of lemon cream underneath, and slight vanilla bean.
Lovely wine. This is still quite young, but, with some aeration, this will surely be even more delicious in many years to come. It was very nice indeed with my starters of...
Deep-Fried Squash Flowers Salad...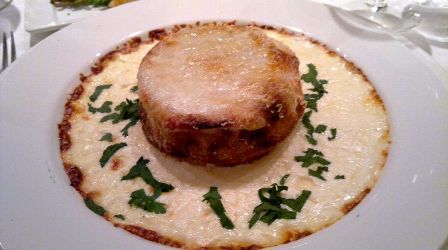 ...and Twice-Baked Prawn & Goat Cheese Soufflé w/ Dill.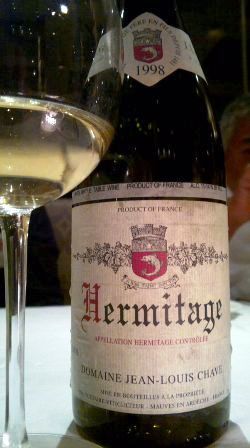 Arnie and Keiichi had arrived as we had started on Jojo's bottle of
1998 Domaine Jean-Louis Chave Hermitage Blanc
- Initially, its scents were virtually limited to sherry and walnut notes, with little more than added apple on the palate. After around 20-30 minutes breathing and cooling down in a decanter, thence in glass, however, it displayed a seductively complex bouquet of walnuts, slightly honeyed, sherried, pillowy peach, lemon, and pear, with honeysuckle, almond paste, vanilla and truffle whispers.
On the palate, the wine was very fleshy, deeply veined and mirrored its complex bouquet on a more than medium body of moderately viscous, oily texture (this is heavy on the marsanne after all). Superb.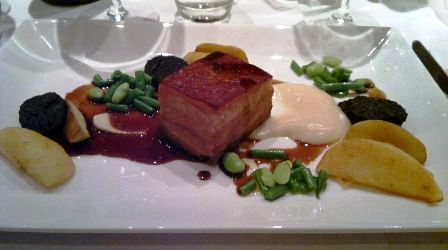 The main courses then began arriving at table - mine was a delectable
Roasted Pork Belly
.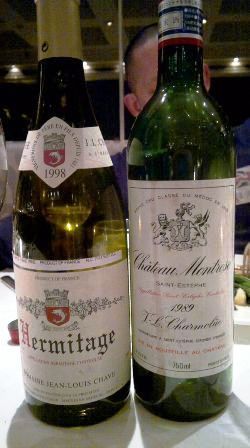 After the '98 Chave Hermitage Blanc, we moved on to the reds for the main courses - the first of which was Keiichi's
1989 Château Montrose
- none of us had had this for quite a while, though Jojo, Keiichi and I had had it many times in the past. The last I've written about it (and that I can recall) was
during a lunch at the newly-opened Masseto with Jojo, Keiichi, and Bernie back on the 22nd January 2010
. Aside from many other wines that day, we compared the 1989 & 1990 Montrose blind. My notes on the 1989 Montrose from that lunch are as follows:
Wine # 2

- The fruit was ripe enough, but not nearly as ripe nor sweet as Wine # 1. Though the flavors were very similar, their characters were very different. Other differences were the this wine's far sturdier structure and decidedly more masculine and less yielding character. In addition, dark fruit held sway over red and the leather notes were more pronounced. This seemed comparatively less evolved and the tannins more apparent. This, to me, was more food friendly.

*
*
Jojo & I were able to identify which was which; but only I chose the 1989 over the 1990.
Now, the 1989 Montose is as good as ever - a decidedly masculine wine with contemplative depth and admirable, fine structure. At a little over 23 years from harvest, this, to me, is in early maturity and drinking wonderfully with its confident stride and finish. I'd say this will hold for many, many more years, and even gain during that time. Excellent now and, I believe, there is no rush to open these, save for sheer and immediate enjoyment.
At the same time, we started on Arnie's
2000
Château de Beaucastel Châteauneuf-du-Pape
- Upon popping and pouring, familiar Beaucastel animal/gamey/sanguine/meaty notes almost immediately arose (the mourvèdre component speaking, likely). Lush, voluptuous, richly textured like thick, dark silk. Full-bodied and openly/forwardly giving (like its donor), this was all too easy to drink and enjoy.
This, I believe, was the first 2000 Beaucastel I've had. I should get some of this for myself. Notably, after around 20 minutes, the first mentioned animal/gamey/etc. notes had lifted from the nose, leaving the sanguine, iron, and meaty notes to be enjoyed with the lush fruit.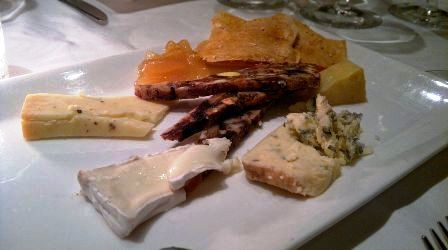 One of two Cheese Plates that followed.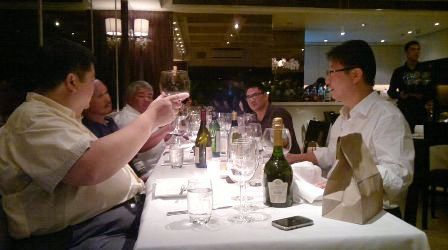 We were having so much fun catching up with one another, discussing the wines, teasing each other, that Keiichi insisted on opening up another of his fine reds; this time...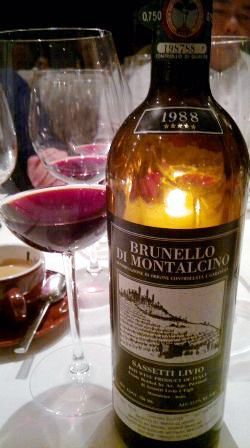 ...a
1988 Livio Sassetti Pertimali Brunello di Montalcino
-
A beautifully aged, deep, firm, tobacco-and-mushroom laced (some anise there too), loamy, earthy brunello di Montalcino. Served with another cheese course of aged Parmesan, nuts, and Sala's signature fruity bread.
Though the deep, dark fruit was notably lush, concentrated and extracted, the acidity was enough to keep things interesting.
Leathery notes emerge in the middle and continued past mid-palate. A bit of wild cherry comes in through a respectable finish. Though I don't usually enjoy reds with cheese, I did like this with the aged parmesan and the nuts.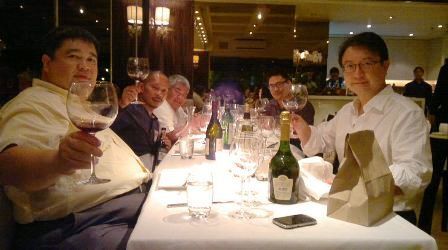 Not through yet, Keiichi then popped a bottle of
1988 Taittinger Comtes de Champagne
, but, tragically, it was damaged and utterly flat. Enjoying the company too much to go home, we ordered from the wine list and went through two bottles of bright, fresh, lively and refreshing
Champagne Delamotte Brut NV
to wrap things up before finally heading home. Great wines, food, and friends. Can't reasonably ask more than that, especially on a Monday night. Until the next!