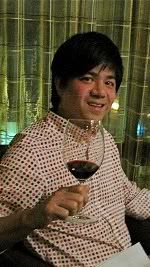 Saturday night, 6th February 2010, was at
Elbert's Steak Room
. James (Doc's brother) hosted a special dinner featuring Bryan Flannery's steaks which James brought in from SF; Doc took care of the rest and again forbade me from bringing any wine. We were 8 in all: James, Doc, I (my and Doc's wives were out of town), the Stockbroker, Eric & Cinthy and Alfred & Cecile.
Because I post regularly at
Wine Berserkers
, I've been aware of Bryan Flannery's prime grade, dry-aged beef products for a little over a year now, but, until last night, I'd never tried any. James remedied that lack in spades. Bill "Tex" Landreth is Wine Berserker's resident expert in all things Flannery, so I sought his advice on how to cook Flannery's famous ribcap (i.e., the top portion of meat that curves around the eye of a rib-eye steak). Bill's instructions were executed perfectly by Elbert's chef Adrian.
We started off with Alfred's bottle of
2006 Château Haut Lafitte Blanc
(no photo), a wine I tasted at the
Union des Grands Crus
event at Vinexpo 2007 in Bordeaux. Strangely enough, I only ever posted on the reds I tried then, never the whites. In any event, though I have my written notes on it, since that was 2½ years ago, I shall forego dwelling on the past.
At this point, the wine has materially fleshed out and showed plump, ripe fruit (I was also in Bordeaux in July 2006 and can personally attest that it was incredibly hot and dry), fleshy, somewhat waxy/creamy lemon drop, baked pear, custard and honeysuckle notes with underlying toasty oak/vanilla. The minority percentage semillon component is surprisingly apparent mid-mouth, with the sauvignon blanc's distinctive gooseberry quite subdued and more noticeable towards the back and finish. Acidity is notably low. Not my style of Bdx blanc, but I'd say very approachable for the many and user-friendly as well.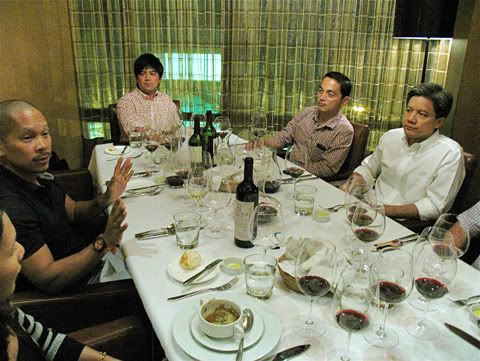 After my salad (I skipped the soup course), Doc poured me his
Mystery Red
- Alluring, open, stylish bouquet of truffled sweetishly ripe/dried dark fruit and dried black cherry with a minty topnote, discreet cedar and a bit of violets. The scents pointed towards Bordeaux if not for the modernish opulence of the fruit. In the mouth, it was notably concentrated (but not overly so), with cassis, ripe black cherry, slight dried tamarind, bit of chocolate, violets, licorice, cedar, whispers of mocha, cinnamon and toffee towards the back and in the finish. Smoothly muscled, full-bodied, richly textured but with good grace, poise and admirable balance, it said to me Bordeaux-esque Napa cab. I guessed it was an aged Dominus. It was, indeed, an aged Bordeaux-esque Napa, but it wasn't a Dominus.
It was a
1992 Philip Togni Vineyards Cabernet Sauvignon
. I've only had one other wine from this producer before, also from the Doc, but I do not clearly recall the vintage - it may have been a '95.
Nb
: Per the guys, Philip Togni has a degree from the University of Bordeaux, was a student of the venerable Emile Peynaud and worked for a while in 2nd growth Château Lascombes (Margaux). It is, therefore, hardly surprising that his Napa wine has a Bordelais character to it. This actually seemed on the young side for me though already 18 years from vintage.
The much anticipated steaks were then served. Please note that James brought these steaks in himself.
Flannery products are currently locally unavailable
, but this may change soon. Await future news on this.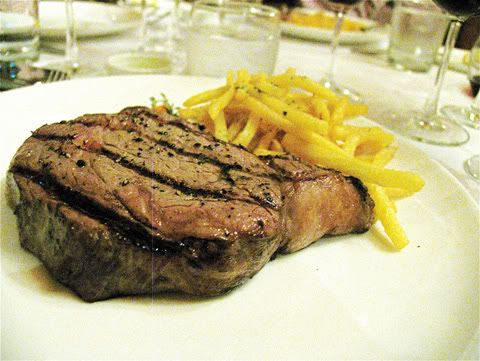 Bryan Flannery Private Reserve Rib-Eye Steak
(dry-aged, USDA prime grade); rare for me, I think everyone else got medium-rare. One steak for each of us. I opted for fries on the side. Not as "nutty" as other dry-aged prime rib-eyes I've had, but more tender, juicier and more yielding than all others I've tried. The incredibly marbled beef's fat also came of as notably cleaner tasting and the "beefiness" more to the fore.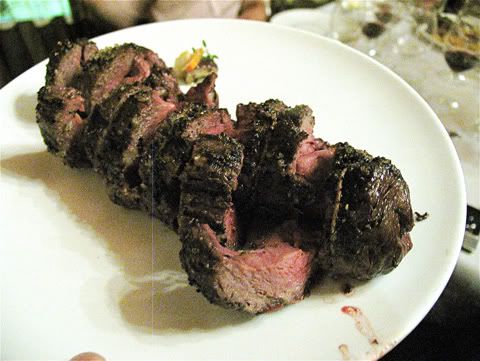 Bryan Flannery Midwestern Rib Cap
. I was left almost speechless at the luxury of this cut. Literally melts in your mouth, more than any mouthful of beef I've ever had - and I've had it from all over. Not as overwhelmingly fat as Kobe (I can barely get through half a serving of Kobe before my palate is overcome). Words fail. You simply must. Thanks for the advice, Bill. Enough said.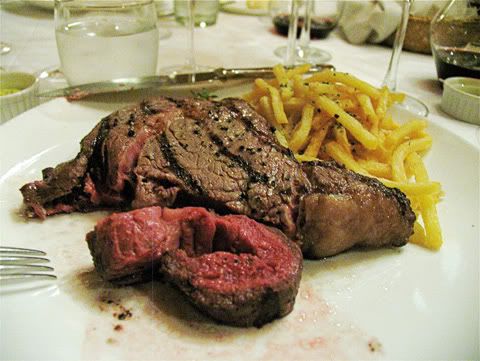 I finished up my glass of '92 Philip Togni and moved onto the next aged California cab.
1991 Château Montelena Estate Cabernet Sauvignon
- James' bottle. This is one of my favorite Napa producers and has been for a long time. Typical Montelena with an almost somber, deep, serious, confident character (as opposed to the showier Togni above discussed) in its earthy, leather, warm asphalt, tobacco and fine mineral laced cassis over dark raspberry and violets. Excellent balance, notable complexity. Loved it. Many years left in this wine, but an absolute pleasure to drink now.
I don't really recall all the vintages I've had from this fine producer, but the '91 must be one of the best, if not the best I've had from them. This I savored with the steak as I deemed it the driest and most food friendly.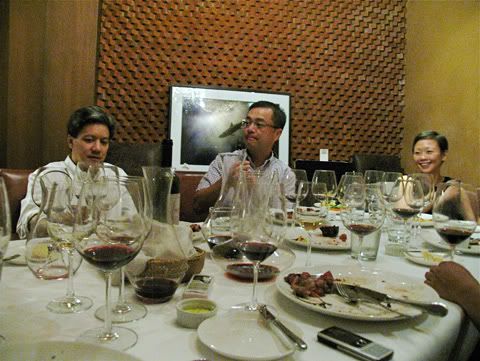 Though I forgot to take individual photos of the next 2 reds, they were...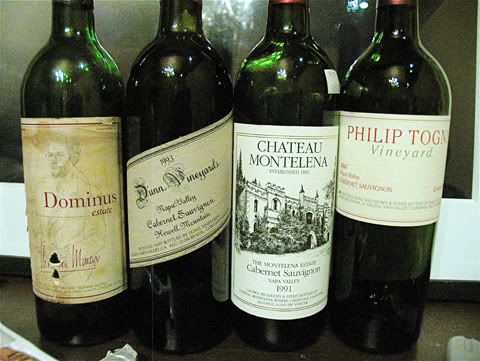 1993 Dunn Vineyards Napa Valley Cabernet Sauvignon Howell Mountain
- Doc's bottle, and the 2nd Dunn I've had from him, the other being a magnum of 1995 Dunn Vineyards Napa Valley Cabernet Sauvignon over
dinner at Je Suis Gourmand on the 21st December 2009
. Like the Montelena, this had a somber, serious character to it but to a lesser extent and not as earthy as the former. In addition, the two Dunns I've had so far had a sort of brambly slant to its smooth, very concentrated dark fruit, tobacco, black cherry and pronounced black coffee underneath. The wood also seems to be materially more apparent. Big, unabashed, masculine, powerful. Macho Napa cab. No need to rush this, it has a long life ahead of it.
1987 Dominus Estate
- Alfred's bottle, purchased from the cellar of a late mutual friend. The label was a bit worse for wear, but, then, I don't drink the label. I wish this was served blind, but it wasn't. In any event, this had a seductive bouquet that reminded me of pressed rose petals, coffee-laced cassis, suggestions of kirsch, violets and sweet cedar. On the palate, there was bottle-age sweetened cassis, dark plum, kirsch, raspberry, violets with which fine notes of licorice, espresso and hints of baking spice. Very complex, somewhat feminine compared to the Montelena and Dunn. Total package of concentration, grace, flourish and balance. This was the Stockbroker's, Eric's and my wine of the night - just edging out the '91 Montelena. Excellent specimen of a Napa cab. No signs of tiring, but I see no good reason to wait on these.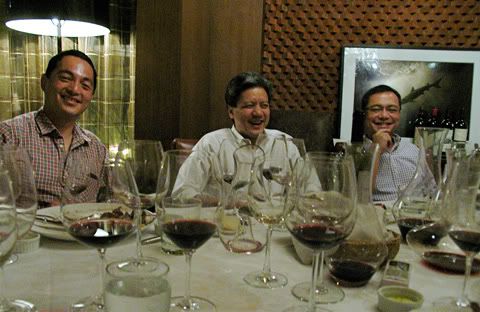 Platters of assorted desserts then followed, but I abstained and went straight to my usual double espresso. Jokes flew faster, aided by the added conviviality that accompanies full stomachs and slaked thirsts.
The group then decided to head off to
Masseto
for a nightcap, but the Stockbroker begged off as he had a 20+km race the next morning. When we got there, I immediately bumped into Bobet and Ruthy Vera finishing up a weekend family dinner out.
Another red was opened -Eric's
1995 Château Montelena Estate Cabernet Sauvignon
I think, but, honestly, I can no longer remember how it was since I was busy chatting with the others. Towards the end of the evening, Eric opened a bottle of...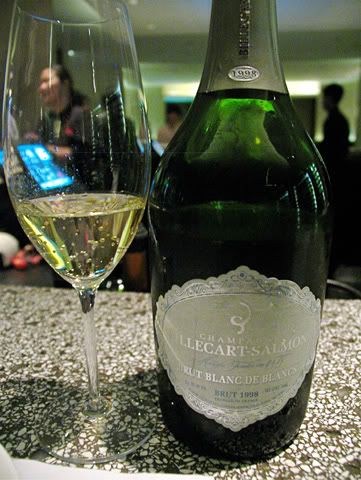 1998 Champagne Billecart-Salmon Brut Blanc de Blancs
- Eric's, as earlier mentioned. This was a particularly bright and vivacious blanc de blancs with pure, clean and enthusiastically fresh pear, green apple and lemon notes with, past mid-mouth and the rear, added touches of sourdough breadiness. The lemon notes come on strong in the back and finish as well. Because of its vivacity, it perked up and revived my palate - a good thing to be sure, but not necessarily desirable coming onto midnight in a wine bar. Thoughts of single malt entered my head. Fortunately, the others saved me from myself as they called it a night shortly after.
Many thanks to James for the luxurious steak-fest and to all who shared their bottles. Fun night.