Last night, 20th February 2010, was at
Miguel & Ria's place
. Since it took long to prepare my Chili Prawns (the slow toasting of the chilis alone takes about 2 hours), I was the last to arrive a little past 7pm. The others were gathered around a table groaning from the weight of many assorted tapas - most brought in from Spain by Miguel.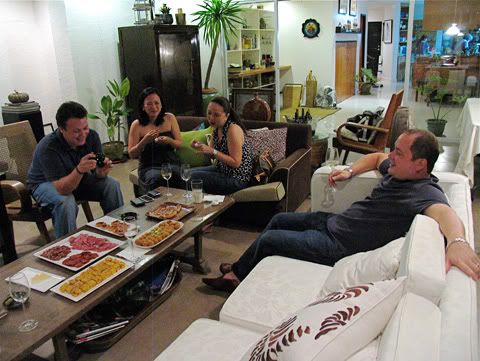 Miguel, Ria, Aimee and Rene.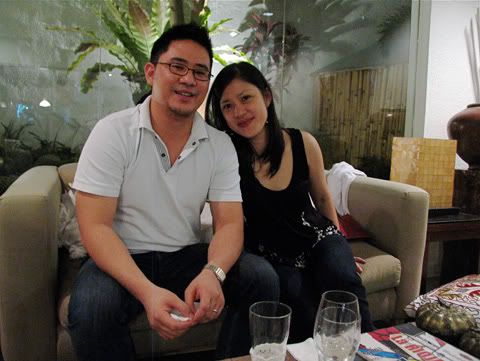 The Tapas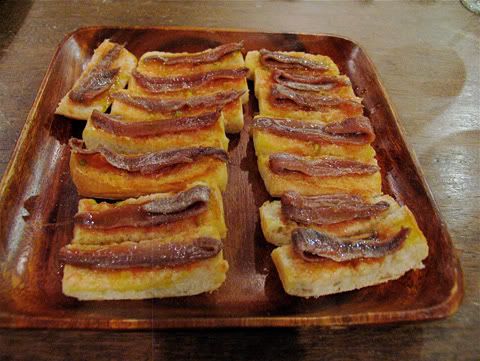 Pan con Tomate topped with Anchovy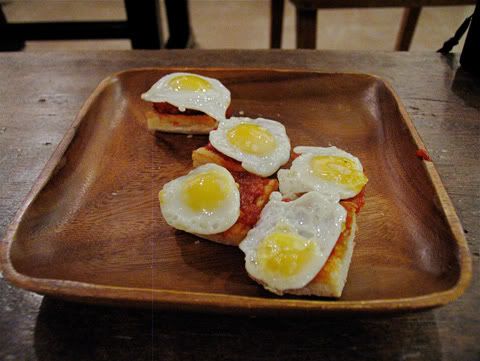 Sobrasada and Fried Quail Egg en Croute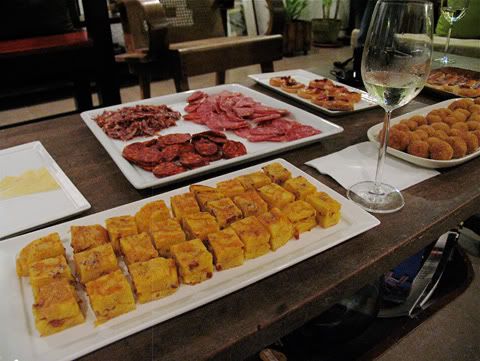 Foreground: Torta de Patatas (I requested this from Miguel as it is one of my comfort foods).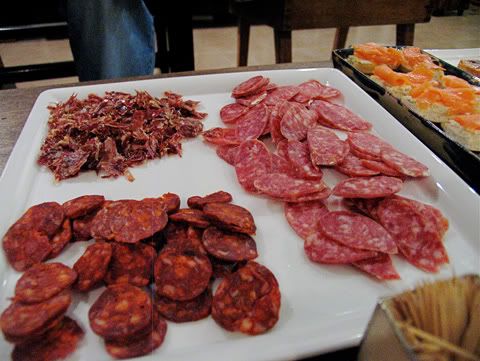 Assorted Deli: Bellota de Jabugo Shreds (cut from near the bone), Fuet & Chorizos.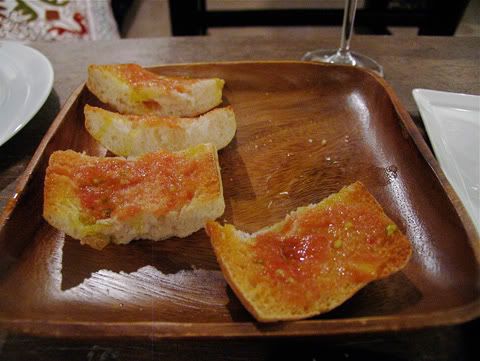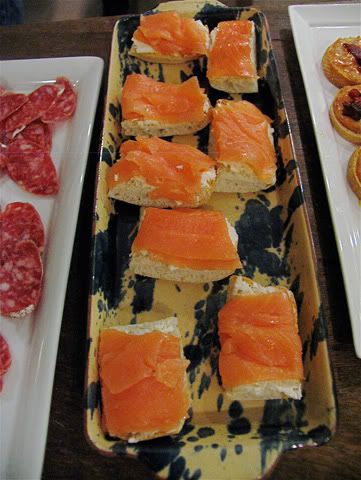 Salmon & Cream Cheese on Toast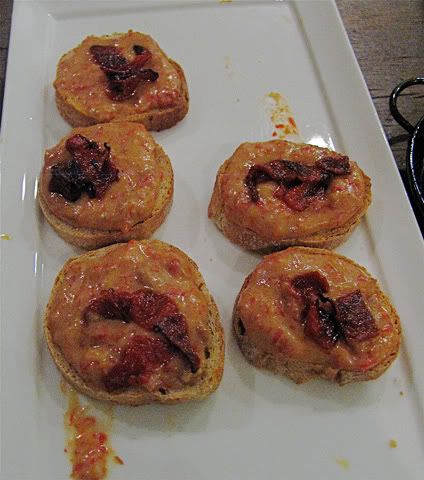 Brandada de Bacalao with Peppers on Sliced Baguette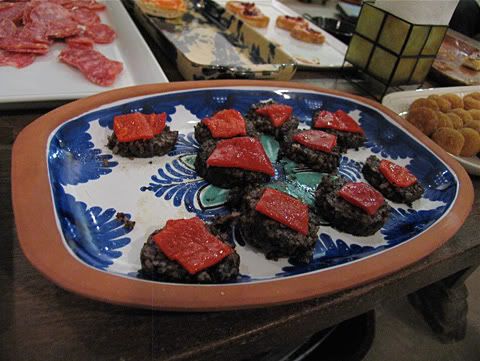 Morcilla de Arroz with Peppers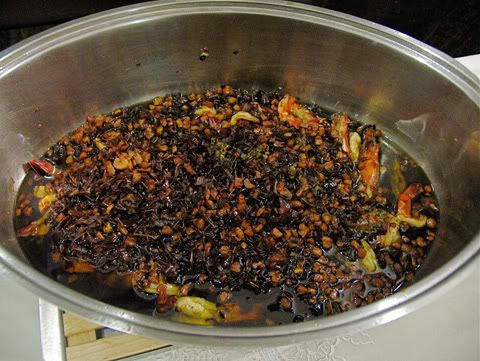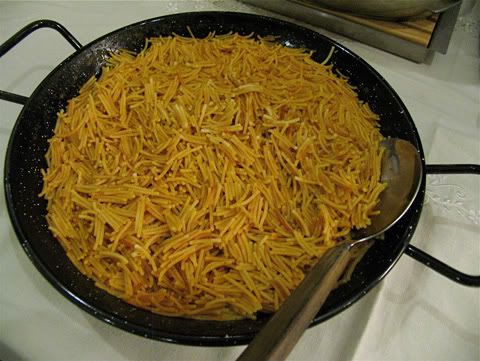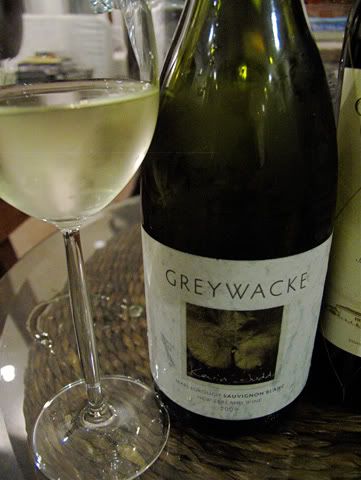 We started things off with Rene's ripely fruited
2009 Greywacke Sauvignon Blanc
from Marlborough, NZ, which, per Rene is produced by the former winemaker of Cloudy Bay, Kevin Judd. This is a very good, brightly peach-and-guava-nuanced sauvignon blanc, the gooseberry and grass notes politely taking a backseat. The wine is very smooth, no edges and the fruit is vibrant, the acidity correct - very neat. It went particularly well with the
Pan con Tomate topped with Anchovy
and
Brandada de Bacalao with Peppers on Sliced Baguette
. Very nice and easy to recommend. Available at ZEN Asia.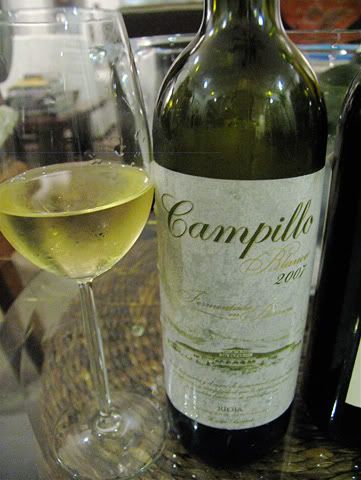 The next white was from Rioja:
2007 Bodegas Campillo Blanco Fermentado en Barrica
- Aaron's wine. He said he wasn't sure of the blend, but we agreed that, as a Riojan blanco, it had to be composed mainly of viura. As the name indicates, it is barrel fermented. The leesy and toasty oak notes are very apparent, but the slightly minerally fruit's freshness, purity and brightness were apparent underneath. As Aaron and the others noted, the wine performed better with food - going nicely, to my mind, with the
Fuet
,
Morcilla de Arroz with Peppers
and creamy
Barandada de Bacalao
.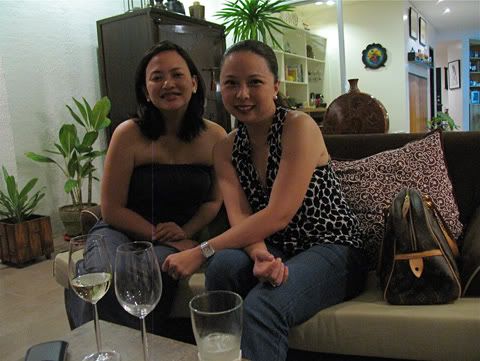 Los Tintos Riojanos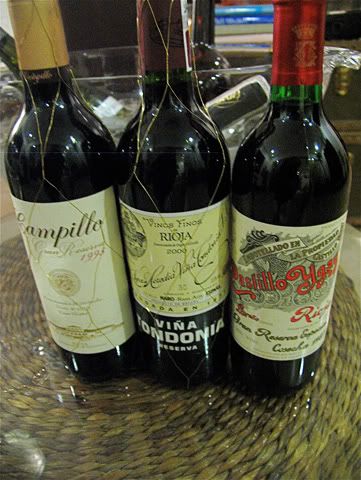 The first red to be served was my
2000 López de Heredia Viña Tondonia Reserva
- I opened a bottle of this not long ago during
Team Panic's Lunch at Je Suis Gourmand
. Though I had made previous notes on this wine, I wanted to revisit it at a relaxed pace. My previous notes were as follows:
Firmly structured but approachable, its fruit somehow didn't seem as well-rounded or ripe as the '99's; a bit linear though, not much of a crescendo to speak of. Still, there was good dark fruit: deep, black cherry, strawberry, leather, bit of licorice, violets and well-integrated wood. Good with the hearty meat course.
Though this bottle was pretty consistent, the differences were (
nb
: this was decanted for around 45 minutes-1 hour while the previous bottle was not decanted at all): it displayed more of a middle, the fruit was more expressive and vibrant, the cherry had a slight tartness to it, the cedar notes a bit more apparent.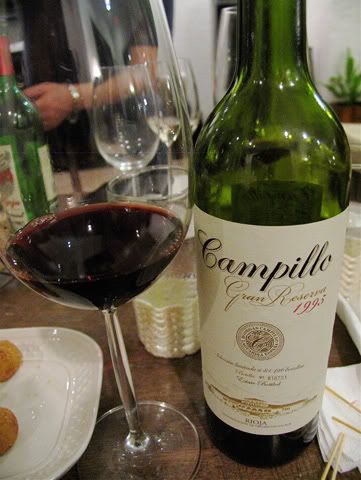 1995 Bodegas Campillo Rioja Gran Reserva
- Aaron's bottle. Immediately notable was the wine's subtle power and admirable depth of well-rounded fruit (typical black cherry, bit of kirsch, raspberry, bit of strawberry). The very well-integrated oak is almost assuredly not new and, I think, probably French. Acidity is sufficient and proper. Leather, tobacco, slight licorice, cedar and violet notes are seamlessly intertwined. Excellent push on the palate, it exudes confidence from attack to finish. Many years left ahead of this, it is drinking admirably youthfully at almost 15 years from vintage.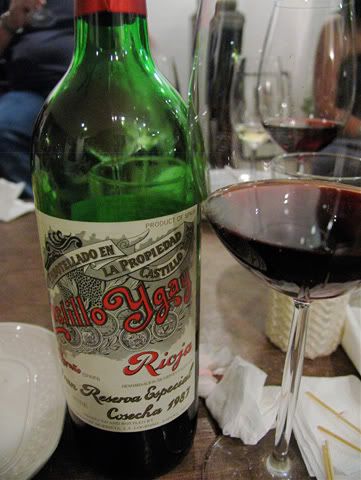 1987 Bodegas Marqués de Murrieta Rioja Gran Reserva Especial
- Rene's bottle. Very nicely mature with incredibly pure and refined cherry and strawberry over a small brook of blackcurrant complexed with notes of wet tea leaves, violets, cedar, hint of well-worn leather. Hallmark creamy American oak nuances of cinnamon emerge towards the back and finish. Very complex wine and well-balanced. Excellent over-all. The word "purity" keeps echoing. At almost 23 years from vintage, this should be able to gracefully age around 8-10 years more, I believe, assuming proper storage.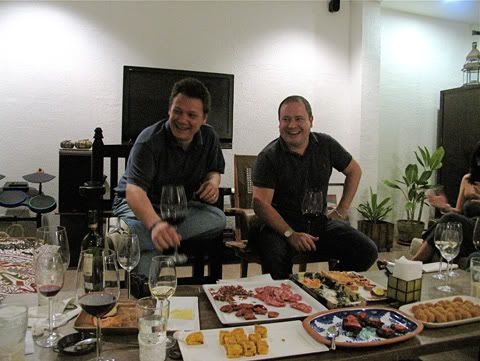 Miguel then decided to open an even older bottle that required Aaron's and my combined efforts to extract the crumbling cork.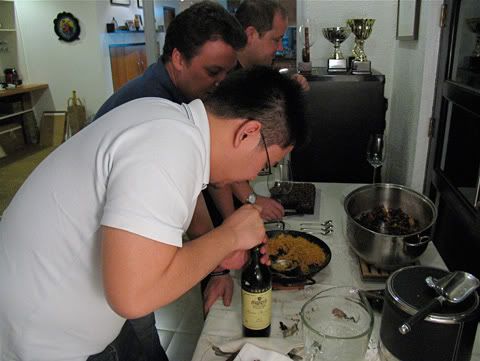 Aaron gets 3/4ths of it out.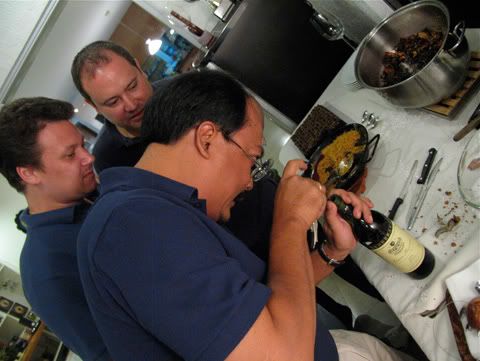 I take a stab at it.
The last, stubborn part comes out.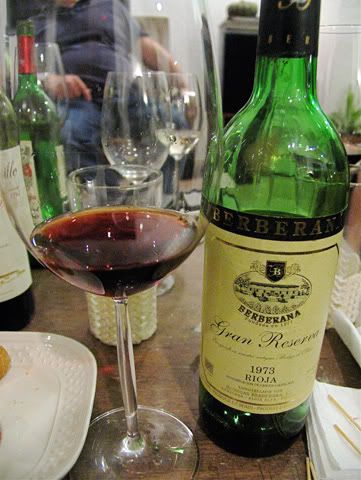 1973 Bodegas Berberana Rioja Gran Reserva
- Miguel's bottle, coincidentally a birthyear wine for Rene. Last time I had this was
from Bernd during dinner at La Tienda almost a year ago
. Last night's bottle was from the same batch. My previous notes are as follows:
I used to buy this very same wine from Säntis in the late '90s and correctly guessed that Bernd did as well - the difference being that he kept some bottles to age even more. Pervasive pruney touch to old strawberry, plum, cedar, violets and mere whispers of tobacco and licorice would sum up this wine fairly. Medium-bodied, smoothly mellow, more than fully mature - to be enjoyed now and soonest. A good, old Rioja. I greatly enjoyed this and was very happy to be able to drink it again. Nostalgia in a glass.
With around 10-15 minutes in the glass, this showed a lot of purity as well, no pervasive prune notes at all, the fruit still retains some freshness at almost 37 years from vintage. More strawberry than cherry, whisper of underlying blackcurrant elixir, pinch of tobacco leaf, slight spice and wet tea leaves, cedar and violets. Neat. Much less oaken than the '87 Ygay GRE, marginally lighter in body. Acidity is marginally brighter. Complex enough, but not as much as the Ygay. It actually seemed to rally more as time passed, it didn't fade at all while I finished my glass. This seemed in even better shape than the bottle a year ago. Still, it is fully mature and i wouldn't wait on these bottles much longer. Consume now and soonest.
A couple of shots of chilled, sweetish anise flavored
Pacharán
, and we made our respective ways home.
Excellent dinner. This is my type of evening - great food, wine and good friends, all enjoyed comfortably and liesurely over an evening's span. Muchas gracias Miguel and Ria, and to all others who shared their wine and company. Most enjoyable night.