Valentine's Day this year falling on a Sunday, a group of us had dinner with our wives at
Masseto
the night before. We were 5 couples: the spouses Doc, Stockbroker, Wieneke, Recto and my wife and I. Bernie and Lucy Sim were there as well with their children, Bernie visiting our table every so often.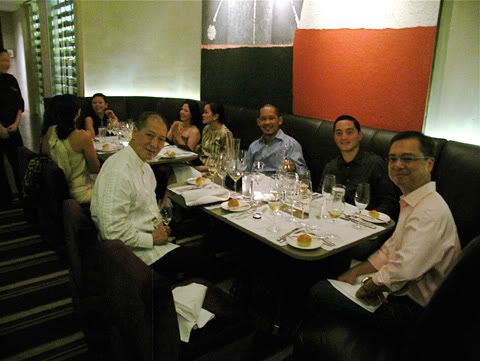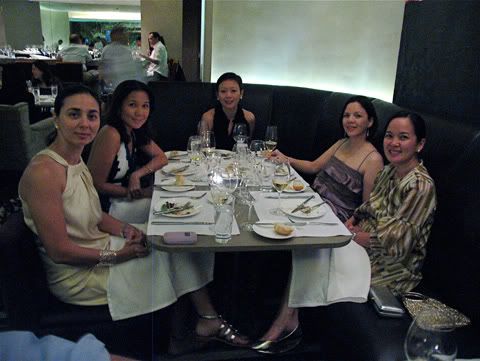 My wife, I and Mrs. Doc (who rode with us) were the last to arrive. Bernie promptly sent over some glasses of...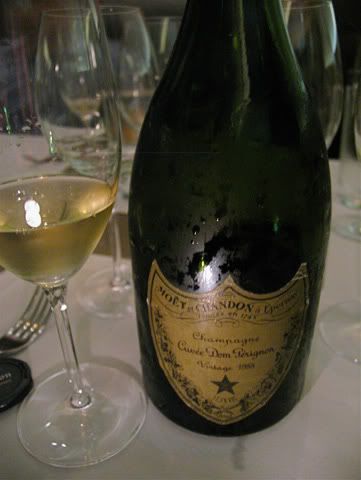 1988 Dom Pérignon
- Bernie's bottle, naturally. I recounted to Bernie and the guys that my father used to have a sizeable stash of 1985 and 1988 Dom Pérignon and we never could agree on which was better - I always favored the 1988 while Dad favored the 1985 (commenting once that my tongue was too thick from smoking to know any better). The last '88 Dom I remember opening was at the Doc's house - sometime in October or November 2008 - it was one of those dinners I didn't post notes on, I'm sure the Stockbroker was there, and I seem to recall that a private chef made dinner - but cannot, for the life of me, remember who the chef was.
In any event, Bernie's bottle was in excellent condition. The comparatively tense and linear character, almost painfully sharp focus and edgy lemon/citrus notes I recall of the other '88 Dom Pérignons I've had were gone - replaced with an expansive, generous, yet gracefully light-footed mid-palate of white flowers, clean white minerality, white stone fruit and underlying subtle, ripe citrus. Alluring effervescent biscuit and brioche notes emerging just past mid-mouth and on through the finish. The merest whisper of oxidation, to me, made this even more complex and captivating. It could likely go on strong for a few more years, but I see no reason not to enjoy this now and as often as possible.
This was followed by...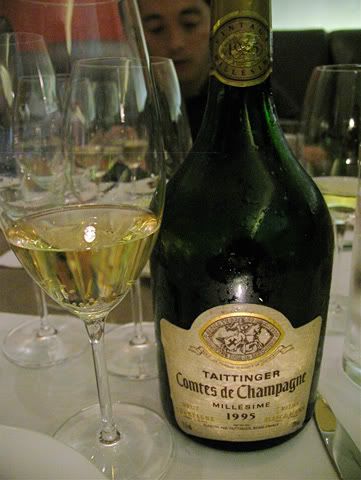 1995 Taittinger Comtes de Champagne
- Alfred's bottle. I've had this several times in the past, and used to purchase this same bubbly from Säntis a few years ago at a very reasonable price - around P4800/bottle Eric recalls. The last post I mention having had it was during
a grand Burgundy Bachanalia of Bernie
back on the 18th October 2008, but I made no notes on the bubbly at the time.
My first pour was slightly under-chilled, so I took the opportunity to analyze the wine more. The fruit is riper, softer and not as vibrant as the preceeding bubbly, with a somewhat baked apple and pear character and hints of caramel and nuttiness therein. Nicely complex, if comparatively less enthusiastic and vivacious. Good champagne, but the '88 Dom was a tough act to follow as far as I was concerned. I should have tried this first.
In any event, the softer fruit went well enough with the savory flavors of my small
Sweetbread Salad
amuse bouche.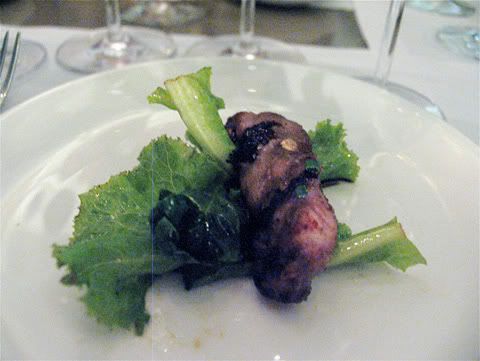 I love sweetbreads, so I was thrilled that it reappeared in crisper guise with the
Sweetbread atop Ravioli in Sage-Butter Sauce
.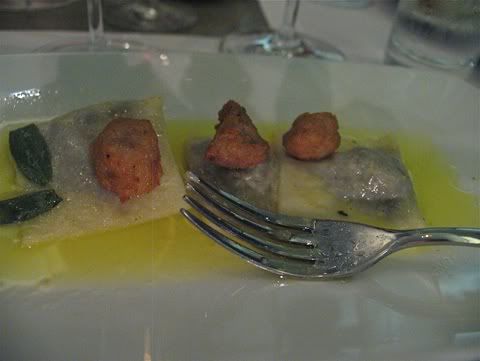 I absoutely loved the above dish, the interplay of textures and flavors (e.g., the sweetbread's crisp exterior and slightly creamy interior plus the rich, nutty-sage-infused earthy ravioli) was simply natural and honest. No pushing the envelope or straining here, it was textbook in gastronomic comfort.
Having neglected to bring a white along, it was a stroke of fortune that Eric had opened a bottle of...
2004 Domaine Latour-Giraud Meursault- Genevrières 1er Cru
- Eric's bottle, as stated. This showed openly and stylishly with toasty, leesy, gently spicy scents. The fruit (ripe, creamy lemon-laced pear and apple) is plump and ripe and the acidity is healthy; the oaken notes are obvious but the fruit could well handle them - admirable balance in this wine. Well-crafted. I liked this a lot with the sweetbreads and ravioli, as well as with my most anticipated dish of the evening: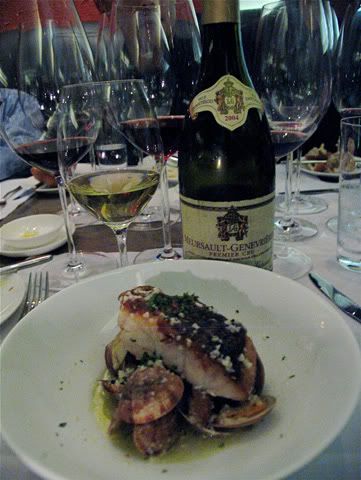 Fresh Apahap and Clams
- I loved Tippi's previous version of this dish (the fish then was halibut) during
the Stockbroker's Year-End Wine Dinner for the Usual Suspects
; so much so that during the group's all-day pinot noir and Burgundy fest a few days ago, I asked Tippi if I could have it and her fiduea again for the subject dinner. While the fiduea would have to await another day, happily, the fish and clam dish just happened to be on the subject dinner's menu. I must say that this dish was perfection to me, everything absolutely fresh, full of flavor and precisely cooked. I finished every bit of it and cleaned out the broth with bread.
Tippi jokingly commented later on that my bowl was wiped so clean it didn't look in need of any washing.
My other star of the evening came next - Tippi's
Spaghetini alla Bottarga
- I can't believe I forgot to take a photo of this masterpiece of flavors. Bottarga is akin to our own local "bihod", but the former is pressed in preservation and, in my experience, more intense in flavor. The former Syphus along Kamagong (Makati) used to serve a mean batch of bihod. Tippi's rendition of this pasta is delightfully spicy. It is a sensational dish that everyone, in my opinion, should try - over and over. I got up the next morning still thinking about it. Enough said.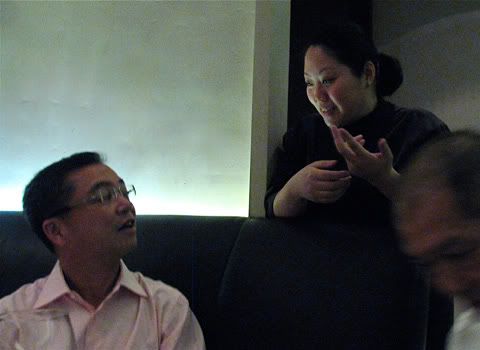 Tippi with brother-in-law, Eric.
Next was my earthy, robust, comforting and very wine-friendly main course of
Beef Cheeks and Wilted Spinach on Creamy Whipped Potatoes
.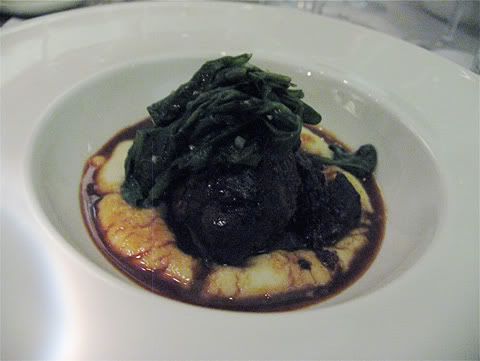 Fork-tender, richly moist and intensely flavored - no shortcuts here - Tippi obviously took all needed the time and care to render this slowly caramelized beef dish, and then some. Lovely.
In the meantime, we had already moved on to the 5 reds of the evening. Served blind, I was surprised that there was a challenge of sorts planned (I, obviously, was not informed of this) - not that I am the type to shirk wine challenges, but, not having been made previously aware, I brought a wine I wanted to eat with (particularly with the Burgundy-esque beef cheeks in mind) - which was firmly structured, very dry and with cutting red fruit and acidity - certainly not one meant to do well in blind challenges, the circumstances considered.
In any event, my notes of the reds follow below (just brief impressions, really, as the voting, to me, was at a rushed pace considering I was also trying to casually enjoy my previous dishes - one does not wish to, nor should one - rush through food as good as this). We were to pick out our two "favorite reds":
Wine # 1
- Very open and generous with a sweetly truffled bouquet. Deep, soft dark plum, raspberry, hint of kirsch, sweet cedar, violets, bit of truffle, over chocolate infused and pencil lead laced crème de cassis. Hint of prune emerged after a bit of time in the glass. Cherry and violets at the finish. Good ripeness. Certainly a fullish-bodied and well-rounded crowd-pleaser in style. It turned out to be Alfred's
1994 Château Pichon Longueville Comtesse de Lalande
.
Doc, the Stockbroker and I were very surprised when this wine's identity was later on revealed. We've gone through a few bottles of this before (including one that didn't fare well at one of our past blind Bdx challenges - the only Pichon Lalande entered not to garner at least 2nd place) and none have been even close to as nicely showing as this. Chalk up another in favor of well-priced, materially under-appreciated vintage 1994 Médoc.
Wine # 2
- Initially very similar in bouquet to Wine # 1. The Doc called this out as a St-Estèphe and the Stockbroker and Eric readily agreed. Visually mature than Wine # 1 in color, but with less obvious sedimant. More properly austere, a little past halfway between medium and full- bodied, less obvious oak. With time in the glass, wet tea leaf notes emerged in the surface raspberry and cherry. Notes of leather as well in its blackcurrant base. It turned out to be Doc's own
1988 Château Calon Ségur (Magnum)
(indeed from St-Estèphe) - chosen, said he, because of the chateau's trademark heart shape on its label - a fitting wine for an advanced Valentine's dinner.
Wine # 3
- My wine at first glance. The Doc, Stockbroker and Eric called it out as Burgundy; Eric going so far as (accurately) narrowing it down to either 2000 or 2001. Barely medium-bodied, firm and bright acidity in its pure and somewhat leafy cherry and raspberry dominant flavors. Violets as well. Fresh and comparatively much brighter and obviously younger than the other reds. Surely enough (there was no real doubt with the guys and my wife) it was a Burgundy: my
2001 Domaine de Montille Volnay 1er Cru Les Mitans (Magnum)
(from a hail-damaged vintage for Volnay, de Montille cut approximately 40% in selection).
I was sorely tempted to choose this wine as one of my favorites for the night, but decided not to because I figured nobody else would consider food-friendliness as a standard. My wife did though.
In the meantime, I quickly tasted the tasting portions Bernie had sent to the guys...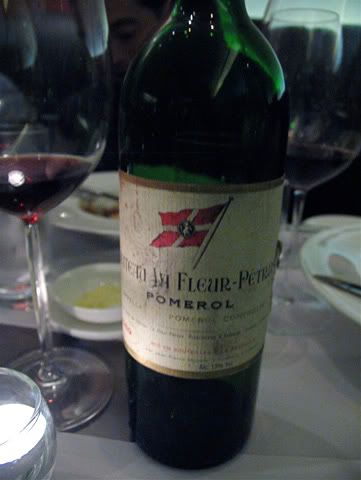 1989 Château La Fleur-Pétrus
- Bernie's. Very Burgundian it seemed to me and I haphazardly called it out as such (my palate was still echoing the immediately previous Volnay) with notably soft cherry and raspberry over molten dark plum and violets. Very nice.
Amusingly, Bernie, who had been drinking Bordeaux at his table, made the same mistake but in reverse - thinking my Volnay (of which I sent him a glass) was a Bordeaux.
Wine # 4
- I had quite a difficult time choosing between this and Wine # 5 as my second favorite (Wine # 1 was an easy choice for hedonism). Deep, smoldering personality. Dark, dark, concentrated cherry, plum, cedar, violets with hints of unsweetened chocolate and "tar". Rich in texture, there is power in this waiting to be unleashed. Only my perception of better structure made me choose Wine # 5 over this as my second favorite wine of the night (a concession to personal preferred standards). It turned out to be Eric's
1999 Château L'Eglise Clinet
- another impressive '99 Pomerol. When this wine was unveiled, I immediately recalled the Vigneron's 1999 Château Trotanoy that handily won him the crown not long ago at our
Blind Bordeaux Challenge XIV
.
Wine # 5
- Somewhat similar in personality with Wine # 4, this was a ruggedly handsome wine with admirable structure in its somewhat dense, minerally and meaty dark fruit. Impressive depth and length. My other favorite wine of the night. It was the
Stockbroker's 1995 Château de Beaucastel Châteaueuf-du-Pape
.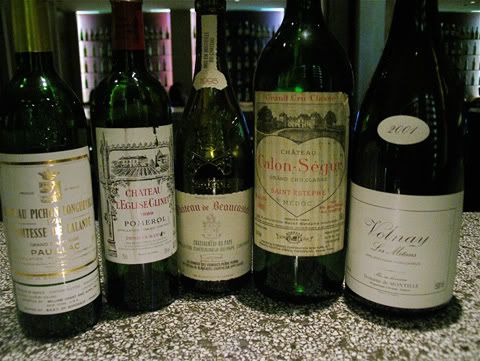 Results
: The 2 favorite wines of the night were: Alfred's 1994 Château Pichon Longueville Comtesse de Lalande and Eric's 1999 Château L'Eglise Clinet.
My dessert of
Chocolate Marquis
then followed (sorry, I ate it before remembering to take a photograph) and, thereafter, I enjoyed a pour of
1989 Domaine Ostertag Gewürztraminer Séléction de Grains Nobles
from Bernie. Aside from being an ethereal and graceful honeyed lychee and peach elixir (with fleeting notes of roses and petrol), it was a sentimental wine as well. Bernie shared a bottle of this over an all-game dégustacion lunch with the Stockbroker, Doc and I at Tivoli back on the 4th December 2007. I reminded Bernie that it was with this same wine that he taught me how to pair gewürz SGN with chestnut soufflé - a pairing I practise to this day.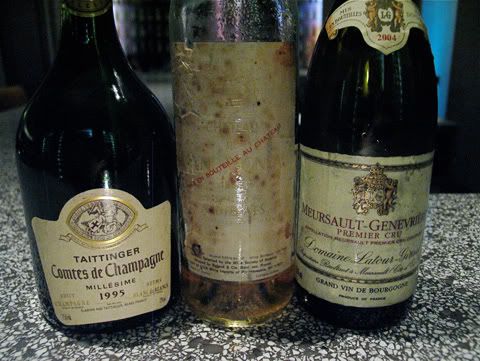 This was followed by a full glass of Alfred's
1986 Château Raymond Lafon (Sauternes)
- Pretty enough with soft notes of caramel, sweet peach, honeysuckle, apricot, honeycomb, vanilla bean and just a hint of orange rind at the finish, all on a barely medium-weight body. I feel it is very fully mature and its none-too-sturdy acidic backbone would have called for earlier consumption. Other 1986 Sauternes I've had (e.g., Yquem, Climens, Rieussec and de Fargues) were much more vibrant and alive. Still, a pretty enough wine.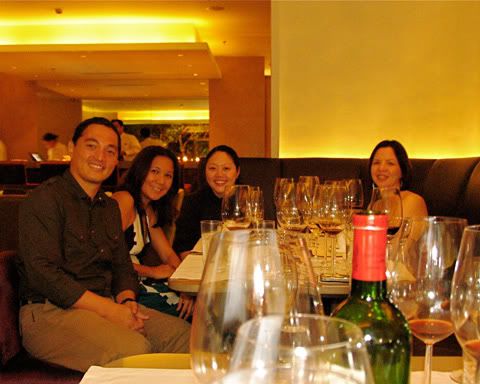 Most everyone headed for home by then. I had a double espresso and sat with my wife, Tippi and the Wienekes, subjecting them to my views on wine and its proper appreciation (poor them). They did politely hear me out, though I did not leave them much choice. Happy Valentine's Day to all.