Tuesday lunch, 2nd February 2010, was at back at old reliable
Je Suis Gourmand
with the Usual Suspects plus visiting wino friends from Tokyo, so we were 10 in all.
Shige-san
,
Hiro-san
and
Fuji-san
apparently follow Keiichi-san's Manila wine activities via my blog, so they brought several wines to serve blind during our lunch.
Keiichi-san with "
Team Panic
" in the above photo, so-called because they brought bottles to taste blind, some purposely selected to cause panic amongst the tasters in trying to identify the wines.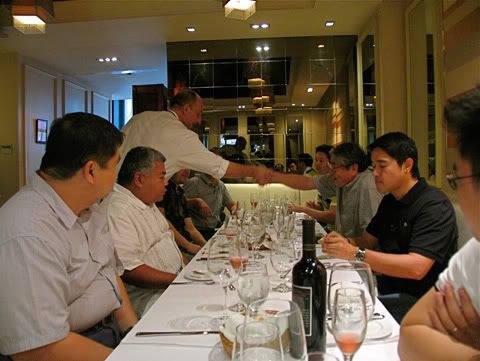 Chef Marc Aubry welcomes Team Panic.
Aaron, Greg and J-Lab were already there when I arrived, quickly followed by Arnie and the Stockbroker. The others were not far behind. We started off with some welcome glasses of...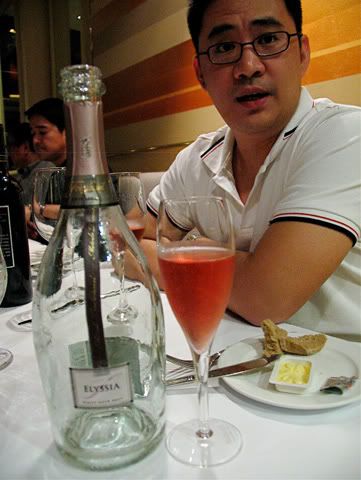 Freixenet Elyssia Pinot Noir Brut
- Aaron's bottle, of course, as his family's ADP Industries represents the Spanish giant in the Philippines. I've had this mainly pinot noir-based (85% pinot noir, 15% trepache)
méthode champenoise
bubbly
back in mid-August 2009, during Aaron's dinner at La Tienda
and remember liking it. Then as now, it shows off fresh strawberry, cherry with underlying suggestions of mildly spiced blackcurrants. Light mousse, nice heft, brightly fruity, rather straightforward. With a fun, easy-going character, it is approachable, easy to like and dangerously drinkable. Very reasonably priced too. I must remember to buy some of this for the coming summer at the beach.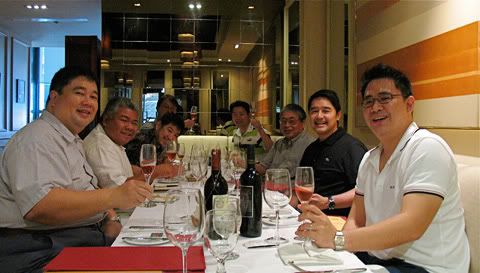 Another bubbly followed, initially served blind. We were not asked to identify it, but were asked for our feedback.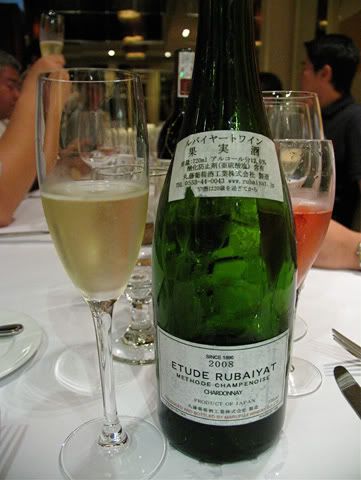 2008 Etude Rubaiyat Méthode Champenoise Chardonnay
- Green apple skins, tartish green apples and lemon/citrus juice flavors dominate underlying slight fruit pit and grapefruit notes. Hint of yeastiness after a bit of time in the glass. Light, bright enough. Lemon/citrus, fruit pit and lemon rind dominate the finish rather aggressively. My first taste of Japanese
blanc de blancs
. Interesting.
Next came another white served blind.
1998 Chateau Mercian Hokushin Chardonnay
- Another Japanese chardonnay, but this time a still wine. Breath of oxidation and nail polish in its reticent, flabby, sweetish baked apple and soft yellow fruit profile. Virtually no acidic balance to speak of. Strange wine.
Next were 2 rieslings, neither served blind. The pace of pouring was very fast throughout the lunch, much too fast especially for me. I normally take a long time to analyze and otherwise get through a glass of wine (moreso when expected to identify or evaluate a wine blind) as regular drinking buddies well know. During this lunch, I barely got to taste or smell each glass properly before the next was poured and served.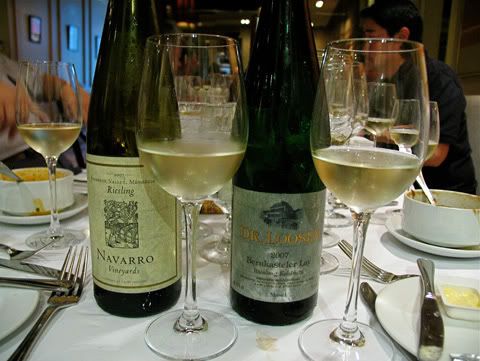 2007 Navarro Vineyards Dry Riesling
- Arnie's bottle, one he bought at the cellar door and brought home from a recent Cali wine trip. I've read many good things about this maker but have virtually no experience with its wines. Nice, dry, clean, lean, slightly minerally. Good focus, not a tutti-frutti kind of riesling. I liked its style and enjoyed it with my
Sopa de Mariscos
.
2007 Dr. Loosen Bernkasteler Lay Riesling Kabinett
- My bottle. I've written about this wine many times already, my last notes stating: "It's fresh, light, bright, playful, off-dry, low alcohol peach, apricot, quince flavors infused with precise minerality were made bright by healthy acidity. Good focus, very quaffable and, thus, an ideal apéritif, particularly with the rich foie gras and the salty lardons of the flammenküche." Unfortunately, I had neither foie gras nor flammenküche to start with, so this wine was too fruity and sweet for my seafood soup.
These were followed by
Mystery Wine # 1
- Looked like very old Bordeaux to me, brick red with a slim, clear rim. Possibly '70s or even late '60s judging from appearance. In the mouth, it was quite mature, soft, no real push, not much of a presence or statement on the palate. Tired but not damaged. Mostly sweetlish bottle-aged raspberry and cherry elixir over a thin stream of minerally blackcurrant, cedar, hint of leather, some violets. Notable over-all harmony, but not much to speak of in terms of structure and palate-presence. Nice, pleasant, easy, charming enough, but nothing really makes you sit up and take notice.
I didn't verbalize a guess though everyone was asked to identify it. In a trice, the bottle was revealed...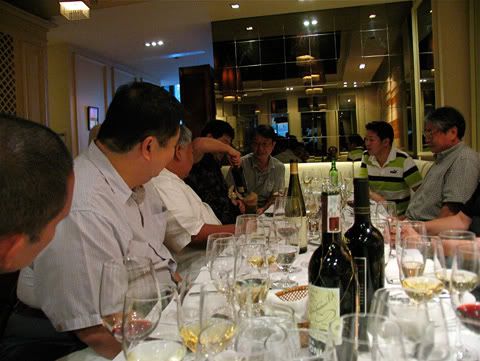 ...and it turned out to be a...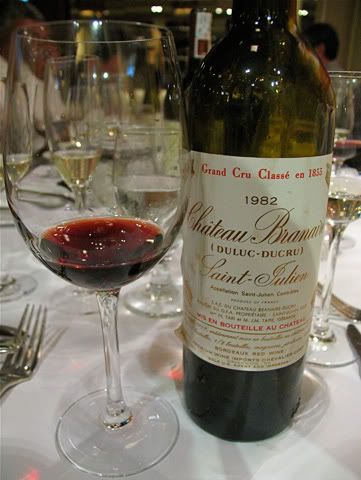 ...
1982 Château Branaire Ducru
. I've mentioned before that I've found the last several 1982s I've had advancing at a notably fast pace. There are exceptions of course, notably the '82 Château Gruaud Larose which the Stockbroker, Doc and I deem one of the most consistently youthful wines of the 1982 upper growth Médocs.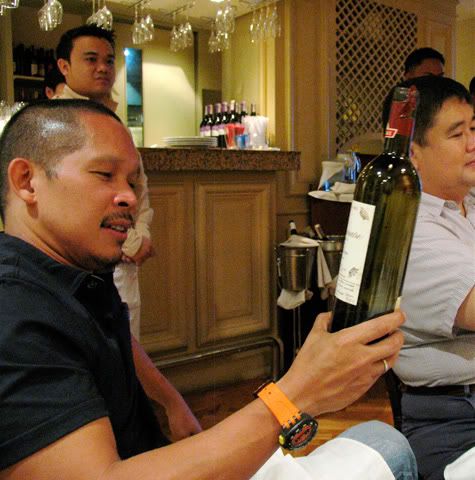 My main course of
Flank Steak
arrived by the time, so, to go with it, I poured myself a glass of...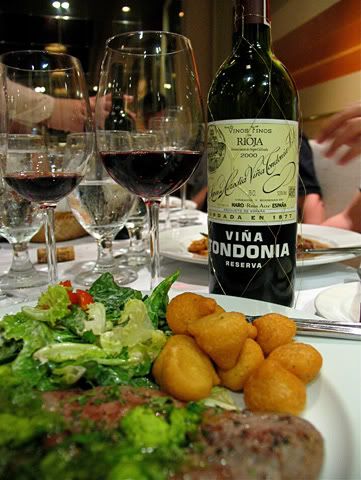 2000 López de Heredia Viña Tondonia Reserva
- My bottle, one of a few purchased from Watson's Wine Cellars (Harbor City Mall, TST branch) for the equivalent of just under P2000/bottle. I'd never had this vintage before, but, at that price, I picked up some bottles to try out since I quite enjoyed the 1999 version
with the special Chef's Burger at Elbert's
not long ago.
Firmly structured but approachable, its fruit somehow didn't seem as well-rounded or ripe as the '99's; a bit linear though, not much of a crescendo to speak of. Still, there was good dark fruit: deep, black cherry, strawberry, leather, bit of licorice, violets and well-integrated wood. Good with the hearty meat course.
Arnie then offered Team Panic a taste if a wine made by Filipinos...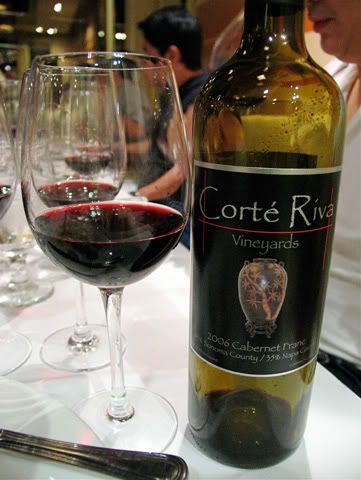 2006 Corté Riva Cabernet Franc
- I've had little experience with cab franc wines and only those from the Loire (Chinon, mainly, where it is called "breton"). This was much bigger, riper, sweeter and infinitely more crammed with fruit than any Chinon (which I find tends to the dry and rustic) I've ever had. Super concentrated, high octane, jammy black fruit, spicy, crème de cassis, fig, chocolate bar, thick, dark minerality, dash of black pepper and a hefty dose of oak. This hit me like a steamroller. Surely would be appreciated by those who like the pedal-to-the-metal type of modern style. Parker must love this wine.
Next came the second Mystery wine, followed by 3 "Panic Wines", the latter, as stated earlier, chosen by the Tokyo contingent specifically to confuse those tasting blind. Due to the uncomfortable (to me) speed of pouring, guessing (I was forced to guess and I played along though I knew that I couldn't analyze anywhere near properly with such speed and it is not in my nature to make wild guesses) and revealing, my wine notes are, consequently, telegraphic. I also do not remember now who guessed what for which, except for a couple of my own guesses.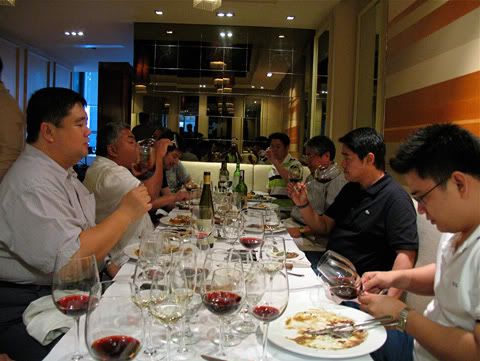 Mystery Wine # 2
- Black fruit over black cherry and graphite, cedar, violets. Seems to be subjected to a designed amopunt of extraction. Slightly over medium-bodied. Good wine. I don't recall if I took a stab at identifying this. It turned out to be a
1998 Château Pichon Longueville Comtesse de Lalande
. I've had this I think twice or thrice before and never thought much of it as far as Pichon Lalandes go, but this bottle was nice enough and coming along nicely it seems.
Panic Wine #1
- Denser, earthier, rustic, red berry than dark, seems deeper-veined as well, cedar, violets and a touch of truffle. Mild chocolate undertone. Texture reminded me of overly-heavy velvet. This was revealed as a
1962 Château Canon
from the Canon-Fronsac AOC, just west of Pomerol. I was
very
impressed with how youthful and alive this wine was. No signs of time's ravages considering it is just over 47 years old.
Nb
: There are 3 chateaux named Canon: the best known is probably the one in St-Emilion, and, there are 2 in Canon-Fronsac. There is a small one owned by Jean Galand (formerly owned by the Moueix group) that is 100% merlot, and the subject château owned by Henriette Horeau (90% merlot, 5% cab franc and 5% cab sauv). Canon-Fronsac got its AOC status in 1939 and was called "Côtes Canon-Fronsac" (visible on the label in the photo below) until 1964.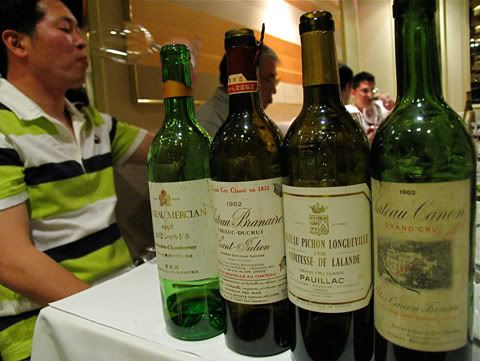 I've read that the wines of the subject area were very highly regarded in France a few centuries ago. So much so that, in 1783 the entire production of this particular château was reserved by the crown for the court of the Dauphin (i.e., the crown prince, roughly equivalent to the British title of the Prince of Wales). This was during the reign of Louis XVI, so the Dauphin at the time must surely have been his first son, Louis-Joseph (who died at a tender age in mid-1789), because Louis-Charles (who would have been Louis XVII if not for the French Revolution) was born in 1785, so was dauphin after/due to his elder brother's untimely demise.
Panic Wine #2
- Thick, hot/alcoholic, very ripe, lots of oak, dense, viscous black fruit, sweetish, a young designer wine. I guessed it to be a wine from southwest France, several guessed it to be a Napa cabernet sauvignon (a much closer guess in terms of style and grape, if not origin). It turned out to be a
2007 Le Serre Nuove dell Ornellaia
(the 2nd wine of IGT Ornellaia from Tuscany). I'm hardly surprised I was way off here as I've never had success in identifying IGTs.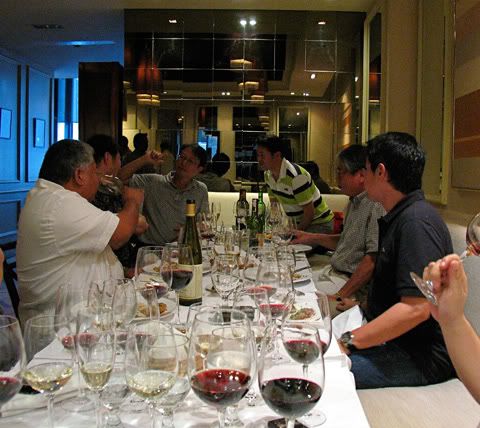 That nobody got it right is of no consolation.
Panic Wine #3
- With this wine, I stepped outside for a smoke and a chat with Marc (and also to drink at a more relaxed pace). Aaron eventually joined us as did Keiichi. As I lamented to Marc how quickly children grow up, I was able to quietly ponder my glass. I think Aaron (or was it Keiichi?) said it was a 1990 Médoc. I agreed on Médoc but said it had to be older: mid '80s, it wasn't ripe or soft enough to be a '90.
At least I was close on this one as it was a
1986 Château Cos d'Estournel
. Firm, ripe but not ripe enough, to my mind, to be a '90. Cherry over blackcurrant/cassis, cedar, violets and hints of wet tea leaves. The flavors, however, were a bit diffused (separation detected) and, perforce, a bit muddled. Not the best '86 Cos I've had, and The Stockbroker agreed (we've gone through quite a number of these). Marc suggested this may be due to travel shock - which is most likely the case, especially for a 23+ year old wine.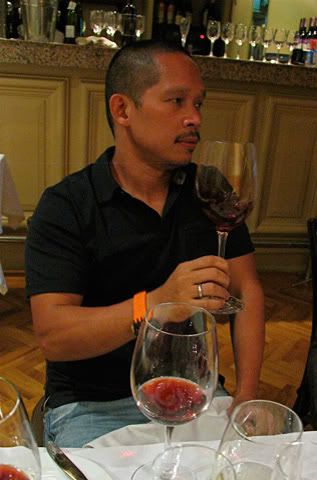 By around 3pm I was already more than a little tipsy, not because of the amount I drank, but because of the speed. I usually reach this state at around 5pm on a normal wine lunch. The pace was just much too hurried for me. I think the others were also already hit too, given the boisterous toasts...
...and the bawdy humor...
...that had some in stitches, and the Stockbroker in tears.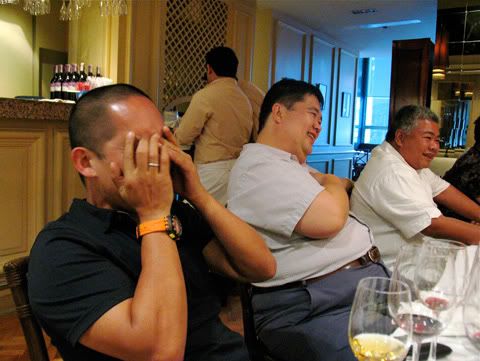 In the midst of it all, someone, I no longer remember who, broke out a sweet wine.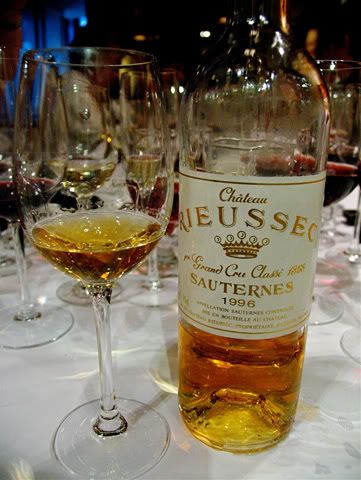 1996 Château Rieussec
- Fat, juicy, notably low on acid, but enjoyable enough with my dessert of cold, creamy, chocolate-laced
Profiteroles
. Thick, viscous, honey, caramel, peach, slight dried apricot, minor candied orange peel, creamy oak/vanilla. Whatever it lacked in acid lift was more than brightened in toasting new friends and kindred spirits.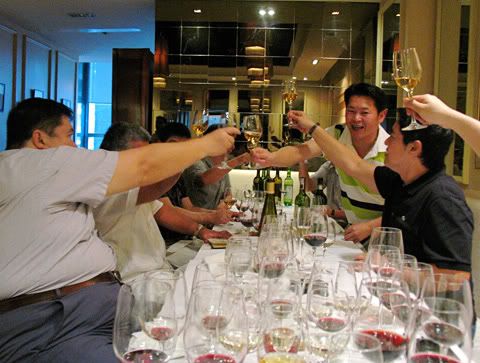 Domo arigato gozaimasu Team Panic!
Everyone left rather early, while J-Lab, Greg and I lingered until 5:30pm over lots of stories, a cheese platter and some snifters of
calvados
and
vieille prune
.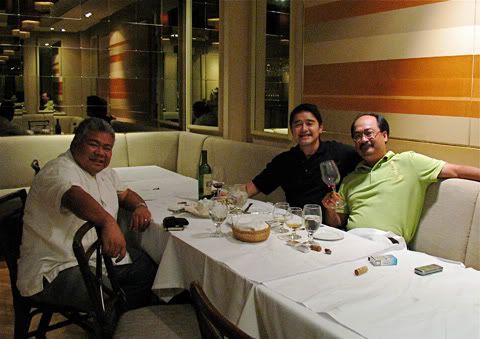 What an action-packed lunch. Most enjoyable. Until the next!