Tuesday, the 26th October 2010, was a lunch board meeting of
La Commanderie de Bordeaux Manila
at
Alex's Kitchen
(the Alexander House office of the Lichaytoo brothers' Bacchus International). I had tried to back out the last minute due to work, but we wouldn't have had a quorum if I did - so I arrived late. The Vigneron, Stockbroker and Clifford had already started with the many appetizers, the table was groaning with them.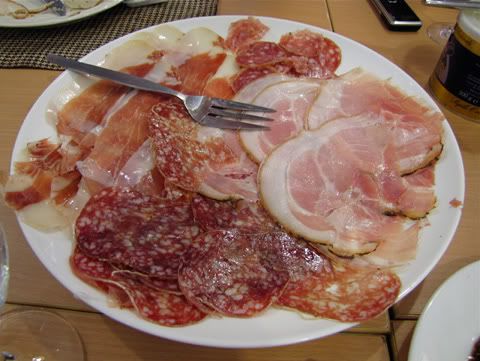 From Italy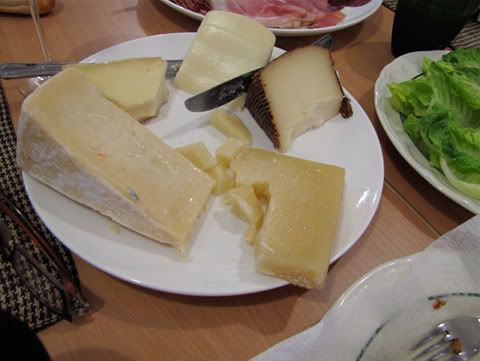 The ones on the left are from Sardinia, if I recall correctly.
Alcachofas
- I love these...
...as well as these: Pickled Young Onions, and these...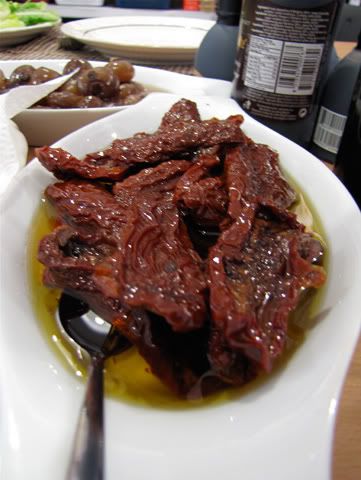 ...Sun-Dried Tomatoes in Olive Oil.
There is always some kind of
foie gras
at Alex's table. This was topped with
fig jam
- sinfully good.
Alex was whipping up some pasta for us as we tried to put a dent in all the starters. In between bites, our attention was called to a recent issue of Decanter magazine...
...which cited two of the Vigneron's recent vintages, namely,...
...his 2009 Siran as one of the 100 best values from Bordeaux for the much touted vintage 2009 & his 2007 Siran as one of the best wines from Margaux in vintage 2007.
He was, of course, deservedly proud and happy as all his hard work was properly recognized. Now, I'm not one to say "I told you so", but I will anyway - as way before, I already wrote favorably of Siran's vintages
2007
and
2009
. Anyway, back to the food....
Alex's
Spaghetti
all'Arrabiata
was a thing of beauty: simple, honest and absolutely delicious. I had 3 helpings and stopped only because I had a dinner to attend that night.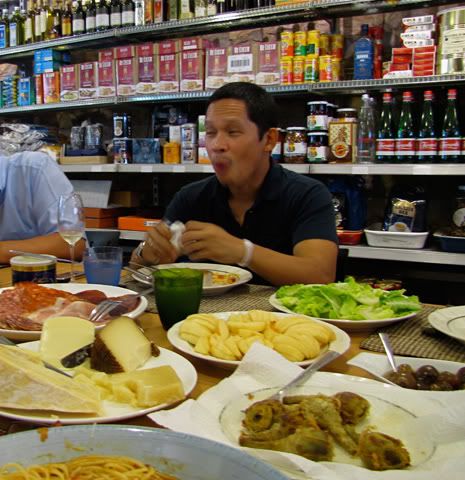 True to it's name, the pasta had a kick of heat which initially caught Stockbroker off-guard...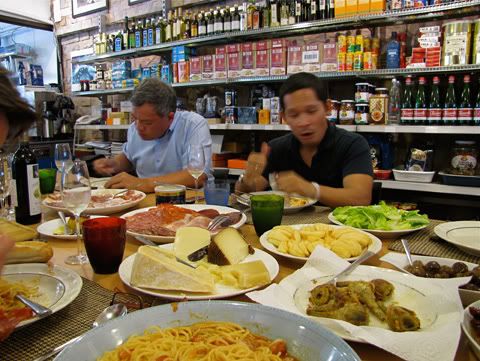 ...but, like me, his Bicolano blood came through with a quick thumbs-up in appreciation.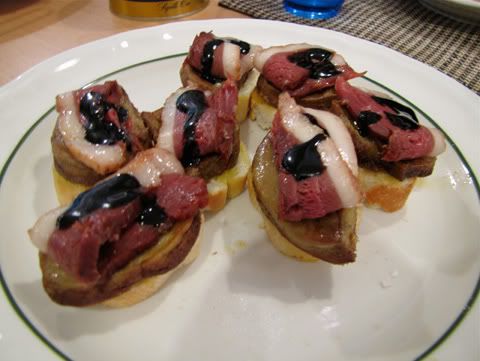 As if these were not much more than enough, Alex then served a "kicker" dish of
Pan-Seared Foie Gras with Smoked Magret de Canard topped with Balsamic Vinegar
. Be still, my heart, this was indulgently sublime - prompting the Vigneron and I to egg Alex to open his own restaurant. He chuckled and said he never would as he is happy enough cooking for friends. Too bad, with his access to an incredible array of the finest ingredients, he'd surely give every restaurant in the country a hell of a run for their money if he ever did.
Of course, we had a number of bottles ready - it wouldn't be a Commanderie de Bordeaux gathering otherwise. With the starters, we had some...
Marchesi Antinori Montenisa Franciacorta Brut
- A cool, refreshing, charming and dangerously quaffable bubbly from Lombardy made of, as I recall, a champagne-esque blend of chardonnay (mostly), pinot bianco and pinot nero (more popularly known as pinot noir). Disarming, friendly, pleasant apple, pear, hint of citrus with a slight milkiness (the pinot noir likely) with whispers of almonds and soft bread. If I recall correctly, this will soon be on Bacchus' shelves, priced similarly to their prosecco lines.
1995 Château Siran
- The Vigneron's bottle, naturally. This is the first time I've had his 1995 vintage. After around 15 minutes in my glass, the bouquet was typically Margaux, a perfume of graceful cedar, whisper of earth and asphalt, blackcurrant, worn leather, pencil lead shavings, raspberry, violets and light touches of lavender and red spice past mid-mouth and in the finish. Medium-bodied, clean lines and old-school austerity make this very food friendly. Well-poised and very neat. I wonder if PWX will be bringing in this vintage any time soon. I can recommend it to those who appreciate old-school Bordeaux/Margaux.
Next was a rogue bottle from Rioja...
1998 Bodegas Muga Prado Enea Gran Reserva
- My bottle, showing quite differently from the bottle I opened at
the last IWFS event
in that this displayed a rich, forward aromas and flavors of creamy, slightly toasty new oak (French, not American) , concentrated, moderately dense, indulgently ripe, macerated black cherry, raspberry, underlying rich dark fruit, bit of fig, licorice, cinnamon and a dose of creamy vanilla and new leather. Very round, hefty and comparatively robust. This wine, for some reason, reminded me of the Stockbroker's bottle of 1985 Marqués de Murrieta Castillo Ygay Gran Reserva Especial at
Una Noche Riojana
.
In the meantime, Maja had breezed in from a business meeting, thus, completing a quorum for transacting Commanderie business,...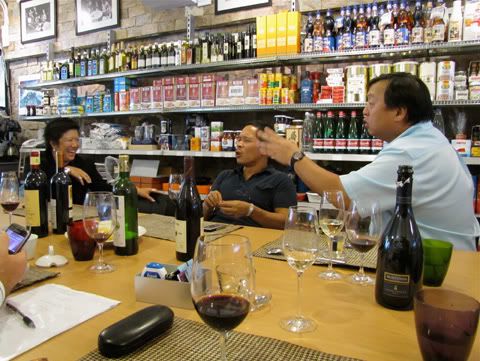 ...and, so, the meeting proper began...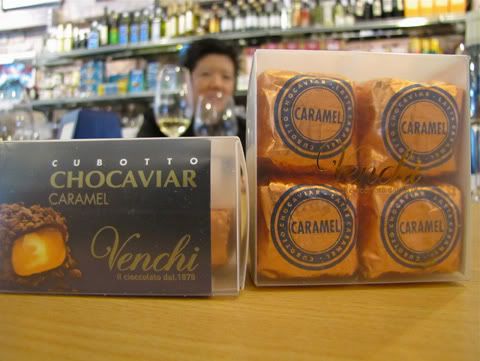 ...along with a bit of dessert of course.
The next event was then planned - a dinner featuring vintages of two Margaux appellation châteaux, namely, Giscours (3rd growth) and du Tertre (5th growth) - candidates for membership discussed, reports on the prospective menu's tasting made and some new rules proposed. Business was disposed of efficiently and decisively - this was my type of board meeting. The excellent food and fine wines certainly didn't hurt.
Until the next!