This past Wednesday, the 20th October 2010, was one of the Stockbroker's Wine 101 tasting/lectures at
Masseto
, of which he is part-owner. I had booked my niece, Nicole, for the lecture as a supplement to her HRM wine class. I figured it would be good for her to be walked through some good wines by someone who knows well whereof he speaks (I was horrified when she mentioned that one of the wines her teacher made them try before was Gato Negro). In addition, one tastes the wines as each grape/wine is discussed - which is
essential
for the information imparted to be truly understood.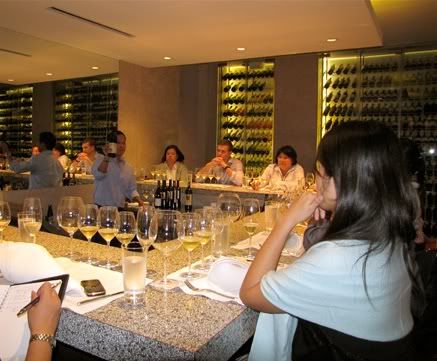 My wife accompanied Nicole to Masseto for the lecture and I was to meet them there after work and have dinner with them there. It was around 6pm when I arrived, the lecture well underway. I sat with Bernie, my wife and her younger brother, the latter two having some pica-picas while Bernie, also a part-owner of Masseto, had some work to do.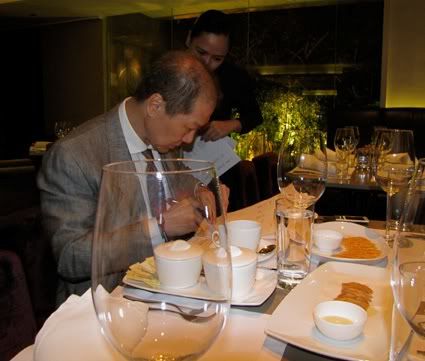 From what I could hear, the Stockbroker initially walked them through wines of the major white grapes: chardonnay, riesling and sauvignon blanc)...
...before moving onto the reds: a pinot noir (a nice basic Bourgogne by Arlot), cabernet sauvignon, merlot and a bonus Bordeaux blend from Pessac-Léognan (a 1996 Château Smith Haut Lafitte if I'm not mistaken).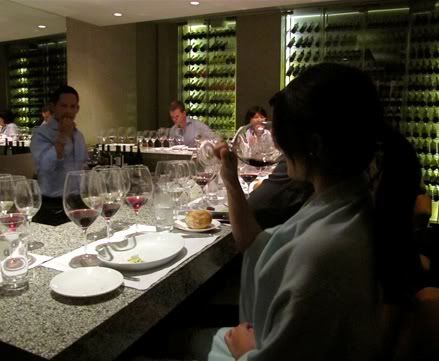 Nicole, on the right, paid attention intently, tasting reasonably as each wine was discussed.
The Stockbroker not only concentrated on the basic characteristics of each grape, but also gave some regional comparisons as well.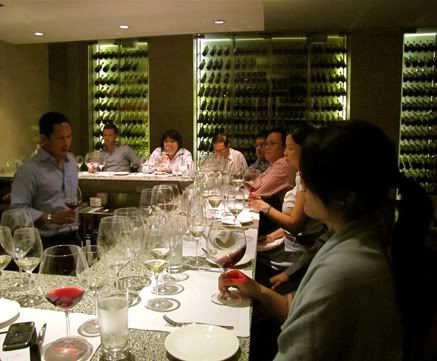 Having had a lot of reds with steak at Elbert's the night before, I just ordered a
Green Salad with Cambozola, Pears and Candied Pistachio Nuts
and
Spaghetti Bottarga
for dinner (Nicole had the
Baked Chicken
, Topsy had the
Rib-Eye
, while Catha had the
Beef Cheeks
). With these, I ordered a bottle of...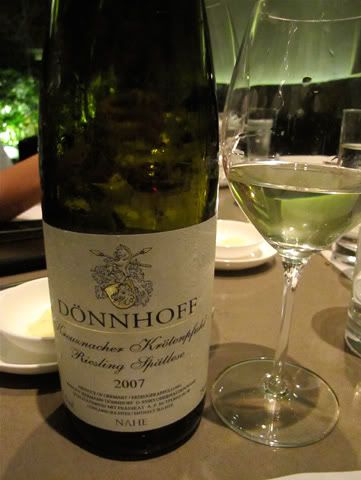 2007 Dönnhoff Kreuznacher Krötenpfuhl Riesling Spätlese
- I've gone through at least 3 or 4 bottles of this in the past 2½ months, having bought a few from Premium Wine Exchange back in August. Dönnhoff is widely recognized as the best producer of Germany's Nahe region (Rhineland-Palatinate). I've been a fan ever since I first tried their wines, and I can't recall a single wine from them that I did not enjoy. My last notes on this were from
a dinner at home for Miguel's mom who was visiting from Barcelona
:
I opened this with the Chili-Garlic Prawns in mind, figuring its clean, pure, light-footed, graceful, off-dry, white minerally, slate-touched pear, bit of peach, apricot, quince, bit of kiwi and slight ripe pineapple notes would balance off the dish's spiciness. It was a good call resulting in a good match (if I do say so myself). Eminently drinkable wine this, and it is available at Premium Wine Exchange for around P2400/bottle more or less. This was my last bottle of it, and I'm definitely getting more.
With the spaghetti bottarga, and even with the salad, the wine was an excellent match, underscoring the inherent versatility of good German rieslings. Its crisp acidity and minerality lent lift and cut to the salad's creamy, slightly gamey cambozola, and, together with its pure, admirably focused off-dry fruit brought a bright, entertaining contrast to the bottarga's salty-savoriness.
Excellent, light and healthy meal with a wine that paired famously. Nice evening. Nicole said she learned a lot and, from my probing questions, revealed that a lot of the Stockbroker's lecture, indeed, sank in. I'd recommend those relatively new to wine sign up for the next one. It's an effective and enjoyable way to learn.