Friday, the 8th October 2010, was an International Wine & Food Society BYOB Spanish Lunch at
La Tienda
, organized by the Stockbroker (who is a member of the IWFS Board of Directors). Miguel, although in London at the time, helped him organize the menu and pricing with Chef Javi Lecumberri. Due to bad SLEX traffic, I arrived a bit late and most of the guys were already there. I seated myself near 2 generations of wine-loving Fuenteses.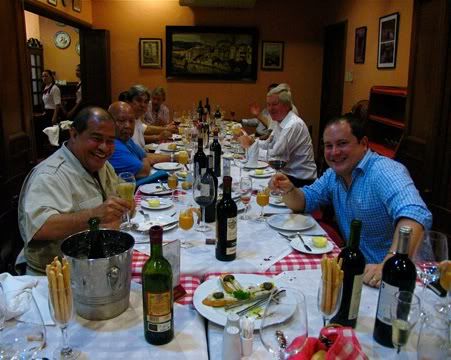 Rene, Sr. & Rene, Jr. with the guys.
The last IWFS function I attended was many months ago (
the 1st IWFS Wine Fair
, organized by Director Oscar Ong), so it was great to see everyone again. Unfortunately, El Presidente, Bernie Sim, was still in Europe so couldn't join us. In all, however, we were 19 persons at the lunch (Eddie Yap and Othmar Ober arrived a little later).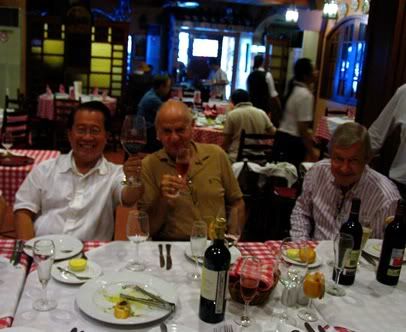 Dong, Markus & Manfred.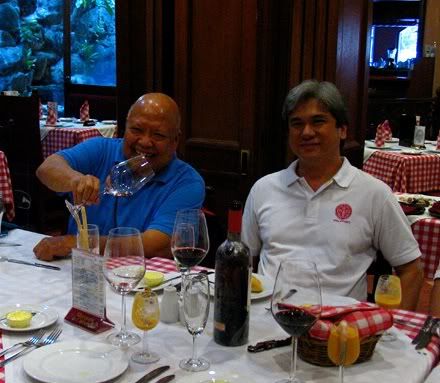 Fil & Oscar.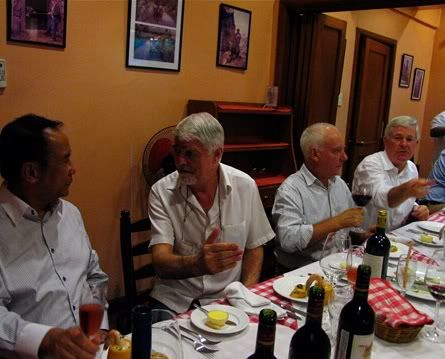 Noel L., Bill, Lawrie & Dieter.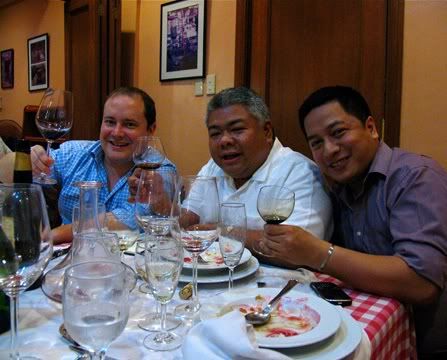 Rene, Jr., J-Lab & Gino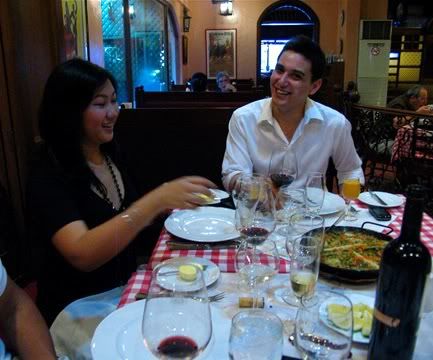 Chinkee & Matt.
Appetizers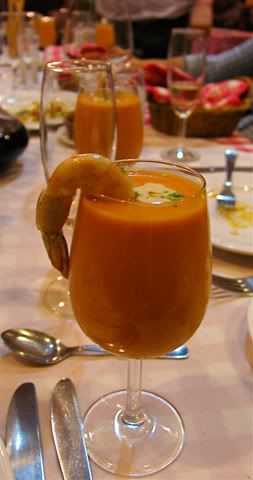 Salmorejo (the Cordóban version of gazpacho, made with tomato and bread, adorned with a single, fresh prawn lightly cooked in vinegar)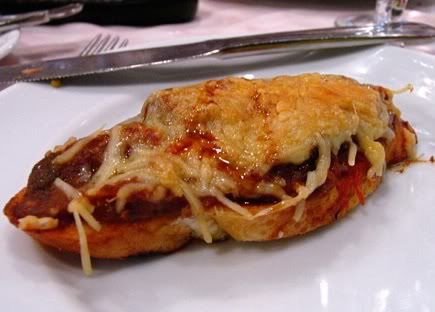 Escalivadas (from the Catalan verb "escalivar" which means "to cook in ashes", this is made of grilled peppers, anchovies and cheese on bread)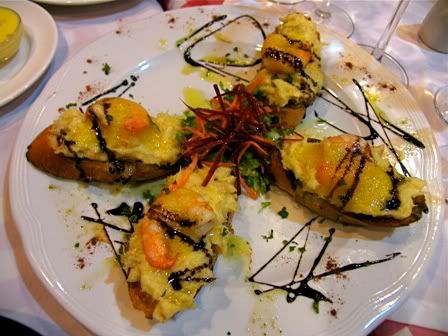 Brandada de Bacalao (Cream or purée of bacalao on bread, topped with shrimp)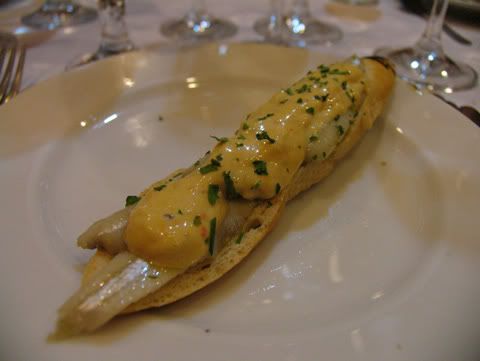 Boquerónes con Crema de Centollo (Fresh anchovy with cream of spider crab on bread - Javi must have brought the crema de centollo back from his recent trip home to Spain since this ingredient is not locally available)
Mains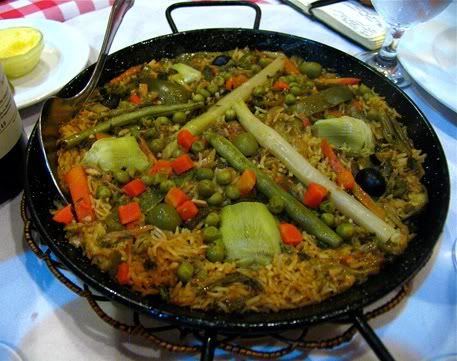 Paella de Verduras (Vegetable paella made of basmati rice)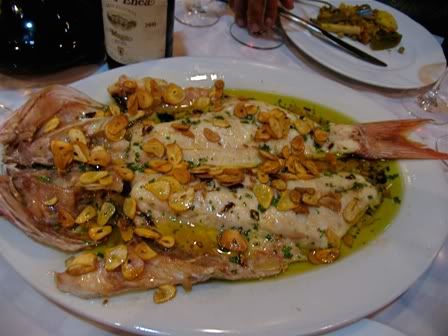 Besugo al Horno (Fresh bisugo, a.k.a., sea bream, baked in olive oil and lots of garlic)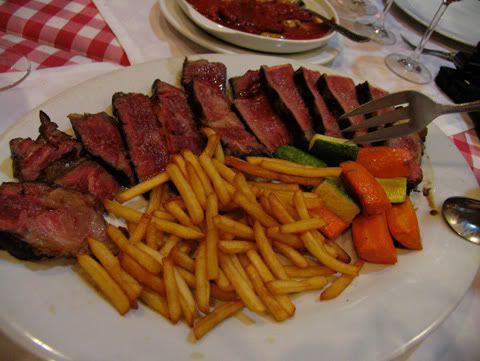 Chuleton con Pimientos del Piquillo (Steak, fries and red peppers)
Dessert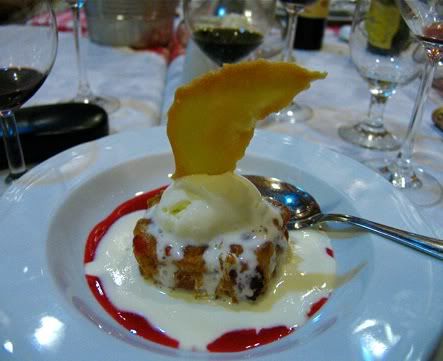 Leche Frita con Helado de Queso y Confitura de Tomate ("Fried Milk" with cheese ice cream and tomato confiture).
Several bubblies were popped for welcome drinks: among others, some
Piper Heidsieck Rosé Sauvage Champagne
(courtesy of Lawrie I believe), a
Cava Rosado
from J-Lab (I don't recall what it was) and a couple bottles of
Freixenet Reserva Real Cava
(one each from Gino and I). I continued with the Reserva Real with the first salvo of pintxos.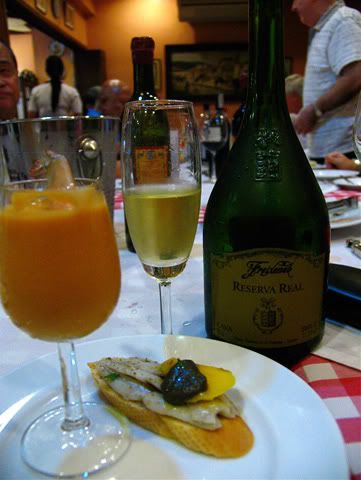 Freixenet Reserva Real Cava Brut
- This bottling of higher-end cava was created to commemorate the visit of King Juan Carlos and Queen Sofia to the Freixenet winery in 1987. A blend of Macabeo, Xarel-lo and Parellada, this fine cava is typically blended with a small percentage of reserve wines and aged at least 30 months before release. Quite champagne-esque in its fresh apple with slight white grapefruit, lime/citrus and preserved fruit base flavors, it is complexed with notes of pastry, bit of brioche, white flowers, discreet fine minerality and a whisper of vanilla. Barely medium-bodied with a nice, slightly biscuity-creamy from the middle, its over-all depth and freshness definitely make it one of the more serious cavas I've had. Very nice indeed.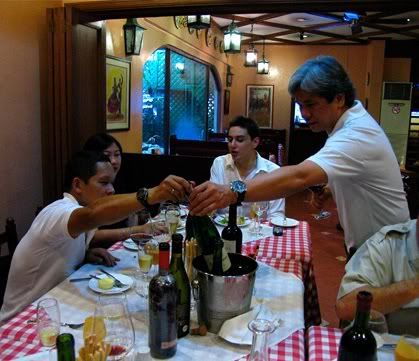 Oscar, with the Stockbroker, Chinkee & Matt, check out some bottles at our end of the table.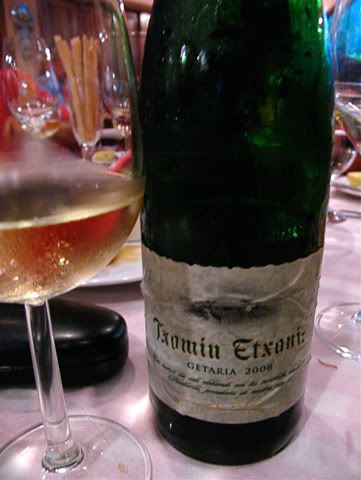 2009 Txomin Etxaniz Txakoli
- My bottle, from D.O. Getariako Txakolina. Txomin Etxaniz is the biggest and most famous producer of the area. It is also considered the best by no less than Jancis Robinson, MW. This is a typical Getarian txakoli made up of the native hondarrabi zuri (90%) and hondarrabi beltza (10%) grapes, it is bone-dry, light, fresh and minerally with tartish green apple and lime/citrus flavors, faint saline notes, lots of acidity with slight fizziness and an appetite-enhancing bitterness. Regionally and traditionally paired with the fresh seafood that Getaria is famous for, it would have been a perfect match for the
Besugo al Horno
, but I finished my glass with the pintxos and the bottle was drained by the time the fish course was served.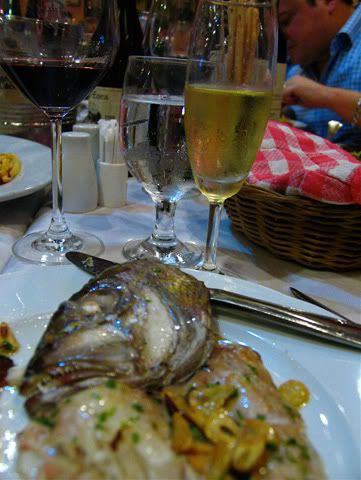 Consequently, I had more of the
Freixenet Reserva Real
with my besugo and the
Paella de Verduras
.
There was a ton of bottles brought by all the members, it was impossible for me to try them all. Everyone was eagerly sharing their bottles though - which is one of the reasons I especially enjoy IWFS BYOB lunches (rare though they may be) as the usual conviviality is stepped up an extra few notches.
With the Chuleton, I started working on the various reds in earnest.
I started off with some
1994 Bodegas R. López de Heredia Viña Tondonia Gran Reserva
(Rene, Jr. & I brought a bottle each, I decanted mine). For full disclosure, I, together with Aaron Palileo of ADP Industries, import the wines of R. López de Heredia. We only bring in particular bottlings/vintages that we personally love and drink ourselves. The last one of these I opened was
during a dinner at Ciçou less than a month ago
, so my notes then are as follows:
...[A]fter being decanted for aeration for around 45 minutes or so, the bouquet was as entrancing and complex as ever with sweetish balsamico, cedar, violets, dark cherry, raspberry, slight strawberry, with mere hints of licorice and leather. A few notches over medium-bodied, very neat, refined, elegant and remarkably balanced. Notably more open than the last time I had this, it is, indeed, a pleasure to drink now, especially with good lamb rack, though this has many, many more years ahead of it. Loved it. I am very proud of this wine.
1998 Bodegas Muga Prado Enea Gran Reserva
- My bottle as well. Denser, heftier (a little past halfway between medium to full, I'd say), more concentrated, extracted and riper. Tannins are notably bigger but smooth; the mouthfeel is a bit chunky after the previous wine. There are notes of fig and a bit of iron in the fleshy dark red fruit, slight leather, vanilla and licorice. Nice, very approachable and open. Quite enjoyable.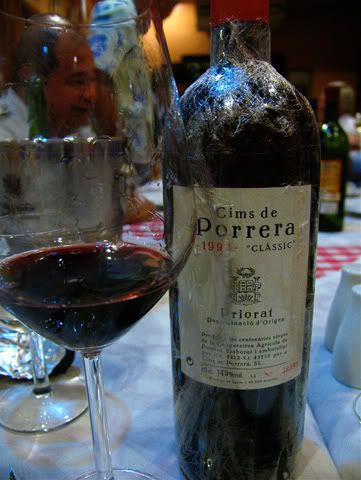 1998 Cims de Porrera Classic
- Oscar's bottle. Big, dense, ultra ripe and quite forward - Priorat's hot weather is certainly apparent in this. Huge, curvy, chunky, highly concentrated and extracted (but age-mellowed) grapey black fruit, kirsch, sanguine topnote, chocolate, bit of sweet tobacco, vanilla and cinnamon. Definitely a big wine - its heft and girth were emphasized following the '94 Viña Tondonia Gan Reserva.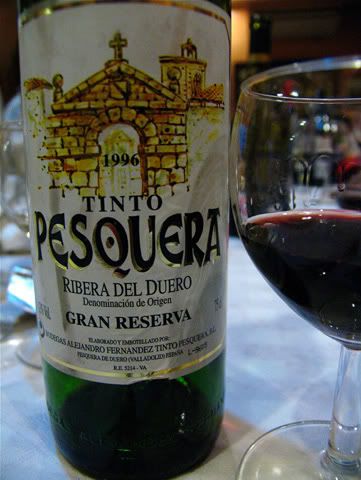 1996 Pesquera Gran Reserva
- Also from Oscar, and he made sure I got to try some of it. Immediately notable depth and discreet, smoldering power that builds as it passes across the palate. Notable balance, confidence and harmony. Impressive.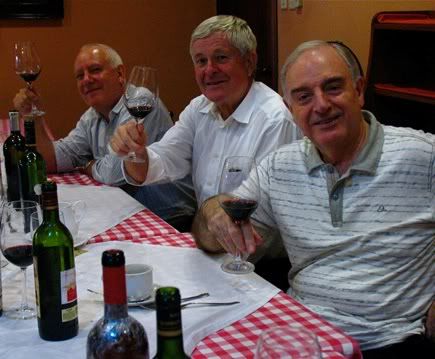 Lawrie, Dieter & Brendan.
2006 Bodegas Alión
- Gino's bottle (which I forgot to photograph), a more modern line of the legendary Vega Sicilia of Ribera del Duero. I recall this was decanted for aeration for 2-3+ hours before I tried it. Though still very young and primary, one can note the superior balance and remarkable structure in this wine. Nicely ripe, firm, precisely concentrated dark fruit (black cherry, bit of raspberry, underlying blackberry, some sweetish tobacco, dark chocolate and oak spice. Tannins are very apparent, but fine enough. It shows more restraint and better structure than, say, the 2003 - as well as comparatively more refinement than the 2001.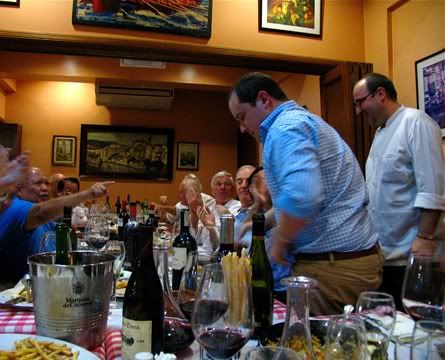 Javi eventually came out, was given a well-deserved round of applause...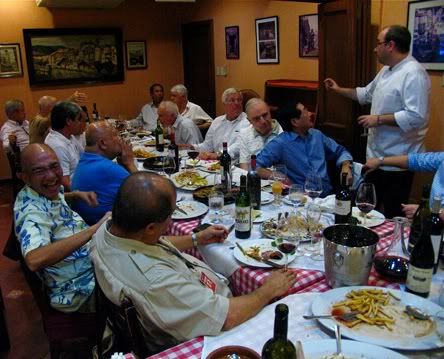 ...answered Eddie Yap's and other members' questions on the dishes (as Sunny kids around with Rene, Sr.)...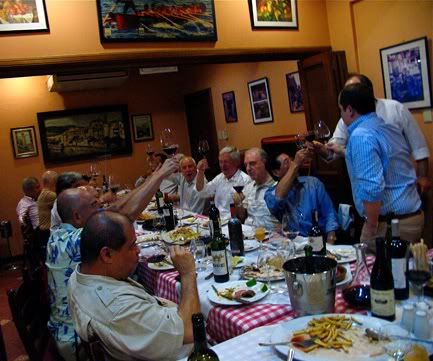 ...and received a congratulatory toast from the most appreciative crowd.
The day's guests were then introduced and asked to say a few words about themselves. I don't recall what Gino said, but it obviously had the Stockbroker and Chinkee in stitches.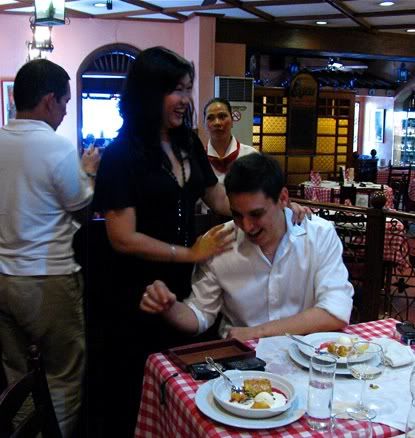 Chinkee & Matt also said a few words though they already knew several of the members.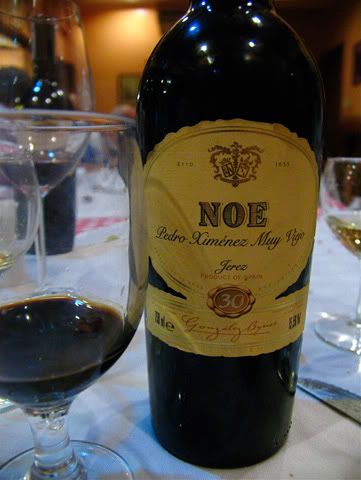 NOE Pedro Ximenez Muy Viejo Jerez (30 Años)
- J-Lab's bottle which many enjoyed with and after dessert. Same perceptions as when we last had it during one of our lunches in late June 2010: "Very approachable, smooth, comfortingly warm molasses, raisins, hints of herbs, some underlying chocolate, vanilla, slight licorice candy. Not as thick, tongue coating and intensely dense as many PXs I've had - which is not a bad thing. Nice one."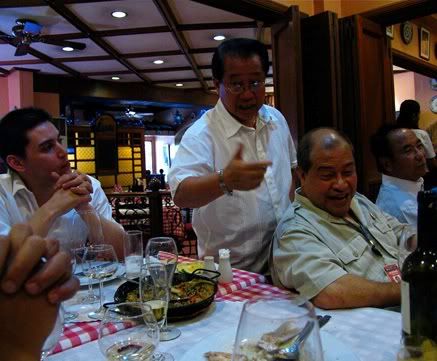 Sunny and Dong were among the first few to take their respective leaves. Dong (from a long line of Ateneans) couldn't help but jokingly rib Rene, Sr. (a loyal La Sallista) about Ateneo's recent basketball "three-peat"...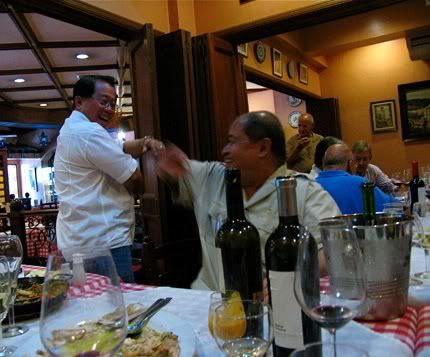 ...and skilfully dodged Rene, Sr.'s predictably playful response.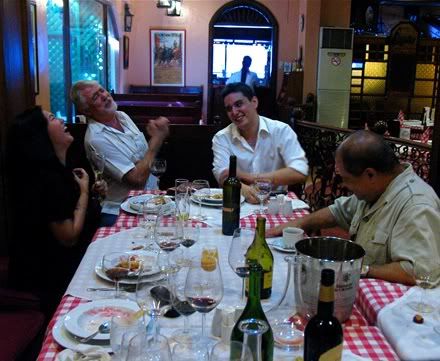 We lingered a few more hours, enjoying each other's company over a lot of laughter and the rest of the bottles, including J-Lab's caramel-laced
Cardenal Mendoza Brandy de Jerez Solera Gran Reserva
(by Sánchez Romate Hermanos). Rancio, cocoa, aged Spanish cedar, pine, dried fruit and sultanas - these aromas held true in the mouth in a pure, warm, smooth, comforting stream - the cocoa, rancio and aged wood holding sway over the fruit, nutty nuances emerging just past mid-palate. Lovely.
Several writers have observed wine to be a unifying force that brings together people from all walks of life, sweeping aside differences in age, regions and nationality. In the IWFS, anyway, I can confidently say that this is, in fact, the case.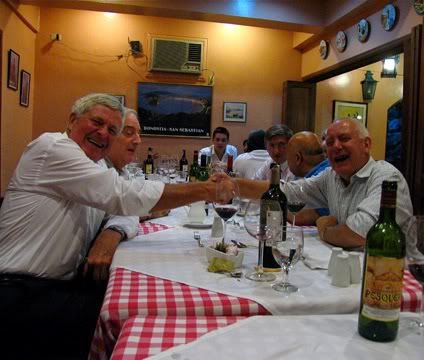 Congratulations again to Javi for the excellent meal (as always), and, especially to the Stockbroker who conceived of and organized this most successful and enjoyable event.