Aaron and I have some Riojan tintos, sent to us by the producers, which were up for consideration for our 1st quarter 2011 offering. Thus, we got a small group of aficionados together the past Tuesday at
Elbert's Steak Room
. Timely, since it doubled as a welcome home dinner for Miguel who just got back from a rather long business trip. We wound up being 8 in all, aside from Aaron and I, the Stockbroker, Miguel, Doc (who caught up still in his hospital scrubs), J-Lab and Richard had dinner there, with Miguel A. arriving for drinks after a last-minute working dinner.
Aaron, Mig, the Stockbroker, Richard and I had a couple of beers while waiting for the others to arrive - one of which was a 750ml of
Estrella Damm Inedit
(which Mig brought back from his recent trip), a finely fruity, refreshingly dry one developed by
El Bulli
's Ferran Adria. Thereafter, we moved to our table and popped open Aaron's
2004 Freixenet Cuvée DS Gran Reserva Brut
.
I've written about this fresh, vibrant, refined and discreetly complex vintage cava so many times, so will forgo repeating myself anew. Let's just say that, in my opinion, at P1800/bottle (from Aaron's
ADP Industries
), I cannot think of a better vintage cava bargain than this in the country.
Aaron, the Stockbroker & J-Lab
With our salmon appetizers and various starters, we had some white Burgundy: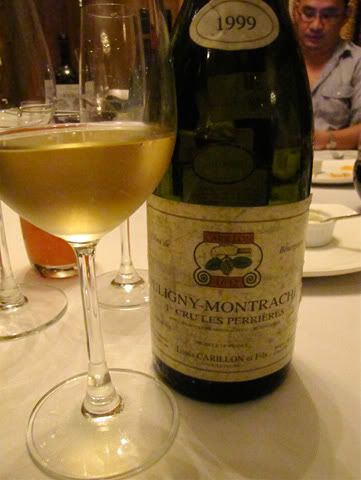 1999 Louis Carillon et Fils Puligny Montrachet Premier Cru Les Perrières
- My bottle, which the Stockbroker, not surprisingly, immediately recognized as a white "...from an excellent producer, famous vineyard and very good vintage". Richard, a French-Swiss investment banker and fellow wine lover who moved to Manila a couple of months ago, quickly noted that it was a bit over-chilled (I got to my glass a bit later), and, so, waited a bit for it to warm up.
Plumpish, nicely rounded, pillowy ripe pear, apple, whispers of lemon custard, hazelnut paste, discreet vanilla, very slight minerality and white florality. Refined and poised, I liked this a lot - but - was looking for more complexity given what it is. I'll open another of this with some lobster or similarly rich shellfish dish soon just to re-validate. If it still seems a bit young, I'll wait for 2-3 more years before trying again.
We then moved on to our steaks and the reds, the first 2 side-by-side, back-to-back vintages. No decanting, Aaron just opened the bottles earlier in the evening.
Mine was a rare
USDA Prime-Grade T-Bone
with a side of
fries
.
1998 Bodegas Riojanas Monte Real Gran Reserva
- From a highly respected, traditional Riojan producer, I tried this once before during my last dinner (paired with
Chuletillas de Cordero a la Braza Asados a la Zona
) at Logroño before driving back to Barcelona this past April.
Immediately open, displaying well-concentrated, notably ripe dark red strawberry, cherry, raspberry, bit of dried plum, slight roasted meat, licorice, loam, cedar, violets, hint of underlying chocolate and sweetish pipe tobacco, touches of violets, vanilla and cinnamon. A few notches over medium bodied, softly layered, amiably complex, comforting and warmly welcoming. Acidity is just enough for good balance and harmony. Very easily approachable.
1999 Bodegas Riojanas Monte Real Gran Reserva
- This was comparatively tight and unyielding at first, but, after approximately 30-40 minutes in glass, it gave up sweetly cedar-lined scents and flavors. Good purity, nicely clean in the mouth. Similar, of course, to the immediately preceding wine, this, to me, was more masculine, possessed of firmer structure and acidity and a more challenging personality. Aaron noted this could probably age significantly longer than the '98, and I agree with his assessment. Very good wine, I'd have the '98 with chuleton and the '99 with lamb.
These will definitely be available in Manila by January or February 2011.
Miguel A. & Richard hard at work.
1998 Bodegas Remírez de Ganuza Reserva
- This bottle was from the Stockbroker's vast collection. Previously, we had
the Doc's 2001 Reserva
which I really liked, and, from the producer, the
2001 Gran Reserva
which I didn't enjoy. I remember commenting to Aaron that I seem to prefer their reservas to their gran reservas. Deep, firm, masculine, admirable structure. There is a serious-rustic-macho slant to this wine in its clean lines of leather-laced dark red fruit, discreet sanguine whispers, violets and cedar. Admirable balance and definitiveness, I greatly enjoyed this with my steak.
2004 Bodegas Remírez de Ganuza Reserva
- Decanted for about 2 hours or so before I got to it. Still obviously tight and young, it showed similar clean lines, definitive/macho character and firm structure of its 1998 older brother. I wouldn't really start opening these now, but this surely has great potential.
The Doc, who introduced me to Remírez de Ganuza's wine.
The last red I tried out (I purposefully delayed to allow it time to open up in the decanter) was the
2007 Bodegas Roda Rioja Cirsion
which I forgot to take a photo of. This seems, at this
very
early stage, a very modern type of Rioja, in that it is, to me, massively concentrated, ultra-ripe, notably smoky and obviously heavily new-oaked behemoth. Honestly, either this is way too young for me to appreciate or it is a Parker-styled Rioja that does not suit my tastes. At this point, everyone agreed that this was not enjoyable, some saying it lacked typicity. Given its extreme youth, however, I'd reserve judgment and re-try it after, say, 10-12 years, to see how it comes along. Only time will surely tell.
Miguel A., Richard, Miguel & the Doc
We ended with my bottle of
1993 Krebs-Grode Albalonga Trockenbeerenauslese
from Rheinhessen, Germany. I found this quite unusual with its relatively light body, sweet grapefruit/pomelo, citrus, vague pineapple, with less sweet grapefruit underlying and trailing in the finish. Acidity was decent, the wine was certainly not cloying. J-Lab suggested I have it with some of Elbert's
Apple Charlotte à la Mode
- and he was right - it did go well and that dessert seemed to give it some roundness and seeming heft. That said, it is a strange wine, though not unpleasant. In all, I doubt I'll ever buy another albalonga-based wine unless I try it first and like it.
Most enjoyable evening. Many thanks to all who joined us and shared their company - and again to the Stockbroker for sharing his '98 Remírez de Ganuza Reserva. Until the next!