The western wine press has been abuzz over Bordeaux's vintage 2009; some touting it as the next "vintage of the century" - better even, some claimed, than the incredibly pricey 2005. I, personally, was quite skeptical as this is the third "vintage of the century" so far (the others were 2003 and 2005).
Knowing my wife and I would be in Spain late March to early April 2010, the Vigneron thoughtfully invited me to attend the Union des Grands Crus de Bordeaux tasting of vintage 2009. Because I rely on my own personal assessments, I jumped at the chance to see for myself what the hullabaloo is about.
Making a detour from Bilbao, my wife and I drove northward for around 3-1/2 hours to Labarde, Bordeaux - back to the genteel confines of
Château Siran
's 17th century manor. Happily, Juan Carlos and Mari de Terry joined us at Siran on the same date, but arrived later in the evening.
Catha and the de Terrys at breakfast in Siran the morning after.
Dinner that night of the 29th March was at
Château La Dominique
in St-Emilion, but Catha stayed behind to make sure the de Terrys were properly received at and settled in Siran. As it turned out, when JC and Mari arrived, they decided to take Catha to dinner at the Hotel de France et d'Angleterre in nearby Pauillac, where they had a lot of fun themselves.
As for the Vigneron and I, after a quick stop at
Château Corbin
to say hello to Sebastian and Anabelle Bardinet, we arrived at La Dominique in time for cocktails where I bumped into Count Stephan von Neipperg (of Châteaux La Mondotte, Canon-la-Gaffelière, Clos de l'Oratoire, d'Aiguilhe, etc.). I reminded him that he had entertained me and my former EO group before in his château, and, we had met again a couple of times later on in Hong Kong - to which he smiled and humbly replied: "It is good of you to remember this old farmer". Old farmer? Yeah, right (to coin the Stockbroker's comment).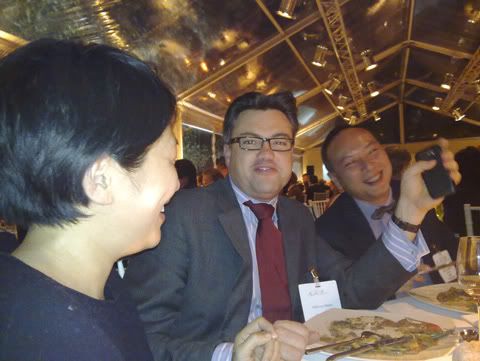 Judy Leissner, Edouard Miailhe and Wilson Kwok.
Dinner proper commenced in due time. At our table were friends from Hong Kong: energetic and bubbly Grace Vineyard China CEO Judy Leissner, French-fluent and fun Wilson Kwok. Venerable WINENOW HK Magazine owner Mr. Lau was snagged to another table. Also at table were
Château Doisy Daene
's Fabrice Dubourdieu (recently in the Philippines for the Commanderie de Bordeaux Manila's launch), China-based wine writer Michael Tse and
Château Labegorce
owner Nathalie Perrodo, making up a lively table indeed.
With so many château owners and winemakers at the dinner, there was certainly no lack of wine.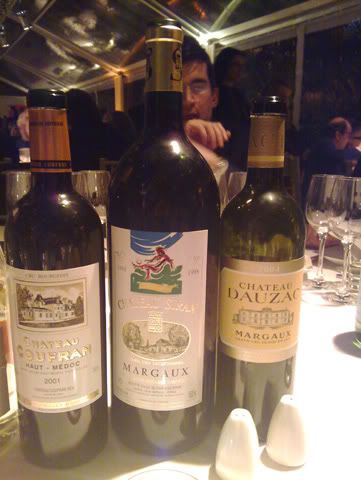 2001 Coufran, 1999 Château Siran (Magnum) & 2004 Château Dauzac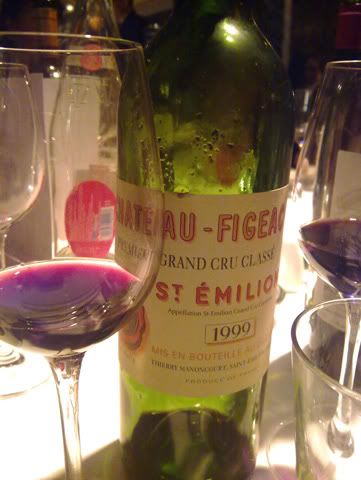 1999 Château Figeac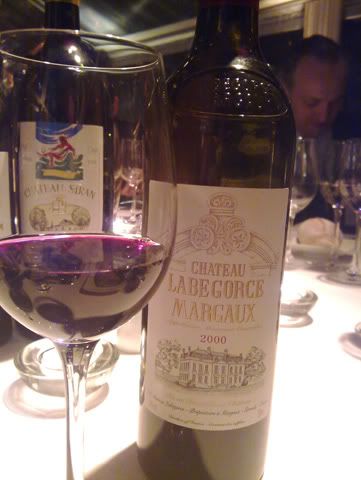 2000 Château Labégorce
Conversation was lively and the atmosphere convivial - certainly not an occasion for wine analysis, so I relaxed, took no detailed notes and just let the evening flow. Honestly, at their respective prices and quality,
I would not hesitate to buy any of the above-mentioned wines
. The
1999 Château Siran
I've written several times about as I've often enjoyed it and almost all in magnum format. The
2001 Coufran
(of the Vigneron's cousin, Eric Miailhe) offers comforting, honest typicity with a great quality-to-price ratio; the
2004 Dauzac
is an example of a polished, yet traditional style of Margaux, the
1999 Figeac
just underscores Figeac's consistency in high quality even in less-than-stellar vintages; and,
2000 Labégorce
definitely did justice to its fine vintage.
There were a few other reds, but I no longer recall what they were and took no photos of them. Since I was a bit tired, I forgot to take a photo of the first course, but it was
Carpaccio de Saint-Jacques au Citron Vert et Basilic
- sort of ceviche of thinly sliced scallops with a hint of basil.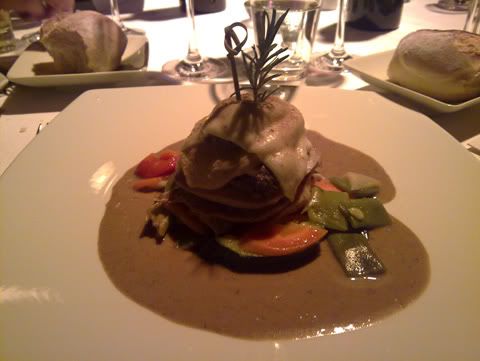 Pardon the very low quality photos as I was just using my phone's camera at this dinner.
The main course (photo above) was
Millefuille de Veau en Tapenade de Cèpes, Fricassée Croquante du Maraîcher, Fumet des Sous Bois
- as best I can describe, very tender and yielding cuts of veal stacked alternately with minced mushrooms - a sort of savory/meaty napoleon, if you will.
The cheese plate included
Roquefort
,
Brie de Meaux-Lait de Vache
,
St-Nectaire-Lait de Vache
and
Comté Dous-Lait de Vache
(sorry, no photo either). I don't know why they kept specifying the 2nd to 4th cheeses as made from cow's milk as I've only ever known those cheeses to be as such (not that I'm any cheese expert or anything).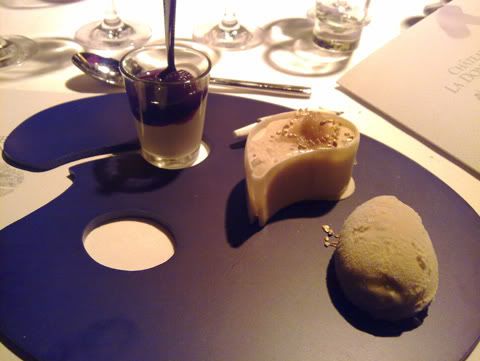 Dessert was a whimsically named "
Peinture et Gourmandise" - Servi Sur Une Palette de Peintre, Larme Pommes-Sauternes, Panacotta au Caramel de Bordeaux et Poires Pochées, Glace au Cannelé et Tube de Mangue
. - (almost) literally: "Painting and Greed" served on a painter's palette of a tear of Sauternes-poached apple, Bordelaise caramel panna cotta and poached pears; cinnamon ice cream; and, a tube of mango. I don't think any of us from Asia even bothered to brave trying the tube of mango.
Served with dessert were 2 Sauternes: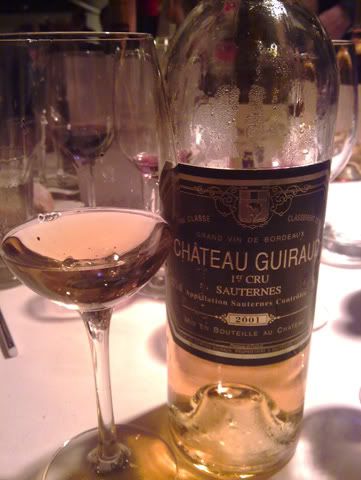 2001 Château Guiraud
1991 Château Doisy Daëne (from Fabrice Dubourdieu, naturally)
From an exceptional Sauternes vintage, though still very young, the
2001 Guiraud
was immediately pleasing in a more indulgent, luxurious, creamy style with good acid balance. The
1991 Doisy Daëne
, though, was a real treat - pure, clean and graceful on the palate, it brought to mind images of a ballet. Until this bottle, I do not believe I'd had before any Doisy Daëne older than their 1997. I'm glad I got to try this one as it was a wonderful way to end an evening.
Tastings began the next day (30th March 2010), grouped by appellation, held at pre-designated châteaux. Considering, however, that I would have to drive and the weather was quite cold and rainy, I opted to go only to the nearest ones. Catha and Mari took JC's car to go sight-seeing while JC and I took mine to hit the châteaux. I didn't need my GPS at all as JC knows the Médoc like the back of his hand, even the smallest dirt roads way off the
Route des Vins
.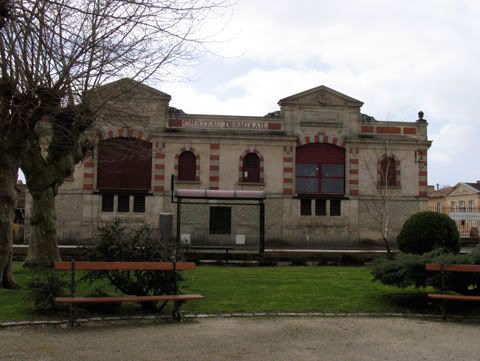 Our first stop was the nearest one -
Château Desmirail
- whereat the wines of UGC members from Margaux were featured.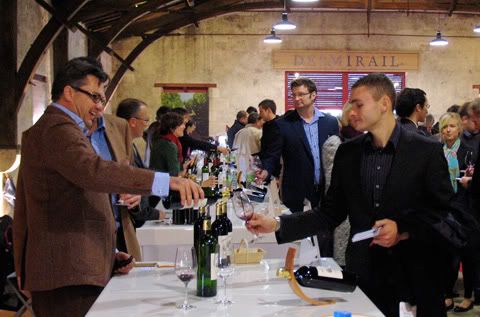 The Vigneron proudly pours his consistently highly rated 2009 Siran.
I tasted through all the wines available at Desmirail. Generally, the available Margaux wines were marked with finesse and healthy acid lift and balance. I felt
most
were characterized by old-school typicity, particularly compared to those of the more alcoholic, sweetish, roasted-ripe and fruit-forward 2003 and 2005. Fine and sweetish tannins seemed the name of the game. The standouts for me, in no particular order, are as follows: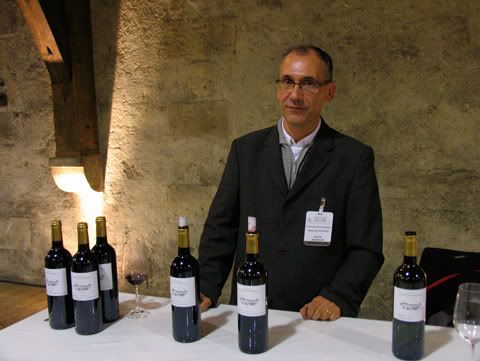 Rauzan-Ségla Winemaker Henry de Ruffray
2009 Rauzan-Ségla
– Commanding presence on the palate, intense, but with good purity and finesse. Remarkable balance and harmony. There is power in this, but shows classic self-restraint.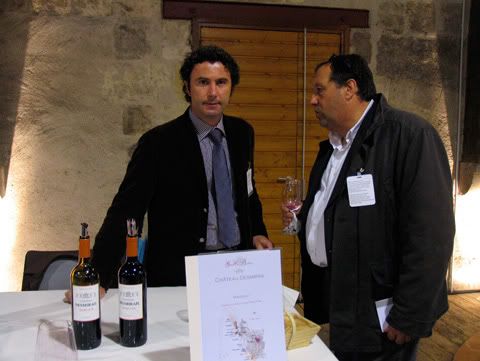 Desmirail Commercial Manager Rémi Molis
2009 Desmirail
– Licorice, new leather, violets, minerally blackcurrant, hint of pencil lead. Graceful oak. Definitely a good one, but more interesting in the nose than on the palate at this point.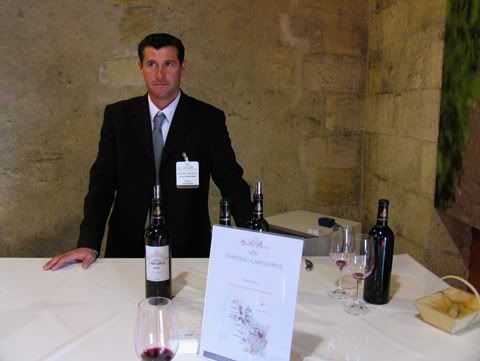 Labégorce Cellar Master Bruno Bergamin
2009 Labégorce
– Penetrating berry/fruit; notable focus. Medium-bodied, bright with healthy acid balance. Immediately pleasing.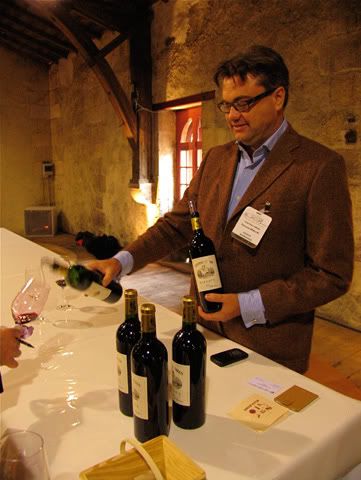 Manila & Bordeaux's own Edouard Miailhe of Siran
2009 Siran
– Good fruit focus, clean dark berries and violets, slight petit verdot spiciness. Typical Siran masculinity. Nice acid balance. Classical cut.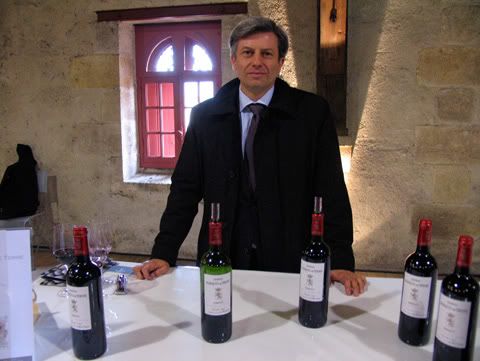 Marquis de Terme's Directeur Ludovic David
2009 Marquis de Terme
– Fresh clean nose with suggestions of jasmine in sweet plum and violets. Vibrant on the palate though so very young.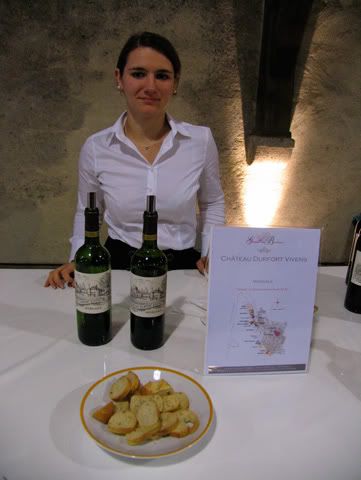 2009 Durfort-Vivens
– Expressive aromas virtually jump from the glass. Deep, sweetly ripe fruit with hints of wet tea leaf and chocolate. Aromas mirrored on palate. Another charmingly precocious one.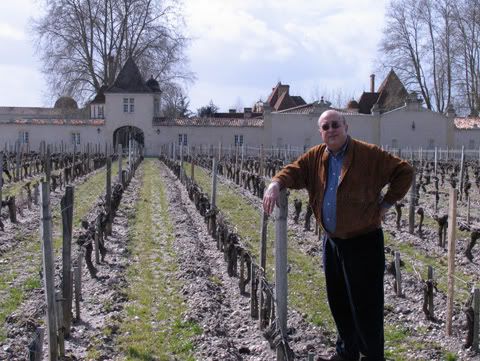 As JC de Terry's
Terry Selection
distributes the wines of
Rauzan-Ségla
, JC got me invited to the
Ulysses Cazabonne
(the negociant house owned by Rauzan-Ségla) vast tasting at Rauzan-Ségla...
...where we partook of a delectable lunch as well...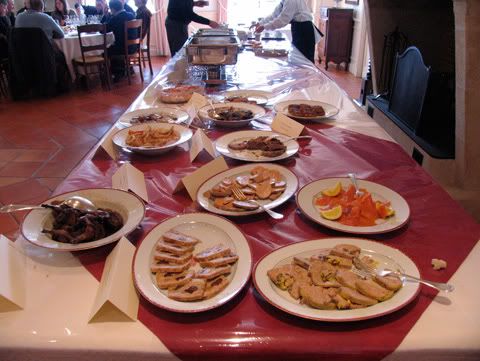 A buffet of typical Bordeaux cuisine, I concentrated on...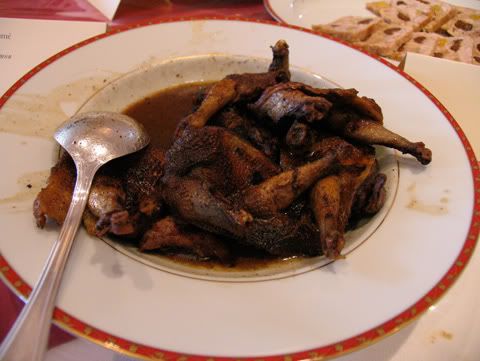 Roast Pigeon, I can never resist this dish.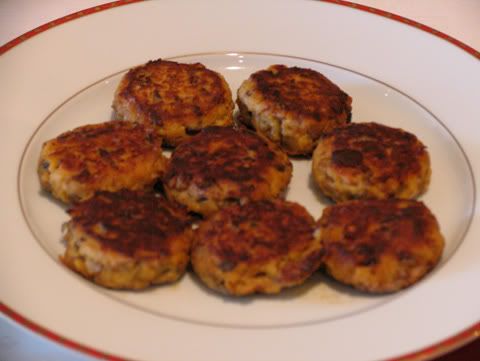 I can't remember the name of this dish, but it was absolutely delicious (JC knows what it is). I ate 4 of them and stopped only because I still had a lot more "work" ahead of me.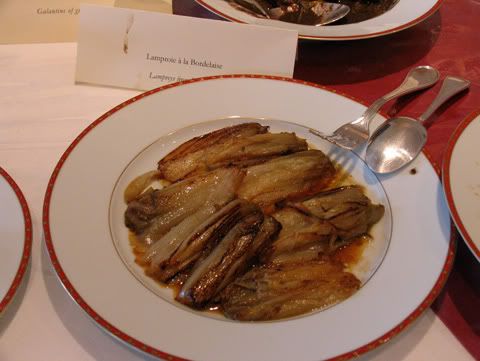 In season, caramelized French Endives. Heavenly.
The wines served with lunch were quite nice, especially the...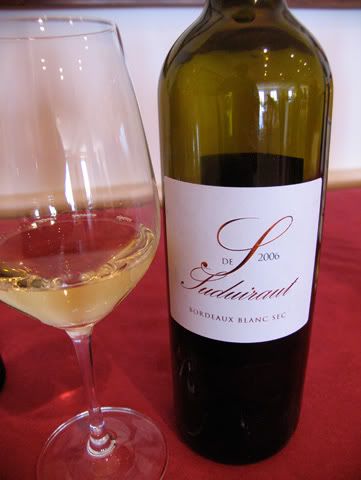 2006 "S" de Suduiraut Bordeaux Blanc Sec, and, the...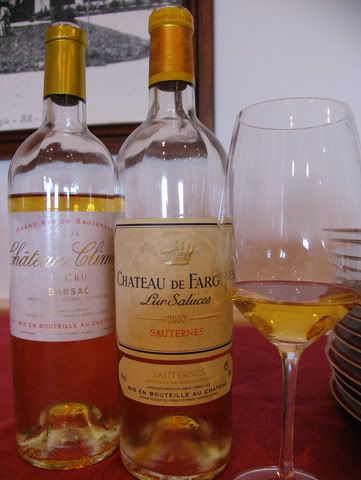 ...
2004 Château Climent
which I had with my foie gras and
2002 Château de Fargues
which I had as my dessert. Both were very good, but I must say that the de Fargues was my favored sweet wine that lunch. It was good to be able to swallow the wines for a change after so many hours of spitting everything.
At Rauzan-Ségla,
prior to lunch
, I concentrated on the right-bank wines which seemed generally a bit low in acid, sweet, chocolaty and oaky. Those who like this type of wine will likely well appreciate those of 2009 Quinault l'Enclos, Rol Valentin, Péby Faugères and La Gomerie.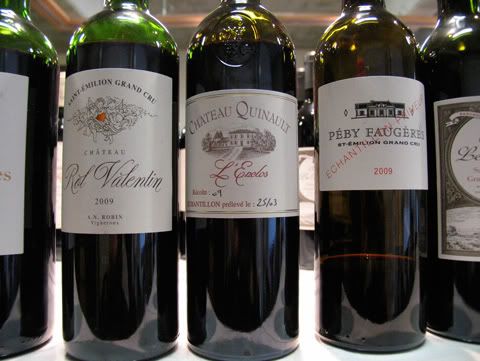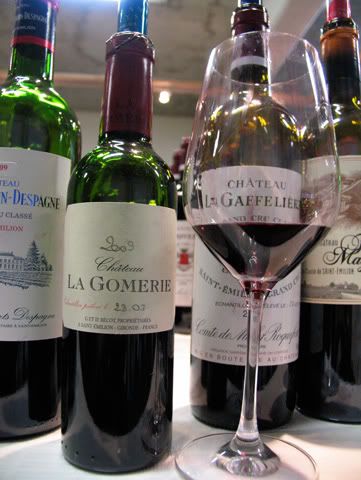 That said, for me, those right-banks worth particular mention were: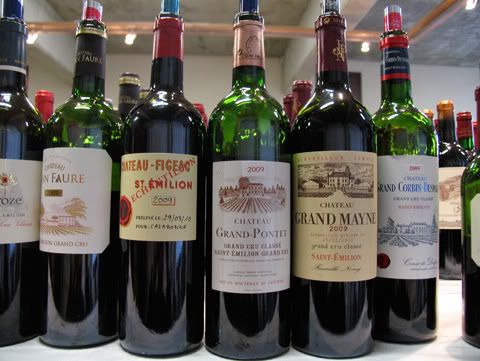 2009 Figeac
- Clean, pure, vibrant fruit. Healthy acidity and admirable balance. Elegant. The relatively higher percentage of cabernet sauvignon is apparent.
2009 Beau-Séjour-Bécot
– Perfumed nose of rose petal, vanilla, damson, minerals and toasty oak. In the mouth, minerally black cherry, underlying ripe plum with chocolate notes. Good concentration and extraction, but doesn't come off as over-done.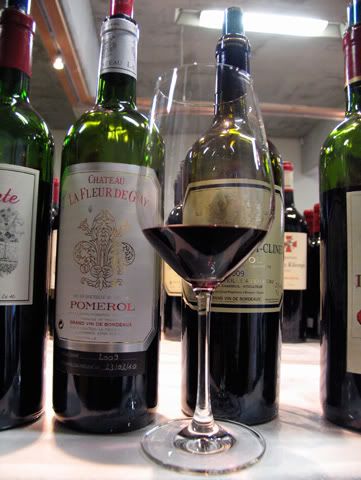 2009 La Fleur de Gay
– Rich, ripe black cherry under raspberry, kirsch, tobacco, chocolate, bit of tar. Lots of concentration and extraction. Lowish acid and a sweet cherry finish.
2009 Feytit-Clinet
– Though the nose is a bit closed, it displays notable purity in pretty cherry and raspberry notes touched with hints of tobacco and chocolate all on a medium body.
We were scheduled to meet the wives back at Siran by 4:30pm, so we thanked our hosts and took a few shots from within Rauzan-Ségla's manor grounds (restricted entry, but JC got us in again).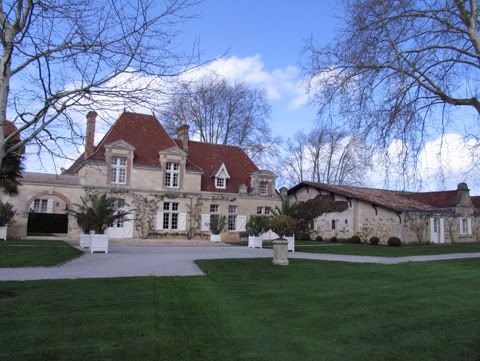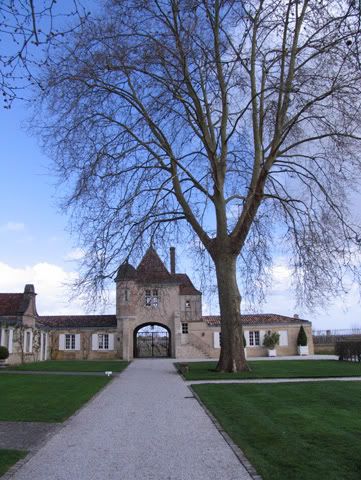 After washing up and resting for a few minutes, we attended the Crus Exceptionnels event at Siran's tasting room where the Vigneron, the current head and spokesperson of the 9 Exceptionnel châteaux association, was briefly interviewed about their 2009s.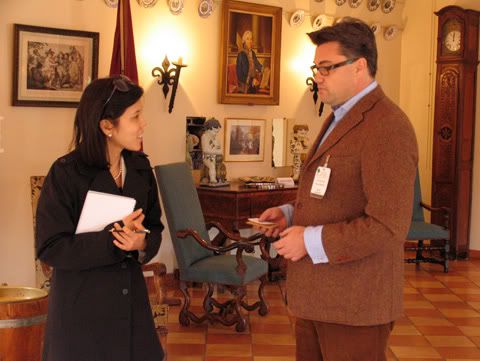 Edouard with Wine & Dine Singapore Editor Leena Ng.
Being interviewed by major French television channel TF1.
Personally, worth particular mention in that tasting were the 2009s of
Les Ormes de Pez
,
Phélan Ségur
,
Poujeaux
and
Siran
. Some may think that I favor Siran's 2009 because of my friendship and/or professional connection with the Miailhe family, but I assure you that is furthest from the truth. Case in point: it is not only I who thinks highly of the 2009 Siran - as attested to by the consistently high ratings of: Wine Spectator (90-93), Decanter (4 out of 5 stars; 17/20), Wine Advocate's Neal Martin (88-90) and, my wine critic of choice, Jancis Robinson, MW (17/20). Enough said.
Next, tasting 2005 and 1999 Margaux wines during dinner at Château Prieuré-Lichine, 2009s of Pauillac and St-Julien at Château Batailley, and the Commanderie du Bontemps dinner at the Musée des Beaux Artes de Bordeaux.