Dinner of the 24th August 2010 was for Tita Rose, Miguel's mom, who so graciously hosted Catha and I at her home in Barcelona for several days in March and April 2010. Even when we were planning this dinner back then, Tita Rose made it clear that she would like to have Filipino cuisine. Of course, we were more than happy to oblige.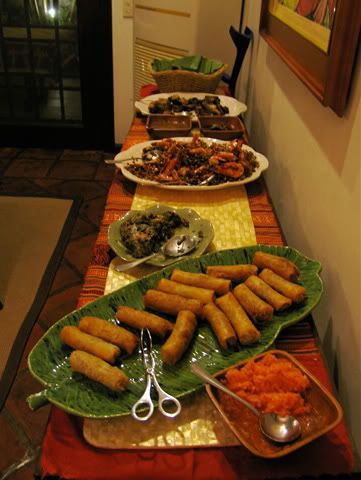 With Tita Rose on this trip was her sister, Tita Amen, who was the one who was able to get Catha and I a reservation at
3 Michelin star Restaurante Arzak (San Sebastian)
with just a few days' notice - certainly no mean feat. Besides them and, of course, Miguel & Ria, longtime friends Beto & Teresa joined us (Beto being a cousin of Tita Rose and Tita Amen on the Cacho side). It had been a long time since Beto & Teresa came over for dinner, so this was a nice little reunion.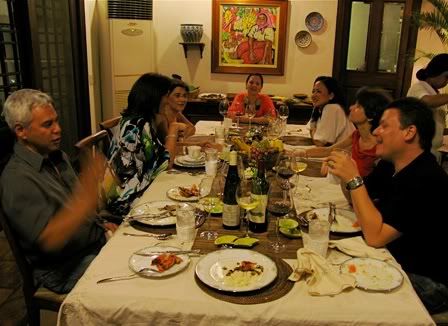 Beto, Teresa, Tita Rose, Catha, Ria, Tita Amen & Miguel
Though we had discussed some of the dishes with Tita Rose back in Barcelona, I double-checked the menu with Miguel a few days before to make sure Tita Rose would enjoy. We started off with appetizers of
Blini with Smoked Salmon, Sour Cream & Red Caviar
washed down with Miguel's bottle of a sauvignon blanc that Tita Amen favors (Tita Rose gave up drinking alcohol a while back). We then moved onto the first red and, eventually, seated ourselves for dinner proper.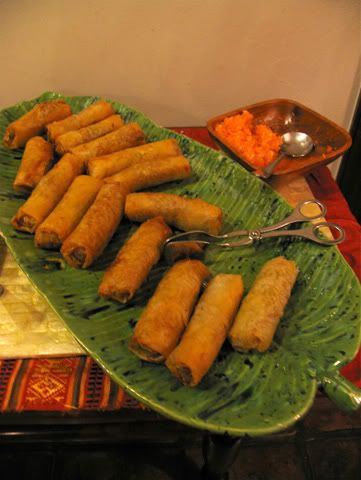 Lumpiang Sotanghon w/ Crab Meat, Minced Prawns Served with Carrot & Singkamas (Jícama) Relish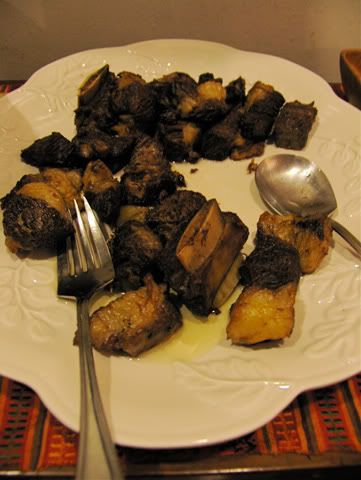 Crispy Tadyang ng Baka (Beef Ribs)
We also had some
Pinangat
(a version of "laing" from my dad's hometown of Daraga, Albay) - which is a packet of young
gabi
(Taro) leaves stuffed with pork (sometimes shrimp or fish) and simmered in first-press coconut cream with green chilis - and, of course,
Garlic Fried Rice
.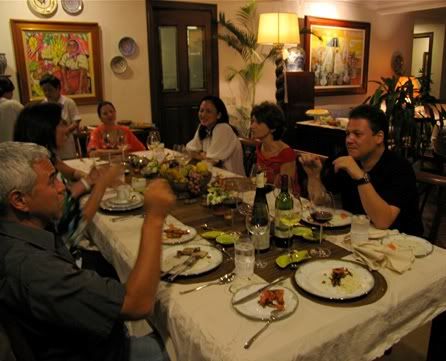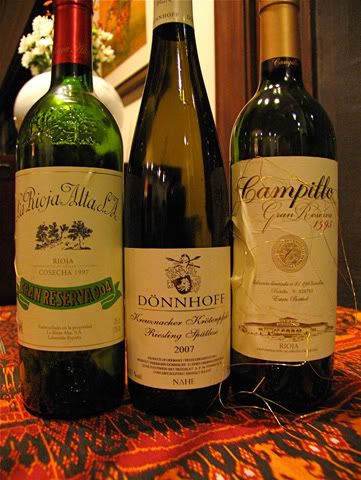 2007 Dönnhoff Kreuznacher Krötenpfuhl Riesling Spätlese
- I opened this with the Chili-Garlic Prawns in mind, figuring its clean, pure, light-footed, graceful, off-dry, white minerally, slate-touched pear, bit of peach, apricot, quince, bit of kiwi and slight ripe pineapple notes would balance off the dish's spiciness. It was a good call resulting in a good match (if I do say so myself). Eminently drinkable wine this, and it is available at Premium Wine Exchange for around P2400/bottle more or less. This was my last bottle of it, and I'm definitely getting more.
1995 Bodegas Campillo Rioja Gran Reserva
- Pretty much consistent with the last couple of bottles I've had, it showed good depth of nicely concentrated, macerated black cherry, bit of kirsch and ripe raspberry with undertones of cedar, sweet tobacco, mildly toasty vanilla/oak, licorice, violets and whispers of cinnamon. Plush and soft, it has a notable heft mid-palate and good push (it somehow reminded me of a red from Ribera del Duero). The tannins are rounded, soft and velvety. Beto opined that this was a wine for food.
1997 Bodegas La Rioja Alta Gran Reserva 904
- Of all the times I've had this wine, this was by far the best bottle. The perfumed scents of balsamico and cedar sweetly permeated the red and dark spice-touched pure, dark cherries, strawberries, raspberries and violets. A firm balancing acidity as a backbone kept things interesting throughout. The poise, structure and balance called Médoc to mind, yet I also had to agree with Beto's comment that its flavors were Burgundian in nature (something the Stockbroker, Doc, Eric and I have, in the past, noted in fine, aged Riojan tintos - particularly the 1976 López de Heredia Viña Bosconia Gran Reserva and the 1974 Contino Reserva).
Remarkable balance, poise, finesse, expressiveness and typicity. I loved this wine. Miguel pointed out it was a wine to sip through the night alone or with some cheese. Luckily, it is now locally available at Premium Wine Exchange at a little under P4000/bottle.
Desserts, brought by Beto & Teresa, were
Frozen Brazo de Mercedes
and
Mango Torte
(which I forgot to photograph). Fruits were
sampaloc
(a local tamarind that Tita Rose likes) and
mangosteen
.
Chamomile tea for me after - no more espressos at night. Alka Seltzer for Miguel.
It was great seeing everyone again, especially Tita Rose and Tita Amen back here in Manila. Very fun evening. Hopefully, we can do this again soon.