Last night, 9th March 2011, was at
CAV
for the
Bodegas Resalte
Dinner organized by
The Wine Steward, Inc.
(of J-Lab) together with
Darras + Bowler
(of Dondi Joseph). Laurence Colson, Bodegas Resalte's Export Manager, was there to present the wines.
Catha & I came straight from the office to the event. We got there at 7:30, just in time for the tail-end of cocktails. J-Lab sat with us and walked us through the first two wines served. Thankfully, there were still a lot of pass-arounds left since Catha and I hadn't had lunch.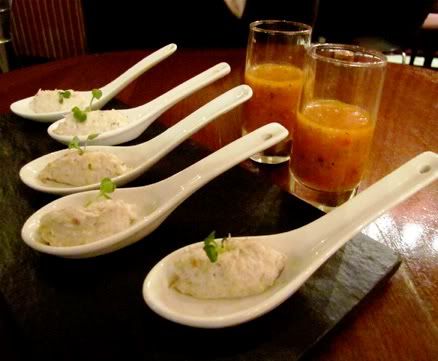 A vaguely smoky brandada de bangus (i.e., milkfish) according to J-Lab,
alongside a couple of shots of gazpacho.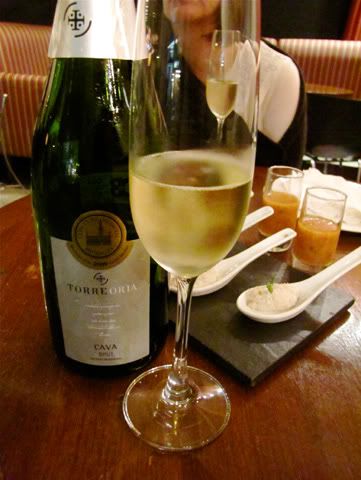 With those we had a couple of glasses of
Torre Oria Cava Brut
- 100% macabeo per J-Lab. Pleasant enough basic, straightforward cava with fresh, crisp, dry white grapefruit, undertone of lime and medium acidity. Good match for the gazpacho and brandada de bangus for me, and timely for the coming summer.
P570/bottle
.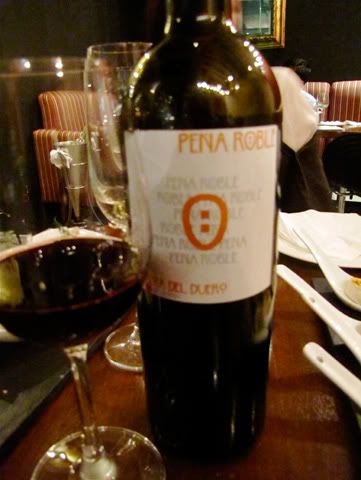 Poured next was the
2008 Peña Roble Joven
- The mark "Peña Roble" is under the Bodegas Resalte de Peñafiel S.A., the wines of which are meant to be similar to the Resalte but available at lower prices. Charming enough, nice freshness on a light frame. This is meant to be consumed casually at bars with tapas. Pretty decent ripeness of fruit apparent. Very quaffable; good for bars and cocktail parties.
P695/bottle
.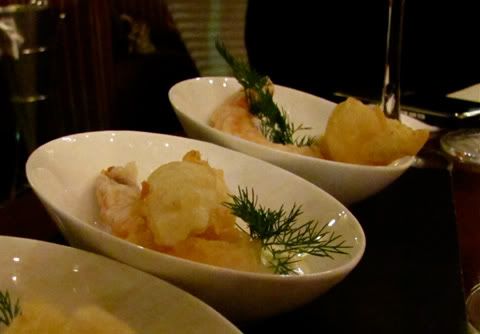 A couple more tapas were served, one being
Shrimp & Cod Fritters with Aioli
. Nice. I remembered JC de Terry telling me that tempura was actually introduced in Japan by Spanish and Portuguese missionaries. It was also JC who showed me that tempanillo based tintos go well with certain seafood dishes. The subject tinto joven reinforced what JC taught me.
Shortly thereafter, we were called to the table for dinner proper.
The Menu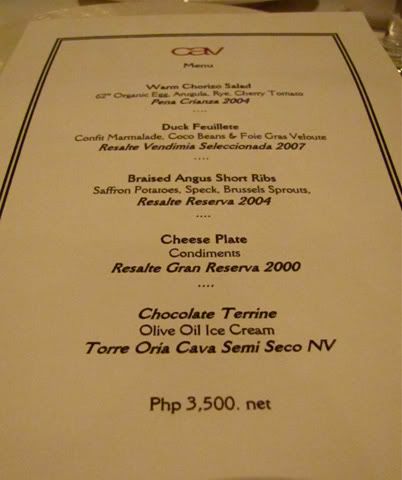 Laurence gave a brief talk on Bodegas Resalte's history, mentioning all their wines are 100% tempranillo. We then started things off with a delightful and comforting dish of
Warm Chorizo Salad with 62°Organic Egg , Arugula, Rye & Cherry Tomato
. Catha and I loved this - earthy and rustic.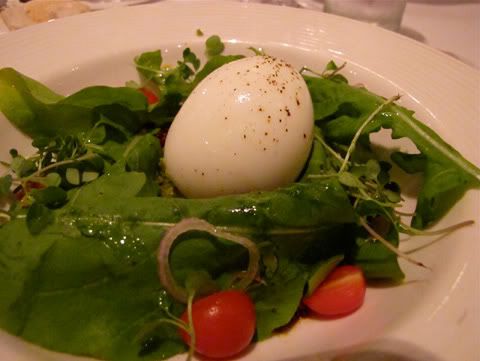 The egg, when sliced...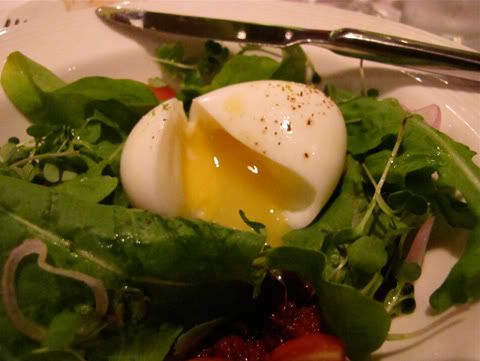 ...yielded its golden goodness. Miguel's remark, made in connection with his finding a poached egg underneath
an escargot dish at Daniel Boulud's Las Vegas Brasserie
: "I was so excited it's like I saw Gold coming out of a faucet". Absolutely delicious. Catha and I wiped our plates clean. This was paired with...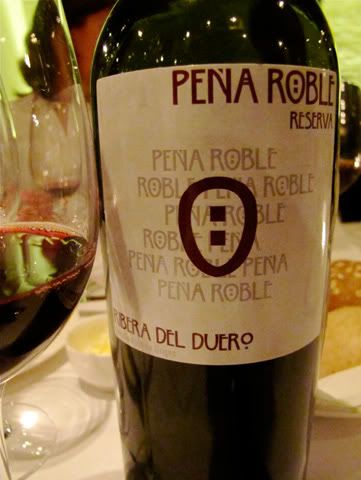 2000 Peña Roble Reserva
- Subtly smoldering, slightly smoky, good depth and quiet concentration to its ripe, earthy, cedary, dark red fruit with slight mineral and leather undertones. Notable balance in this; good depth as well. Many spontaneously expressed appreciation for this wine, myself included. A crowd pleaser, and, at its very reasonable price of
P1,385/bottle
, I easily can and do recommended this wine.
The next dish was
Duck Feuilleté with Confit of Marmalade, Coco Beans & Foie Gras Velouté
- yet another earthy and comforting dish. It may not be visible in the photo due to the angle, but the duck skin had a perfect toasty/smoky caramelized crispness. The duck's complex fruity-coco-foie savoriness simply went hand in hand with the Peña Roble Reserva's ripe-red fruit. Lovely.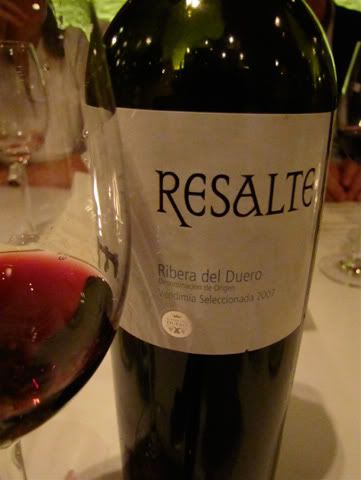 The
2007 Resalte Vendimia Seleccionada
was also served with the duck. Clean, neat lines, comparatively linear, less concentrated, with materially less depth and lighter in frame compared to the '00 Peña Roble Reserva. Young vines most likely. I commented to J-Lab that it tasted like a rainy harvest wine. I asked Laurence about the 2007 vintage weather in Ribera del Duero and she did mention there were rains before harvest. I'd like to try this again after 2-3 years to see how this can flesh out and open up.
P930.00/bottle
.
Dondi took this photo of Catha and I.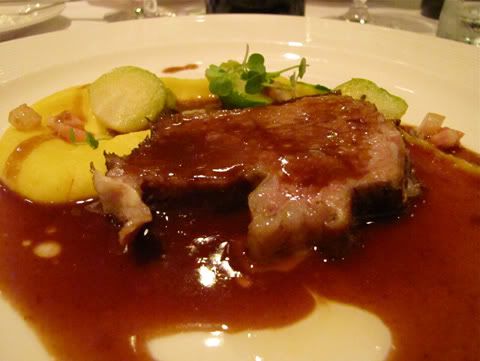 With the hearty, buttery soft and rich course of
Braised Angus Short Rib, Saffron Potatoes, Speck & Brussels Sprouts
, two wines were served side-by-side.
Laurence introduces the wines as Dondi looks on and Lucia van Bebber takes notes.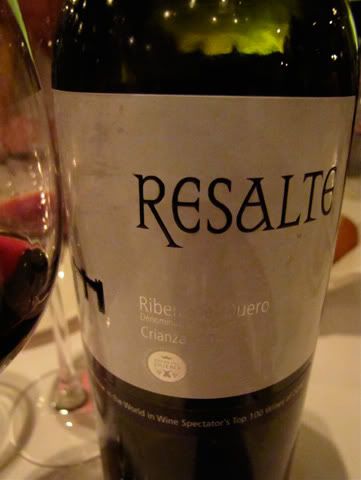 2005 Resalte Crianza
; and,...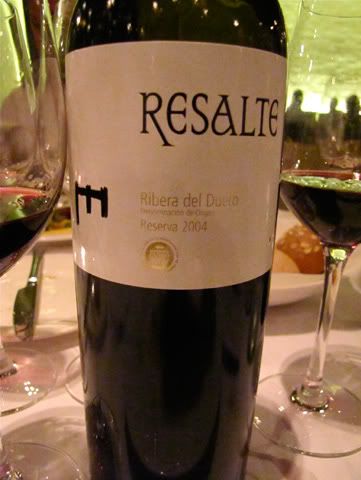 ... 2004 Resalte Reserva.
After tasting both, I opted to eat with the 2005 Crianza and to have the 2004 Reserva after the meat course. The
2005 Resalte Crianza
has a moderate, toasty oak lushness to it and has evidently comparatively better depth than the 2007 Vendimia Seleccionada. I chose to eat with it since it seemed to me to have a more rigid tannic backbone, and a touch of dry severity that served as a good foil for the buttery-rich, melt-in-your-mouth short rib.
P1355/bottle
.
The
2004 Resalte Reserva
, on the other hand, though a year younger, seemed softer and more accessible alone. This was another wine that made me sit up and take notice. It seems, at this tasting, the reservas were putting forth a very strong quality statement - both in the Peña Roble and Resalte lines. Notable depth, precise concentration, balancing acidity with a modernish candied-ripeness of fruit accented by notes of coffee, licorice, well-integrated toasty oak and cinnamon. Very nice, and well-recommended at
P2665/bottle
.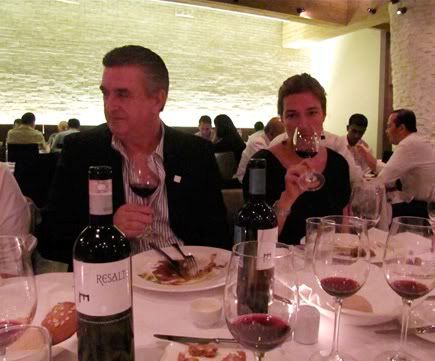 David de Montaigne and Laurence Colson.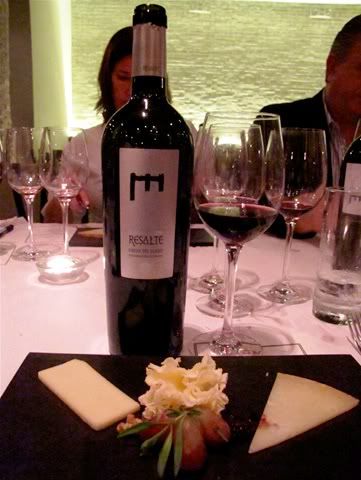 With the
Cheese Plate with Mostarda & Condiments
,...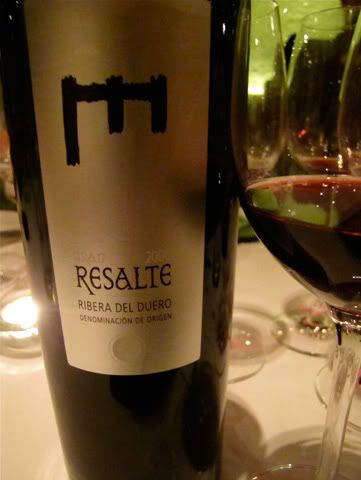 2000 Gran Resalte (Gran Reserva)
- New oak, I do not think American, is in the nose, but not overly so. There is the heft and breadth of a modern tempranillo-based wine, but with notable streamlined, neatness and purity. Pleasant dose of spiciness to the deep fruit. All corners tucked in neatly. Marginally more reserved than the 2004 Resalte Reserva, I'd guess that is due to lack of material aeration as there seems to be more smoldering power lurking in the depths of this wine. I'd certainly like to try this again with more time for aeration. As it was, I finished my glass of it quicker than I had intended. Very nice alone and with the cheese as well.
P3960/bottle
.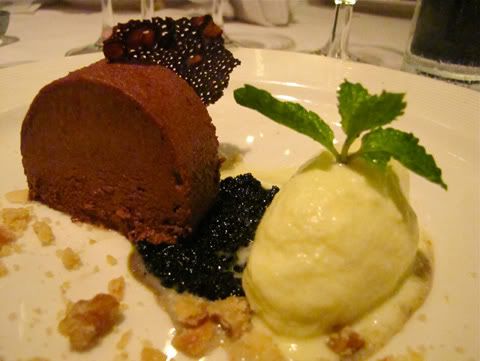 Dessert was an excellent
Chocolate Terrine & Olive Oil Ice Cream on a Caramelized Olive Base
. Although I do enjoy chocolate desserts and well-executed olive oil ice cream (I like the ones I've had at Pepato, Terry's 2º Piso and La Tienda), I do not normally finish a serving myself - especially rich chocolate portions. Well, this one, I finished every bit.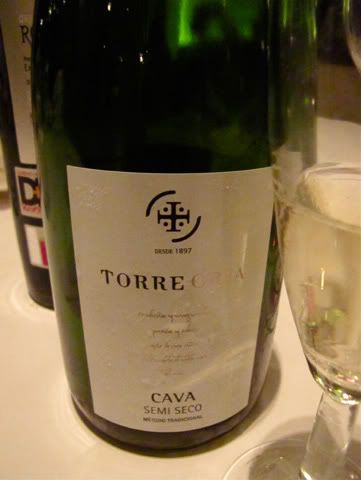 Glasses of
Torre Oria Cava Semi Seco
were served with dessert, but I had mine after. Similar to the starting cava, but, of course, a little off dry, heftier, with more of a rounded feel mid-mouth - a pleasant enough way to "wash up" after an excellent meal. P570/bottle.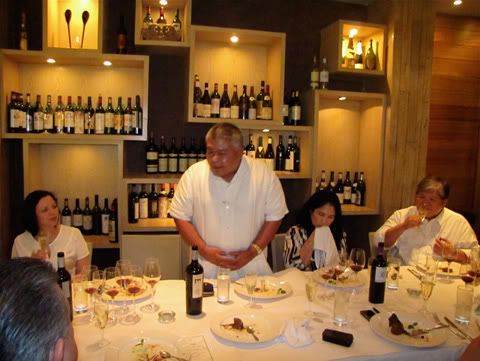 J-Lab then took the floor, thanked everyone for attending...
...and led a round of applause for Laurence and Bodegas Resalte.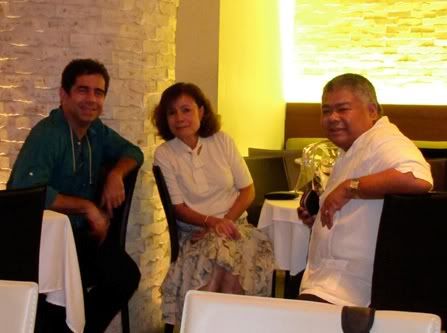 The evening's organizers, J-Lab & Dondi, take a well-earned break with
Lemuria proprietress Kit Schroeder after a night's "work".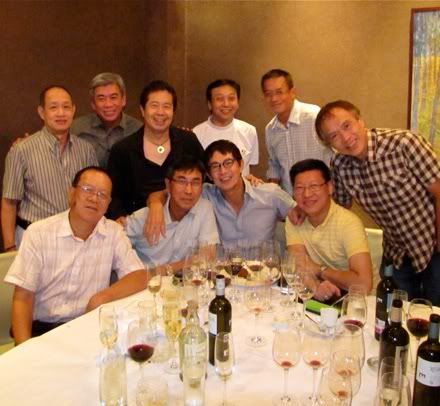 CAV's own David Ong, joined by his wine-loving friends,
held court at his own long table for this event.
I must make special mention of the excellent meal we had. CAV's team of Chefs Markus Gfeller and Bjoern van den Oever deserve a lot of praise. Not only were all the courses very well executed, the portioning of each dish was precise. The service was good as well. Great work over-all. I'll most likely be eating at CAV more often in the future.