Though I spent this past Friday evening until late at
Kublai's Rock*
(Magallanes Commercial Center) having beers, pica-pica, etc. with Mike & Machalen, Santi, Dong & Jerrie, I couldn't stop thinking about Kublai's
Mongolian BBQ
and
Chorizo Sisig
over the weekend. Thus, tonight, Sunday the 6th, Catha, I and our 2 older boys went there for dinner and a couple of drinks.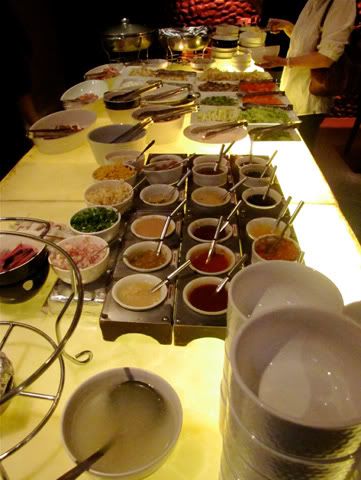 We arrived at a little before 7pm and were the first customers there. A couple of families showed up just as we were about to start fixing our bowls of Mongolian BBQ, so I took the opportunity to take my shots before a line could form at the buffet.
The wide array of main ingredients (e.g., beef, pork, chicken, clams, oysters, noodles,
togue
[i.e., mung bean sprouts], cabbage, chicken liver, etc.) is complemented by a variety of spices, sauces, etc. (e.g., onions, garlic, sesame seeds, brown sugar, chili oil, ginger water, sugar water, teriyaki sauce, soy sauce, peanut sauce, sesame oil, etc.). One can fix up one's own, or have a staff member whip up one's bowl.
I'm an old hand at Mongolian BBQ, having started eating the stuff with my gang back in high school at the old Genghis Khan along Roxas Blvd. Thereafter, during my college days, we'd frequent Conrad Calalang's Mongolian Grill in Mile Long, Makati, then, during law school, at Hippo Grill in Quezon City (I vaguely recall it was near Quezon Blvd., maybe along Timog, but I can't remember for sure now).
Thus, I always make my own and made a bowl for Catha as well. The 2nd made his own and the eldest chose to have his "professionally made" by the waitstaff. I tasted from his bowl, and, admittedly, the waitstaff does know how to season this better than I do.
Of course, we simply had to have a couple of orders of the specialty
Chorizo Sisig
. Mike's brother, Poch (who manages the place), makes the chorizo himself. The 2nd and I have had it before, so there was no way we wouldn't order it. The 2nd asked for some garlic fried rice and a sunny-side-up to go with it. Delicious.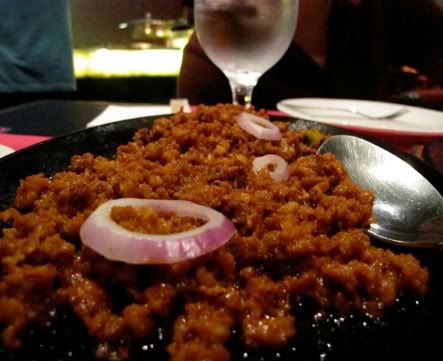 I'll order some of this for the house and also have it with garlic fried rice and eggs for breakfast one of these Saturdays before golf.
The eldest just wouldn't leave a single scrap of the Chorizo Sisig uneaten.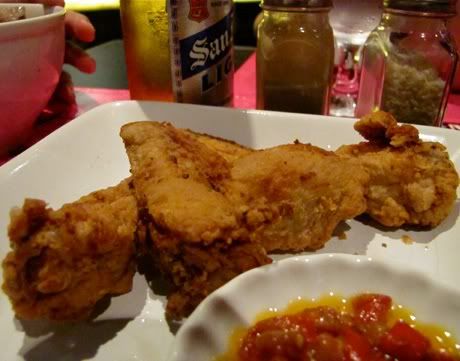 We also had 2 orders of Kublai's version of
Buffalo Chicken Wings
- it isn't drenched sticky with sauce - and I prefer it that way (less messy to eat as well). I simply had to have this again. It is always served hot, freshly cooked, very crisp outside, moist & juicy inside. The spiciness is quite mild, but the chili sauce served on the side can easily kick up the heat a few notches.
By way of drinks, the 2nd & I had some San Mig Lights and the eldest had a Rum-Coke. Catha didn't drink and stuck with water. In all, this was a very enjoyable way to end a weekend, and I do intend to do this again soon. Not only is the food good, honest and filling, the music is always good, the beers invariably cold and the prices are more than reasonable (this meal, including drinks, cost under P3500 for the 4 of us - coming to around only P870/person - and we were all stuffed to the gills). We'll definitely be back.
*
Disclaimer: Some of the owners are friends of mine, but, I assure you, I pay for all my meals/drinking sessions here and my friendships do not color my opinion of the place as above set forth.