Coming from work, I arrived at around 1:30pm at yesterday's (16th March 2011) wine lunch with the Usual Suspects at
RED
(Shangri-La Hotel Makati). We were 8 in all for lunch; J-Lab was stuck in a meeting so just followed after.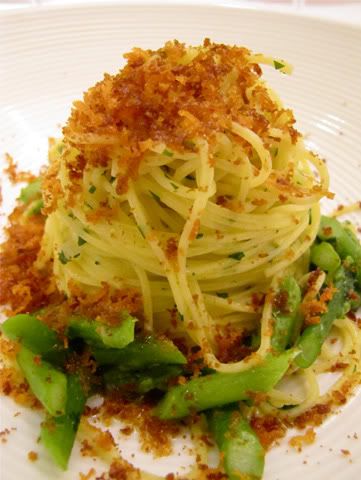 The guys were already done with their starters and white wine by the time I got there and were making headway into their main courses with the reds. They, however, thoughtfully saved me a glass of white which I had with my first course of
Spaghettini Bottarga
.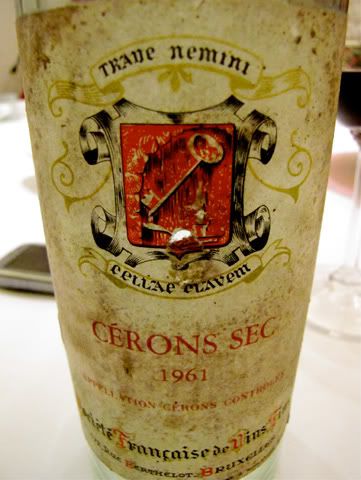 A
1961 Cérons Sec
from Richard - served blind to everyone, including, belatedly, to me. Nobody was able to guess what it was. Cérons is a small, white wine producing (80% semillon) AOC within the Bordeaux region, approximately 30 kms south-southeast of Bordeaux City heading towards Langon. I must admit, I had to do some research on it afterwards since I am not familiar with it or the wines therefrom, though I must have surely passed through it a few times in the past.
The wine was light and dancing on the palate, with notes of lightly spicy, moderately sweet, candied pineapple, with bit of peach and apricot underneath. With the dominant, surface candied pineapple notes was a bracing/lifting acidity that was actually quite zippy all the way to the finish. I ventured that it maybe had chenin blanc in it, but Richard shook his head. Other guesses were made, some came close identifying it as a Barsac (I recall Greg being one of them).
We were all quite surprised when Richard revealed it to be a Cérons, and a 50 year-old one at that. Nobody even came close to it's age. I thought it was from the mid-90s. I really must start looking into the wines of Cérons.
Greg & Richard
Next was a red also served blind: Massively concentrated, extracted, mouth-filling, full-bodied, rip-roaring modern with buckets of unabashedly forward, dense super-ripe dark berries,
lots
of chocolate and new oak/vanilla and low in acidity. There was quite a bit of heat which I may have likely mistaken as pepper notes as well. I guessed it to be an Australian shiraz blend. Others guessed it to be from south America (e.g., Chile and Argentina). It turned out to be a
2003 Château Pavie
- the Stockbroker's bottle
. Notably, most all of us are
very
familiar with and favor Bordeaux, and not a single one of us could guess it was from there.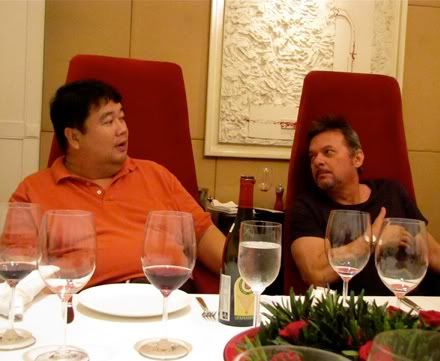 Arnie & Johnny perplexed - as we all were.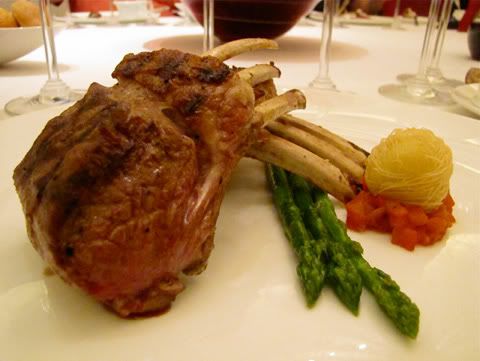 My main course of
Rack of Lamb
finally arrived. I had ordered it pink- between medium rare and medium - but it arrived literally raw inside (mushy and almost impossible to cut with a table knife). I sent it back and it returned a few minutes later properly rosé. With this, I had the rest of the reds.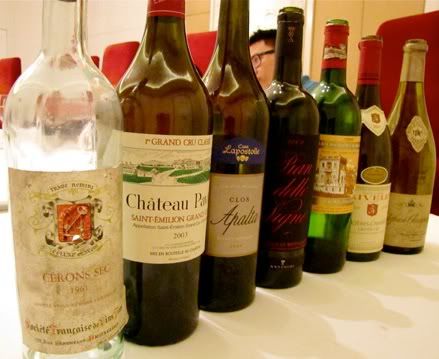 2005 Casa Lapostolle Clos Apalta
- Mark's bottle. Another modern, very ripe, concentrated, extracted and new-oaky wine, but several notches toned-down and firmer in structure compared to the 2003 Pavie and with a comparably/moderately more meaty/savory character.
2001 Antinori Pian delle Vigne Brunello di Montalcino
- Greg's bottle. I've bought and opened many of these, particularly this same vintage, ever since Doc introduced me to this around 7 years ago - I remember it well, he brought one to a dinner we had at Tower Club's continental restaurant (the food was still good there then).
Checking through my blog, the last bottle I have notes on was back on the 19th November 2009
at Kosh Sehwani's Snake River Farms dinner for EO at Enderun's Restaurant 101
. Not surprising the time lapse, really, since my stock and that of Bacchus Int'l. ran out a long time ago. Bacchus does have more recent vintages though. My notes then were:
My bottle, 100% sangiovese (called "brunello di Montalcino" in the Montalcino area). I've had this wine a few times before (as well as a few of other vintages of it). The Doc was the one who introduced me to this wine many several years ago. I last had this from the Stockbroker during his 2008 birthday lunch, side-by-side the more modern 2001 Casanova di Neri Brunello Montalcino. My notes then are still applicable:



"2001 Antinori Pian delle Vigne Brunello di Montalcino - Off the bat, from the aromas, I opined that this one was closer to the classic/traditional style: More of sweet cedar, touch of camphor, ripe strawberry, raspberry, cherry, cassis, underlying espresso, light touch of licorice, tobacco, minerals, violets, a whisper of leather. The fruit was not as sweet, but well-ripened as well, and earthier in character.

Clearly more earth-driven (rather than fruit-driven) compared to the other wine - less polished, rounded and sleek as well; but firmer in structure, much better focus and definition. Much more properly reserved. I liked them both, but much preferred this wine as a match for the steak. This is more of an eating wine, it needs food to show its beauty, where the other wine I enjoyed more alone. I accepted a second pour of this one and drained every drop. Excellent match. Loved it with the steak."

This bottle was, as earlier mentioned, decanted and aerated since 12:15 - so over an hour before serving. I like the firm but flexible, somewhat lean but sturdy structure of this wine. Showed more apparent leather notes than last time. Definitely masculine brunello, if not particularly complex, but a no-brainer pairing with the steak.
Now, this wine seems much more relaxed, comfortable and at ease with itself. The fruit had softened and the middle broadened somewhat. This was my favorite match for my rack of lamb.
1995 Château Ducru-Beaucaillou
- Aaron's bottle. I've had this a couple of times before, the last (to the best of my knowledge) being on
the 31st March 2010 the Ban du Millésime de la Commanderie du Bontemps at the Musée d'Art Contemporain à Bordeaux
. I recall vividly that the two bottles at our table then were brought by the producer and I poured from both of them to re-confirm my impressions. My notes then were as follows:
1995 Château Ducru Beaucaillou - Regular drinking buddies know I am not taken by the wines of this highly-acclaimed producer except for a wonderful bottle of the '78 that the Stockbroker generously shared before. This seemed quite closed and reticent. Oh, you'll get the slight asphalt/tar infused blackcurrant, faint herbs, bit of violets and cedar but, as a whole, it just isn't giving much at all. More time in bottle? More aeration? I really don't know.
Yesterday's bottle was similar with not much of a middle and a rather abrupt and clipped finish. Richard called it "a bit flat with a short finish". I agreed.
2001 Domaine Faiveley Latricières Chambertin Grand Cru
- My bottle, decanted for well over an hour before I got to it. Richard advised that, due to its youth (for what it is), we should have it with a bit of cheese - so cheese platters were ordered for the wine. Pure, very focused, streamlined red cherries, tartish wild cherries, bit of crunchiness, tightly-knit minerality, slight resin, cedar and whispers of
sous bois
and violets. Still tight and rather primary. Firm structure, notable length and acid lift. This, I expect, will take around another 7-8 more years to start coming around and developing some real Burgundy decay. The cheese helped it along a bit, I must admit.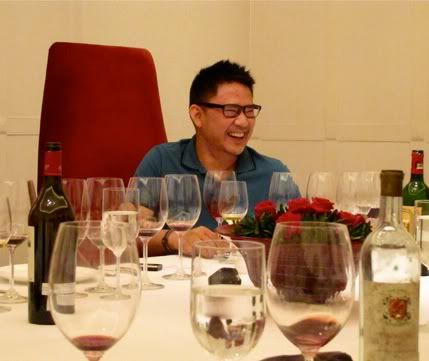 Aaron having a good laugh.
The Stockbroker was out intermittently taking calls so I didn't get to take a solo shot of him.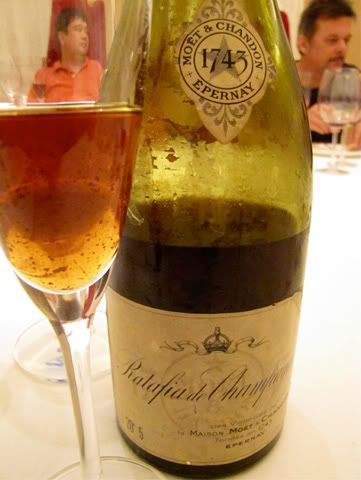 Moët & Chandon Ratafia de Champagne 1743
- Richard's bottle, again served blind. Sweetish white grape juice with a passito-like character and gentle walnut-cognac-reminiscent undertones. I remember asking Richard if this was fortified and saying that the fruit was like a passito and that it reminded me of sweet cognac. Nobody again could even come close to identifying this. Truth to tell, amongst us, only J-Lab knew what ratafia de Champagne was. It turns out it is a
vin de liqueuer
from Champagne, the fermentation of grape juice being blocked by adding wine distillate.
According to Richard, this was made in 1743 and kept in Moët & Chandon's cellars, bottled, in his estimation, around 60-70 years ago and topped up every so often thereafter. 1743 was the year Moët & Chandon was founded. With the amount of sediment it had (the wine around the punt was virtually black - "more food than drink" commented Richard - it is undoubtedly
very
old indeed. With the soft cheeses, especially the
bleu
, it was sublime. What a treat!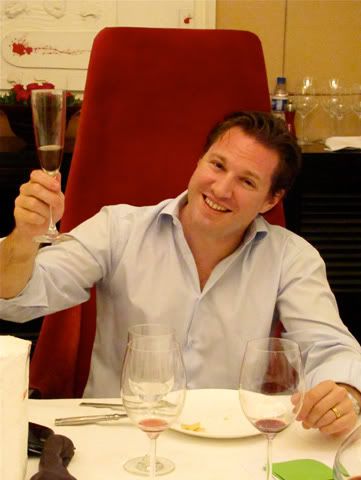 Around a little past 3pm, J-Lab called. His meeting finally done, he rushed over and Richard saved him the last glass of old ratafia.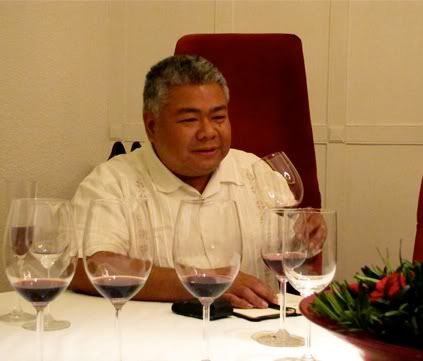 He also had some of the other wines, except the '61 Cérons Sec which was all gone by then.
By that time, Mark, Arnie, Johnny, Greg and the Stockbroker had headed off. Johnny had left us a couple of bottles of ice wine, but Richard had had enough whites by then. Thus, Aaron pulled out another red, this time from Rioja.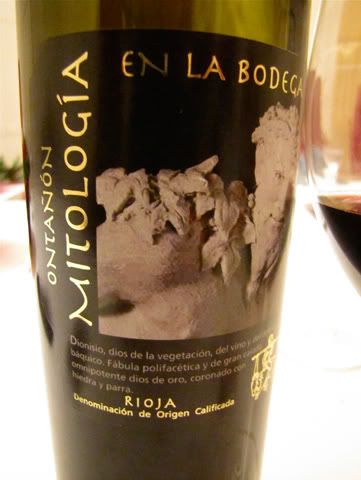 2001 Ontañon Colleción Mitológia (Gran Reserva)
- Sent to Aaron by the producer for our evaluation and possible inclusion for sale in Manila. Per Aaron, this bottling constitutes the producer's
vino de autor
(producer's bottling, the wine of which the winemaker is given an absolute free hand in creating in his own personal style). Popped and poured, I let it rest in glass for around 20 minutes before trying it. Rich, well-concentrated, very ripe red fruit with lots of palate push. On the nose are plum, black cherry, raspberry liqueur, anise, vanilla. In the mouth, some dark chocolate undertones. Admirable structure. Lush, forward, modern.
Richard opined it was quite young and should have been decanted for an hour or two beforehand. I'm sure he is right. This has a good future, I think, and will undoubtedly age well; but it doesn't really fit in our focus on aged, traditional tintos Riojanos. Very nice though. I'm sure other ITBers would be happy to bring this in to Manila.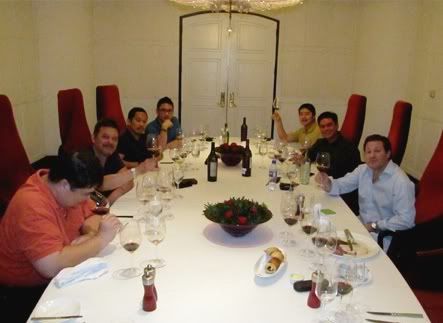 We finally called it a lunch at around 4:45pm. Richard headed home while Aaron, J-Lab and I proceeded to Bacchus to check out the wine sale. Thereafter, J-Lab and I continued on to Terry's 2ºPiso for a meeting with the Futuretrade people for the coming 1st Philippine wine auction. That meeting inevitably led to more wine with some tapas - but I was pretty much all wined out by then.
Until the next!