After usual Saturday golf, I felt the need of a hearty dinner and didn't feel like going all the way to Makati. Thus, Catha and I took the boys to old, reliable, nearby
Appenzeller Bar & Restaurant
(Estrellita Bldg II, Alabang-Zapote Road, Alabang) for some Swiss fare. The food is good, consistent, served in large portions and the prices are
very
reasonable.
We got there early, around 6:45pm. The kids usually play billards while we wait for our food to arrive, but there were already other players using the table when we got there, so we just ordered and waited. We didn't have to wait long (we never do, actually).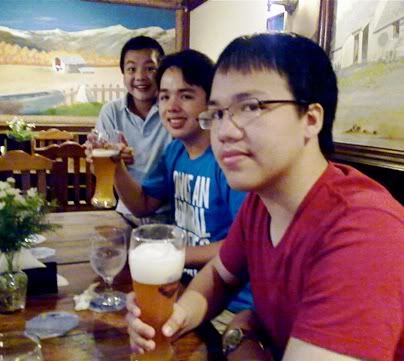 Throughout the meal, we had some
Oettinger Hefeweißbier Naturtrub Beers
- Relatively light, easy-going, gulpable, with very approachable flavors of wheat, malt and slight fruitiness (banana). Nothing intense or serious, but very drinkable and I like it with our regular dishes here.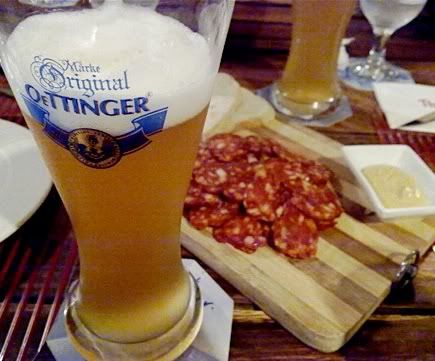 Appetizers of
Chorizo
(curiously served with bread and mustard on the side); and,...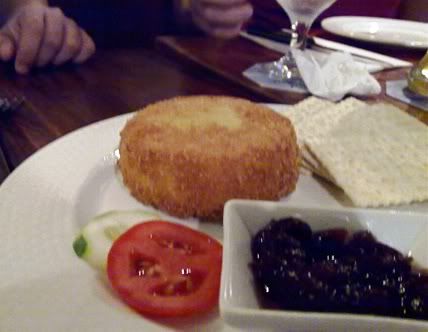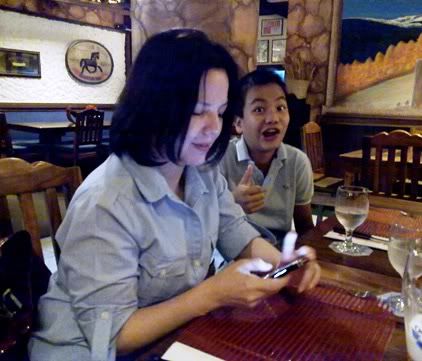 The kids polished off the appetizers very quickly. Catha and I didn't even get any of the cheese. I thought of ordering another one since the kids were bickering about who got more than his fair share, but I decided against it since the portions here are so large (probably catering to the expat crowd that frequents this place).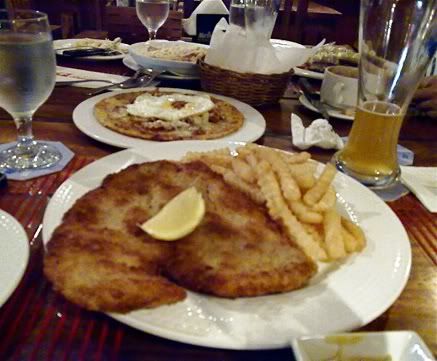 Case in point: above is the eldest's order of
Weinerschnitzel
with which he chose a side of fries. He can finish this by himself, but, tonight, he opted to share it and an order of
Rösti
(background) with Catha. I can't remember the dish's complete name, but it has bacon inside and topped with a fried egg. The second got a platter of
Roast Beef & Gravy
, with which he had some
Potato Salad
. The youngest got a platter of
Spaghetti Carbonara
- which the kids said was pretty decent, but that the one in Caffé Caruso is much better. We also had an extra order of fries for the middle.
Me, I had my usual order of
Veal Bratwurst (Boiled), Potato Salad & Sauerkraut
. Sounds and looks heavy, but it somehow is not on the belly. I always wind up asking for an extra serving of mustard to go with this. Very nice with the beer.
Everyone got so full, nobody ordered dessert except the second - he got the
Apple Strudel
, which we recalled was pretty good last time we had it. Unfortunately, he attacked it while I was at the bar having a smoke so I wasn't able to take a photo of it. Nice, casual dinner. I'm glad we have a place like this nearby. The price? Exactly P4007 for everything - coming out to approximately only P800/person and we were all stuffed. Not bad at all!