The boys were on holiday today, so we took the opportunity to bring them along for a lunch at
Antonio's
- a belated wedding anniversary really, since we didn't have the opportunity to celebrate in January due to my dad's sudden hospitalization at the time.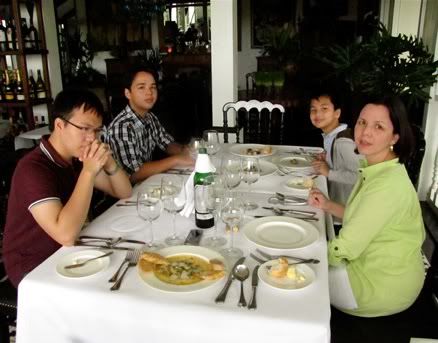 Over glasses of
2008 Domaine Tempier Bandol Rosé
sent over by Rene & Aimee (who also happened to be having lunch there), each of us chose our own dishes as follows: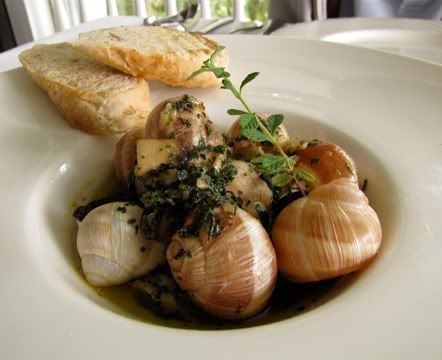 Escargots de Bourguignonne for the youngest.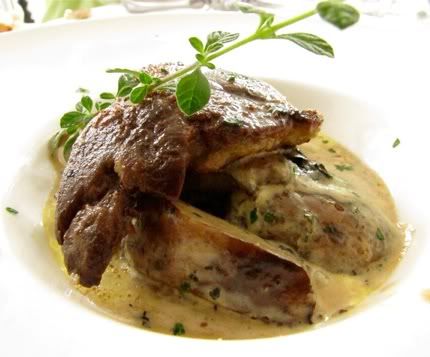 Gratinated Portobello with Foie Gras for the youngest (shared with Catha & his brothers).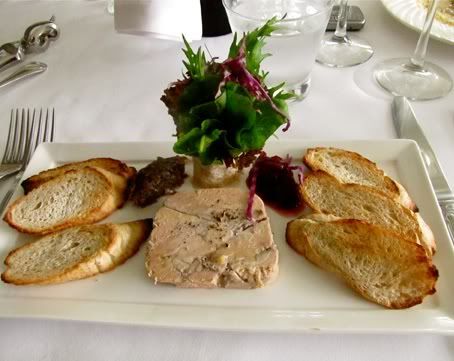 Pâté de Foie Gras with Crostini for the eldest.
Steak Tartare for the second, which he shared with Catha.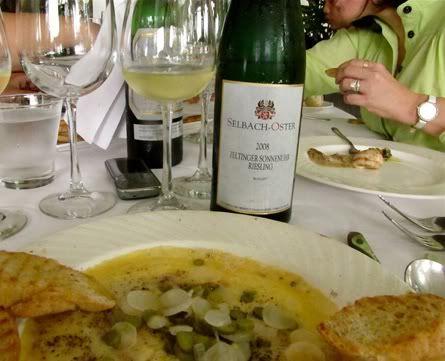 Foie Gras Raclette
for me. With these appetizers, we enjoyed a bottle of
2008 Selbach-Oster Zeltlinger Sonnenuhr Riesling Rotlay Spätlese
- A gift from Rocky & Apple. This has a crowd-pleasing personality, very accessible and dangerously drinkable (the eldest said that it was perfect with his pâté de foie gras and that "People who are just starting to drink wine will like this."). Youthfully and pleasantly zippy, the acidity is just enough to give good brightness to the very ripely-sweet canteloupe, honeydew and minor peach flavors (there is suggestion of honeysuckle as well). There is a bit of a slate edge in it, but quite slight. Again, dangerously drinkable. Very easy-going and easy to like.
Predictably, it went well in varying degrees with the appetizers that had foie gras in them (less so with my foie gras raclette because it was mostly raclette); but the second said it was too fruity and sweet for his steak tartare. The youngest didn't have any wine, of course, but I'm sure the wine was too sweet for his escargots anyway.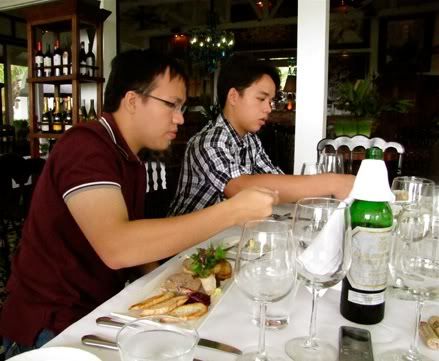 The boys have at it.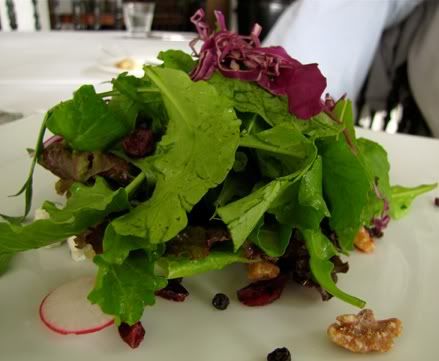 Next came our salads. Except for me, everyone else had Antonio's
Farm Mesclun Salad with Bleu d'Auvergne Crumble, Glazed Walnuts, Dried Currants & Cranberries with Raspberry Vinaigrette
. The youngest is the least into salads of our boys, but he put a really good dent into his without any encouragement.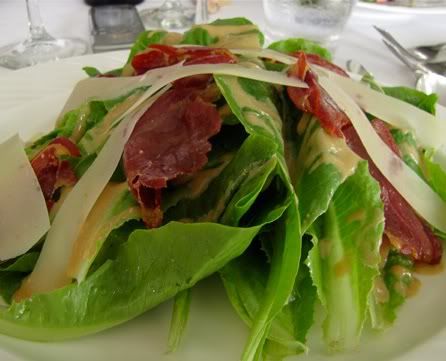 I had the
Romaine Salad with Crispy Prosciutto & Anchovy Vinaigrette
; which, coincidentally, Rene & Aimee had as well.
We then all had the Soup of the Day which, today, was a very flavorful, yet, light on the palate, P
otato & Onion Soup
. Very well executed. Rene mentioned they really liked this as well. Thereafter, our main courses arrived.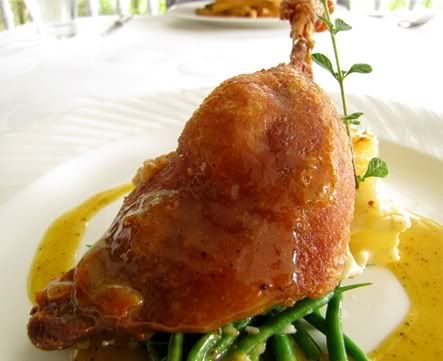 Two orders of
Duck Leg Confit Atop Young French Beans & Potatoes Dauphinoise
- one order each for the second and Catha. I've said it before; I'll say it again: Antonio's makes the very best duck leg confit in the Philippines - only here is the combination of
true
outer crispness married to
true
inner juiciness. Always superb.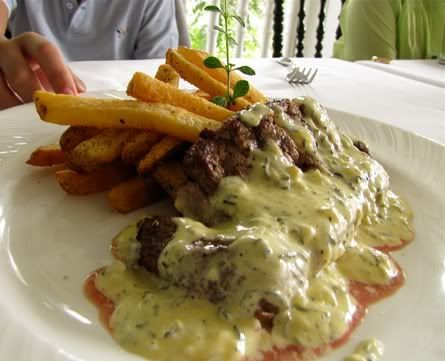 Grilled Beef Fillet with Garlic-Mustard Cream Sauce & Fries
for the youngest.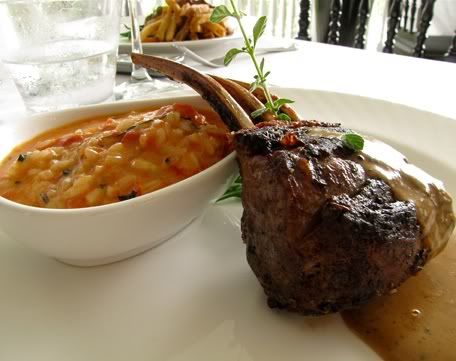 Herb Roasted Rack of Lamb with Cardamom Beurre Blanc for the eldest.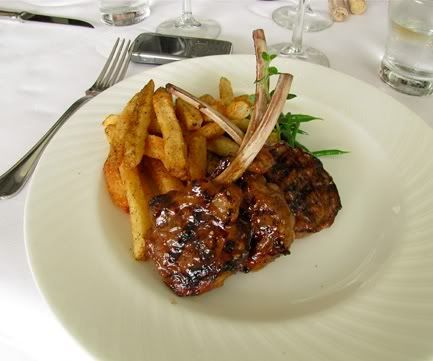 Barbecued Lamb Chops with Fries
for me as I wanted something simple for my red. I must say that this was absolutely perfect - from the quality of the lamb, the precision of doneness to the seasoning. Beautiful. The glaze was subtle enough to let the lamb itself shine.
I'd say this is one of the best lamb dishes I've ever had - the only others that immediately come to mind as comparatively memorable were those at Jesús de Madrazo's lunch at Bodegas y Viñedos Contino (La Rioja Alavesa) and at Claude Darroze's restaurant in Langon (Gironde, Aquitaine). I've had the lamb chops in L'Atelier de Joël Robuchon (Paris) twice, and, while very nice both times, Tonyboy Escalante's, without a doubt, beats it hands down.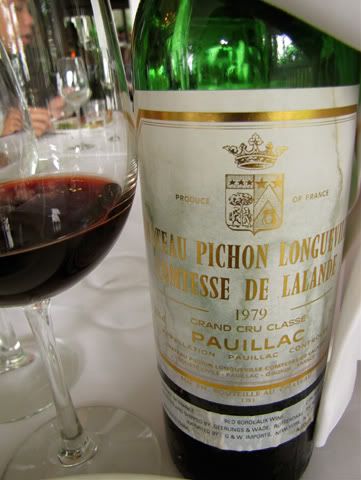 With our main courses, we had a bottle of
1979 Château Pichon Longueville Comtesse de Lalande
(the second within a week, actually, the other bottle from the Vigneron last Thursday). This bottle was in better shape than
the one I opened with Miguel, Rene & Santi during our Christmas lunch 2010 at Mamou
. Serene, softly loamy, elegant, seductive in its bottle-age sweetened veils of fruit, violets, mushrooms and pencil lead shavings. Delicious wine as usual. The youngest, who doesn't enjoy wine yet asked for a sip of this.
I sent a couple of glasses of it blind, through the eldest, to Rene & Aimee (Rene obviously drank his down quicker than Aimee did) with a request for Rene to guess what it was. In just a couple of minutes, he texted me saying it was an aged Pauillac. He was right on the button.
Desserts were shared: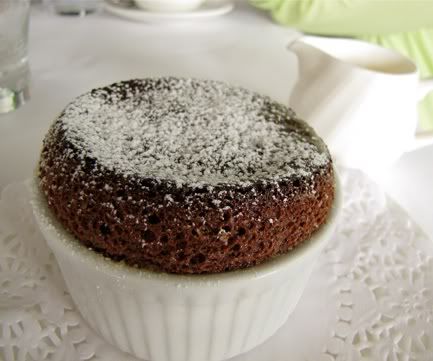 Dark Chocolate Soufflé with Cardamom & Crème Anglaise
for me - a bit disappointing as the bottom was not perfectly done (some half-baked batter stuck to my spoon as I cut it to pour in the crème Anglaise) and the taste was a bit eggy. Didn't finish this.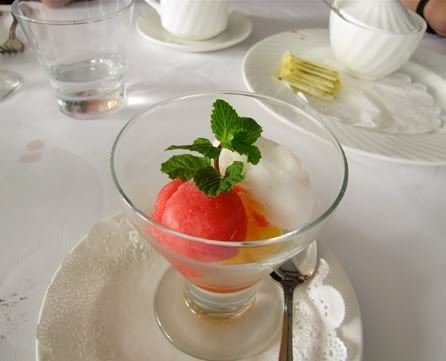 Assorted Sorbets
chosen by the eldest as he was already quite full.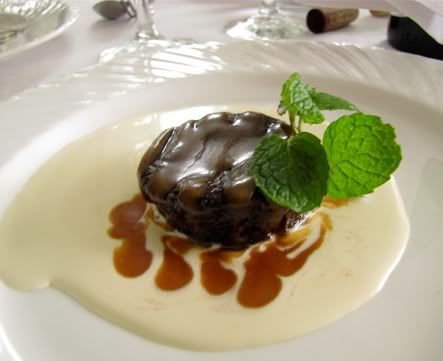 Flourless Chocolate Cake chosen by the youngest. The kids said the inside was "mushy, not molten", but was nice enough.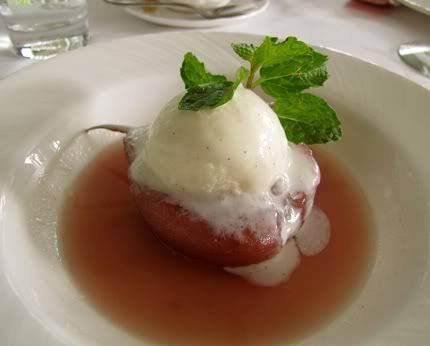 Poached Pear with Vanilla Ice Cream
chosen for Catha who favors this dessert. She said it was just fair enough. There are better ones around Metro Manila.
Chocolate Mint Parfait
chosen by me. Cold and stiff - a
tartufo
really - the mint outer layer tasted of
crème de menthe
. Quite nice, and certainly pretty to look at, but I couldn't finish an entire serving of this myself as the sweetness gets you after a few small bites.
In all, though, we had a great meal. Not only is Antonio's ambiance so genteel and elegant in its simplicity, not only is the Tagaytay weather an added incentive for the trek, the level of cuisine is definitely world class. Sincerely.