Around 5-½ years ago, while researching on how to pair wines for Moroccan cuisine, I learned from a friend, Rod Schiffman (who spent a bit of time there), that rosé is typically consumed with the couscous. Being partial to regional/traditional pairings, I tried it out and have stuck to the same ever since.
Marc Aubry used to make Algerian couscous for my friends and I at Je Suis Gourmand. One had to order the dish a few days in advance since the dish wasn't on his regular menu at the time. These days, in Marc's
Champêtre
(same location as the old Je Suis Gourmand), Algerian couscous is now on the regular menu (each order good for 2 persons). On the 3rd September 2011, during a Saturday dinner with Catha and our children, we had it again.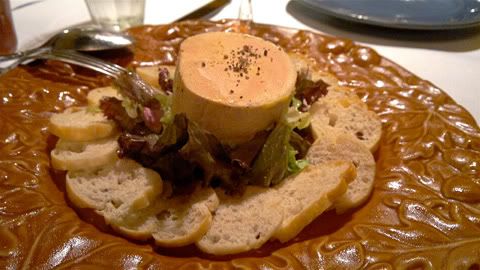 As it was in Je Suis Gourmand, no meal in Champêtre is complete
without Marc's
Terrine of Foie Gras
.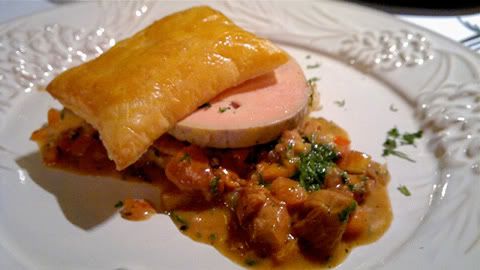 We also had the night's special of
French Chanterelles w/ Foie Gras
...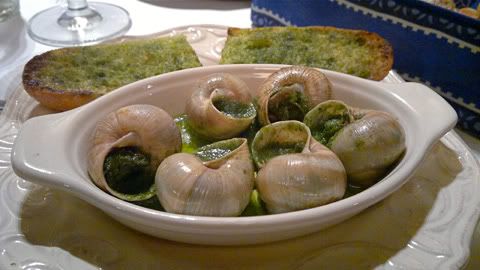 ...and Marc's signature
Escargots à la Bourguignonne
too, of course.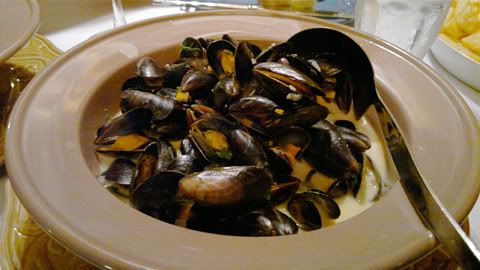 Our seafood course was a couple of orders of
Moules de Bouchot & Frites
, the moules flown in live from Brittany.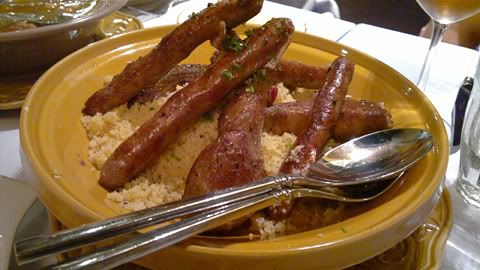 The Algerian Couscous comes in 2 servings,
one of the couscous itself topped with lamb chops & merguez...
...and a rich, spicy broth with bits of
chicken, lamb, chick peas, some vegetables, little tomato, etc. Delicious...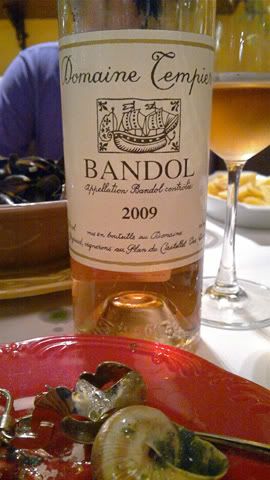 ...especially when paired with the
2009 Domaine Tempier Bandol Rosé
. I drink this so often and have written about this (and a couple of previous vintages thereof) so many times that some friends joke that I am a stockholder of the producer. Suffice it to state that, to my personal tastes, Tempier produces the best rosé in the world. The Stockbroker held
a side-by-side blind tasting of Tempier's and Domaine Ott 2007 rosés back in late August 2009
, and the conclusion was that while both were excellent specimens of rosé, Tempier's was the more serious of the two.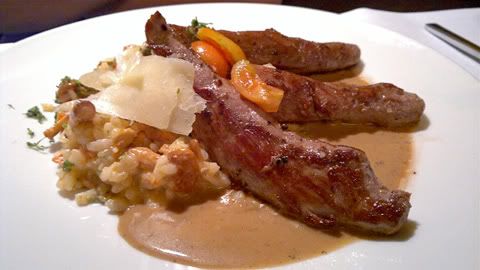 The eldest's main course was the night's special
Lamb Loin w/ Risotto
.
The second requested for Marc's
Trio of Seafood Pasta
(Chilean Sea Bass, Scallops & Prawns) which used to be on Je Suis Gourmand's regular menu but is not on Champêtre's. Marc kindly accommodated the special request though.
For everyone's information, Marc does entertain off-the-menu requests for so long as he has the ingredients available. It is always better, though, to give him a few days' advanced notice for special requests, just to make sure. For requests of dishes, the ingredients of which are not ordinarily/readily/locally available (e.g., wild pigeon, wild duck, venison, etc.), it's better to give him around around 3 weeks advanced notice.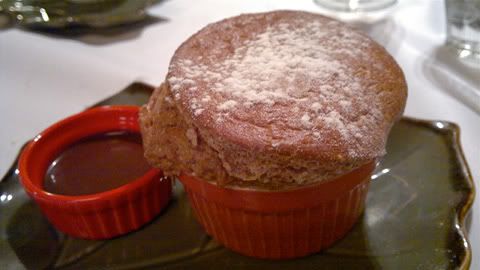 For dessert, I had the
Dark Chocolate Soufflé
...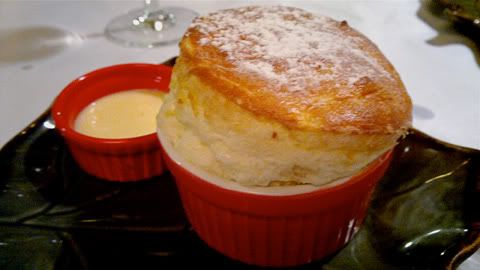 ...while the second had the
Lemon Soufflé
(another special request). The youngest had a
Butter-Dark Chocolate Mousse
, but, unfortunately, my photo of it got ruined for some reason. Thanks, Marc, for yet another most excellent dinner.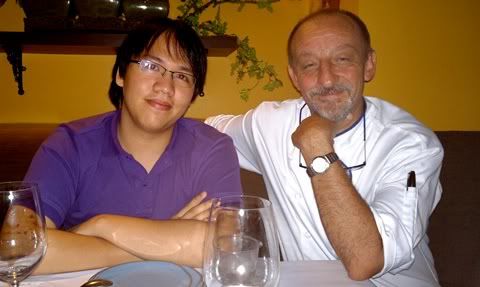 Until the next!