Beginning the 1st September 2011, my regular craft beer Thursdays have moved from The Tasting Room to
The Tasting Corner @
Craft Pub & Grill
at the Fort Strip, the Fort, Taguig. It's a much, much bigger venue with a full menu and 100 kinds of the American craft beers that Jimmyton imports and distributes through his
Global Beer Exchange
are readily available.
Aside from having around 100 different styles of craft beers to choose from - from lighter lagers, pilsners, weißbiers, pale ales, amber ales, India Pale Ales, porters, and an array of different stouts, etc. - one can pretty much order anything there to enjoy with one's choice brews.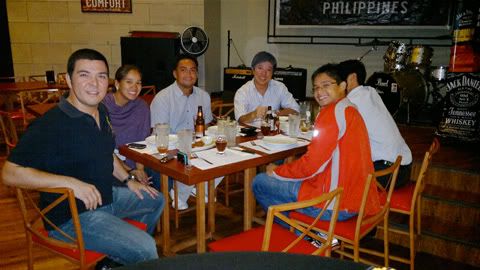 Having arrived past 6pm and starting off with a couple of lighter ales with Jim and Jun Villanueva, we moved to a bigger table and I ordered some of Craft's more popular bar chow choices of
Buffalo Chicken Wings
,
"The Works" Pizza
and their
Rib-Eye Steak
; while Jim ordered the specialty Craft Burger. We shared all these at the table with Jim's triathlete friends including Francis Panuncialman, Tricia Chiongbian-Concepcion and her hubby Guy Concepcion. Jun and I were outnumbered, so we talked about food, wine and travel, leaving the jock-speak to the others.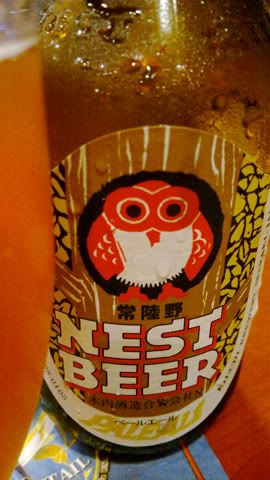 Hitachino Nest Pale Ale
- A lighter style of pale ale with dominant citrus and white grapefruit flavors touched with some yeastiness and a whispered suggestion of sake. Very mild hoppiness and some fleeting sweet maltiness. Nice, light refreshing character. Had there been any sushi available, I would've gotten some for this. The next day or two, Jim told me I could have ordered some from KATSU, the sister restaurant next door. I'll definitely do that next I'm there.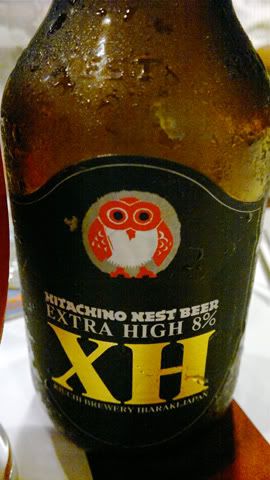 Hitachino Nest Extra High (XH)
- A manly brown ale with base flavors of dried fruits, citrus, bit of yeastiness, moderately roasted malt, with mild hops and underlying rice liqueur. This was pretty macho. I liked it alone and it actually wasn't bad at all with the rib-eye steak.
I also had a bottle of the
Hitachino Nest Sweet Stout
, but I forgot to take a photo of it. I don't recall much of it, but I do remember thinking that it didn't seem to have enough body to support its sweetness (kind of like an overly sweet porter if that makes any sense). I like the sweeter stouts to be fuller in body.
Anderson Valley Imperial IPA
- back to more familiar territory here. I have just written about this beer: "Orange peel, slight pine and mild citrus lace this ale's smooth hoppiness and underlying maltiness. Fresh and dangerously drinkable, this went down all too easily". I've said it before; I'll say it again: "I always enjoy this beer". My recommendation? Just go for it.
Longtime friends Tonji & Sylvia Ramos & Yuan "Paella Boy" Ongpin
had joined by then.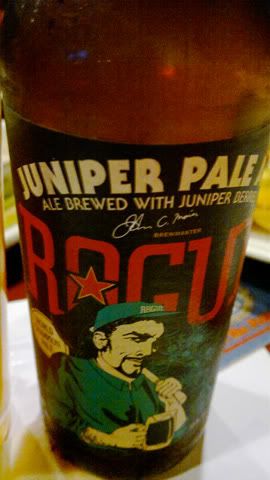 As always, I had to have some of my favored
Rogue Juniper Pale Ale
. I've written about this so many times, there is no need to repeat myself. It went great with the spicy
Buffalo Chicken Wings
and with the chunk of Jim's
Craft Burger
that he shared. I also really enjoy having this particular ale with the burgers at Elbert's Steak Room. Tonji, Sylvia, Yuan and I lingered past midnight. Another fun and rainy night! Until the next!