As usual, Miguel had a virtually week-long celebration for his birthday. For us this year, on the 30th August 2011, he hosted a lunch at
Elbert's Steak Room
. We were 5 in all: the Stockbroker, Rene, Aaron, Miguel, of course, and I. We started off with a bit of...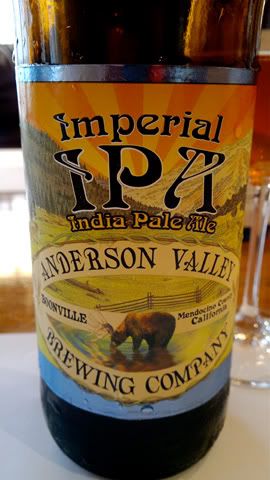 Anderson Valley Imperial India Pale Ale
- Orange peel, slight pine and mild citrus lace this ale's smooth hoppiness and underlying maltiness. Fresh and dangerously drinkable, this went down all too easily. I always enjoy this IPA, and it went really well with the...
...
Culatello di Zibello
that Miguel brought back from Italy.
Next came the
Salmon Tartare
...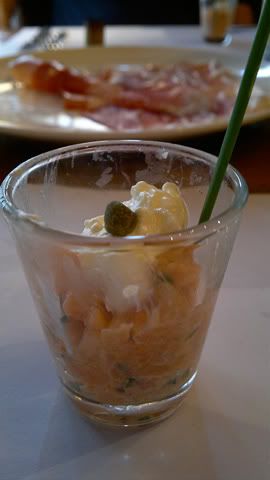 ...with which we had a bottle of...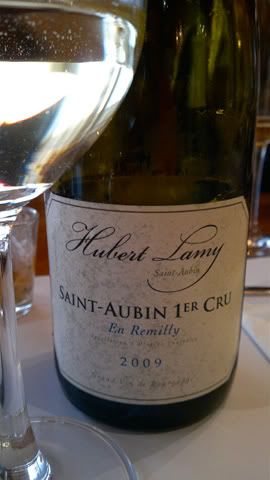 2009 Hubert Lamy St-Aubin 1er Cru en Remilly
- The Stockbroker's bottle. Baked apple and pear, some citrus emerges past mid-mouth, mild minerality and a touch of honeysuckle. Clean, good balancing acidity and notable definition. Quite nice on the whole. I don't know how much this costs, but, depending on its price, this could very easily be something to watch out for. That said, if QPR is not an object, I'd say go for it.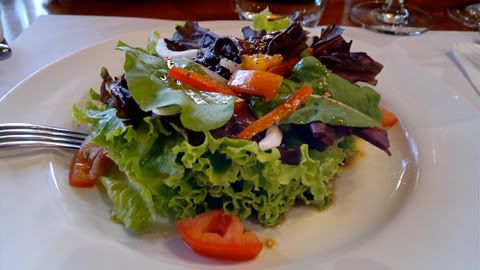 A plate of very fresh, guilt-suppressing salad...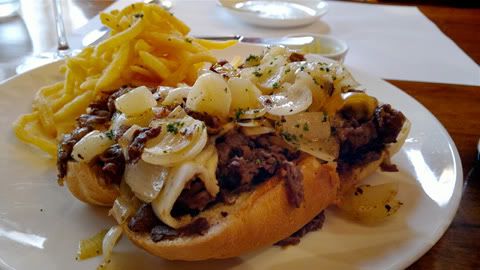 ...for the shared 2 platters of Elbert's Cheese Steak Sandwiches for the middle...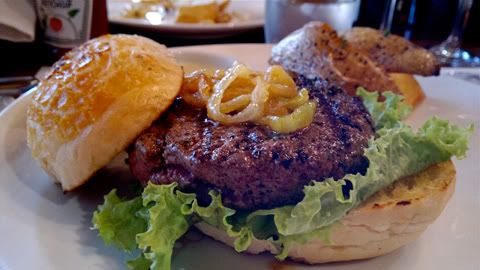 ...and the
Elbert's Chef Burgers
that Miguel pre-ordered a couple of days before. These special burgers are made up of US prime grade steak cuttings and whatever inspiration its Chef Adrian Cuenca at the time. I've had it several times before (mixed with marrow, foie gras, etc.), but this last one was, hands-down, the juciest, most decadent one so far.
Miguel with Chef Adrian Cuenca.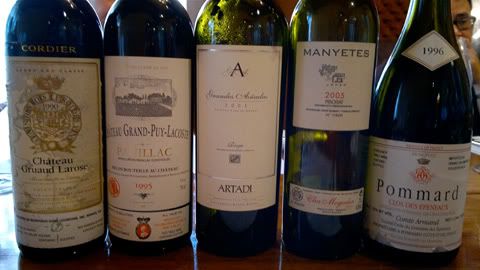 With all this succulent beefy goodness, we had at least 5 reds. The
1990 Château Gruaud Larose
I gave to Miguel as a birthday gift was not opened. I didn't even get to try all the reds; but those I did were: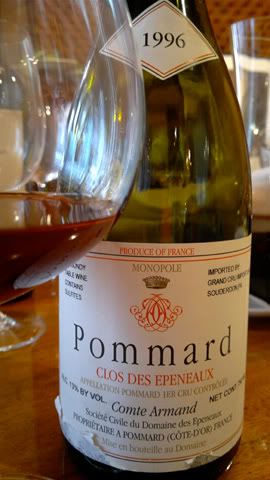 1996 Domaine Comte Armand Pommard Clos des Epeneaux
- From the Stockbroker. Clos des Epeneaux is a premier cru monopole of Comte Armand, generally recognized as one of the very best producers of Pommard, if not
the
best. I first had this same wine from the Doc back on
the 4th December 2007 at Tivoli
. We were with the Stockbroker and Bernie Sim for a special all-game dégustation. My notes then were as follows:
From the Doc. I personally have a soft spot for these earthy, masculine reds from the Cote de Beaune (though I was somewhat disappointed with the vintage 2000 version of this wine). Quite lively yet 11 years from vintage - livelier/more youthful than I expected it to be (or could it be that my judgment was clouded by unavoidable contrast to the 2 previous wines?) - a muscular red Burg with an intriguing vague hint of iron to its hallmark earthiness. This one was comparatively much easier to analyze: a smooth compote of red fruit, red cherry and discreet ripe dark raspberry over red beet undertones - more satin than silk on the palate. Good, sturdy, solid Pommard bones and structure.

Very nice and I believe this will continue to age gracefully for another, perhaps, 5 years. Admirable ageworthiness.
Almost 4 years later, it is now more of good Thai silk than satin and I could already get the
sous bois
. Its bullish musculature has now smoothed out, its focus sharper, its structure still firm. Its fruit is notably softer, deeper, well-defined, spice-flecked and generally more serious and refined. More violets too. Very nice and it made me think. Good show. This bottle considered, at 15 years from vintage, I'd drink up now and in the next 4-5 years.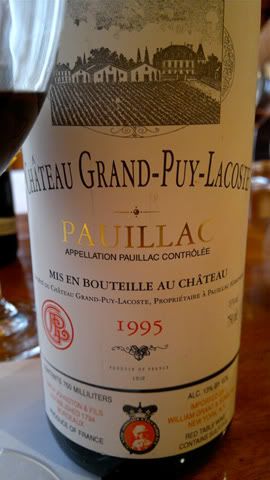 1995 Château Grand Puy-Lacoste
- From Rene. Already quite enjoyable but still has many years left in its tank, this is one of the more open, readily expressive bottles of classed '95 left banks I've had the past couple of years. Properly Pauillac, this smoothly muscled light-heavyweight displays crème de cassis, pencil lead shavings, warm asphalt, violets, cedar and touches of vanilla and licorice. Good backbone. Good acidic balance. More complexity and depth in the years to come I'd wager.
Miguel and Rene said it was quite tannic when they first opened it so they decanted it for aeration in hopes that it would "calm down" somehow. I arrived late for the lunch so didn't get to try it out when they opened it. As above written, it seemed fine to me when I got to it around 1-½ to 2 hours later.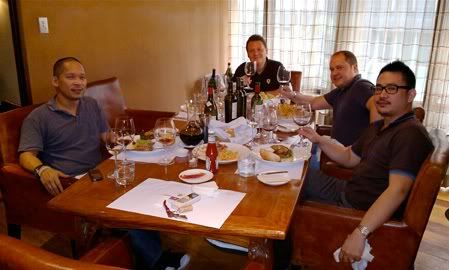 As regards pairing with the
Chef's Burger
, I vividly recall thinking that Miguel's bottle of
2001 Artadi Grandes Añadas
(also decanted for about 2 hours before service) was the best match but it was difficult to drink alone. Unfortunately, I just remember that impression, the details of the wine are now forgotten, and I wasn't able to get to Aaron's bottle of
2005 Clos Mogador Manyetes Priorat
.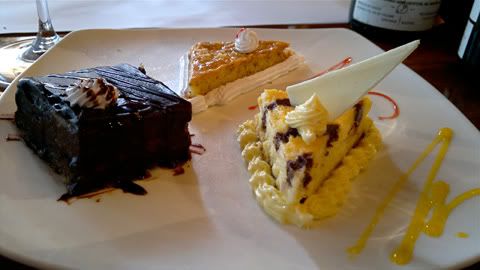 Some of the assorted desserts.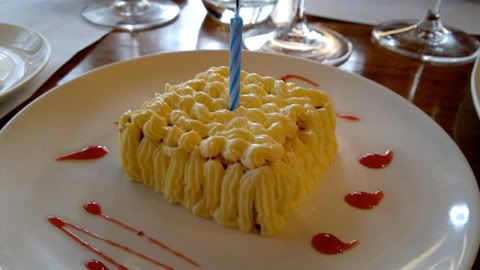 Mig got his own little birthday cake.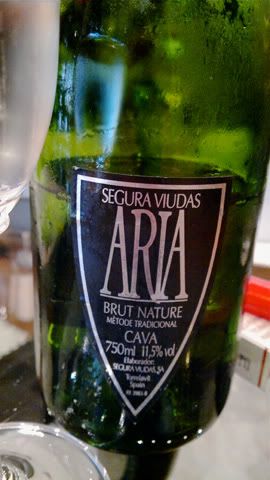 Segura Viudas "Aria" Brut Nature Cava
- Aaron's bottle surely as this winery forms part of the gigantic Freixenet group which his company represents. This, as I understand, is a reserva cava composed of a blend of 3 of Macabeo, 3 of Parellada and 1 of Xarel-lo. Fresh, very slighty yeasty, mildly herbaceous scents and flavors of green apple, discreet lime and vague undertones of choux pastry. Pretty frothy mouthfeel. Its clean freshness and verve made it an excellent way to clean and revive the palate after so much food and wine.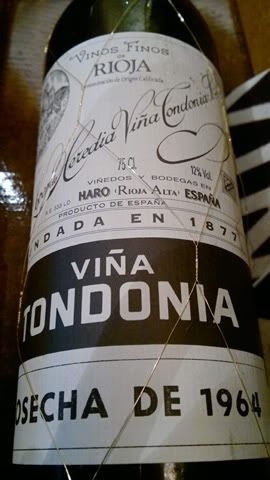 Another bottle that was saved for another occasion was Aaron's legendary tinto Riojano, no less than the
1964 López de Heredia Viña Tondonia Gran Reserva
. Even the Stockbroker told him "I'd better be around when you open that bottle!"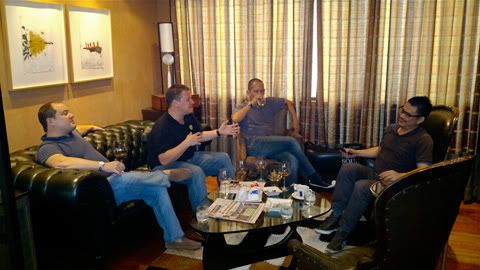 Final glasses & espressos at Elbert's smoking lounge.
Happy birthday again, Mig!!!