Lunch today, 7 October 2011, was at
Mamou
in Serendra - a lunch I hosted in commemoration of my 1st year of legal consultancy for LBC Express, Inc. We were only six in all (Santi, Enki, Ramon, Jeff, Chris and myself) as Miguel just arrived from Europe and Rene's schedule was just too full. As usual, lunch started out with a bit of bubbly:
Champagne Michel Arnould Carte d'Or Millésime 2005
- A vintage champagne from a family owned and run domaine with its own grand cru vineyards in Verzenay (pinot noir 50%) and the Côte des Grands Blancs (50% chardonnay). Their Carte d'Or bottling is produced only in exceptional vintages and released with a minimum of 3 years maturation.
Expressive, vaguely floral nose. Fine, persistent mousse. Minimal yeastiness. Fruit is round and creamy with a nice heftiness and depth - baked pear, apple compote, membrillo. Youngish, but its complexity is already perceptible. I didn't detect the back-end citrus notes as I consistently have in the La Grande Cuvée de Michel Arnould. Though it is slightly fat, it is very nice.
We had this bottle with appetizers of
Fuet
&
Grana Padano w/ Honey
and
Mamou's Bacon
. For the 4
Double-Size US Prime Grade Angus Rib-Eyes
...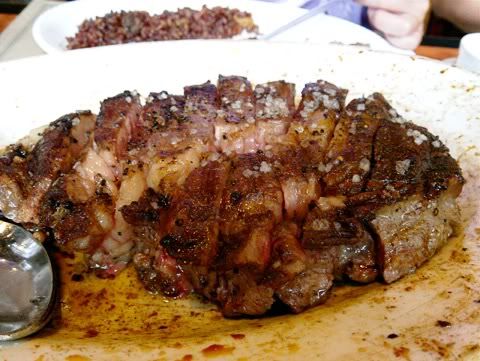 ...with sides of red and white
Steak Rice
and a bit of
Creamed Corn
as well, we had...
1985 Château Gruaud Larose
- the third bottle of this I've opened since the first week of July 2011. I over decanted
the first bottle at home
and wasn't able to have any breathing for
the second bottle at Va Bene
.
This third one I slow-oxed for about 3 hours before service with great results. Cedary, ceps, cassis, discreet underlying cherry & raspberry, warm gravel & asphalt, violets and fleeting sanguine touches. Medium-bodied, self-possessed with a proper, quietly confident crescendo and medium-long finish. Though not heavily boned, it did very well with the steaks.
Chris and Ramon had a few bottles of
Highway 78 Scotch Ale
and a bomber each of the
Ballast Point "Sea Monster" Imperial Stout
and
Stone Imperial Russian Stout
(all ales I sourced from Jimmyton's
Global Beer Exchange
). Enki had a bit of stout as well.
Only 3 of us had dessert (
Dark Chocolate Ice Cream
for me,
Key Lime Pie w/ Schlag
for Enki, and
Pecan Pie w/ Schlag
for Jeff). Coffees and a double espresso for me ended a fine lunch.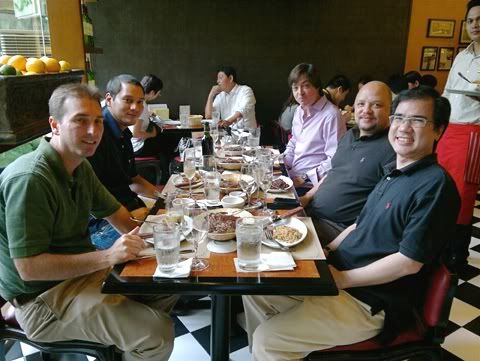 (L-R: Chris Hagedorn, Ramon Araneta, Santi Araneta, Enki Rey and Jeff Rodriguez)
Until the next!