This past Tuesday night, the 11th October 2011, was the Stockbroker's birthday blow-out for some of the guys. Our venue was the relatively new branch of Mamou at Rockwell,
Mamou Too!
All the wines came from his vast collection, including a mini-horizontal of 1996 Bordeaux rouge. We were only 5 in all since Rene had a lot of work and an early flight the next day.
I got stuck in some rush-hour Makati traffic and was the last to arrive at around 7pm. By the time I arrived, the guys had already made headway into some glasses of...
1996 Champagne Veuve Clicquot Ponsardin La Grande Dame
- My last notes on this vintage of La Grande Dame was from
another of the Stockbroker's 1996 horizontals back in mid-May 2009
, that time of northern Rhône reds. Those notes included even earlier notes from back on the 29th June 2008, to wit:
Last I had this was almost a year ago, on 29th June 2008, at a 1996 all 1st Growth (1855 Classification) dinner, so it was great to see how it was coming along. My last notes were as follows:



Clean, pure white fruit attack turns floral, very toasty and mildly yeasty the moment it hits mid-palate, where it expands generously and gains substantial creaminess towards the back. Sucking in a bit of air once the bubbles allow emphasizes the toastiness. This bubbly certainly wasn't shy; it was eager to please, displayed proudly mid-mouth with a funneling exit of added citrus notes.


This time, the bouquet and flavors were much more layered and complex, displaying a most alluring mix of dried apricot, sultanas, brioche and coffee, mildly toasty, honeyed with a pronounced creamy-biscuity character. There was notably more heft, mid-palate roundness and length than before as well. Excellent bubbly, it made the last one I had seem comparatively linear and simple.
This past Tuesday night, it was similar to the last time, but even more open, with oxidative and nutty notes adding even more complexity to the wine as a whole. Very nice indeed.
For the couple of orders of
Pasta Bottarga
, a bottle of
2004 R & V Dauvissat Chablis Premier Cru La Forest
- I had a bunch of 2004 Chablis village, 1er and grand crus from various producers back in 2006 (mostly in Paris, Chablis, Beaune and Vezelay) and a few 2007 (well, maybe one or two 2008, I can't really remember now). This is surely the first 2004 Chablis I've had in 2011 though. I know I've had at least 3 Dauvissat La Forests before, 2 of which I recall from the Doc, but I can't find any of my notes thereon.
In any event, this is readily pleasing now, with a moderate, past-mid-mouth creaminess/softness to its cold steel, flinty seashell, brioche, vanilla and white flower nuanced, fresh pear and apple. On the surface and from attack there is a nice crispness; from mid-palate towards the rear the fruits' softness becomes apparent. Its good focus, neatness, decently firm/steely backbone and moderately bright acidity were enough to keep everything balanced and refreshing. Very nice.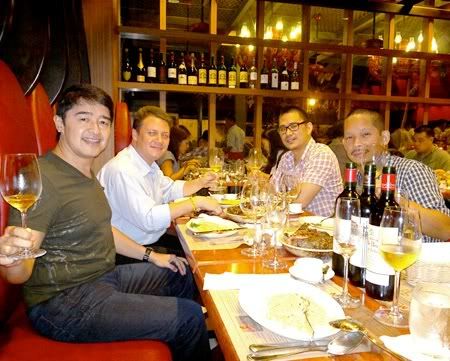 Greg, Miguel, Aaron & the Stockbroker.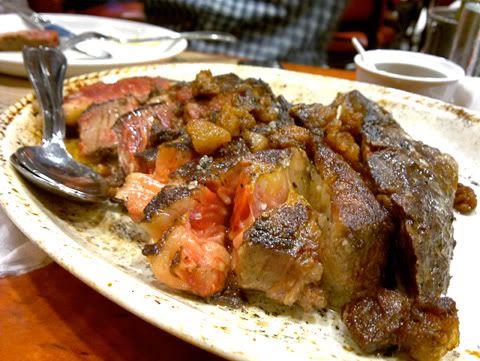 For the couple of hunks of
US Prime Grade Steaks
and several bowls of
Red Steak Rice
...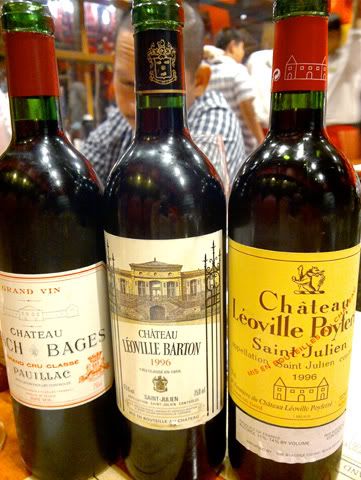 ...we enjoyed three 1996 left banks:
1996 Château Léoville Poyferré
- The most full-bodied, modern, lushly/ripely fruited, concentrated and extracted of the three (lowest acidity too). Chocolate (think Raisinets or Cadbury's Fruit & Nut with the chocolate a few shades darker) on the nose and on the palate. Bit of a dried fig nuance there as well. As much a crowd-pleaser as ever it was the first I had it from the Doc at a dinner at home around 5½-6 years ago. A hedonist's Bdx rouge. Nice with the steak, immediately and undeniably pleasing and easily approachable. There is no intellectual discourse to be had here. This is for sheer pleasure - and why the hell not?
1996 Château Léoville Barton
- Typically neat, trim, with not a strand of hair out of place - veddy British I'd say. Medium-bodied, clean, comparatively lean, definitely polished and refined. Clean sheets of blackcurrant, blackcherry and, towards the back, some raspberries, cedar, violets with an underlying sheet of pencil lead and dark minerality. Finish could be just a bit longer, but that's picking nits. Right and proper balanced and harmonious Léoville Barton.
1996 Château Lynch Bages
- I started buying this 1996 with Tonji sometime in the early 2000s - the first time I had it was at Sylvia's parents' cabin in Tagaytay Highlands I vividly recall (How could I not? We left the coffee maker on when we left and Sylvia's mom was less than happy about that omission). Since then, I've had many, many bottles of this. Judging from this bottle, this wine has mellowed quite a bit, its previously persistent drive/push is no longer as it once was. More self-possessed, quietly complex and intellectual now - cedar, violets, whisper of camphor, underlying tobacco and gravel seamlessly intertwine its introspective dark fruit.
I had the steak mainly with the Poyferré and the Barton and Lynch Bages alone.
There were at least 6 or 7 birthday celebrations at the restaurant on the subject evening (must have been those cold January nights back then); but the Stockbroker was discreet about his. However, Greg tipped off one of the waiters, which resulted in...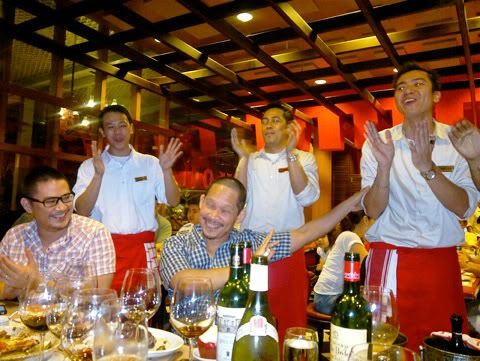 ...the Stockbroker's receiving a vigorous birthday serenade
and a single candle adorned mini red velvet birthday cake.
Many thanks and Happy Birthday again, buddy! Until the next!