Dinner of the 24th January 2012 was back at
Brasserie Ciçou
in Greenhills. We were six in all at the little get-together: Aaron & Jo, Matt & Chinkee, and Catha & I. Aaron had earlier suggested that we take the opportunity to test some bottles of red (sent by the respective producers) from Rioja to see if we should bring them in (
nb
, Aaron and I are partners in small-scale importation of traditional tintos Riojanos - we bring in only the wines/vintages we like and would/do drink ourselves).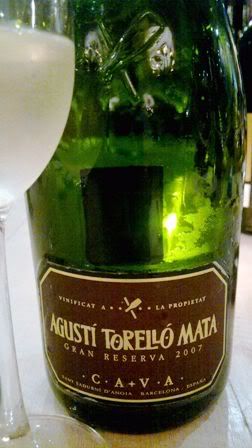 To start off, we had a bottle of
2007 Agustí Torelló Mata Gran Reserva Cava
- sent to Aaron by the producer. Fresh, effervescent, dry white grapefruit, slightly yeasty bread, green bean, lime, slight lemon. Light and lively. Not bad at all while picking at the starters of, among others,...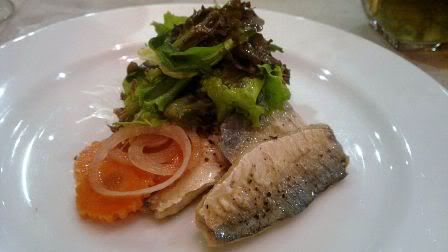 Fresh Mackerel Cooked in White Wine, w/ Salad Greens..
.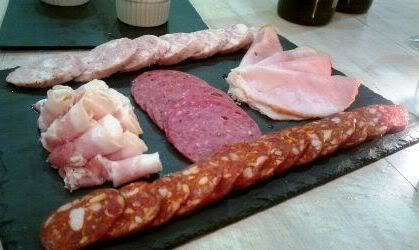 ...
Cold Cuts on Black Tile
...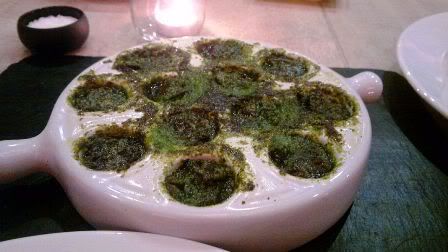 ...
Escargots à la Française
...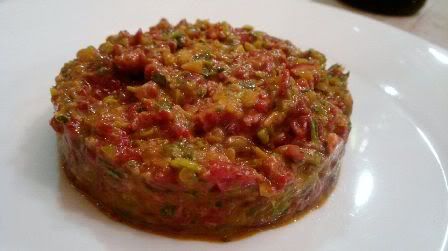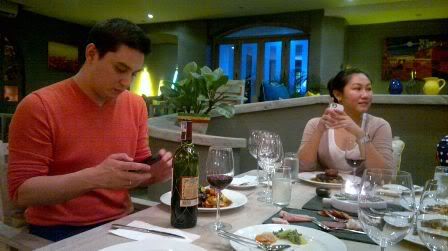 Matt & Chinkee take their shots.
For our main courses,...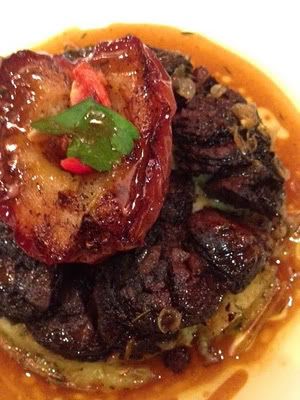 Boudin Noir
, one each for Catha & Chinkee (photo by
Chinkee
);...
...and,
US Grilled Certified Angus Rib-Eye
(500g)
w/ Potato and Squash Fondant, Garlic and Shallot Confit, & Bearnaise Sauce
(Aaron & Jo split one, while I, typically greedy-eyed, got my own but shared it with the others). I recall Matt had the
Boeuf Onglet
for his main, but I wasn't able to take a photo of it. With the mains, we had the reds under review (all from 2001, an
excellent
vintage for Rioja):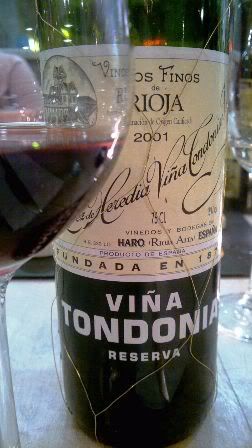 2001 Bodegas R. López de Heredia Viña Tondonia Reserva
- excellent fruit with notably pure, ripely sweetish black cherry, dark raspberry and dark strawberry with hints of new leather, violets and discreet/seamless wood spice. Evidently more rounded and heftier than their vintages 1999 and 2000. Excellent balance, precise acidity and notable structure. López de Heredia really hit their reserva out of the ballpark in 2001. My favorite of the evening. We didn't need to re-taste this, we will definitely be bringing this in.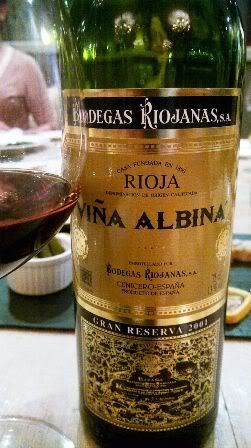 2001 Bodegas Riojanas Viña Albina Gran Reserva
- Beautiful aromas, best nose of the three reds. Reserved, proper Rioja and with notable Bordeaux-esque poise. Firmly structured. Very neat. Not a hair out of place. With around 15-20 minutes breathing, it fleshes out and gains slight meaty notes but maintains its poise. Impressive. This will age and evolve for decades in my estimation. Great potential for complexity in the years to come.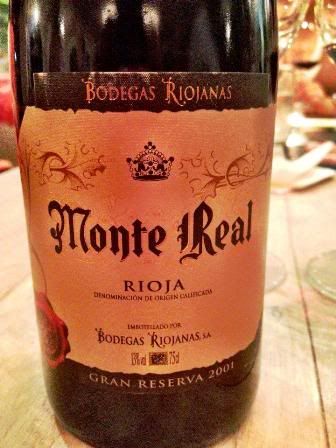 2001 Bodegas Riojanas Monte Real Gran Reserva
- deep, meaty/sanguine fruit, supple, soft, rich velvet texture, plush, complex (oak-related) vanilla and red spiciness. A crowd pleaser for sure as it is comparatively more approachable at "only"/barely over 10 years from vintage. Nice layering. Thanks to Nicole for the photo as I forgot to take one of my own.
Less than 2 months later, during re-tasting of the above-mentioned 2001 Viña Albina and Monte Real Gran Reservas during a dinner at Terry's 2º Piso, it was very well-received by even more Rioja aficionados. The final decision was then made, we will be making this available in Manila as soon as we can.
Kouign Amanns
all around for dessert!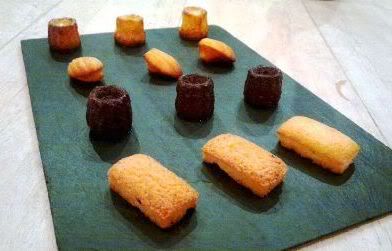 Mignardises for our coffees and espressos.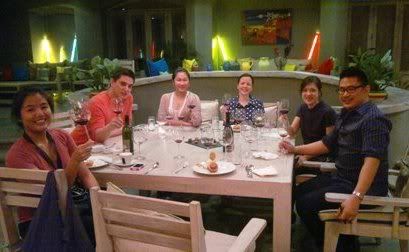 ¡Salud y hasta la proxima!