I've known for around two months that good friend and Spanish cuisine maestro Juan Carlos "JC" de Terry was putting together a run of days featuring the cuisine of Asturias. Today, the 20th September 2012, at half past noontime, Catha saw on Face Book an announcement that all JC's ingredients had arrived from Asturias and that he'd already been starting to put out his planned dishes. That's all the news we needed to hop in the car and take a quick drive over to
Terry's Segundo Piso
, where JC holds culinary court.
Asturias is both a province and autonomous region situated in northern Spain, bordered by El Golfo de Viscaya (a.k.a, the Bay of Biscay) on the north, separated from León by la Cordillera Cantabria (a.k.a., the Cantabrian Mountains) to the south, bordering Galicia to the west, and the Cantabrian region to the east. My longtime Manila-based Madrileño friend, Chicho, had told me that Asturias is a beautiful province of sea, mountains, fog-laced green valleys, and well-preserved nature parks. The regional cuisine, said he, was delicious, mentioning especially the
empanada de erizos de mar
*
(sea urchin empanadas; "
ourizos
" in the Asturian dialect per Chicho) and, of course, the
fabada asturiana
, washed down by the finest of
sidras
(apple ciders).
*
"Erizos de mar",
l
iterally, "hedgehogs of the sea" in Castillan.
With all that information, and more, plus knowing well JC's kitchen mastery, I simply had to try it out as soon as possible. And that, at today's lunch, we did; arriving at 2º Piso slightly past 1pm.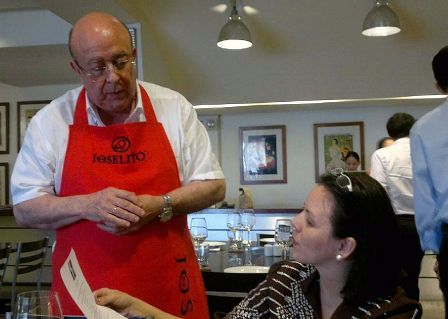 Catha requested JC to choose our dishes for lunch.
In the meantime, JC showed me his new discovery of Asturian stemware, nicely weighted, slim in the hand, delicately rimmed. He poured me a simple P300 red in one and asked me to sniff. Indeed, the wine's ripely fruited, slightly spicy and floral aromas were jumping from the glass. Impressive. While I do not want to jump the gun on revealing its price, I will disclose that it is
very
affordable - certainly fair game for restaurant, catering, and large parties at home.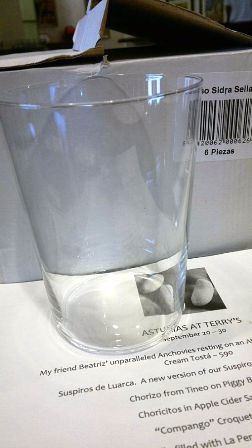 He also showed me his new sets of Asturian sidra tumblers...
...right and proper for nothing less than
Casería San Juan del Obispo Tareco Sidra Natural
, the pride of Asturias, that Terry's distributes (more on that later).
It was with the greatest of pride that JC also presented to me his latest treasure,
Telva Anchoas en Aceite de Oliva Virgen
. JC had been raving about these artisanal Cantabrian Sea anchovies as of late, and both Catha and I were excited to try them. I understand that these are produced by a friend of his named "Beatriz".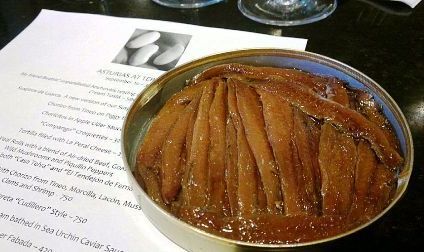 Beauties (sans the olive oil for a clearer shot).
First:
Anchoas de mi Amiga Beatriz Empapadas en Puré de Almendras al Queso La Peral ("My friend Beatrice's Anchovies drenched in Almond purée on La Peral cheese*"). Heavenly. The anchovies are quite mildly salty, the fish's natural flavors left pure. Take my word for it: you simply must.
*
La Peral cheese is a mild Asturian cows' milk based blue cheese with some sheep butter mixed in, as I understand.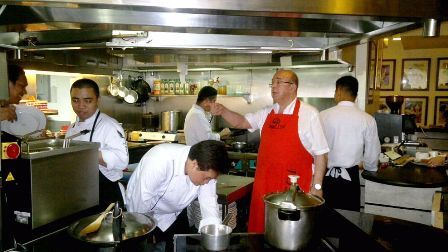 El Maestro, orchestrating the dishes.
Second:
Compango Croquetas - perfectly executed croquetas, no oiliness on the palate, crunchy on the outside and meltingly moist on the inside, bursting with the meat ingredients of a typical Asturian fabada (collectively referred to as "compango"), drenched in lovely queso Afuega Al Pitu*. Loved it. I could eat these like popcorn. I'm sure my kids can and will demolish many platters of these.
Once the platter hits the table, best get out of the way.
*
A deliciously creamy Asturian cheese made from the milk of Friesian and Asturian cows and crosses thereof, which milk can be either raw (under certain conditions) or pasteurized (much more prevalent).
Third:
Cachopitos de Cecina y Queso de Cabra al Puré de Setas y Piquillo (Inspirado en Casa Telva y El Tendejón de Fernando)...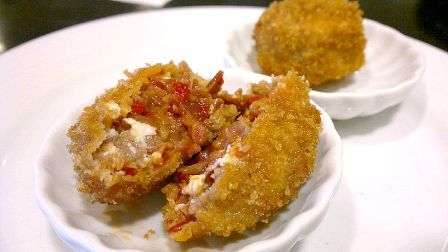 Cross-section shot of said "Cachopito"
...
or, in other words: "Crunchy Rolls of Veal stuffed with Dried Beef, Goat Cheese, Wild Asturian Mushroom and Piquillo Pepper Purée"; the inspirations of which came from both Casa Telva and El Tendejón de Fernando Retaurants.
JC explained that a "
cachopo
" is a form of stuffed escalope - think
cordon bleu
- so, a "
cachopito
" is a little version of a
cachopo
. We also made short work of these, loving the underlying theme of piquillo that ran through the earthy mushrooms, slightly salty beef, and creamy-subtly gamey chèvre. The play on texture apparent not only in the crunchy exterior and moist interior, but in the creamy cheese and bits of beef and mushrooms as well. Of course, I do love piquillo peppers. Masarap siya.
The Tareco Sidra Natural, of which I have written about before, was, now as then, a most refreshing, cool, brightening, light, lively, vibrant, citrusy, fruity, slightly yeasty lunch quaffer - delightfully complexed by underlying sanguine, meaty notes. Catha and I finished the whole bottle very easily...Ok, so I drank 85% of the bottle. I could easily have had another one as its abv is only 6.5%. Perfect for lunch.
JC shows how to properly pour the sidra, at a slight height, the sidra hitting the glass' side, causing a slight effervescence to activate the cider (not unlike the way txakoli is poured). Chicho had asked me if the Terry's waitstaff knew how to properly pour sidra; I assured him that if they didn't then, JC would have taught them by the time the Asturian menu was offered.
Fourth:
Tía Genara's Super Fabada
- Asturias is known for its fabada, and now I know why. Super talaga! The beans so tender, but not mushy, their integrity maintained but permeated with the delicious sauce. The chorizo, and, especially the morcilla, were both wonderful. I cannot do justice with words. If you like fabada, you'll love this one. We certainly did.
JC plates...
Fifth:
Rabo de Toro Cooked in Cabrales
*
Concoction
- I've had a couple of JC's other
rabo de toro
(i.e., oxtail) recipes, and they've always had his own special twists in it - Cabrales cheese and a bit of cream in this one, the oxtail super moist and tender, at one with the red sauce, melding richly with the creamy, distinctive, moderately gamey flavors.
*
Cabrales is a spicey, slightly grainy/crumbly blue cheese traditionally made with unpasteurized cows', goats', and/or sheep's milk.
Dessert:
Rice Custard "Carreño" Style - the traditional Asturian Arroz con Leche-Flan with a Terry's Touch. I've said before that JC has the heart of a cook and the soul of a patissier, his desserts are never to be missed. This was no exception. The caramelization was so deep, complex and permeated the rice pudding à la leche flan (his own touch to the municipality of Carreño's style of arroz con leche) that I could have sworn there was some brandy, and even a touch of nutmeg used in it (Catha correctly noted, as JC confirmed, that there was neither brandy nor nutmeg, but only cinnamon).
I've always liked arroz con leche - a comforting dish for me. This one, though, was extra special.
Superb lunch. This was but a "sneak peak" into JC's extensive Asturian menu running from the 20th to the 30th September 2012. Don't miss it. I'll be back with my kids for sure. ¡
Un millón de gracias de nuevo, JC, y hasta la próxima
!