Saturday family dinner of the 19th January 2013 was at
Champêtre
for more of Marc's honest, hearty, authentic French country cuisine. Nicole and Michael joined us, and Lorenzo had other plans, so we were six in all.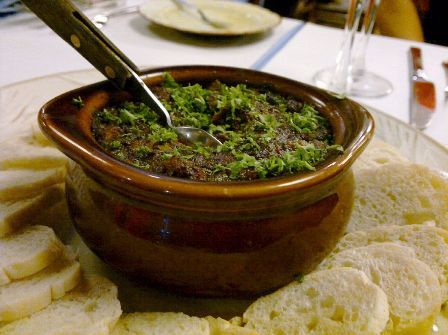 Shortly after we arrived, before we could even finish ordering, Marc had sent us a terrine of creamy, earthy
Boudin Noir
to be spread over
Melba Toast
. We started off with this and a bottle of well chilled
Champagne Taittinger Brut Réserve
(no photo as I forgot to take one) - Vibrantly dry white fruit, citrus, whisper of bready yeastiness, lively effervescence, notable freshness, focus & purity. I must say that the last dozen or so of this that I've gotten from Säntis has been much, much better than those they used to sell, say, the past 5 years. Good non-vintage champagne at a very reasonable price. Good value for money at approximately P2750/bottle at Säntis.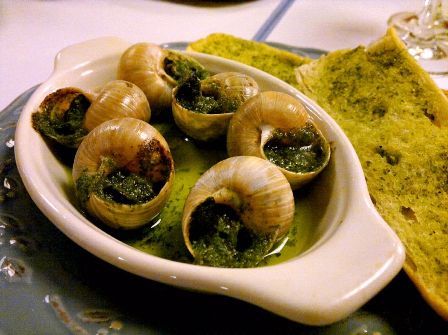 Of course, no meal at Champêtre would be complete without Marc's signature
Escargots à la Bourguignonne
, so we had three orders of it...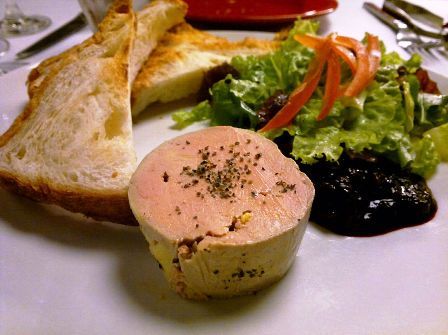 ...as well as a couple of orders of the luxuriously addictive
Terrine of Goose Foie Gras with Blueberry Compote & Brioche
. We also had an order of the old favorite
Terrine of Duck Foie Gras with Melba Toast
, as Joaqi insisted on it (no photo as he dug into it before I could take one).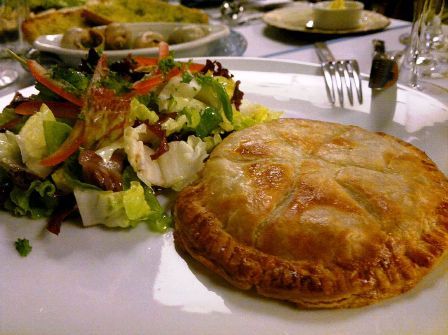 The subject night was also the first time we tried Marc's new
Ris de Veau En Croûte
. Comfortingly rustic, hearty, and nicely earthy with a somewhat creamy texture inside. Lovely. This was quickly wiped out. Those who claim not to like veal sweetbreads should definitely give this a try.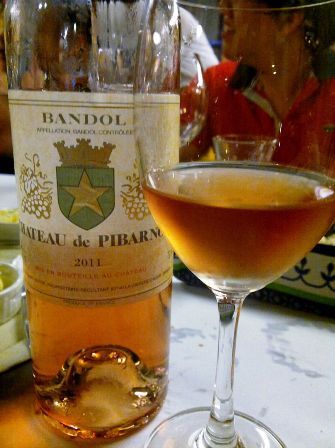 With the
escargots
and
ris de veau
, we had moved to a bottle of
2011 Château de Pibarnon Bandol Rosé
- a gift from the Stockbroker, currently distributed by his Premium Wine Exchange. Typical roasted herbs, orange peel in its strawberry, raspberry and underlying cantaloupe. Underlying notes of torrefaction and
garrigue
. At a local retail price of approximately 60% that of Domaine Tempier Bandol Rosé, it is a good buy if one finds it difficult to pay more for the latter (I don't, but I know for a fact that some/many other winos do).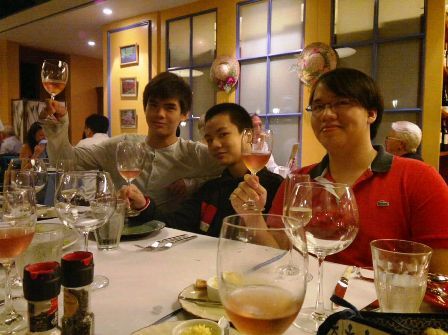 Cheers! from Michael, Joaqi, & Mauro.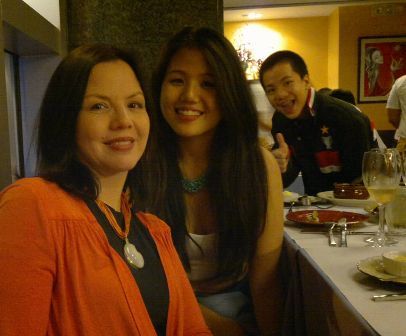 Joaqi photobombs Catha & Nicole.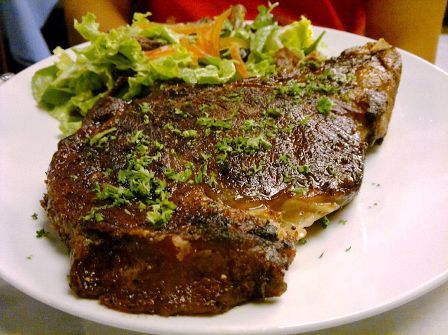 Michael and Mauro each an order of the Dry-Aged Prime Grade US Rib-Eye (rare)...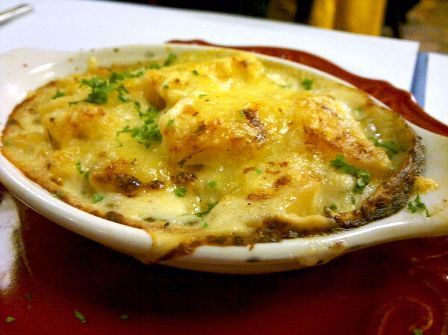 ...each served with sides of Potatoes Dauphinoise.
The steaks were even larger than usual that night, as can clearly be seen in the above photo, but both growing boys did justice to them. Nicole, ever trying to keep the weight off, had the
Trio of Chilean Seabass, Scallops & Prawns on Linguini
(no photo).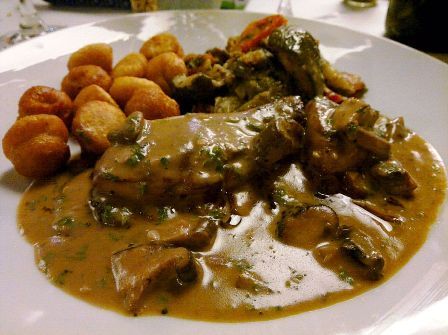 Catha, Joaqi, and I each had one of the night's specials: Magret de canard with Foie Gras.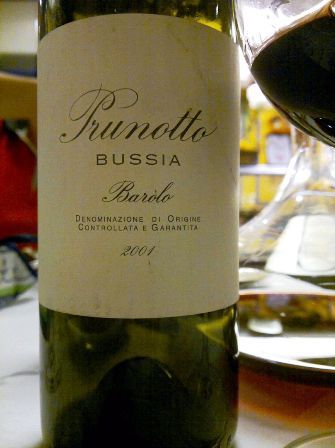 For the night's red, I opened a bottle of
2001 Prunotto Barolo Bussia
- Roses, tar, violets, cedar, blackcurrants, slight licorice, and some citrus peel in the nose. Full-bodied, properly rigid structure and concentration, precise ripeness to the moderately earthy fruit, joined by nuances of black olives and earthy tobacco notes. Clean lines. Acidity is good; could be a little better, but that's picking nits. Good focus, neatness, and typicity. Confident performance from attack to finish.
Locally available at Bacchus International. I don't recall the exact price, but it should be in the neighborhood of around P3500/bottle at full retail.
Good show.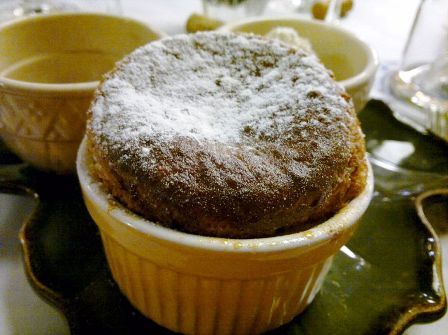 For dessert, Nicole, Mauro, and I each had Marc's seasonal
Chestnut Soufflé
which was excellent as usual. Michael had some creamy mango dessert, but he attacked it before I could take a shot of it.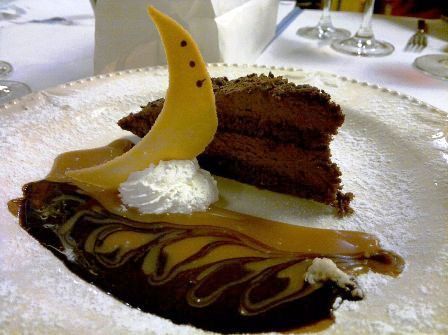 Marc sent us over a couple of complimentary platters of his new dessert: Nelusko Cake. Fantastic. Rich chocolate with a moderate hit of caramel, all in balance and not too sweet at all. Loved this, and, actually, just had it again last Saturday.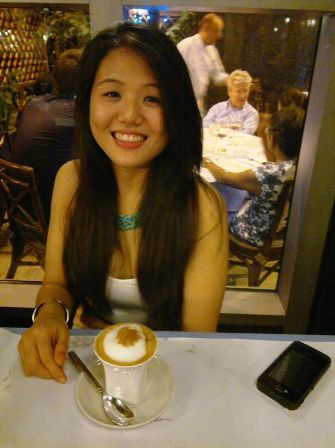 Coffees and double espressos capped off yet another fine meal at Champêtre. Nicole was off on a date with Leo, so we dropped Michael off at his place on our way home. Thanks, Marc, for yet another comforting evening. Everything was delicious. Until the next!