I've been drinking a lot of wine from Spain and Burgundy the past year, probably more than Bordeaux. However, though the palate may stray for months on end, Bordeaux is really where the heart lies. Thursday, the 22nd January 2010, I wound up having 7 Bordeaux rouges in the company of co-founding members of La Commanderie de Bordeaux Manila.
It began with a lunch at
Masseto
conceived by the Stockbroker - a blind taste-off between 2 highly Parker-rated wines, one having garnered a score of 96, the other 100. The only hints he gave were that they were from Bordeaux, their Parker scores and that we've all had them before, but never in a blind side-by-side comparison. We were only 4: he, Bernie, Keiichi and I (the Doc got stuck in the hospital again). Though both "competing" wines were from the Stockbroker's vast collection, we divided his historical cost amongst us.
Of course, we started off with a couple of whites. I had an excellent
Goat Cheese Ravioli
with them.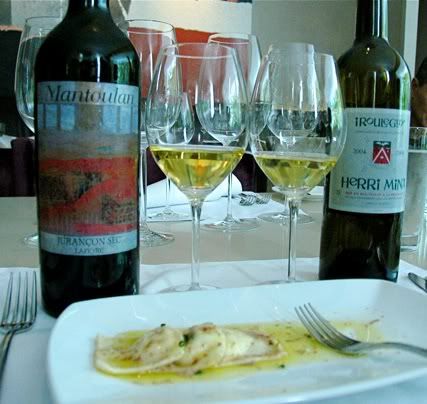 2004 Herri Mina Irouléguy
- The Stockbroker's bottle, produced in Irouléguy (AOC since 1970), Southwest France, by the former, long-time winemaker of Château Pétrus, Jean-Claude Berrouet. Dry, very fresh, racy, edgy and crisp with brisk minerality in a manner somewhat reminiscent of a good Blanc from Graves. Grapefruit dominates quince, freshly cut, dewy grass with a touch of leesy toastiness and admirably bright acidity. Lively wine. Liked it a lot with my chèvre-stuffed ravioli.
2006 Clos Lapeyre Mantoulan Jurançon Sec
- Bernie's bottle, an indent order from Jerome Philippon; another white from Southwest France. Very different from the preceding wine: heftier, much more rounded, fleshier, riper, with touches of honey and honeysuckle to its softer and lusher fruit. The acidity is notably lower as well, but the wine is still in balance possessing a languid, almost sultry, come-hither air. Very approachable and easy to appreciate in character. A bit too ripe, sweet and low in acidity for my ravioli, Bernie gave me a bit of his smokey eggplant to which this wine was an excellent foil.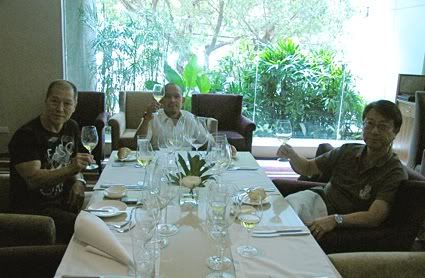 With my
Crispy Duck-Leg Confit & Roasted Potatoes
, I had the two reds blind...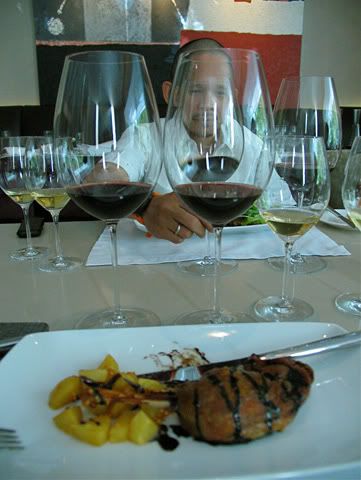 Though the Stockbroker obviously knew what the wines were, he didn't know which was which. Not for anything, but I'm sure he could easily tell them apart anyway. He is, always, though, a most honest voter in blind tastings - I know that for a fact as I keep all the records of our Blind Bdx Challenges and have tasted alongside him in countless more similar events.
Wine # 1 is on the left, #2 on the right.
Wine # 1
- More red orange-tinged, clearer rim, redder than Wine # 2, looked and smelled more mature. I recall these observations were shared by the Stockbroker and Keiichi. Bernie thought otherwise stating that Wine # 1 looked older. The bouquet was very open with sweet wet tea leaves and a bit of truffle in its ripe red fruit over black. The mouth confirms the ripeness of the vintage (surely a 1990 Médoc I thought) in the concentrated, indulgent, velvety raspberry/cherry/plum/kirsch over earthy dark fruit, hint of leather, subtle dark minerals, spices, cedar, sweetish wet tea leaves and violets. Warmingly lush middle, long, dark red and violet finish. Very mature, welcoming, nice bottle-age-sweetness. I'd drink this alone to be able to fully appreciate it.
Wine # 2
- The fruit was ripe enough, but not nearly as ripe nor sweet as Wine # 1. Though the flavors were very similar, their characters were very different. Other differences were the this wine's far sturdier structure and decidedly more masculine and less yielding character. In addition, dark fruit held sway over red and the leather notes were more pronounced. This seemed comparatively less evolved and the tannins more apparent. This, to me, was more food friendly.
When we were prepared to, we discussed at length the basis upon which our choice between the two would be made (e.g., ageing capabilities, pleasure of the moment, food-friendliness). Several suggestions were mulled over, and, in the end, we chose Bernie's suggestion of: "If you could only have one of them,which would you pick?" Moreover, we were to identify which one we thought was the 100 Parker point wine.
Results:
Preferred Wine
: The Stockbroker, Bernie and Keiichi picked Wine # 1 as their preferred wine. Obviously, I was the only one who picked Wine # 2, and did so because I look more to structure in my reds over bigger fruit and highly value food-friendliness.
100 Point Wine?
: The Stockbroker and I identified Wine # 1 as the Parker 100 pointer, while Bernie and Keiichi said it was Wine # 2. I identified Wine # 1 as the 100-pointer because my impression is Parker would prefer its bigger, softer, more forward fruit.
And so the wines were revealed.
Wine # 1
- 1990 Château Montrose
(100 pts.)
Wine # 2
-
1989 Château Montrose
(96 pts.)
Thus, in sum, 3 of 4 of us preferred the 1990 Montrose (i.e., the Stockbroker, Bernie and Keiichi) while I alone preferred the 1989; and, the Stockbroker and I identified the one Parker rated 100 points. I, for one, was not at all surprised with my choice. I've always preferred Montrose's '89 to its '90.
The "work" done, we finished off the bottles and moved onto the
Cheese Platter
and...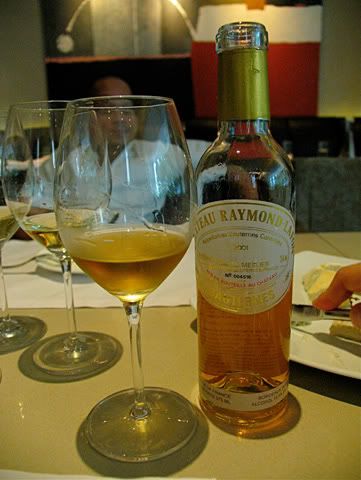 2001 Château Raymond Lafon
- The Stockbroker's bottle, from a highly-regarded Sauternes vintage. I noted coconut cream in the canned cling peach, candied apricot, orange marmalade and vanilla/oak flavors. Luscious, dense, concentrated, acid slightly low but the wine has notable balance. Hedonistic, if a bit straight forward. Very openly enjoyable even now.
Great lunch. Very interesting as well.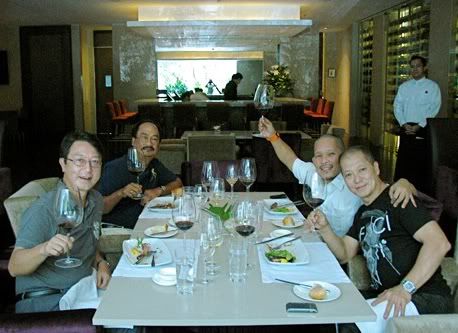 Thereafter, the Stockbroker and I headed for the Vigneron's home for a Commanderie Manila meeting for members of the first board to go over a draft of the proposed By-Laws. It turned out only 5 of us made it, but we proceeded with the discussions in the sprawling lanai.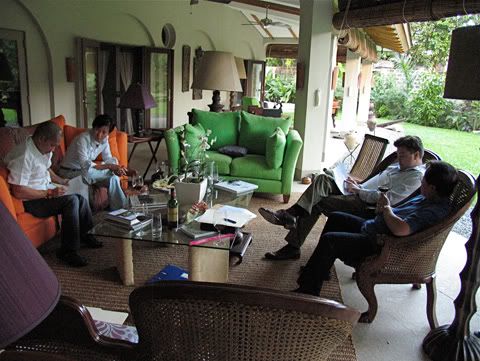 Naturally, there was some wine; naturally, all Bordeaux,
all from the Vigneron
...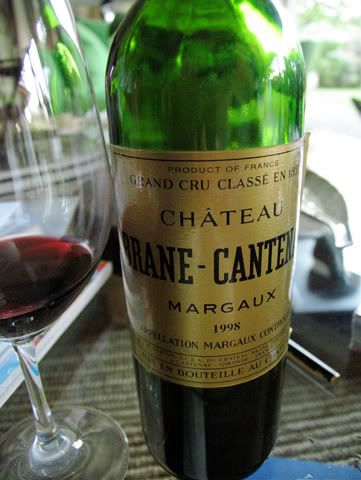 1998 Château Brane-Cantenac
- This 2nd growth seems to always have distinctive underlying leather, coffee grounds and asphalt, charcoal notes to its fruit (the ones I've had anyway) - quite a masculine Margaux generally. The oak notes are usually notably toasty as well. Lots of licorice in its dark fruit. I'd call it a little past halfway between medium and full in body. This seems to need time to come together more for me, but it is a more than decent wine. Between this and their '99, I prefer their
'99
(the Vigneron as well).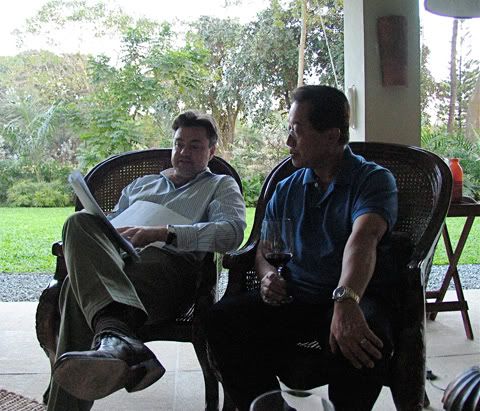 Thanks to Dong Puno's guiding hand, the meeting was conducted very efficiently despite the wines. Not too long after, with work almost all done, more bottles were opened in rapid succession.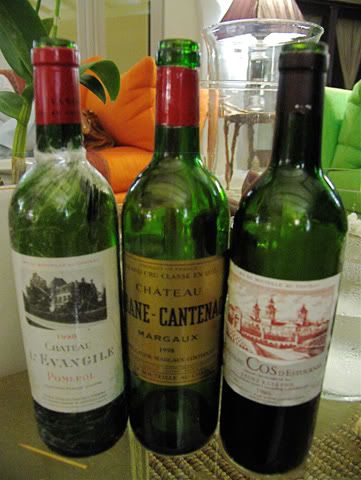 1998 Château L'Evangile
- I last had this on the 20th March 2009, at
Blind Bordeaux Challenge XII
, it was my bottle and it placed 1st. My notes then are still applicable, this wine has a long life ahead of it.
Wine # 4: Comparatively (with Wines # 1 & 3) a subdued nose of ripe plum, cherry, bit of cedar, some chocolate and creamy/toasty vanilla/oak with the merest topnote of herbaceousness. Can't really call it a bouquet as there isn't much complexity or maturity in it - easily the youngest wine in the bunch (as I, Mrs. Vigneron and the Stockbroker noted), and just as easy to identify it as my own. A powerful, well-rounded, full-bodied wine with lush, ripe plum, kirsch, chocolate, underlying violets and vanilla infused cassis, smoky cedar trailed at the end. Broad, long and powerful.
Though this group obviously is Médoc-and-Pessac-Léognan-centric, I gambled on this wine's power and plush rounded body for it to stand out in a blind tasting. I rated it 1st place. It was, in fact, my 1998 Château L'Evangile, another top Pomerol owned and run by the Rothschild family (of Lafite Rothschild, not Mouton).
1986 Château Cos d'Estournel
- I've written about this wine a few times over the past year, and regular readers know I am very fond of this wine. The last time I wrote about this was under 3 months ago, at
a lunch at

RED
. My notes then, which also quote another bottle from the 6th July 2009, are as follows:
1986 Château Cos d'Estournel - The Stockbroker's bottle. I've had this twice before, the first time blind back on 2nd November 2006 at the Grand Crew's
Blind Bordeaux Challenge IV
, so those notes, though brief, are the most unbiased:
"Wine # 1: Aged left bank, feminine, best nose, medium-bodied, deeply extracted ripe sweetish dark fruit, cassis, plum, sweet cedar, best balance.
"I'll not ever forget this wine, not only because it was excellent, but also because it was one of the few times in our Challenges that I voted with the majority in choosing the winning wine, and, it was when my '99 Palmer wound up dead last due to my imprudent over-decanting.
"In any event, though yesterday's bottle was notably more advanced (it was almost 3 years older at the time, after all) with very faint sherry notes at the fringes, it was a wonderful testament to aged Cos nonetheless. The exotic bouquet was perfumed with sweetish tobacco, spice box (with the lightest whisper of cumin), slight camphor, cedar, cassis, ripe plum, violets and warm asphalt nuances. In the mouth, there was great depth, intricate layering, incredible complexity and a comforting warmth. Excellent crescendo. Generous, expansive yet dignified performance. Elegant, yet with a commanding presence. The term "patrician" comes to mind. What a treat on a gloomy, rainy day."
The above notes are pretty much applicable to James' bottle save that, in said bottle, I detected no cumin and there was a familiar sweetish, wet tea leaf flavor in the complex fruit that trailed in the finish with violets. There was notably more discreet power and drive in this and came of as marginally more youthful as well. Excellent specimen of '86 Cos.

The subject bottle was probably the most youthful '86 Cos d'Estournel I've had yet.
We then enjoyed reading an amusing article on "Wine Snobs" while enjoying a bottle of...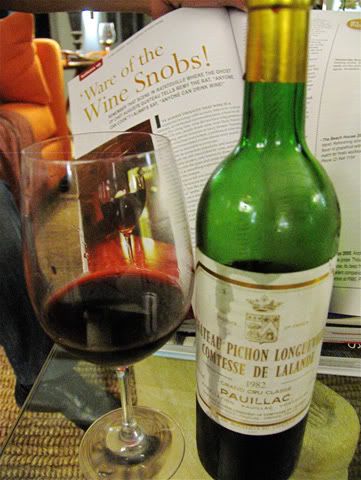 1982 Château Pichon Longueville Comtesse de Lalande
- I don't even remember now how many bottles of this we have enjoyed. Many, for sure, ever since it won for the Vigneron in our very first Blind Bordeaux Challenge - I didn't post about all of them, but the last I remember offhand was quite a while back - at a blind Valentines Dinner at the Doc's - I voted it 1st place over a 1985 Mouton Rothschild, 1989 Pichon Longueville Comtesse de Lalande, 1989 Trotanoy and a a 1988 Léoville las Cases (no post on this dinner).
I've noted before that we've experienced a material amount of bottle variation in the '82 Pichon Lalande, but this bottle was pristine. Excellent. Silken, pure, elegant in its bouquet and flavors of sweetish cedar, raspberry, cherry, kirsh, violets, mint (topnote), plum, cassis, dark fruit, very subtle earthiness and lead pencil shavings. Incredible poise and balance. An elegantly feminine Pauillac - classic Pichon Lalande.
The others then took their leave as I lingered a few minutes longer. We were joined by Mrs. Vigneron and kept her company for just enough time for a last glass of...


1999 Château Lagrange
- I seem to recall that I've had this before, but I'm not sure. I can't find any of my notes on it. By this time, my palate was quite weary, but, this wine seemed quite straightforward, dominated by blackcurrant, cassis, and cedar over a bit of dark cherry and plum, with slight violets and underying licorice, black coffee and a bit of woodiness. After the previous wines, it seemed medium-bodied and its tannins seemed a touch green. Judgment reserved, in fairness - I was no longer in good condition for reliable notes.
What a day.