Last night, Tuesday the 13th January 2015, was at
Sala Restaurant
for a dinner J-Lab organised to welcome and bid bon voyage to London-based wino, Alino. We were 7 in all.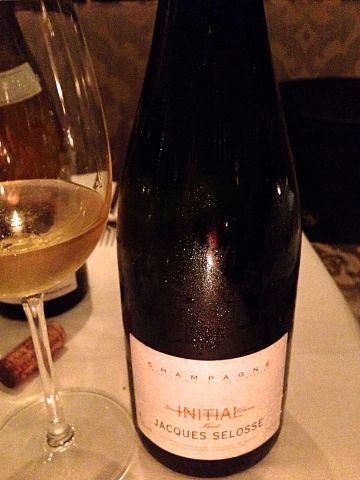 As always, some bubbly to start things off...
Champagne Jacques Selosse Initial Brut
- Alex's bottle. Selosse is a small, very highly respected champagne grower-maker. I've enjoyed many bottles of this
Initial
line and their
Version Originale
as well - having been very impressed when first I had the former courtesy of Clem Nieto. My general impression of Selosse bubblies are they are distinctive for their remarkable purity, definition, focus and subtle complexity - and this bottle was no different.
As far as I know, Jojo is trying to distribute some of the Selosse line (through Premium Wine Exchange) in the Philippines. We all wish him the best of luck in that (no mean feat, as there is great demand for the small production, and the owner is very selective of whom he supplies). Until then, if ever, we make do sourcing them in HK or the US.
Current obsessions over premier small grower-maker champagne aside, more popular, well-made, big-production champagnes are always welcome - such as
Champagne Krug Grande Cuvée Brut
- Arnie's bottle. Typically more buxom and distinctively honeyed with a nutty nuance (particularly after being allowed to warm down a bit and breathe) in its hefty roundness. Pretty much a no-brainer for a premier non-vintage bubbly - pricey as it is for a nv, for me, it delivers.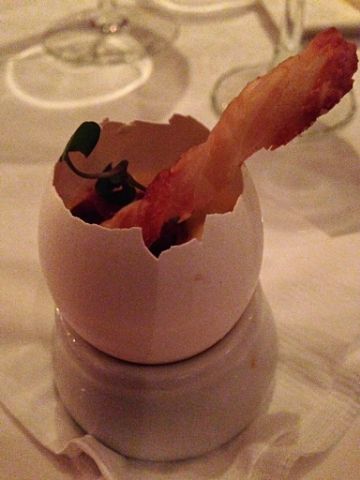 A nice egg-based amuse bouche.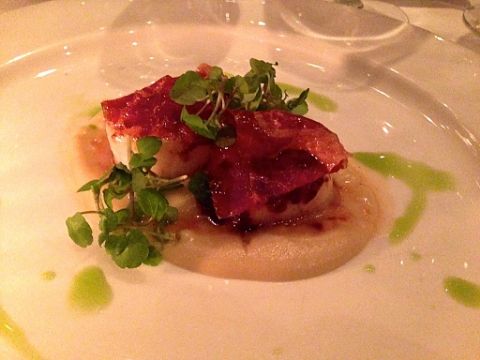 My starter was Seared Scallops, meant for the whites.
Unfortunately, my bottle of
1999 Domaine Michel Niellon Grand Cru Chevalier-Montrachet
was not a healthy one - which I immediately suspected once I decanted it for aeration - as this barely 15 year old's colour was that of a white Burg over twice its age. Upon a few sniffs and sips as it warmed and breathed, it was obviously prematurely oxidised - not quite sherry-ish, mind you (as Arnie also noted), but enough to make it interestingly drinkable at best. Too bad; but it happens. Thus is the lot of those who buy even just semi-aged wine. It's all part of the game.
Good thing there was another white Burg on deck for the evening:
2001 Domaine Leflaive Grand Cru Bâtard-Montrachet
- Alino's bottle. From the colour (as seen immediately above), this immediately appeared in good health; and a quick sniff and sip confirmed it. Popped-and-poured, its initial notes of somewhat tight, minerally apple and Korean pear fleshed out nicely, bringing with it slight honey, and discreet butter, nuts, vanilla and toastiness. Good focus, pleasingly lean, no excess fat here. Still quite young, it may already be enjoyed if one must. I believe this can improve even more over at least another decade.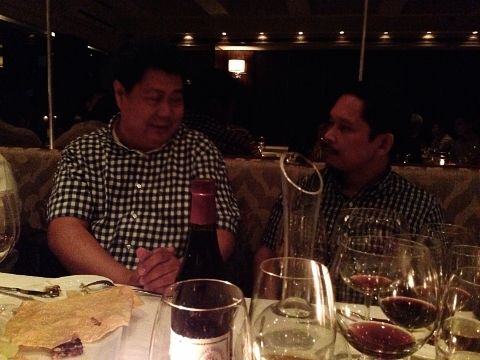 Alino & Jojo.
For the reds, my main course was
Roasted Pigeon
, now, happily, back on Sala's regular menu. The flesh is very tender and juicy, and, actually quite mild compared to wild French pigeon. Perhaps this is farmed pigeon rather than wild? The reduction was a bit too aggressive for my taste, but, in all, quite a nice dish.
The red I enjoyed most with my main course was the
1987 J-L Chave Hermitage
- Alino's bottle. Someone asked me about vintage 1987 in the northern Rhône, and, not being familiar with that vintage in the subject area, I passed the question on to Jojo - who knows Rhône much more than I do - all I know is that it was quite wet in Bordeaux. Jojo confirmed it was
generally
the same in the Rhône region, but didn't hazard a guess for the northern Rhône or Hermitage in particular.
In any event, this was a nice, warmly comforting, 3/4ths-the-way-from-medium-to-full-bodied wine showing more than decent depth in its molten red fruit/concentrated dark plum, with mild notes of black pepper, leather, iron/blood, and animal seamlessly woven in. Good balance, precise acidity, more than decent length. Definitely nice, and it went well with my pigeon.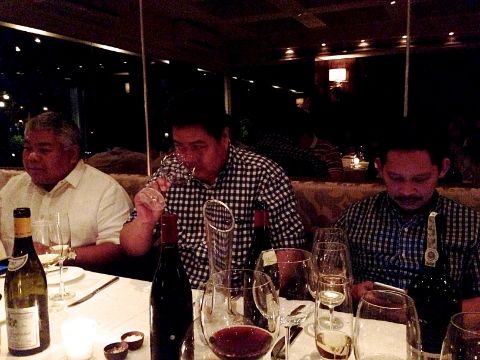 Sniff, sniff.
I then tried out some
2006 Descendientes de José Palacios Moncerbal
- Alex's bottle that had been aerating in decanter for around 2 hours or so by the time. Huge, massive, powerful, spicy, ultra-ripe, and overwhelmingly lashed with vanilla/oak. Alex & I, who have had this numerous times in the past, were very surprised with the level of oak-dominance as previous bottles did not show oak that aggressively. We figured it was because previous bottles were either popped-and-poured or were slow-oxed and/or decanted for 7+++ hours by JC de Terry before serving. Lesson learned.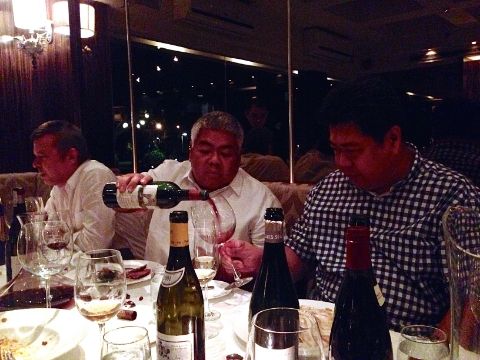 The 3rd red of the evening is poured...
1975 Château Léoville las Cases
- J-Lab's bottle (relatively recently sourced from a local private collection, I believe). Not being very familiar with Léoville las Cases' '70s vintages, I'd hazard that the previous owner had less than stellar/consistent storage facilities - as the wine was quite a ways tired compared to apparently well-stored bottles of '75 classed Bordeaux we enjoyed at Alex's past anticipated birthday dinner (i.e., '75 Montrose, Beychevelle, d'Issan, & Certan de May; 5th August 2014). Still drinkable, to be sure, but, without the depth and quiet power I know of las Cases' '80s & '90s vintages.
What did I just say about the game of buying aged wine? Well, we intrepid winos readily take the risks involved, as the rewards are well worth the occasional tired, prematurely oxidised, or damaged bottles. It's all fun anyway.
I had actually brought along a bottle of
1996 Domaine Marquis d'Angerville Volnay 1er Cru Clos des Ducs
, but the guys opted to have it saved for another day as some of them were driving themselves home.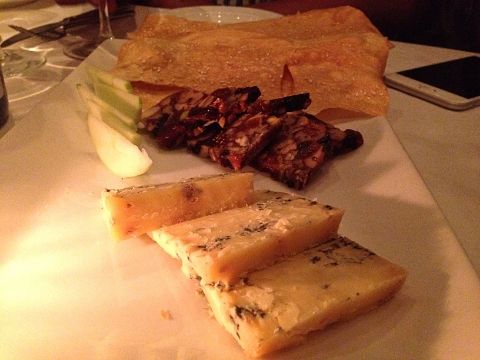 Platters of Stilton & Sala's Signature "Fruity Bread" for...
2011 Dow's Vintage Port
- Jojo's bottle, one he reported as being Wine Spectator's highest scored wine for the vintage. Smooth, amiable, well-structured & focused, with notable acidic balance and purity in its moderately sweet, dried dark fruit with light doses of toffee, chocolate and a hint of molasses. Neat and polished. Clean finish. This is the youngest vintage port I've ever had, and was very pleasantly surprised how enjoyable it was (I took another pour, as a matter of fact, because it went so well with the stilton and fruity bread).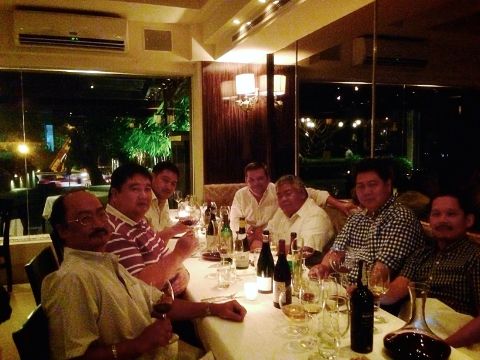 Cheers!
Thereafter, four of us (i.e., Alex, J-Lab, Alino, & I) moved to
Elbert's Cigar & Whisky Lounge
(a.k.a., The Riedel Room) for some single malt, cognac, and, a
puro
for me. We didn't stay out as long as we usually do as Alino had an early morning flight back to London. Nice night all around. Until the next!