With Keiichi and Vince in town for the holidays (from Tokyo & Vancouver, respectively), the guys got together for our annual year-ender dinner on Monday the 29th December 2014. The unanimous choice of venue was
Mamou Too
in Rockwell - the private room, specifically, so we wouldn't have to deal with the seating shifts, and avoid disturbing other diners should things start to get a bit loud.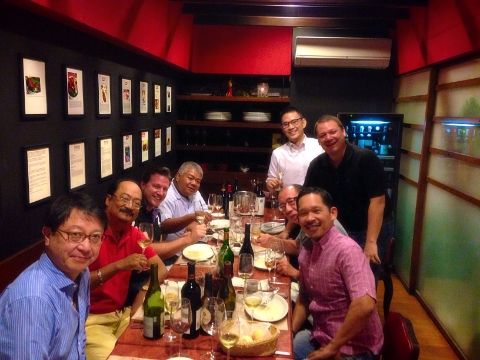 Keiichi, me, Richard, J-Lab, Aaron, Miguel, Vince, & Jojo.
The moment I arrived, J-Lab, who is very much into sherry, shared some of
Bodegas
Lustau Very Rare Palo Cortado Exclusive Solera Premium Sherry
- something he came across while searching for some of his usual holiday fruitcake at Marks & Spencer. Dry, nutty, quite smooth - definitely a nice apéritif, and inexpensive to boot. What more could one ask for (especially since palo cortados are very ordinarily very difficult to come by in these parts)? He thoughtfully let me take home the rest of the bottle since he knows Catha loves her sherry. Thanks again, J-Lab!
As always, some bubbly to welcome everyone to table:
Champagne Laurent-Perrier Cuvée Rosé Brut
- J-Lab's bottle. One of the neater, more focused locally available non-vintage rosé bubblies, this shows charming strawberries, cherry and slight black currant. Notable freshness, tension, and vibrance. Light-footed. Very pleasant, if a tad linear at this point.
2000 Taittinger Comtes de Champagne Blanc de Blancs
- Keiichi's bottle. Very expressive on nose and palate, this is a minerally, complex vintage bubbly that presents vivid apple and ripe pears with, after time in the glass, moderate spiciness as well as discreet nutty undertones. Well rounded and precisely ripe, with notable heft especially on mid-palate, it retains good focus through to the finish. Very nice, and, to my mind, will gain even more complexity in years to come.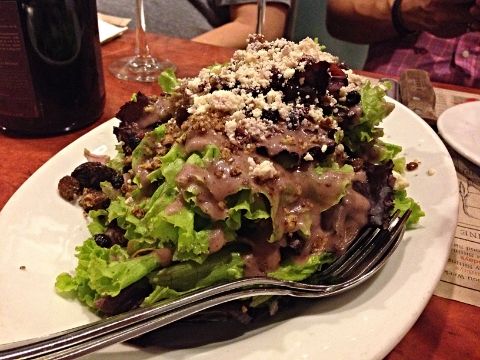 Healdsburg Harvest Salad (para healthy).
Spaghetti Bottarga - a favourite of the group. With it...
2006 René & Vincent Dauvissat Chablis 1er Cru La Forest
- Jojo's bottle. I liked this a lot with the pasta. There is a bit of softness showing in the flint and white mineral touched fruit base (which, curiously for me, included a bit of pineapple), but it is in good form. Not as nervous or dry as I usually prefer my Chablis, but its acid balance gave lift enough to cut through the creaminess/oiliness of the rich bottarga pasta, and the finish cleansed/refreshed the palate well for the next bite. Lovely pairing.
Some Grilled Lamb Chops before the steaks.
Unfortunately, my bottle of
1988 Domaine Louis Trapet Grand Cru Chambertin
was not a healthy one - its murkiness signalled it so when I decanted it. Too pruney and tired on the palate. Still drinkable if one had to push things, but that's not what it is all about after all. I gave it a good amount of time to show whatever it still had (if any), but, ultimately, I chucked my glass of it as well as the rest of the bottle. Too bad; but, that's the way it goes. Anyway, I had brought another red for the steaks (more on that later).
1982 Château Pichon Longueville Comtesse de Lalande
- Aaron's bottle, and an excellent specimen at that. I've had this wine many, many times throughout the years, and, though we've noted a bit of bottle variation, this bottle was one of the better, fresher ones in the past, say, 5 years. Polished, complex, harmonious, precisely balanced, cassis, cherry, bit of raspberry, cedar, bit of warm asphalt, pencil lead, pipe tobacco, liquorice, leather, and violets. Beautiful wine, very complete. Excellent with the lamb chops.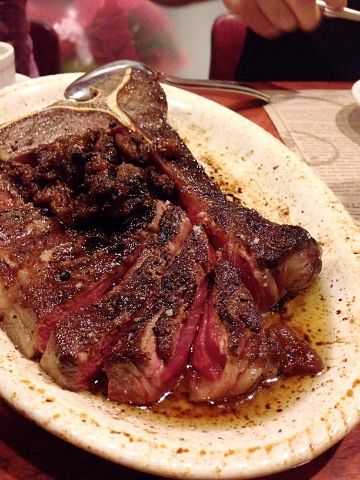 28-Day Dry-Aged USDA Prime Porterhouse.
2005 Tenuta San Guido Sassicaia
- Miguel's bottle. Quite impressive with the rich steaks. It certainly had enough power and acid cut for them. Bordering on full body, this showed firm structure, good bones, and properly discreet power. Good depth of fruit as well, finely laced with earthy tobacco and a bit of dried herbs. Ripe enough, but not over-ripe (which is a good thing for me). With the steaks, this was my favourite pairing red of the evening.
2000 Château Léoville Poyferré
- Keiichi's bottle. Typically ripe for the vintage, and plushly made with an international slant typical of the producer (based on vintage 1996 onward in my experience/to my recollection). This is a crowd pleaser, and seemingly made to be as such with its luxurious texture and very evident oak-related chocolate/vanilla notes. Very enjoyable, if not quite intellectual. Don't get me wrong - this definitely has its place on table, depending on the evening's mood. After all, one doesn't feel like having intellectual discourse all the time (well, I don't, anyway). It was good with the steaks as well.
2004 Dominus
- J-Lab's bottle. Another relatively young wine, though, with the rich steaks, as impressive as Migs' 2005 Sassicaia. More stylish, riper/sweeter/creamier in fruit, a bit lower in acid, this is squarely full-bodied, with an over-all more opulent nature than the two previously mentioned reds (this is Napa Valley after all). That said, it definitely showed good bones, body, length, and confidence. As stated, I was also impressed how well it showed with the steaks. Nice, nice.
By then, Johnny had caught up, and, as we were already very low on reds, I opened my
1993 Robert Mondavi Cabernet Sauvignon Reserve
- This is a steady reliable Napa cab which, from recent, previously opened bottles (at Mamou Too! as well), has still got gas in its tank enough for a few/several more years, though I see no reason to purposefully hold back on opening them now with steaks. Just a little bit blocky as compared to its more Bordeaux-esque 1992 version, the '93, however, seems to hold longer in glass. Nothing to complain about, really, especially at its reasonable price, but, honestly, I fee no compulsion to buy more of it. Decent, but nothing exciting.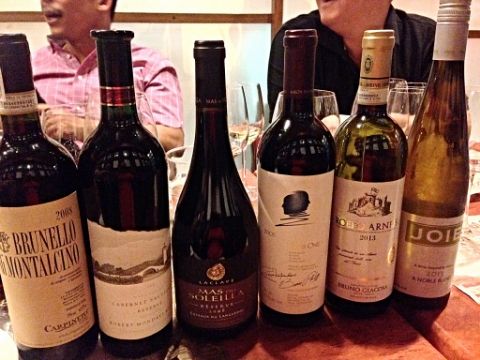 Others on deck, most handed a suspended sentence.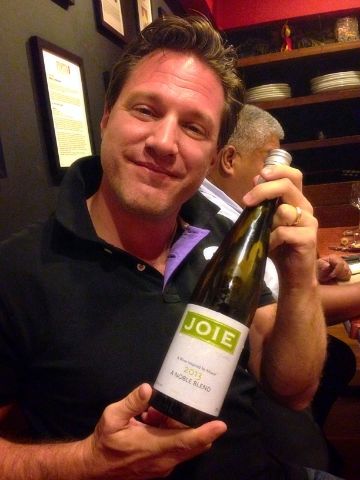 Richard Joye with a bottle of almost the same name.
Thereafter, a bottle of
Petit Grain Muscat de Saint Jean de Minervois Vin Doux Naturel
- Richard's bottle. Pleasant honeyed peach, yellow apricot, table grapes, touched with orange blossom notes. Nice pleasant, simple, straightforward little wine.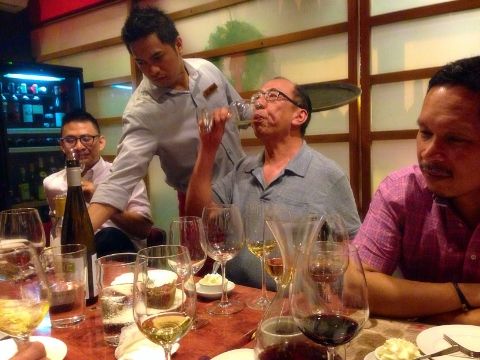 Vince seemed to like it well enough.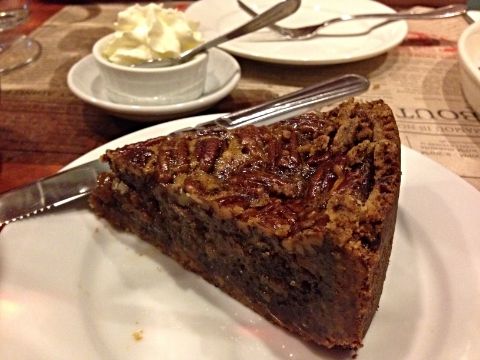 As always, our favourite Pecan Pie w/ Schlag for dessert.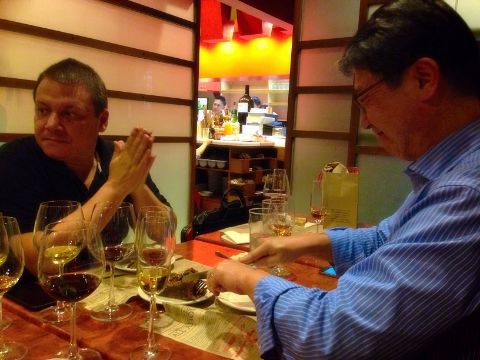 Keiichi digs in happily.
J-Lab then offered up a bottle of
W & J Graham's 1983 Vintage Port
, but we all felt we had had enough and didn't want to waste his bottle. Thus, this lives for another day.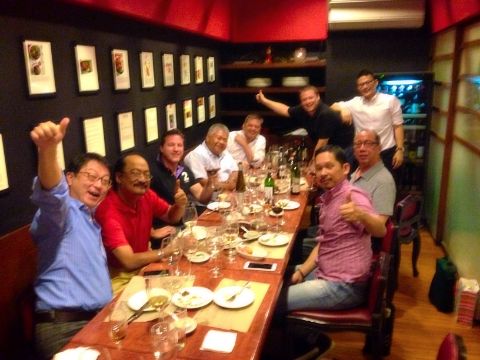 Great dinner, guys! Here's to 2015!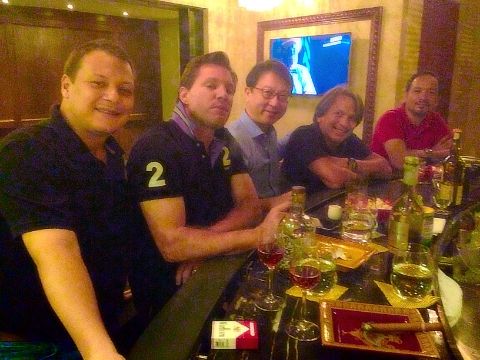 Miguel, Richard, Keiichi, & Elbert.
Still reluctant to call it a night, a bunch of us moved to Elbert's Cigar & Whisky Lounge (a.k.a., the Riedel Room)...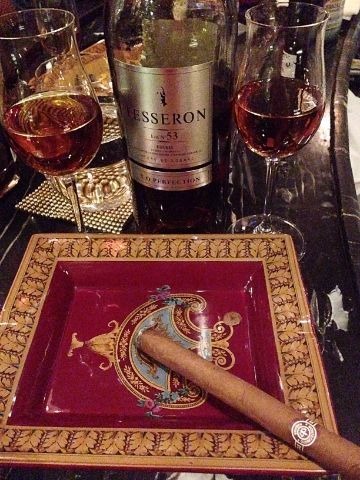 ...for cigars and cognac...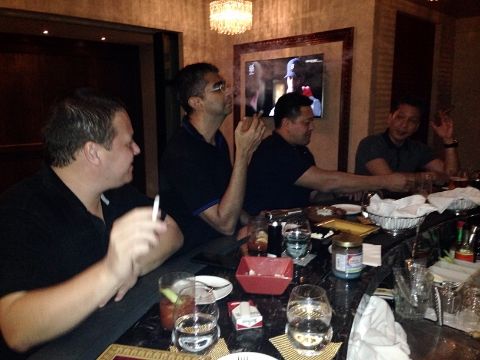 ...with Alex & Sanju catching up with single malts.
Alex, known for his prodigious appetite for single malts, as well as overly generously sharing the same (at times even surreptitiously) with friends, is fondly called "Demonio" (i.e., "Demon") - as can be seen on his bottles' name tags in Elbert's.
By around 3am, the remaining 4 of us (Alex, Sanju, Miguel, & I) got hungry again, and so moved on to
Donu Korean Grill
which is open 24/7. Alex and Sanju being the regulars, Migs and I let them do all the ordering and grilling...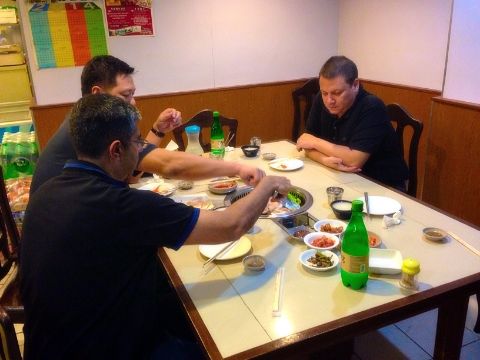 ...as Migs "wastedly" looks on.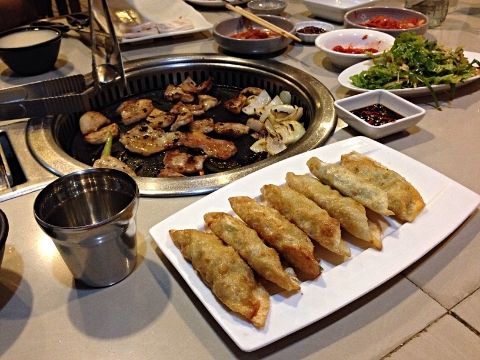 Love the Grilled Pork Cheeks especially.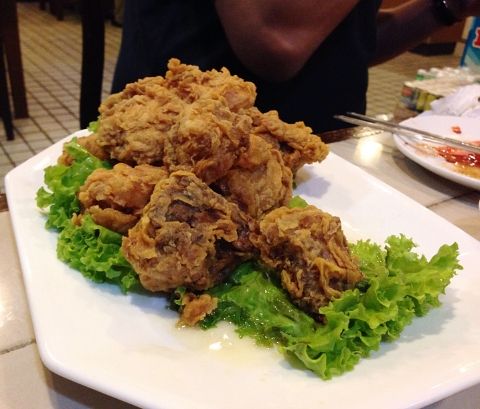 The super crispy Korean Fried Chicken wasn't bad either...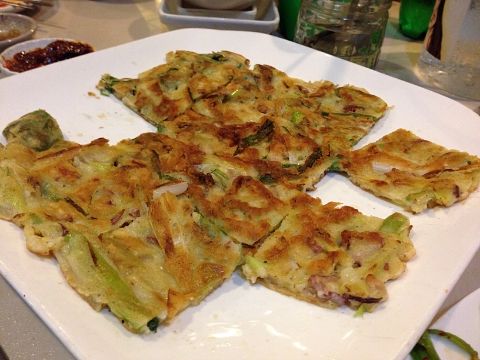 ...as was the Korean Vegetable Pancake.
It wouldn't be a complete Asian meal without a bit of rice, in this case, a couple of shared orders of
Kimchi Rice
. With all these, we polished off a few bottles of the house
Makgeolli
(a ubiquitous, sweetish Korean rice wine that looks milky and has a distinctive fermented, yoghurt-reminiscent tang to it). By around 5am, we finally called it a night and headed home (thank God for drivers as there's no way any of us could have safely driven ourselves home). What a night! Until the next!