Due to the long weekend of the Pope's Philippine visit, I have some time to update my blog. This, as well as the past few posts are not in chronological order, but, hey, that's all I can do.
After over a year of owing Berna a home-cooked dinner, on Wednesday the 3rd December 2014, I finally made good my promise. We were 7 in all: Berna, Cutie, Catha, Alex, Sanju, Gani, & myself. Unfortunately, I totally forgot that Berna is allergic to seafood, so it was slim pickings for her that night. Sorry, Berna! Next time, all meat dishes!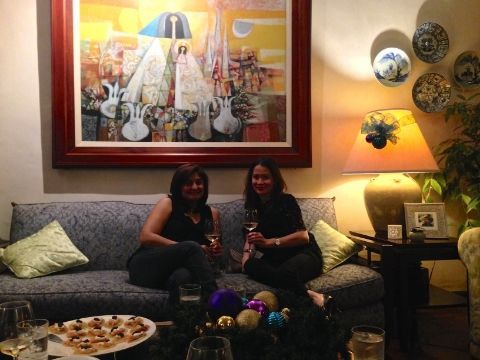 Cutie & Berna in the sala for cocktails.
With the first bottle of white while waiting for the others to arrive, we had canapés of
Smoked Salmon with Crème Fraîche & Caviar on Blini
, some
Parma Ham
which Berna could eat, and...
...the Caviar Pie that Berna brought.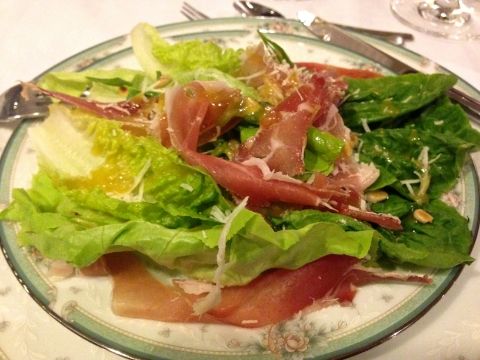 Once we were complete, we moved to the dining room, and they started on the salad course (
Mixed Greens with Tarragon Leaves, Parma Ham, Shaved Parmesan, Toasted Pine Nuts, w/ Honey-Mustard Dressing
) as I started grilling the steaks outdoors.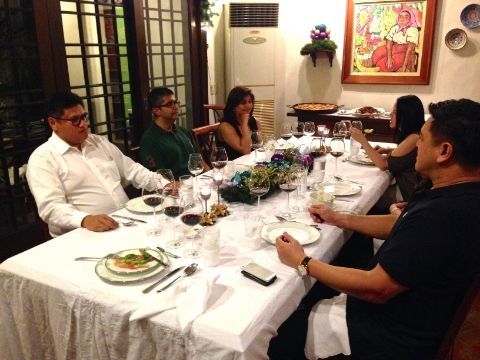 Dinner conversation was animated...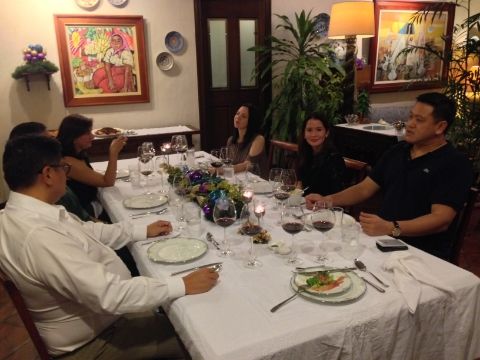 ...involving pretty much anything under the sun.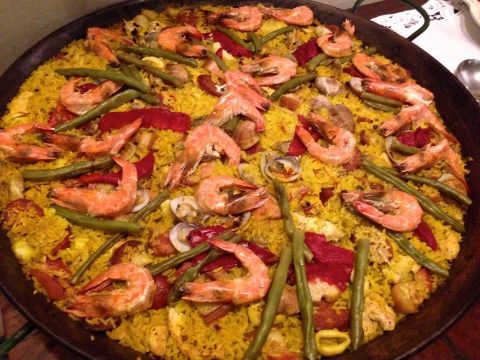 Seafood Paella by Catha.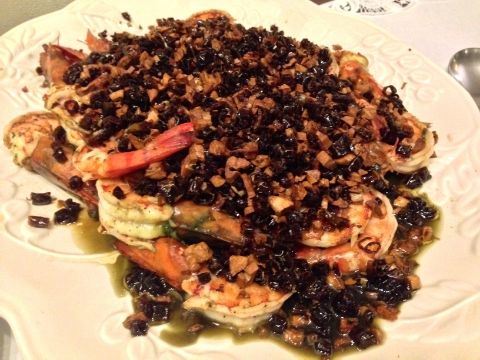 Chili-Garlic Prawns by yours truly.
With the foregoing dishes, we had some of Alex's
2008 Domaine J-M Brocard Chablis 1er Cru Montée de Tonnerre
. Since I just posted on that particular wine, no need to repeat myself herein.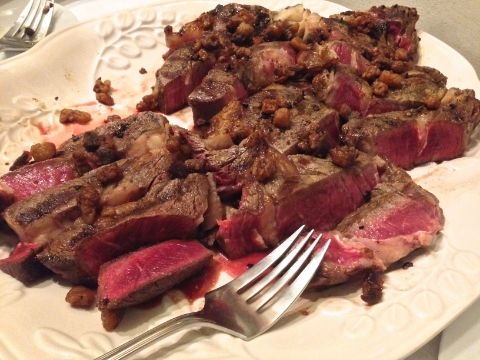 Grilled USDA Prime Grade Rib-Eye Steaks by me.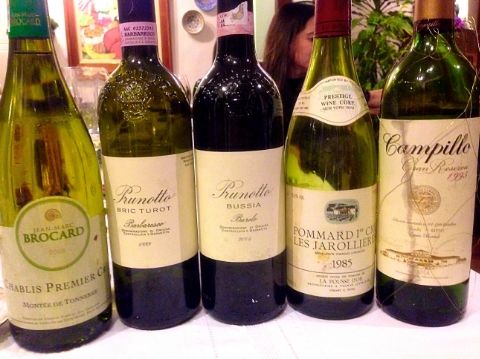 The night's wines.
1985 Domaine de la Pousse d'Or Pommard 1er Cru Les Jarollières
- My bottle. Still alive and in more than decent form, this showed a good dose of bottle-aged sweetness in its violets, cep and loam touched dark plum, ripe raspberry woven onto a mild black cherry base. Slight topnotes of camphor and cedar. Medium-bodied with a medium finish, it's middle was a bit weak, and it lacked the stuffing and power for the steaks. Still, as a whole, it was a pretty good aged Pommard. I'd not wait longer on this, so drink up if you have any.
1995 Bodegas Campillo Gran Reserva
- Sanju's bottle - quite possibly the last of its kind in the country (I know because Aaron & I were the ones who used to import it). Still drinking quite youthfully, full-bodied, good depth in its dark, ripe fruit, nice middle. With good push on the palate, through to the long, liquorice and vanilla/oak finish, it handled the steaks easily. I was quite happy with the way this showed, and do appreciate Sanju's sharing his last bottle with us. Unfortunately, the producer is no longer selling this particular vintage, so, the best one can do now is order it on retail from abroad.
1999 Alfredo Prunotto Barbaresco Bric Turot*
- My bottle. Nice rose, vanilla, violets, cedar, and sweet berries in the bouquet. Several notches over medium-bodied, sleek and silky, a bit of tar, leather and dried herbs in its dark fruit. Neat and moderately polished. Good length. Its acid balance gives good balance, with enough cut for the steaks. Alex liked this more than the succeeding wine. This is actually one of my go-to locally available Barbarescos - one that I usually bring to Mamou Too! for their rich, dry-aged porterhouse and rib-eye steaks, as well as to L'Opera for their large T-Bones.
2004 Alfredo Prunotto Barolo Bussia*
- My bottle, decanted for aeration for approximately 2-1/2 hours before being served. Still too young and quite tight, this shows good grip, healthy acidity, and notable depth of fruit. There are also hints of the tar and rose notes one expects from Piedmonte's nebbiolo-based reds, but, nice enough as it was, it is still really too young. I'd wait at least another 5 years before opening another one of this. Good potential though.
*
Both moderately priced; purchased from Bacchus' Epicerie in Commerce Center, Alabang.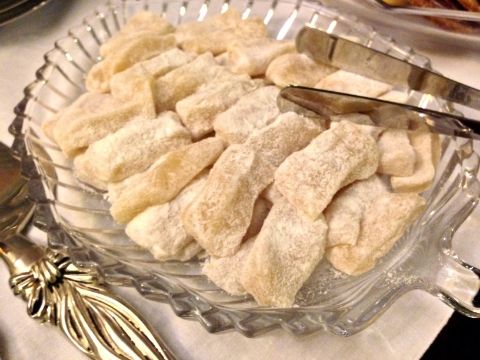 Desserts were: Espasol...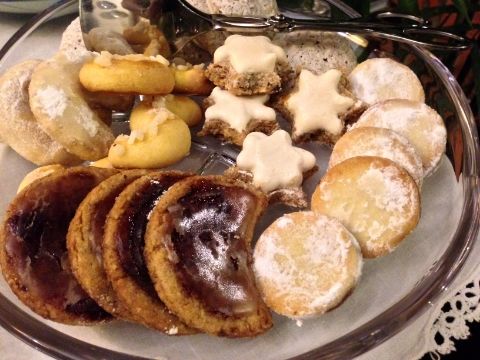 ...German Cookies by Tina de Jesus...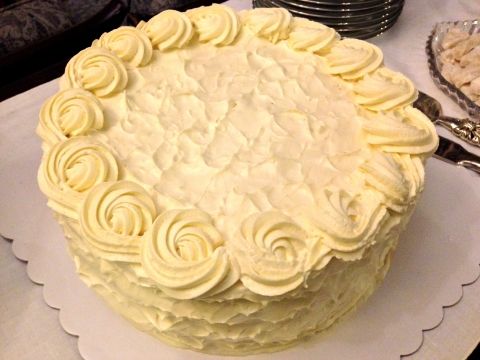 ...and an excellent Lemon Torte by Roshan (thanks, Cutie!).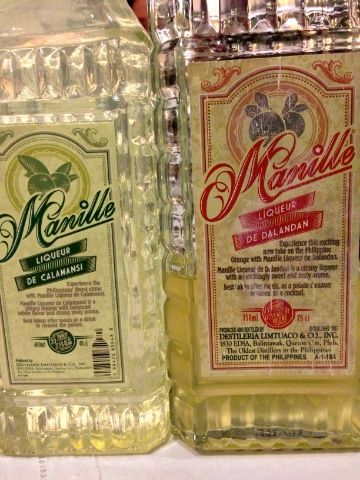 Digestifs were bottles of
Destilería Limtuaco's Manille Liqueur de Calamansi & Liqueur de Dalandan
(the very first bottle produced, no less) courtesy of Berna. Quite impressive, indeed.
Sanju & Gani with bottles of Very Old
Captain Rum, courtesy of Berna.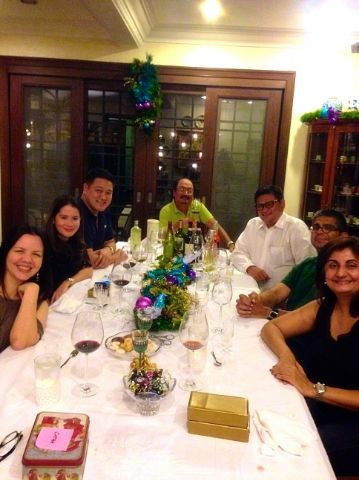 Fun night! Thanks again for coming all the way to the boondocks and braving the then already heavy pre-holiday traffic, guys! Until the next!