This past Sunday, the 23rd November 2008, we were fortunate to have been invited to join Rene in celebrating his birthday - at a dinner masterfully prepared by his mother-in-law, Tita Bella. I'd heard stories about her dinners from Santi, Miguel and Rene, among others, but never before had the pleasure of partaking in them. All the more I eagerly awaited this event.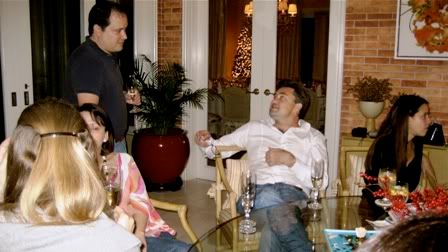 We were 12 in all: Rene & Aimee, Santi & Maite, Miguel & Ria, Joe & Anna, the spouses Vigneron and my wife & I.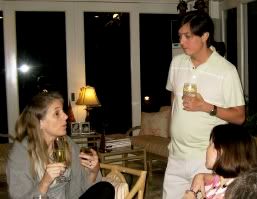 As Tita Bella and her staff prepared for our feast, we enjoyed 3-year-old aged Manchego drizzled with aged Balsamico washed down with a couple of properly chilled bottles of (
n.b
., unless otherwise indicated, all bottles that evening were provided by Rene):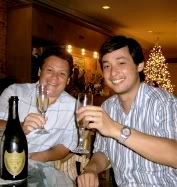 1998 Dom Pérignon
- No introduction really need be made for Moët et Chandon's (
n.b
., the "t" of "Moët" is pronounced) luxury bottling. I've had this vintage several times since the last quarter of 2006 (this vintage was released, I think, in 2005) and,
previously
, noted it as steely, minerally, taut and ultra-focused in its bright white grapefruit, citrus, yeast with just a the merest hint of creaminess surfacing just past mid-mouth. I also noted it several times as linear in character - always likening it to their 1988 vintage - especially after having it side by side the 1990, 1995 & 1996 at my sister's house in Indiana during New Year's dinner 2006.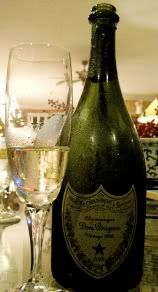 I note now that it has put on a bit of heft mid-palate, picked up more creaminess and brioche notes and the citrus has taken a step or two towards the background. It's linear personality, laser-like focus and drive, however, remain the same. Bracingly refreshing, I could have easily over-indulged early. Excellent and indulgent apéritif.
A bit dehydrated after golf, though, I had to hold back from taking more than a glass lest the bubbly bypass my digestive system
en route
to my brain. It has happened once too often in the past that I started off a bit too fast with too much champagne, and, consequently, could barely indulge in or take careful note of all the reds during dinner proper.
Nowadays, I begin with only one glass and, if space, sobriety and availability allow, finish off with another glass as the party winds down.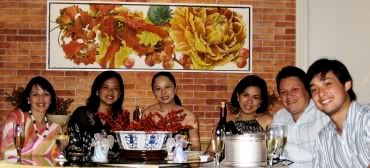 We eventually found our way to to our designated seats - French style, I noted: boy-girl-boy-girl, no spouses beside each other, to enliven dinner conversation. Nice.
The first two courses set the theme of our evening's meal: this was clearly to be a celebration in gastronomic indulgence - and I was good to go.
~ oOo ~
With a sinful
Popcorn-Crusted Foie Gras atop Butter Cake on a Burnt Orange Sauce Puddle
: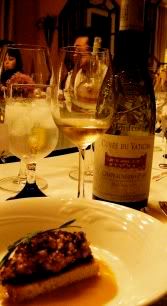 2005 Cuvée du Vatican Châteauneuf-du-Pape Reserve Sixtine Blanc
- I've written about this a few times, most recently as follows:
2005 Cuvée du Vatican Chateauneuf-du-Pape Reserve Sixtine Blanc - the
Stockbroker's bottle, a wine I've enjoyed twice before in January and May 2008.
My notes of 20 January 2008 state:

"Initially tightly-wound, it
would reveal onlylaser-clean steely white minerals with some flint in its
compact white fruit. I guessed (correctly) it was more roussanne. Later on, it
expanded and fleshed out generously,displaying broad, almond cream, vanilla/oak
laced ultra ripe fruit (somethinglike baked apple and pear) with a slight
whisper of peach. Much, much bigger andfuller and heavier than the previous
wine. I then guessed, wrongly, that it wasmore marsanne. Oh, well... I must have
over-thought myself to error."
Unfortunately, this bottle never really opened up and released like those I've had before. It may have been slightly off (I do not believe it had shut down), but still drinkable. I was a little disappointed (and slightly embarrassed) since I was the one who recommended this wine to Rene for the pairing. Anyway, things like this happen every so often. Not all bottles will be the same....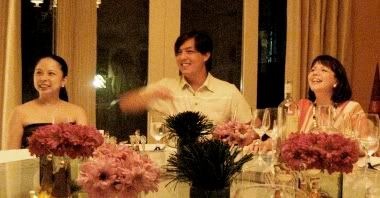 The popcorn-crusted foie, though, more than made up for the bottle's apparent attack of stage fright. The slightly caramelized popcorn crust added a precise amount of sweetness and textural contrast that elevated the foie's inherent savory richness. The butter cake lent a bit of substance and weight, yet still running with the foie's inner creaminess, and the burnt orange sauce playing with the crunchy caramelized popcorn crust. Superb.
~ oOo ~
With
Pan-Fried Codfish on Foie Gras Cappuccino
we quickly switched from the previously mentioned wine to my bottle of consistently loved and ever versatile: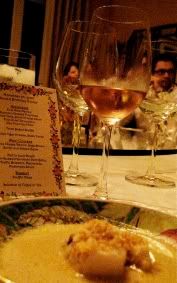 2007 Tempier Bandol Rosé
- I know, I have many times raved about this wine, so much so that Robert Burroughes has ribbed me about being a Tempier sales agent for Jérome Philippon. I assure everyone that I am not, I simply love this wine. It is actually against my consumer's interest to squawk about it repeatedly as doing so possibly endangers the limited locally available stock. Be it far from me, however, to not share news about a superb wine - why shouldn't all Philippines-based wine lovers know about the ready availability of what most all authorities consider the best rosé in the world?
My earliest notes on it say it all as far as I am concerned:
An exquisitely pure and clear light pinkish salmon in color, it is a hell of a
pretty wine, one could drink it in with one's eyes. In the nose - and I've
neverreally bothered to pay much attention to any rosé's aroma before - was
alluring- like a light, cooling summer cologne. In the mouth, it is light and
delicately infused with a fine melange of fresh canteloupe, strawberry, bit of
melon, orange rind and the faintest whisper of lavender.
Astounding. My poor descriptions fail to do it justice. It is, without any shred of doubt, the best rosé I have ever had.
I admit, the impromptu pairing was not ideal, but it was pleasant enough - the wine's clean lines and subtly ripe fruit stood well against, as well as cut, the foie-rich cappuccino and the cod's buttery flavors. I brought the bottle, intended as a second apéritif, because Rene and Miguel wanted to try it out. In any event, the night's celebrant appeared to appreciate the wine with this second course - and that's all that really matters.
~ oOo ~
With the next two courses of
Twice Baked Soufflé
and
Grilled Tiger Prawns with
Salsa Verde
: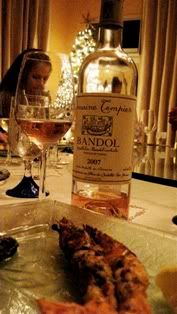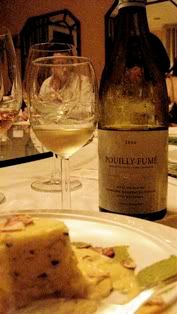 I alternated the rosé with the Tiger Prawns due to the mild spiciness of the Salsa Verde, but, really, the best pairing for me was Rene's
2006 Domaine Raimbault-Pineau Pouilly-Fumé
- This is the first time, to my knowledge, that I have tried wine from this Loire domaine and I kick myself for not having stumbled on it before. It's a good thing Rene did.
An ethereal, fresh, floral, cool, sweet perfume of gooseberries, freshly cut grass, white grapefruit, citrus and trace white mineral nuances in the nose. Gracefully and elegantly mirrored on the palate. This danced on my tongue. Subtly complex.
The Vigneron, not really one who is into whites and, more often than not, goes straight to the reds, was the first one to pipe up, saying that "The bouquet of this wine is wonderful". Coming from him, that means a lot. The pairing,
especially
with the sinfully delicious cheese soufflé, was sheer gourmand's ecstasy. I need not say more.
I made sure to buy myself a stash of this today and was treated to JC's story of how he got to know and distribute this wines while I was at it.
Available at Terry's for barely P1000 per bottle and I would easily pay more for it if needs be.
Run, don't walk. It is that good.
~ oOo ~
As the salvo of main courses began, the reds entered the scene. With dishes of
Three Cheese Ravioli in Sage Brown Butter and Glazed Beets
: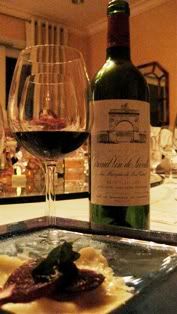 1999 Château Léoville Las Cases
-The 2nd Growth Lord of St-Julien, next-door neighbor of Pauillac 1st Growth Château Latour. A couple of professional reviewers have opined that their proximity and terroirs lend more than subtle similarities between the two. I never agreed with them before, but I must state that at
a relatively recent 1996 blind tasting of 1855 1st Growths
, during which a '96 Las Cases was included, I misidentified the Latour as the Las Cases.
I've written before that 1999s drink
relatively
early and that in 2006 and 2007, Médoc châteaux were already serving their 1999s during dinners. The last time I remember trying the '99 Las Cases was in late September 2005 at an
IWFS blind tasting of 10 top 1999 Médocs
where I ranked it 5th place after 1st Margaux, 2nd Latour, 3 Lafite Rothschild, 4th Branaire Ducru, and, before 6th Montrose, 7th Mouton Rothschild, 8th Sociando Mallet and 9th Léoville-Barton (the bottle of Lynch-Bages was corked and, thus, discarded).
My telegraphic notes then stated:
5. Chateau Leoville las Cases
Initial roast meat/slight gaminess in the nose which disappeared after a
few minutes. Earthy cassis, some leather, hints of dark chocolate to the back.
This is one of my favorite chateaux. I was surprised I ranked it 5th.

Now, after having re-tried it, as well as going through several '99 Branaire Ducrus over the past year, I can readily say that the '99 Las Cases would beat the '99 Branaire Ducru hands down, with virtually no effort. Now, it is lush, powerful, intensely masculine with deep profiles of cassis, earthy dark fruit, tobacco, lead pencil shavings, leather and violets. Not a big bruiser at all, it is a suave and correct fellow, but one you definitely wouldn't want to mess with. Superior balance, elegantly smooth, finely layered, with a long, confident finish. The red of the night for me, without a doubt.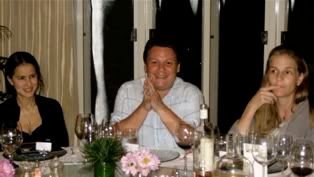 ~ oOo ~
This was followed by a heart-stoppingly good
Melt-in-your-Mouth Slow Roasted Kurobota Pork Belly with Truffle Balsamic, Marmalade & Mushroom Sauce
, paired with:
2003 Alión
(by Vega Sicilia) - I brought this bottle rather than a mature Bordeaux as I felt the latter would get over-powered by the balsamic sauce. Undecided between this and a 2002 or 2004 Valbuena 5º, likewise by Vega Sicilia, I consulted Spanish wine guru, JC de Terry, on the best pairing with the dish. JC recommended the 2003 Alión and advised me to decant it for at least 3 hours prior to serving - advice I followed, naturally.
To quote from my post on a
Vega Sicilia dinner
that JC hosted for Vega Sicilia's owner/director general, Pablo Álvarez, in April of this year:
With 18 hectares of tinto fino (what they call tempranillo in Ribera del
Duero), this bodega's maiden vintage was in 1991. The Reserva Tinto is only one
wine produced by this bodega, no white or crianza or anything else. Only 100%
new French oak is ever used - rare these days in Spain where many use a lot of
less expensive American oak - but, then, if anyone there can afford 100% new oak
barrels all the time, it, obviously, would be Vega Sicilia. Barrel ageing is
16-20 months.

The few vintages of Alión I have had (2001, 2002 and this 2004) are
hedonists' wines in that they have all been luscious, relatively forward, nicely
curved, well-rounded, expansive, with lowish-acid, modern, stylish and always
pleasing characters. They are also consistently well-crafted.
This was the first time I tried the 2003, and I had it again last night at another Spanish dinner (but that's another story). The 2003 Alión is a bold, serious, muscular wine with a modern feel to it that makes it easily accessible and pleasing despite its quiet, smoldering intensity. Broad-shouldered, heavy-boned, very ripe dark cherry, blackberry, a touch of cassis underneath, some ripe raspberry highlights, nuances of mocha, vanilla/oak, licorice, cedar and violets. After added time in the glass, cinammon traces surfaced but more in the nose.
Opulent in the mouth, it stood well with the pork belly and its sweetly-ripe red berry/cherry notes played nicely with the balsamic sauce.
Available at Terry's for around P3500 more-or-less
. The wine was definitely good and a fine match, indeed. The pork belly? To die for.
Tita Bella gave us the option of having some rice to go with it, and it simply pushed me over the edge. There were extra helpings for those who could, but only Rene, Miguel and I were intrepid enough to risk serious blockage and shamelessly plowed through the rest of the delicious pork. Incredibly, sinfully, overly-indulgent. I loved it. I haven't stopped thinking of it since then.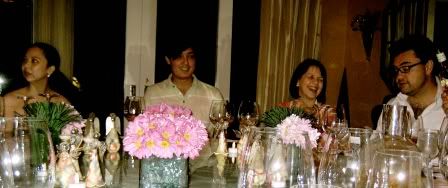 ~ oOo ~
I simply don't recall how I, and everyone else managed to reach this point of the dinner without succumbing. I was already seriously considering leaving my car there and crawling home. Bahala na my wife to make sure I don't slither into a ditch.

Somehow, though, I finished my dessert of refreshingly cold Soufflé Glace, conclusive proof of the sumptously creamy, yet, ironically refreshing flavors. Luckily, I was able to prevail upon Rene to refrain from opening the bottle of Sauternes he had planned to pair with dessert. I mean, I cannot deny my gluttonous nature, but there are certain limits.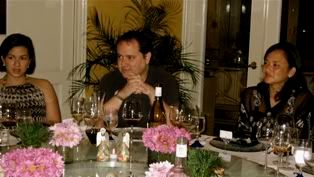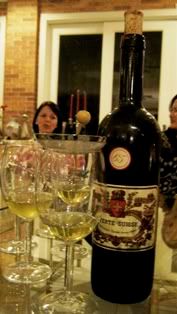 Dinner done, and what a feast it was, we returned to the sprawling living area and settled down for digestifs of
Verte Suisse 65 Absinthe
, a gift from the Schiffmans to me when they visited last summer.
This is the real deal absinthe
- none of the de-wormwooded, non-thujone stuff manipulated to pass US FDA regulations. Ted Breaux's Verte Suisse 65 is still illegal in the US, thanks to the liquor & spirits police.
Traditionally, one can take it with just cool water (I use a 1:1 ratio), or, for a more approachable drink, one can pour 3:1 water over a sugar cube into the absinthe. One never stirs or mixes it.
For those curious about this particular absinthe, it tastes somewhat like pernod - sweetish, herby, star anise-laden - but much more refined, elegant and complex. You'll either love it or hate it. It gives one a long, drawn-out, mellow hit.
I particularly like the stuff, but, then, I've been indulging in pernod and pastis for years, especially at the beach when things get pretty hot. I cautioned the others, though, that I drank too much of it once and had very bizarre, though not unpleasant, dreams.
The ladies would have none of it, though, but gamely humored us husbands as we indulged in yet another form of alcoholic drink. They were all probably thinking to themselves "He'll learn his lesson, the silly boy".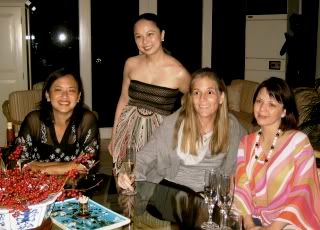 Our last drinks done, we took our respective leaves. Unfortunately, Tita Bella had already retired to her room by that time and I was unable to thank her myself. I'm sure she was then exhausted from cooking so much excellent food for us. In any event, many thanks, Tita, for an absolutely sinful dinner. To quote the Vigneron, yours is undoubtedly "the best private table in Manila".We'll have to go to confession for a whole month after such a meal.
And, to Rene, once again, a million thanks, buddy, and happy birthday.