Valentines dinner this past Saturday was at the Doc's, we were 9 in all since the Vigneron is still in Bordeaux. My wife and I arrived just a little past 7 - I was to grill some rib-eyes and she was to make our Strawberry salad. The spouses Stockbroker were already there when we got in, while Eric and Cinthy arrived shortly thereafter to help us demolish the delicious appetizers.
Aside from the platter of assorted sushi from Sugi...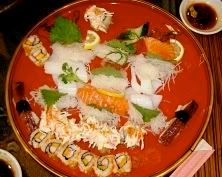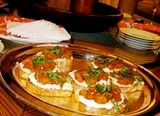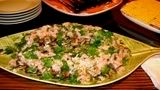 ...we also enjoyed Mrs. Doc's own sinful
Honey Roasted Tomato & Ricotta Bruschetta
and her rendition of Mrs. Vigneron's spicy
Sardine Salad
recipe. We all enjoyed these dishes with bottles of the Doc's: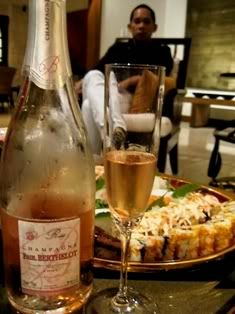 Paul Berthelot Champagne Cuvée Rosé Brut (NV)
- I'm not aware of this producer and this was the first time I've ever tried anything from them. Very fine but persistent mousse dance in this attractive light salmon red-orange Champagne. Its aromas made up a playfully light nose of ripe raspberries, strawberries, just a hint of bread which got fuller in glass and picked up some cherry and mineral notes along the way.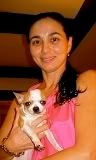 These were precisely, cleanly and freshly mirrored the mouth with added nuances of brown spice and slight coffee (underneath the fruit). Nice, discreet roundness in the middle, slight citrus coming in towards the back, fresh strawberries and bread taking more of a lead in the finish. Refreshing and dangerously drinkable, yet has enough depth in fruit to grab your attention, especially in the middle. Very nice indeed. Naturally, Mrs. Doc couldn't help but proudly show off her new "baby".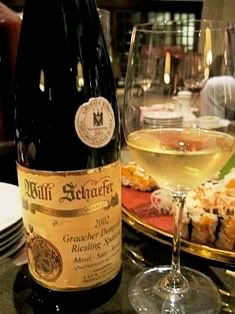 2002 Willi Schaefer Graacher Domprobst Riesling Spätlese
- The spouses Doc have been getting increasingly deeper into German rieslings as of late; and, with this one, I can easily understand why. Off-dry, extremely clean, light yet with definitive presence, admirable focus and purity, all with low alcohol content (a shade shy of 9% abv, if I recall properly). Doc says he and the Mrs. can easily polish off a bottle of this at People's Palace without at all getting tipsy. After having some, I definitely believe him - I could probably polish off a bottle of this over a couple of hours or so without effect.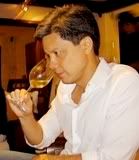 Flowery, minerally, clean, pure ripe pear and apples are in full attendance depite its light frame, with mere hints of petrol beginning to peek out from underneath. I love it how these German rieslings can be so delicately complex and flavorful yet so graceful and willowy in stature.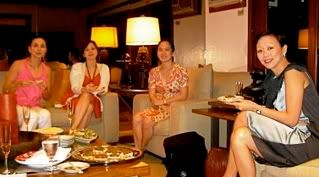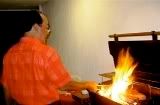 I then excused myself to start getting the rib-eyes ready. Mrs. Doc, efficient as always, already had her grill pre-heated and was with my wife plating the salads. Fired up and ready for action, the rib-eyes were slapped on the grill. In the meantime, Mrs. Vigneron arrived with ever well-mannered Eliot in tow, and, she, thereafter, joined the others in some pre-dinner conversation and
apéritifs
.
~ oOo ~

In a few minutes, we all took our seats and dinner proper began with my wife's fresh, palate-priming Strawberry Salad.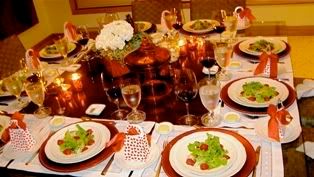 The healthy half of the evening's repast done, we moved on to the steaks (unfortunately far over done for my taste -
mea culpa
) with sides of Mrs. Doc's patented frites and her homemade trio of flavored butters to accompany some warm, crusty artisan bread, and, from Mrs. Vigneron, a homemade Risoni Salad. With these came four reds: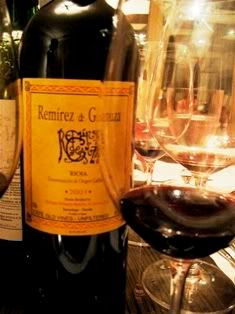 2001 Remírez de Ganuza Rioja
- The Doc had texted me that he was serving this late that afternoon, saying that it was a powerful wine. I knew nothing of the wine or winery and told him I'd never even heard of them. He told me to read up on it in Jay McInerney's "A Hedonist in the Cellar", but I neglected to. I actually expected a huge, super-ripe and sweetly over-extracted Parker gobful fruit bomb and was quite surprised at what it turned out to be.
Calm, self-assured, vaguely smoky, cedary dark cherry, very ripe strawberry over a thin stream of discreetly licorice-tobacco-and-leather-laced black fruit and dark plum. The red fruit/berry leads the strike, allows for a savory dark fruit dominated crescendo, and re-takes its position past mid-mouth and sees fit to ride the surface in the finish.
There is a woodiness, yes, but not in the ubiquitous, heavy creamy toffee - cinammon - toasty knockout combination I expected from old-style Riojas. Rather, it appeared more cedary, with the oak notes calm, relatively quiet and well integrated - just giving a nod of recognition in passing. Admirable balance and depth of fruit without shouting it out - a quiet intensity. It was more my type than I thought it would be. I'd guess this was made along the lines of the so-called "modern" (i.e., Bordeaux influenced wine-making style) that Marqués de Riscal began in Rioja in the late 1800s.
1987 Vega Sicilia Unico
- The Doc served this to us semi-blind, all we knew was it was from Spain. I tried to analyze it for whatever my efforts would be worth (I am very far from being well-versed in Spanish wine). Normally, I take many deep sniffs and a few sips and "gargles" in attempting to dissect a wine - saving most of my glass for just enjoyment.
With this one, however, I simply couldn't stop myself from drinking it deeply and immediately. It was just sheer pleasure to savor its silken, shade-over-medium-bodied elixir of pure, deeply-veined, ripe red fruit, strawberry and dark sour cherry over a somber underpinning of cassis, hint of plum, delicately laced with nuances of leather, cedar, mocha and violets. Nice balancing acidity. Elegant and exquisite.
This is no "blockbuster" of a Ribera del Duero (for me that is a good thing), and I seriously doubt it was meant to be one. I suspect Vega Sicilia has Alion for that. I do not think this has the bones, structure or longevity of the 1996, but that, to me, just means it can be enjoyed "relatively sooner" (and with the Unico, I use that term
very
loosely because we
are
, after all, talking about a 21+ year-old wine here). I say drink up now and soonest.
1992 Clos Mogador
- From the Stockbroker. I don't recall ever having a Spanish wine from this vintage or one that even vaguely tasted like this. The Stockbroker let on that it was a Priorat. All the Priorat wines I've had were relatively young, super-ripe and pedal to the metal in style.
The oldest Priorat I've had was the super-rich '93 Clos Erasmus the Doc shared over dinner at Sala on the
28th November 2007
(barely 14 years from vintage). This wine was quite different from that generous and super-ripe Erasmus from the succeeding vintage - but, then, again, this Mogador was already a bit older (16+ years from vintage).
Brambly dark fruit, touch of prune, cassis, black pepper, hit of chocolate, some black coffee, licorice, cherry, oak/vanilla - there was so much going in there I was, honestly, getting a bit confused with it - perhaps I should have relaxed a little instead of trying so hard to pick it apart in my likely-already-addled state. Much more subdued (which is not a bad thing), but a bit more than I could handle at the time. I'd certainly wouldn't mind re-trying this at some other time (that's not a hint, buddy).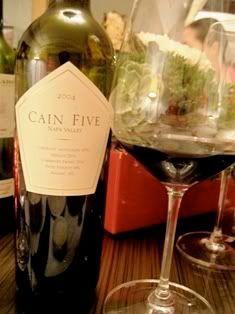 2004 Caine Five Napa
- My bottle, a gift from Rocky and Apple Villadolid. The only Spanish red I had at home at the time was my old reliable 1996 Beronia Rioja Gran Reserva which I didn't bring since I had already made the Doc try it not long ago. I figured I'd give this young Napa from a heralded vintage a try just to see how it is. Due to its youth, I decanted it for 3 hours before serving.
This wine is so named because it is an
à la Bordelaise
blend (except for the malbec) of 5 kinds of grapes: 47% cabernet sauvignon, 25% merlot, 21% cabernet franc, 4% petit verdot and 3% malbec. Eric and the Stockbroker were able to detect the relatively hefty use of cabernet franc, of which, I've read, the winemaker, Chris Howell, typically uses even higher percentages thereof.
This is a sultry, civilized, earthier type of Napa red. Not aggressive even in youth, with sweet-supple tannins, good concentration, judicious ripeness, to its primary black fruit, black cherry, cassis, ripe dark plum, cedar, touches of dark spice and moderate vanilla/oak. Surprisingly approachable and, to me, enjoyable, even at this very early stage. This speaks well of its balance. I think harmony, balance and confidence (without being over-the-top) are what struck me the most in this Bordeaux-esque Napa red. Eric guessed it to be a BV Georges de Latour - I can well understand why actually - such maker also having a Bordeaux slant to its general style.
~ oOo ~
A parade of desserts then followed,
Cherry-Chocolate Torte
,
Plum Cake
,
three
(3!)
kinds of ice cream
(all homemade by Mrs. Doc), as well a
Yulo Strawberry Shortcake
and a
Turtle Pie
brought by the other guests. I was already too tipsy to remember taking pictures of them - as well as too full to finish more than the homemade ice creams (thankfully, I'm close enough to Mrs. Doc not to have felt ashamed to ask for some of her cakes to take home). During dessert, the Doc broke out a
1999 Château d'Yquem
(which has gained substantial weight and breadth since
I last wrote about it
) and shared with us a couple of humorous video clips.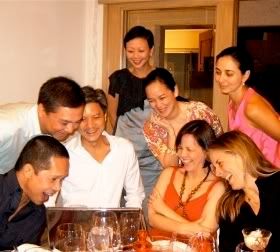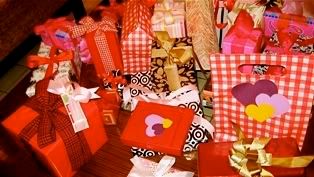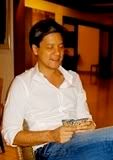 We then gathered in the living area for a Valentines game concocted by the wives, wherein we randomly get to choose gifts from a pile according to cards we dealt and called out.
There being less gifts than cards in play, those whose cards are called later get to "steal" gifts from others - much to the dismay of the victim and the delight of the rest.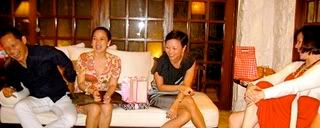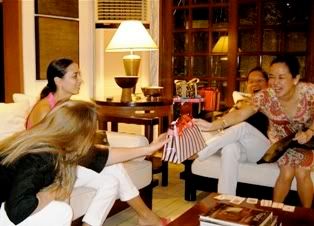 As the game ended, the last gift "stolen", we then began opening our "Valentine-related" prizes. It was then that I turned off my camera to preserve wholesome character of my blog.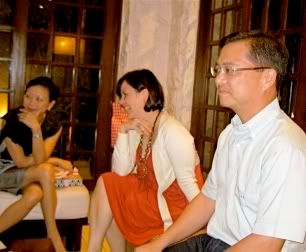 It was an evening of great fun, lavish food, over-flowing and generous wines. Thanks to the wives for organizing this and our gracious hosts for having us over. Me, I'm still thinking of that '87 Unico.