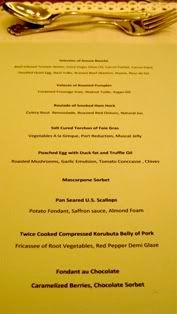 Last night, 6 February 2009, was a 9-course French dinner for 14 persons by Ian Padilla at
B
and
M
's place (it had to be at their place again since only they have a dining table that would accommodate us all). Having so enjoyed
my last dinner by Ian
a couple of weeks ago, I wanted the Alabang group to get a taste of his cooking before he returns to Paris to resume his cooking duties at
Taillevent
.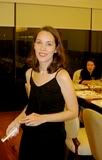 My wife and I arrived at 7:30, expecting to be the last to arrive. Uncharacteristically, however, we were the first,
M
was putting the finishing touches on her table.
B
, not having to grill his usual humongous steaks that evening, was working in his den while keeping one eye out on his koi, but tore himself away from his computer and fish to help me organize the wines.
By 8:15, everyone had arrived, Ian marshalled his forces, we were seated and the first of our courses made its way to our table.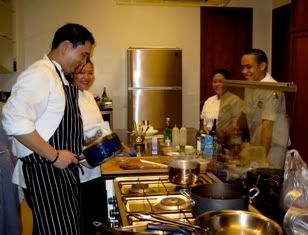 With the Selection of Amuse Bouche of
Basil Infused Tomato Water, Extra Virgin Olive Oil, Carrot Parfait, Carrot Paint Devilled Quail Egg, Basil Yolks, Braised Beef Wanton, Thyme, Fleur de Sel
: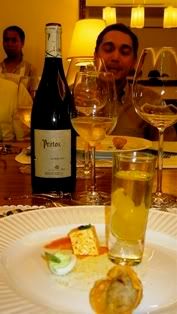 2007 Bodegas Protos Verdejo
-I first tried this wine on the 5th September 2008
Bodegas Protos Dinner
hosted by JC de Terry. My notes then still hold true and are as follows:
2007 Protos Rueda Verdejo - 100% verdejo, the main white grape of Rueda. Fruit profile: pure and clean green apple with mild grapefruit undertones; some
tropicality in the middle and pineapple more apparent slightly past mid-palate.
There are hints of fresh grass in the nose and, to a much lesser extent, on the
palate (nowhere near as aggressively grassy as many Marlborough NZ sauvignon
blancs though) . The attack is crisp and firm enough, turning somewhat softer mid-mouth as the tropicality (and a slight leesy nuance) sets in.

The underlying grapefruit lends a hint of bitterness towards the back, which, to my mind, makes it a nice apéritif as such bitterness whets my appetite - much like a very dry prosecco or Campari soda. Over-all, it is nicely dry and has good purity and brightness.

It didn't taste or smell to me like it spent any time in oak and Carlos (Villar Bada, Protos' Head of Exports) confirmed this. He said they intend to eventually marry their verdejos in oak to make them age longer. I replied that I, personally, prefer verdejos pure like this one and not (or at least minimally) oak-touched or laden - but, that's just me.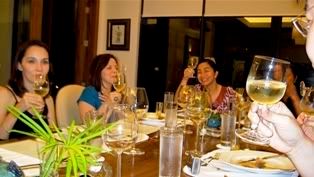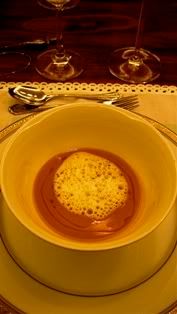 As in my first dinner by Ian at
Tita B
's, the carrot parfait drew immediate raves and was everyone's favorite
amuse bouche
amongst the four served. The wine did well, in varying degrees, with all four, but, I felt, particularly with the carrot parfait and the basil infused tomato water.
Next was a
Velouté of Roasted Pumpkin Creamed Fromage Frais, Pecan Tuille, Argan Oil
which we continued with the verdejo. As with each course, Ian announced and described the dish but Ñico, a graduate of
Les Roches
, had already explained to us what a
velouté
was (i.e., a stock-based soup thickened with
roux
, enriched with egg and/or cream).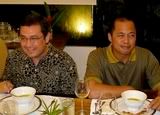 I always enjoy creamy pumpkin/squash soups, and this was particularly good. Ian explained that argan oil is the most expensive type of oil in the world. A bit of research discloses that it is made from the kernels of the ancient argan tree of southwestern Morocco. The
argania
, as a species, is, as I understand, under UNESCO protection.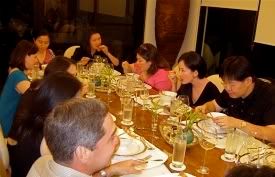 The oil added a distinct earthy, nutty richness to the
velouté
which we all consumed in relative silence - a sure sign that everyone enjoyed it.
~ oOo ~
Next was a
Roulade of Smoked Ham Hock Celery Root Remoulade, Roasted Red Onions, Natural Jus
which was paired with the old reliable: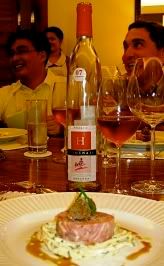 2007 Bodegas Marco Real Homenaje Rosado
- this crunchy, red-fruited rosé never fails to please, I've loved it ever since I tried it around a year ago with spicy
angulas
,
gambas al ajillo,
Joselito ham and other tapas at Terry's 2º Piso. I can't even begin to count how many bottles I've gone through since then. My old notes are consistent:
As you can see, it is a clear, translucent celebratory cherry-red. Served properly chilled, this simple, honest, straightforward rosé will easily charm you with its fresh, clean, dry, virtually crisp, well-focused dominant flavors of (in order of prominence) ripe strawberry, raspberry, light hint of cherry. Definitely dangerously drinkable.
I really enjoyed this typical French country dish, it reminded me somewhat of pork head rillettes which I love.
M
noted that the wine greatly enhanced this dish. I definitely agree - the cool, crunchy red fruits certainly enlivened this delightfully rustic dish.
~ oOo ~
This was followed by generous portions of
Salt-Cured Torchon of Foie Gras Vegetables á la Greque, Port Reduction, Muscat Jelly
. With this I chose: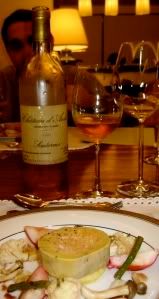 1997 Château d'Arche
- a reliable and readily affordable 1855 2nd growth Sauternes from a good, relatively early-drinking vintage for Sauternes/Barsac (but a very difficult one for the rest of Bordeaux).
Just a notch or two under legitimate full-bodiedness, this has a well-extracted, lush and creamy texture, openly displaying good botrytis, honey, candied apricot, orange marmalade and, towards the back of the palate, hints of candied orange peel and
crème brûlée
. Acid balance is adequate to good. At barely past 11 years old, I think this wine is already at its plateau and can continue for another 4-6 years.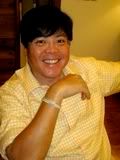 Sauternes with
foie gras
is a traditional pairing in Sauternes, and, not surprisingly, it went naturally with the dish. I chose this
torchon
preparation because we can always get pan-seared (I can easily make it myself and B used to serve it in all-you-can-eat-but-really-shouldn't amounts) but, other than in special menus, one will be extremely hard-pressed to find it in local restaurants' menus.
~ oOo ~
A comfortingly earthy dish of
Poached Egg with Duck fat and Truffle Oil Roasted Mushrooms, Garlic Emulsion, Tomato Conccassé , Chives
followed. My mistakenly brought along Sancerre
rouge
was matched with this dish as I recalled Jérome Philippon's pairing his Chinon with another earthy version of
oeuf cocotte
....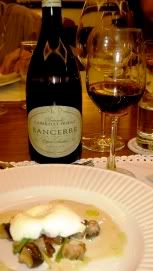 2005 Domaine Raimbault-Pineau Sancerre Cuvée Lucien Prestige
- Herbaceous and peppery dark red cherry and berry aromas with good doses of pine needles and cedar. Though I love this domaine's Pouilly-Fumé, I know nothing about this red of theirs. From the wine's aromas and flavors, as well as whatever little knowledge I have of red Loire wine and this particular maker, however, I thought that this was cabernet franc based. Upon checking, though, the domaine's website only mentions pinot noir for their reds but makes no specific mention of this particular cuvée, so I'm not sure.
If it is, indeed, pinot noir-based, it is wholly unlike any pinot noir based wine I have ever tasted. Admittedly, however, my experience with such grape is limited to Côte d'Or and a smattering from California and Oregon.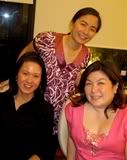 The flavors of warm, mildly black peppered dark raspberry, cherry with hints of cassis and violets and a touch of pine needles and cedar on top have a rustic earthiness to them, blending well enough with the mushrooms, but, with the dish as a whole, I found it too obtrusive. There was too much push on the palate. Not a bad wine at all, just mismatched (my fault); I believe it would do better with heartier fare - I'd imagine it good with a simple venison or lamb loin.
As far as the dish goes, I loved it - it called to mind Anthony Bourdain's note on a wild mushroom dish topped with a raw egg (the mushrooms' heat cooks the egg a bit) that he had while bar-hopping in Spain. He had it with a local Spanish red most likely. I should try to approximate that pairing next time.
~ oOo ~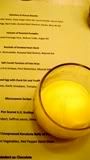 A bit of a breather followed with an absolutely wonderful, moderately creamy and "milky"
Mascarpone Sorbet
that got everyone raving anew. Despite having gone through several courses already, many of us clamored for more, oblivious to the danger additional servings would pose to our making it through to dessert.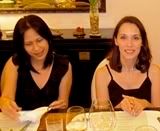 Unfortunately (or, fortunately, depending how one sees it), there was none left to be had. Ken pointed out to Ian that while Tonj never before enjoyed any mascarpone ice cream or sorbet he's had before, the latter enjoyed this one a lot. What better compliment could there be? I could have easily polished of five of these myself, I'm sure Johns as well if Candy would allow it.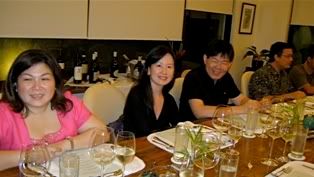 ~ oOo ~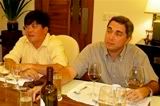 The penultimate main dish was a subtly flavored
Pan Seared U.S. Scallops with Potato Fondant, Saffron sauce and Almond Foam
with which we revisited the
2007 Bodegas Protos Rueda Verdejo
. Ian told me later on that "foam"-involved dishes, an absolute rage a few years ago, were making a comeback. Unfortunately, I must have been getting tipsy by that time since I forgot to take a picture of the scallop dish.
~ oOo ~
The
pièce de résistance
was then presented in the form of
Twice Cooked Compressed Korubuta Belly of Pork Fricassee of Root Vegetables, Red Pepper Demi-Glace
. With this little bit of indulgence we had 2 reds:
2001 Badia a Passignano Chianti Classico Riserva
- My last notes on this wine were made barely 2 weeks ago at
Sunshine and Rob's latest Gourmandise Dinner
and are still consistent:
The 2001 Badia a Passignano (100% sangiovese, my winner in our Blind Non-Bordeaux Challenge II) is as I remember: fullish bodied, nicely rounded and extracted, broad, showing well-knit, earthy dark fruit, kirsh/cherry, bit of raspberry, underlying espresso, with minor notes of roasted meat, mushroom, olive and violets. Nice depth. This time, though, I noticed more toasty oak/vanilla and a slight chocolate nuance.
I add now that, probably because this wine was open and breathing for at least 3 hours by the time we got to it, the roast meat notes had emerged further as noted by
B
and seconded by Tonj and Ken.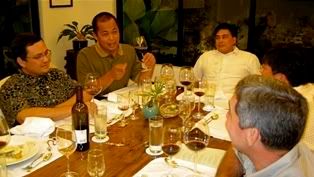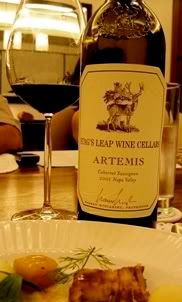 2001 Stag's Leap Artemis Napa Valley Cabernet Sauvignon
- A party at B's and M's place couldn't possibly take place without a Napa cab being opened - it just doesn't happen. I recall a couple or so years ago, at one of their belly-busting, artery-clogging Wagyu rib-eye dinners, Paco brought a bottle of this to try and we promptly ordered some from his source. I remember I got half a case for myself while
B
got a full case. I wonder if this bottle is from that same batch.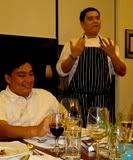 Be it as it may, this wine had much mellowed since last I'd had it (which was probably at over a year ago). Ripe, warming, well-extracted, faintly sweetish black currant, cassis, dark fruit compote, cedar, minor notes of dark, ripe plum underneath, touch of licorice and a dose of toasty/creamy oak with toffee/cinammon whispers at the finish. Very typical, ripe, juicy Napa cab. Notably better balance and comparative restraint than most Napa cabs I've had.
The pork belly was so sinfully good, I almost felt like going to confession after having that dish (the operative word being "almost").
~ oOo ~
Our meal was then brought to an end by yet another guilt-inducing dish:
Fondant au Chocolat,Caramelized Berries with Chocolate Sorbet
.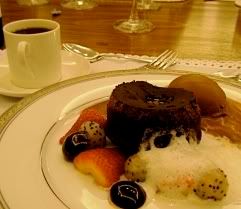 With this decadent delight, I paired no wine. Ken mentioned that the
2005 Josefina Piñol Vi Dolç
would have gone very well with this, and I agreed and said I actually had a bottle of it left at home. However, I thought better of hopping home for that bottle since having more sweet wine with this would be much too over-the-top already - the dessert was so rich alone as it was. Besides, I didn't really feel like driving home though I live very nearby. The black coffee
M
served with it was plenty good enough for me.
Ian and company then came out to most appreciative applause and salutations.
We were able to prevail on Ian to stay a while longer for a well-deserved glass or two of wine and Ken discussed some of the dishes with him in depth...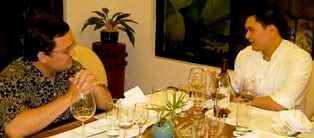 ...while a few of us went out on the lanai for some cigarettes and others grabbing some fresh night air while finishing up their wine.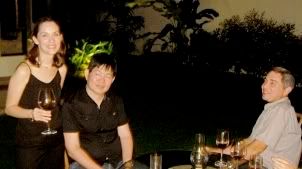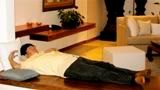 We lingered a while more, enjoying each other's company into way past midnight, the coffee kicking in in all likelihood - all longtime friends reluctant to part ways though we pretty much all live near each other. I believe we finally decided to return to our respective homes after noticing that one of us was so far gone that he thought he was already home in bed....Wonderful dinner.
Bon voyage, Ian.
À bientôt
.