Last night's dinner at
La Tienda
(Polaris Street, Makati City) was organized by Spanish cuisine
aficionado
Miguel
, who discussed and coordinated the menu with
Chef Javi Lecumberri
. We were 9 in all (Miguel, Edwin, the Stockbroker, J-Lab, Johnny R, Rene & Aimee and my wife & I).
The dinner was to revolve around a dish called
Kokotxas al Pil-pil
, a typical dish from the Basque area wherefrom Javi hails (San Sebastián).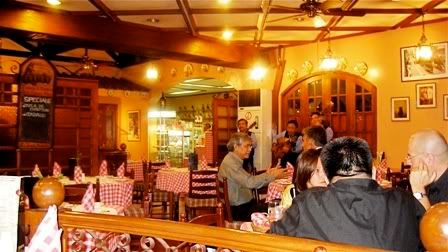 Kokotxas al Pil-pil
is a dish traditionally made of the ganglions (tender, gelatinous pendulums of flesh in the throat area) of hake fish (a.k.a.,
merluza
) with the "pil-pil" sauce made from, as I understand, olive oil in which the fish has been cooked, with garlic and
guindillas
(very small, hot peppers), served in individual clay dishes. Due to the dearth of hake ganglions in the Philippines, Javi used those from our own lapu-lapu (grouper), needing around a month's time to collect enough of them for our dinner.
We kicked things off with some glasses of chilled: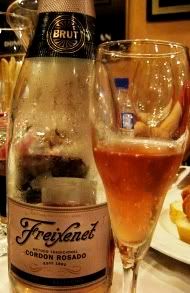 Freixenet Cordon Rosado Brut
- A most festive looking Catalunya
cava
from J-Lab who always must have some bubbly to start (good for the rest of us!). Tastes like there's quite a bit of granacha in this juicy, rounded, fruity, fresh strawberry, raspberry and red fruited bubbly. There is a slight softness and candied nuance to the fruit as a whole which make this very easy to drink a lot of. The bubbles, though, bring exuberance and liveliness to this charming and simply disarming
cava
.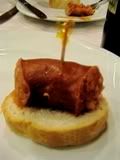 This would be very approachable to many, I'm sure, and, more than likely, very reasonably priced as well. Great for the beach, big parties and any general light-hearted get-together of friends. We enjoyed this with a few bite-sized slices of boiled chorizo which were very flavorful and spicy despite not being fried (a less guilty indulgence indeed).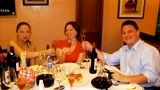 It was certainly a most welcome starter for the evening to toast to the Stockbroker's son's health (the poor little guy was in the ER that afternoon, but all's well) and Johnny R's new movie. Raising a thanks-giving toast at the beginning of a dinner always adds a festive air to the evening.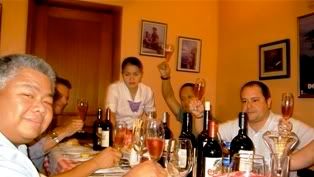 The appetizers then started coming in: my favorite
Escalivadas
,
Fresh Boquerones
and
Pulpo a la Gallega
which we had with two different albariños: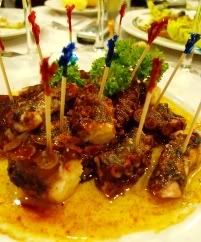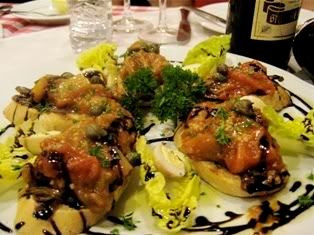 Pulpo a la Gallega; Escalivadas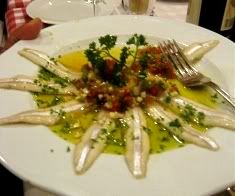 Fresh Boquerones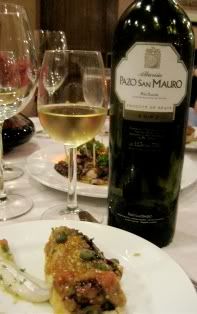 2007 Pazo San Mauro Albariño
- Miguel's bottle, purchased from Barcino just to try out, an albariño from Rías Baixas in Spain's north-western region called the "land of a thousand rivers", Galicia. Not surprisingly, Rías Baixas albariños are typically paired with the abundant fresh fish and shellfish dishes Galicia is famous for.
White florality and minerality mark this fresh, clean, taut-bodied young wine. Though some producers in the area have already been taking stabs at subjecting their albariños to oak, I very much doubt this wine was - well, it didn't taste that way to me, anyway. It's fruit flavors of mild grapefruit, pear, white stone fruit, citrus, the lightest touch of lime and discreetly underlying melon are pure, minerally - almost steely. The minerality has a crushed seashell nuance to it.
Good acidity, it ran playfully with the mildly spicy escalivadas and the fresh boquerones.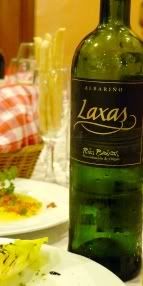 2007 Laxas Albariño
- My bottle. I've had this just
a little over 2 months ago at La Tienda
. Miguel introduced me to this. My notes then, on the
2006 vintage
were as follows:
Fresh, bright, crisp, vibrant mineral/flint touched, slightly grassy green apple, guava, grapefruit, gooseberry and a bit of ripe lemon. Healthy acidity lends good lift despite the apparent ripeness of the fruit. Lively and dryly refreshing wine. As a match with the fresh boquerones, it was perfect....
I add now, that the 2007 seems just ever so slightly bigger yet gentler in fruit than the 2006 and has an added nuance of almond infused into the fruit - very enjoyable albariño and great money-for-value. I will make sure to purchase more of this for the house (
available at Terry's at P750 per bottle retail
) to pair with seafood meals.
~ oOo ~
The platters of much-awaited
Kokotxas al Pil-pil
then made their way to the table...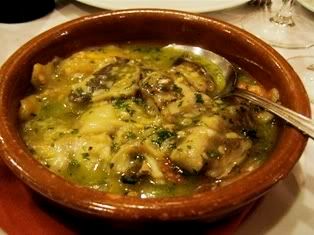 Miguel told us that the fish was cooked in the emulsified (i.e., the pan shaken constantly with the flame turned off) pil-pil sauce. Gelatinous in texture, it was almost like eating the belly of a very fat fish. I loved it because the stomach and head are my favorite parts of fishes. With this richly delectable Basque dish, we enjoyed...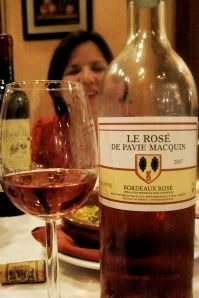 2007 Le Rosé de Pavie Macquin - Miguel's bottle. I've enjoyed many bottles of this relatively fuller-fruited rosé from St-Emilion and written about it a few times. My most recent, complete notes on it, for convenience's sake, are as follows:
As its name indicates, this is the Bordeaux rosé of Château Pavie Macquin. Because of the château's location (St-Emilion), color (a comparatively deeper and darker red than most rosés), relatively plump roundness mid-palate and soft, vaguely plummy strawberry, cherry, touch of raspberry flavors, the general consensus was that this wine was predominantly merlot. Probably a touch of cabernet sauvignon in there as well. Very friendly, immediately pleasing and accessible. It would have been all too easy
to finish off several bottles of this at the outset, but there were many other bottles waiting their turn in line.
Available at Premium Wine Exchange for a mere P700 per bottle, it's a definite buy for our Philippine clime - plus it actually pairs well with local dishes like adobo seco, crispy tadyang ng baka, etc. We also enjoyed this rosé with...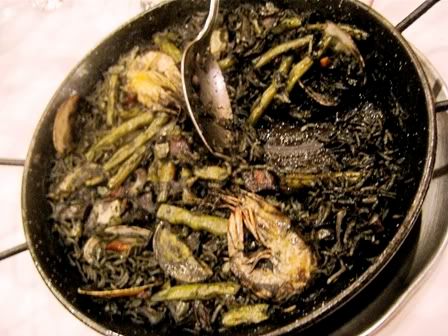 Squid Ink Basmati Paella (in lieu of Fiduea since Javi couldn't source the proper noodles in time). Thereafter came my and my wife's favorite the Basmati Paella Verduras, the Besugo al Horno, and, thereafter, the Chuleton.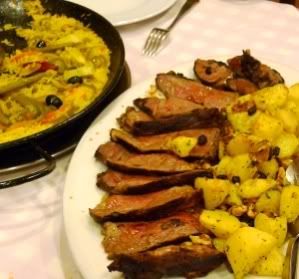 With the chuleton, we had the following Spanish reds: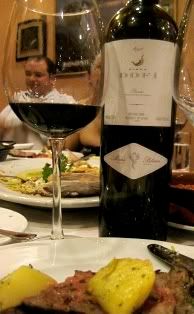 2001 Alvaro Palacios Finca Dofí - My bottle, purchased from Terry's. Miguel told me that Alvaro Palacios was instrumental in putting the Priorat region on the world's wine map and that they produce three reds in the area, namely, their top bottling L'Ermita, with Fica Dofí next in line, and then Les Terraces.

I don't know what exactly the cepage is for this wine except that it is mainly grenache - typical of the area since its introduction possibly in the 12 century by the Carthusians (I didn't know that offhand, I looked it up).

In any event, this wine, having been breathing in a decanter for around 3 hours by the time it was served, was lush, full, concentrated, opulent in well-knit, deeply-veined dark fruit, blackberry, slight dark chocolate notes underneath, dashes of black pepper, licorice and, towards the back, faint traces of graphite and dark minerality.

Hints of cinammon emerge later on. There is also readily apparent toasty, vanilla-oakiness - likely all new oak barrels were used - but deftly blended into the fruit. Big, but smooth molten tannins, slightly low in acid, the hefty 14% abv is apparent but not obtrusive. This easily stood up with the chuleton. A hedonist's wine at this point. I'd be very interested to see how this ages over the next 10 years.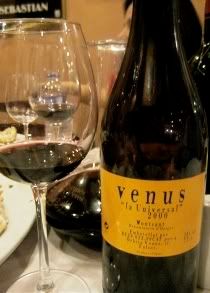 2000 Venus "la Universal" - Miguel's bottle, from Montsant, in the province of Tarragona, Catalunya, south-southeast of Priorat. I think Miguel bought this in Spain a while back. I've never seen this wine in Manila, or, at least, I don't remember ever seeing it here.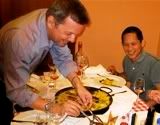 Ultra-ripe, sweetlriper than the previous wine but very different. Here, spicy, jammy dark raspberry, blackberry, some cassis, black pepper dominate, with a slight toffee-ish nuance towards the back. Likewise deep fruit though, and there is also a dark minerality, but there the similarity ends. Syrah in this? It kind of reminds me of a modern-styled Rhône wine. Powerful like the previous wine, with a similar 14% abv.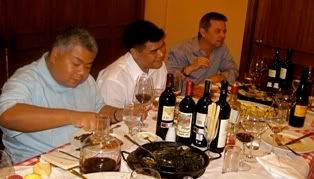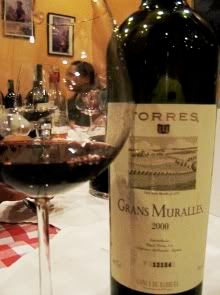 2000 Torres Grans Muralles - J-Lab's bottle, I have no idea where in Spain it's from as the small text on the label in my picture is hoplessly blurred (I really must buy myself a decent camera one of these days). While we all have had Torres wines at one point or another, I've never had or heard of the Grans Muralles.
Much closer in character to the Finca Dofí than the Venus, but the oak, also quite apparent, seems comparably creamier and toastier. With a good swirl, some toffee-ish, cinammon notes were released. This seemed between the first two wines in terms of ripeness and extraction and had a notable, comparatively refined calmness about it.
Miguel and Rene must have noted that as well as they asked J-Lab where to source this wine.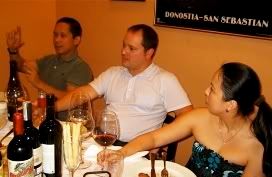 1995 Marqués de Murrieta Dalmau
- The Stockbroker's bottle, he brought an array of very fine aged Riojas and told Miguel he could choose what to open. Miguel told me that this was a newish bottling of Marqués de Murrieta and clearly was eager to try this, as was I.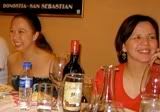 It wore its dark brick-red, red-orange trimmed robe regally. Traditionally long wood exposure, surely, but well and finely integrated, its toasty, cinammon/toffee notes there but subtle.
A few notches over medium-bodied after the previous three wines, it was lushly curvy, feminine, elegant, mildly earthy cerise and strawberry, with a bed of underlying vibrant dark fruit, sweet cedar, just a hint of tobacco and licorice - serene and comforting. Lovely wine.
1982 La Rioja Alta Gran Reserva 890
- Also from the Stockbroker, he's the only one in the Philippines, to my knowledge, who has a stock of fine Rioja this old. Though he had already opened a fine, aged Rioja, I couldn't help but ask him if we could open this one as well, and, he, as always, graciously agreed.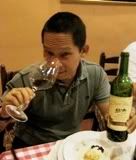 Lighter brick-red than the immediately preceding wine, with an orange-red and mahogany blush. This was a fine silken sheet of red berry essence (strawberry, raspberry, other red berries that are beyond my vocabulary), sweet cedar, just a touch of old, worn leather and spice in the suavely dark fruit base.
Not for those who demand lush fruit-drive and kilometric finishes, as the fruit has passed the stage of the flesh, leaving its spirit and essence for hopeless romantics to savor and appreciate. Ethereal, nostalgic, sad elegance to be enjoyed now.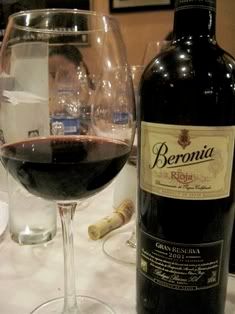 2001 Bodegas Beronia Gran Reserva
- Johnny R's bottle, he brought it for me, said he, as he knows how much I love the 1996 version of this wine. I opened and decanted it right before the '82 Rioja Alta GR 890 and let the former breathe while we savored the latter.
Youthful, but in stride and very enjoyable now. The nicely rounded dark fruit is subtly laced with tobacco, cedar and spice box. The topnotes are typical strawberry and red berry. A few shades over medium-bodied, the wood is judicious and in good harmony. Wonderful, a definite buy for me.
I've only tried 2 vintages from this maker (both good Rioja vintages: 1996 and 2001) and I'm already a sucker for their style. A touch lower in acid than the '96 but nicer fruit and a more pronounced middle at this point, this is dangerously more immediately pleasing.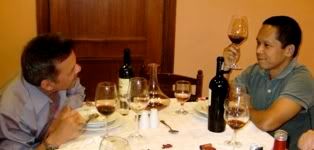 There were several more bottles to try, but the exigencies of life beckoned (read: pinapauwi na si Johnny ng asawa niya) and we were all pretty past tipsy already anyway, so those bottles were left for another Spanish feast.
That didn't stop me though from taking, literally, a few parting shots of J-Lab's bottle of
Cardenal Mendoza Brandy de Jerez Solera Gran Reserva
(by Sánchez Romate Hermanos). I simply can't resist this Jerez since I tried it from J-Lab over dinner on the 27th November 2008. My notes then are still consistent:
Eminently memorable, sweet bouquet of rancio, cocoa, aged Spanish cedar, pine, dried fruit and sultanas. I recall that these aromas held true in the mouth in a
pure, warm, smooth, comforting stream - the cocoa, rancio and aged wood holding sway over the fruit, nutty nuances emerging just past mid-palate.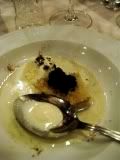 Of course, I wouldn't and couldn't forget to mention the indulgent yet refreshing dessert of
Torrijas de leche
that Javi prepared for us that evening, complete with a milky, home-made ice cream and topped with caramelized olives.
Truly a memorable night with exceptional Spanish food, wine and lots of laughs in the company of great friends. Many thanks, Javi and Miguel, for thinking up this wonderful dinner and making it possible for the rest of us to enjoy so much - and to everyone else there, of course, for generously sharing their wines and company. Until the next!