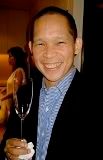 This past Saturday's evening, 31st January 2009, was a dinner commemorating the 150th year of the Miailhe family's ownership of
Château Siran
. The event was organized by
Premium Wine Exchange
, spearheaded by the Stockbroker, in tandem with the Vigneron who, himself, represents the 5th generation Miailhe in Château Siran. For this dinner,
SALA
was the chosen venue with Chef-Owner Colin Mackay and Chef Carlo Miguel personally in the kitchen for the entire dinner service.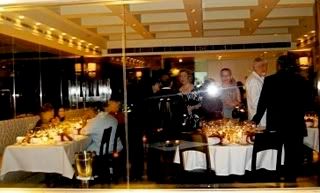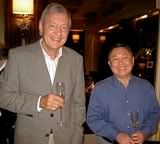 Guests were welcomed with chilled glasses of
Champagne Jacquesson Brut Cuvée No. 732
, reputedly the oldest family-owned Champagne house, with grand cru vineyards in the towns of Aÿ, Avize and Oiry, as well as premier cru vineyards in Hautvillers, Dizy and Mareuil-sur-Aÿ. Jacquesson also sources a little over 10% of its fruit from other growers. A blend of the producer's wines 59% from 2004, 25% from 2003, 15% from 2002 and 1% from 2001, the
cepage
(a.k.a., varietal composition) of the Cuvée No. 732 is 39% Chardonnay, 36% Pinot Meunier and 25% Pinot Noir.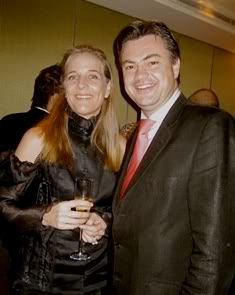 Edouard and Sevrine Miailhe
The pale straw/light lemon yellow champagne displays lively, exuberant crisp apple and Korean Iya pear flavors with pronounced notes of ripe lemon and white minerals, underlying suggestions of yellow fruit, all in a taut, lithe medium body. Light froth in this, a bit linear, but quite bright and with nice focus.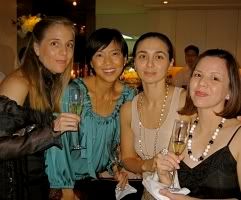 This most charming, playful, youthful-tasting bubbly, exceedingly easy and enjoyable to drink went perfectly with the pass-arounds of
Blue Swimmer Crab Tartlets
,
Chive Encrusted Tuna with Fennel and Orange
, and,
Bottarga di Mugine with Organic Scrambled Eggs
.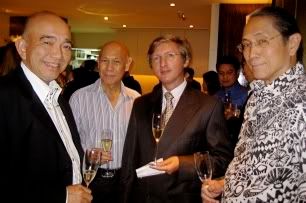 Naturally, to ensure up to the very last second that the marriage of food and wine would be a fine one, the Vigneron and Chef Colin tested and discussed the wines yet again before dinner.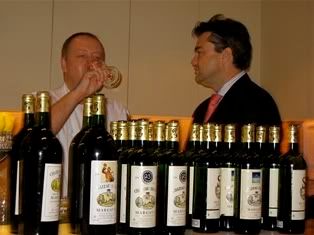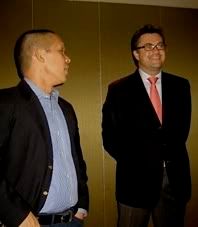 All things in order, we were eventually seated at our assigned tables. The Grand Crew and wives sat together at one table,
sans
the spouses Vigneron as they, naturally, had to entertain the other guests.
After a brief introduction by the Stockbroker, the Vigneron gave a speech on his family's shared history with Château Siran. The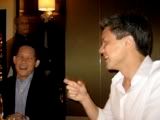 Miailhe family started in the wine trade in 1793 when Elie Miailhe was made
courtier
by royal grant. A
courtier
is the middle man between chateaux and
negociants
, traveling the region, visiting different wineries, tasting wines and guaranteeing to
negociants
that the wines are properly up to standards.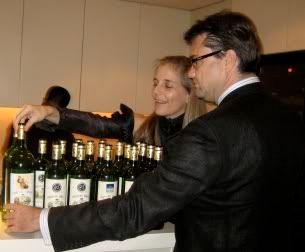 In 1859, Leo Barbier purchased Chateau Siran from the Toulouse Lautrec Family, the grandparents of the famous painter of Paris night life, Henri de Toulouse Lautrec. After running the chateau until the end of the 1880's, Mr. Leo Barbier was succeeded by his nephew, Frederic Miailhe, who managed the estate until the 1920's. He was then followed by his two sons, Edouard and Louis Miailhe until 1960.
From then until recently, Brigitte and Alain Miailhe directed all the affairs of Chateau Siran. It was only recently, in 2007, that the 5th generation of the Miailhe family, represented by the Vigneron, became involved in the family's long history in the wine business.
The Vigneron then recounted their family's history in the Philippines and emphasized that it was through their Philippine business interests that his family was able to purchase and maintain Château Siran (as well as, among others, Châteaux Pichon Lalande, Dauzac and a substantial share in Château Palmer) through Bordeaux's trying times of the 1920s to the 1950s. It was a fine speech and well delivered, to be sure.
He failed to mention, however, and I was to busy taking pictures to pipe up, that at the main gates of Siran, the Miailhes proudly fly the Philippine flag together with that of the European Union.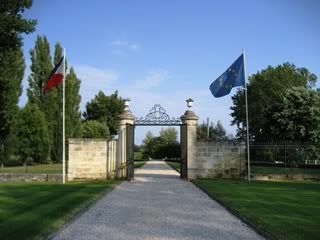 Thereafter, dinner and the accompanying wines of Siran were served.
With
Seared and Peppered Wagyu Beef Carpaccio with Port Jelly, Parsnip Crisps and Horseradish
....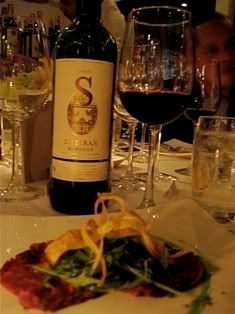 2005 S de Siran
- This is Siran's 2nd wine, made up of fruit from younger vines (ages 5-15 years) planted in the estate's Margaux
appellation
vineyards. 2005, as I'm sure many already know, was yet another warm, ripe vintage for Bordeaux, labelled by many professional wine reviewers as the vintage of the century. My last notes on this wine were from a dinner on 29th April 2008. The wine has changed a bit since then.
Still slightly over medium-bodied, faint pine-needle topnotes, followed by crushed, ripe blood-red wild berries, dark ripe plum, cassis, touches of anise and dark minerality, with whispers of Spanish cedar. The red-berries were pure with a touch of sweetish ripeness; the underlying dark fruit somewhat earthier than before. Not as spicy in the finish as most wines of Siran I've tried, it was gently soothing and warming on the palate.
I would have imagined the wine would have run roughshod over the
carpaccio
, but the beef used was rich and sliced just thickly enough to have more than enough substance to cope with this confident, masculine wine, yet thin enough to virtually melt in my mouth - the horseradish expertly and subtly incorporated. Excellent dish, the pairing felt absolutely natural.
~ oOo ~
Next was a bowl of
Braised Veal Cheek Ravioli on Green Pea Purée, Thyme and Sweet Onion Foam
which was paired with...
2005 Château Siran
- I have tasted Siran's 2005
grand vin
several times since June 2006. The progression of my notes are as follows:
June 2006 - Big, chunky black fruit, cassis and some leather over mild black coffee and violet notes. Lots of weight and rolling muscle in this wine. A powerful, tannic bully-boy now. I think this may mirror their '82 now in around 15-20 years. Yet another with great ageing potential from Siran.

April 2008 - the wine poured a brilliant royal ruby-red darkening to a midnight purple and red core. Very visually attractive. I let the wine breathe for an hour in my glass before sipping.When the youthful alcohol finally subsided, it released a rich, spicy aroma that called to mind crushed, ripe blood-red wild berries over ripe plum, blackberry compote and minerals, with hints of camphor, Spanish cedar and iron.

In the mouth, the red-berries were pure and rich with a touch of sweetish ripeness, underpinned by cassis, dark plum, touches of dark spice, licorice, with espresso, mocha and pine needle nuances, subdued minerals and earthy whispers of iron and leather.Evidently less burly than in July 2006, with the royal red berries coming through the black fruit elegantly. A lot of the chunkiness has gone, the wine has smoothed out immensely, though, of course, still youthfully tannic. Full-bodied, well-rounded, powerful with an incredibly long finish. I think the balance of power and grace is quite notable and believe this will be very long-lived. I'm talking many decades.

I no longer think this will grow up to be like their 1982. It seems to me that, given several decades in a cellar, it may evolve more along the lines of Siran's gracefully feminine, ethereal and elegant vintage 1953. What can I say? I was very impressed. Over-performing in spades.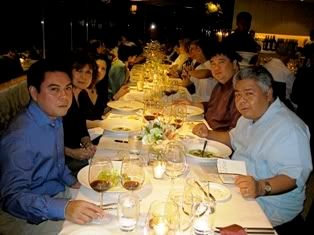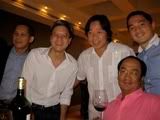 Last Saturday
- I do not know how long this wine had been left to breathe. I didn't see any decanters, but, knowing the Stockbroker, it could well have been decanted off-site and funneled back in bottle (known as double-decanting) and transported to the night's venue. In any event, the wine had smoothened out substantially, now darkly comforting, lowish acidity, full with nicely rounded, warm, earthy, molten-ripe dark fruit and cassis laced with nuances of violets, leather and iron; the spicy red berry notes, more on the surface, easing downward, darkening as they go. Here, I noted the spiciness in the finish. Good length. Good future in this wine.
The braised veal cheek ravioli dish was an absolute hit at our table and at everyone else's it seemed. The earthiness of the dish and wine's dark fruit/cassis base and over-all ripeness going hand in hand, while the surface spicy red berries played counterpoint and kept the palate entertained. Very nice match.
~ oOo ~
Then came an excellent
Roast Lamb Shortloin with White Bean and Pancetta Cassoulet
, paired with...
2004 Château Siran
- Let me begin by saying that I tasted this for the first time at Siran in June 2006, with my former EO group, alongside the 2001, 2002, 2003 and 2005, and, as early as then, I told the Vigneron that I thought that the 2004 was my favorite. It wasn't near as ripe, warm, or forward as the 2003 at the time (2003 a ripe, warm vintage like 2005) - on the contrary, it had firmer acidity, more angles, and was notably more austere. This to me, then and now, was/is a throwback to the more classic style of Bordeaux - a style I have known well and personally prefer.
We generally agreed at our table that the 2004 was showing better
at this point
than the 2005. David Ong stopped by the table and asked me what I preferred between the two, and, upon learning my answer, intimated that he was the only one at his table who shared our opinion. Be it as it may, of the
young
wines that night, the 2004 was my favorite.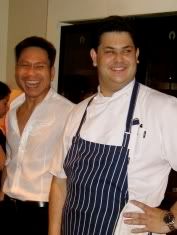 The dish, I must mention, was an absolute joy. Not only was the lamb succulently yielding, the sauce discreet yet flavorful, but the "cassoulet" was also cooked to sheer, earthy perfection, just firm enough on the surface yet soft inside. Luckily for the Doc and I, our respective wives were too full to finish their portions, so we eagerly jumped to their aid. My compliments to the chefs!
By the time the cheese course was served in the form of
Jindi Triple Cream Brie with Membrillo and SALA's own Very Fruity Bread
, everybody seemed noticeably more jovial - lacquered by all the good food and wine, no doubt - which general mood was further enhanced by pours of...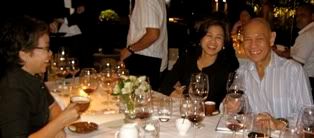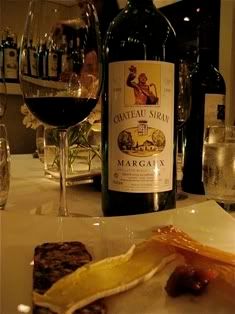 1999 Château Siran
(Magnum)
- I very recently wrote about this wine, having likewise enjoyed a magnum thereof during
my family's January 1st dinner
, served with seared-then-roasted magret and a sauce made from the same wine. My notes then, still applicable, along with my notes from June 2006, are as follows:
June 2006 - I have become quite familiar with Siran's
hallmarkmasculine, well-structured, hefty, earthy, leathery dark fruit (cassis,blackcurrant with a bit of plum underneath) middle and its demure semi-sweetishred fruit to the back ever since I met Edouard; having tried several vintages with him, including 1982 (my favorite until that evening), 1996, 2000, 2001,2004 and 2005.

The '99 was true to its heritage, yet different in thesense that it seemed to have, for lack of a better term, a slight"international" slant to it which made it, to my mind, more lush and approachable than other vintages I've tried. Not marginally thinner, mind you, as I've generally found '99s to be, but softer - despite its relative youth -"friendlier", as you will.
Nice and silky texture, the structure andbalance is there, with good length to the finish; yet noticeably lighter on itsfeet compared to the '82, '96 and '00. Also noted some slight mocha whispers tothe back. I recalled Michel Rolland's services were engaged as wineconsultant by Siran for a time and asked if this vintage fell under his watch. Edouard said it did. Perhaps that was the reason, who knows? I definitely liked this wine.
January 1, 2009
- What I can add now is that this wine has bright, effusive red cherry and raspberry topnotes over its moderately minerally cassis/blackcurrant base. There is the masculine nuance of leather and a whisper of iron typical of Siran, but this is a very approachable and food-friendly wine.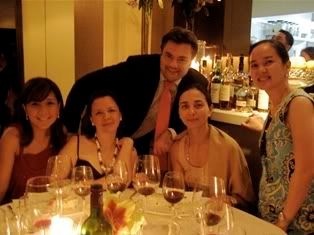 Dessert was then served: a light, ethereally light
Pavlova
, curiously paired with...
1959 Château Siran
- I must confess that I didn't get a good sampling of this wine. I belatedly got to my dessert as well since I was busy chatting with friends, taking pictures, going out for a cigarette break, etc.
Fortunately, J-Lab was at the dinner and, ever-reliable with his little black book, he was able to capture notes from his table's good magnum of the wine. With his permission, his notes are as follows:
Chateau Siran 1959 -From magnum. A bit muddy but much darker than one would expect from a 50 year-old wine. Just starting to get pruney. Still has some good weight to it but the fruit is mostly faded which makes the acidity jut out at the finish. This has definitely seen better days so best to drink up.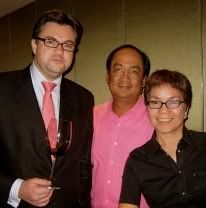 Not exactly a rave review, but not shabby for a half century-old wine that had to make its way to Asia in cargo. Perhaps the long plane trip overly-stressed the old fellow, as I recall the sublime 1953 Siran I enjoyed 2-½ years ago (my favorite Siran of all, depicted on my blog's heading) - and that wasn't even from a magnum, but a regular 750ml bottle. Their 1928 was still in good form as well. The bottle of 1978 Siran the Vigneron gave me around a year or so ago even tasted youthful.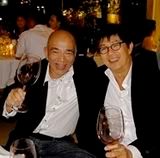 Be it as it may, the fact that the 50 year-old wine still lives, recent jarring plane ride and all, is a testament to the longevity of Siran's wine.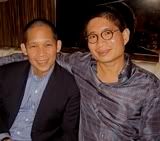 Not many wines could even hope to do the same, or come close. Besides, the mere opportunity to taste a 1959 is a treat, one we confirmed winos recognize and appreciate in itself.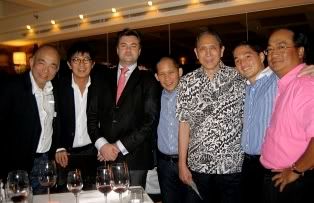 Much talk, much laughter, the evening wound down with some double espressos (to ensure a safe drive home). In closing, all I can say is that, with this generation, Siran will continue in good hands.