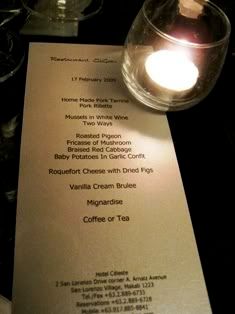 17th February 2009, dinner at
Ciçou
organized by the Stockbroker. We were 8 in all: the Stockbroker, Bernd, Johnny R, J-Lab, Keiichi, Arnie, Vince and myself. In light of the bottles to be opened, I was assigned to make the pairing menu. Before anything else, I would like to thank Cyrille for accommodating our request for this special menu.
Through a series of group e-mails, we decided on the bottles to be brought way beforehand. I thought to keep the menu simple, a backdrop, really, for the wines to take center stage. It wasn't difficult at all, it took only two e-mails between Anna Soenen and I to get it finalized, and, thereafter, approved by the Stockbroker. For the
mignardise
, I specifically requested for Cyrille's
macarons
to be included as they are the best I've had locally - not overly sweet like the "commercial" ones tend to be.
We all started trickling in at 7 pm; the reds were opened but not decanted, while the whites were placed in buckets of ice water. By the time the amuse bouche was served, we had started on the bubbly...
1988 Louis Roederer Champagne Cristal
- J-Lab's bottle (he and Bernd are this group's champagne
aficionados
), the top-of-the-line cuvée of the house, created in 1876 for Russia's Tsar Alexander II - so named because its distinctive flat-bottomed bottles are made with clear lead crystal. So exclusively made was this cuvée that it did not see commercial distribution until after WWII.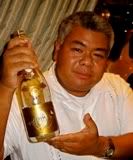 In past experience with the '88s of Dom Pérignon and Krug, they have been comparatively linear, more focused, not as hefty or rounded in the middle, and the fruit not as ripe as the mentioned producers' '90s. I've not had the '90 Cristal, so would have no idea if this seeming vintage characteristic would hold true in this case.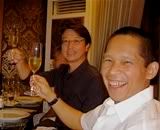 This tastes much younger/fresher than any '88 Dom Pérignon I've had. It is also lusher, materially rounder and much more complex, I couldn't even think of calling it linear. There was a touch of grapefruit jutting out at the finish early on, but this eventually submerged. Exquisitely layered ripe apple, pear, fresh apricots, whisper of coffee underneath, with gossamer notes of gingerbread spice flitting about.
A bit of air and a gargle release lightly creamy brioche and slight nuances of biscuit and mocha just past mid mouth. I noted that whatever it gave up to Krug in body and power it made up in an acid balance, vibrancy and freshness of fruit. Beautiful champagne that can last years more.
~ oOo ~
With
Home Made Pork Terrine and Pork Rillette with a side of Cornichons
...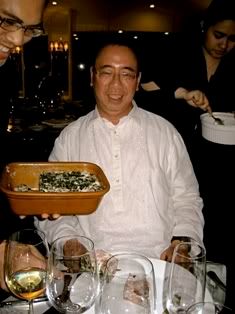 Vince preparing for a cardiac first course.
1999 Rolly Gassmann Gewürztraminer Kappelweg de Rorschwihr
- Arnie's bottle.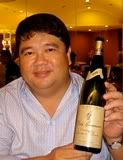 Just to get this out of the way, Rolly Gassmann is not a person. The name is the combination of the last names of the founder-spouses Marie-Thérèse Rolly and Louis Gassmann. It is based in the small town of Rorschwihr (which, if I recall properly, is just a few minutes drive south by southwest from medieval Riquewihr) and Kappelweg is considered one of the top
lieu-dits
of the area.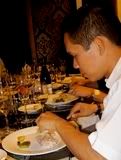 Viscous and oily in mouthfeel. Sweet lychee-dominated palate with notes of rose, ripe peach, hint of white minerality. Hefty residual sugar in this - tastes like a vendange tardive, but isn't - I've noted a similar characteristic in Weinbach's wines made of fruit from the Altenbourg
lieu-dit
. Its sweetness and sufficient acidity made for a good marriage with the richness of the pork terrine and rillette. The cornichons also helped cut the dishes' luscious fattiness.
Together with this, I had...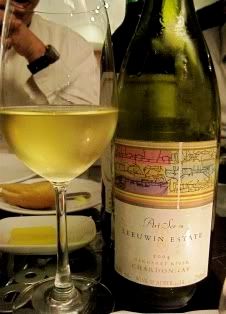 2004 Leewin Estate Art Series Margaret River Chardonnay
- Johnny R's bottle. I remember this wine showed quite well in the International Wine & Food Society's Blind Chardonnay tasting a little over a year ago (24th January 2008).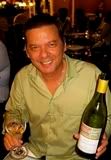 This hefty, generous and very fruit-forward Aussie chard has nice balancing acidic and mineral lift to its nicely rounded, ripely sweetish, softly-baked apple, pear and vanilla/oak dominant flavors. Nuance of butterscotch as well. Mild citrus notes emerge past mid-mouth and hug the background. I also liked this a lot with the pork rillette, its ripe fruit and vanilla/oak running hand-in-hand with the dish, adding a baked apple dimension to the pork (roast pork loin with applesauce came to mind), leaving the cut to the cornichons.
~ oOo ~
With
Mussels in White Wine Two Ways
...
2003 Dagueneau Pouilly-Fumé Pur Sang
- The Stockbroker's bottle, from the late, great Didier Dagueneau, the Loire's bearded, long-haired "madman of St-Andelain". "Pur Sang" in English literally means "pure-blood" or "pure-blooded".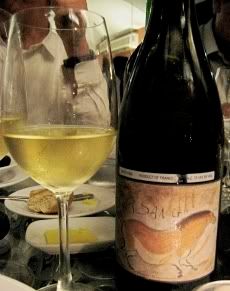 Despite being riper and oakier than most any Pouilly-Fumé I've had, this wine's flinty minerality shines through the ripe grapefruit, gooseberry, citrus with hints of chaume and even a whisper of sampaguita in the initial aroma.
Definite yet discreet drive in this. Vibrant and confident. Admirable structure; excellent balance of fruit-ripeness, oak against minerality and acid. This I enjoyed with the first way of mussels - the mussels themselves with crusty bread - as the Leewin was too fleshy and low in acid for the dish - providing no refreshing contrast or cut that I normally prefer in pairing wine with food. I'm also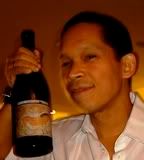 a stickler for regional pairings - in the Loire, especially in the Pouilly-Fumé and Sancerre areas, these wines are paired with simply prepared mussels and other shellfish.
With the second way: a moderately creamy soup incorporating the juices of the mussels and the white wine, the Leewin paired well. Personally, though, I felt the Leewin paired best with the pork rillette and pork terrine.
~ oOo ~

With a fat, juicy, earthy main course of Roasted Pigeon with Fricassee of Mushroom, Braised Red Cabbage and Baby Potatoes in Garlic Confit...


1997 Domaine de la Romanée Conti Grands Échézeaux - Keiichi's bottle, a generous treat indeed. Anyone who is even vaguely familiar with Burgundy knows this maker and its sticker-shock wines. Madam Lalou Bize-Leroy, also a top producer of the Côte de Nuits in her own right whose wines approach the prices of DRC, is part-owner of Romanée Conti as well.

Grands Échézeaux is a grand cru located near Clos de Vougeot. Keiichi said, when he visited, he'd take his morning runs through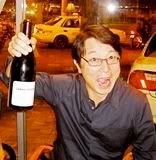 country roads from the latter, through the former, all the way to Vosne-Romanée.
As for me, while my wife and I would stroll through the famous vineyards in the same area, I'd drive to Clos Vougeot. Apparently, taking the main road loops you around quite a bit.


Me, with the clos of DRC-DRC on the right (the fruit of which is made into DRC's self-named top wine).
A few deep sniffs of this wine reassured me that I made the right choice in choosing the main course. Its earthy bouquet and flavors of black cherry, dried cranberry, ripe dark raspberry, whisper of cola, ceps and old violets over somber dark fruit, with just a whisper of Burgundy decay, didn't jump out, but were easily detectable if one paid proper attention. In the mouth, there was an added nuance of earthy red beet. When I think of it now, I was probably unconsciously trying to re-create the dinner I had with my wife at
Jardin des Remparts
(*Michelin) at Beaune where I had a similar dish with a somewhat disappointing bottle of '96 Domaine Dujac Échézeaux (also a grand cru, but different from Grands Échézeaux).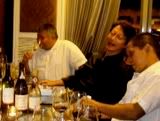 The structure of this '97 Grands Échézeaux was good enough to make a quiet statement, very pliant, its medium body a bit soft and low in acid. It was delectably earth-driven (as traditional red Burgs should be) and in good form. If I had any of my own (which I don't), I'd drink up within the next two or three years. In better shape though than the 1992 Domaine Romanée-Conti Échézeaux.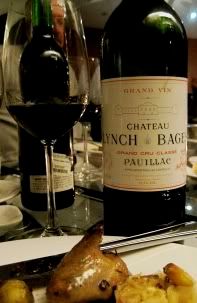 1986 Château Lynch Bages
- Bernd's bottle, this being one of his favorite makers of Pauillac I believe.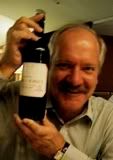 It took around 10-15 more minutes breathing in my glass for it to start releasing. Very masculine Pauillac, with great depth to its mild warm asphalt, slight roasted herbs, discreetly lead pencil-infused molten dark fruit/cassis, cedar, just whisper of leather underneath the fruit.
Great depth in this earth-driven, quietly serious wine - excellent typicity for Pauillac. Not really a wine for those who look for lush, juicy fruit-forward/driven reds. This is classic Pauillac as opposed to the generally more approachable, lusher, bigger-fruited wines of, say, Mouton Rothschild, Pontet Canet, etc. I must mention though that 1986 yielded notably tannic, very masculine, somewhat stern, long-maturing wines. Me, I love 1986 Médocs.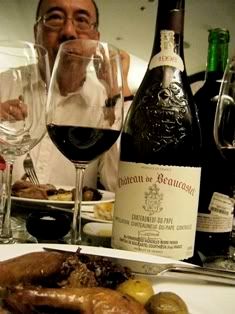 1998 Château de Beaucastel Châteauneuf-du-Pape
- Vince's bottle, by one of the most highly regarded producers of the southern Rhône. 1998 is one of the best recent Rhône vintages, along with 2001. I, personally, find that '98 CdPs mature materially slower than '01s. That said, this bottle seems to already be
beginning its stride.
Admirable structure in this, lots of baked, meaty dark fruit with great breadth, power and grip - hints of violet and wood infused in the fruit and a touch of
garrigue
peeking from underneath. This is no mindless fruit bomb, the wine shows marked balance in its fruit, acidity and tannins. Earthy, but to a much lesser extent than the two previously discussed wines. Very good push in this.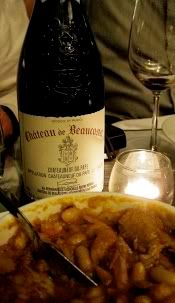 A few noted the absence of barnyard/gamey notes Beaucastel is known for. The Stockbroker explained that the wine is probably too young to have developed the same. Personally, I loved this wine the most as a pairing for the pigeon; it had the push, youthful muscle and fullness of fruit to counterpoint the dish's inherent earthiness. Many, many years of life in this wine. I enjoyed the aged Burgundy and Bordeaux more on their own and happily ate with this wine.
Knowing how much I love his
Cassoulet
(ever since I tried it at
Jérôme's Beaujolais Not Nouveau Dinner
), Cyrille sent out a sizable complimentary bowl of it for everyone to enjoy. Ok, I admit, I jokingly told one of the waiters right before dinner that I certainly wouldn't mind trying it again that night, but I, in truth, did not think he would relay my joke to Cyrille.
In any event, it was an absolutely delightful and much appreciated surprise. Its natural earthiness made it a hand-in-glove pairing with this wine.
1979 Château Pichon Longueville Comtesse de Lalande
- My bottle, one of a batch I purchased around 2½ years ago. The last bottle I opened took second place to the Doc's 1996 Cos d'Estournel in our
Blind Bordeaux
Challenge VIII
on the 20th December 2007. Pichon Lalande typically uses more merlot than most Pauillacs and has a hallmark graceful and feminine air about it (Siran, owned by members of the same family until Pichon Lalande was sold around a year and a half ago, also uses more merlot than normal in its appellation, but, as far as I know, uses materially more petit verdot than the latter that helps give the former a more masculine and spicy character).
This wine, to my mind, is fully mature and this particular bottle was in impeccable condition. I bought the batch from a particular retailer in SF because I knew that the negociant who supplied them (LD Vins) got them straight from the château. It displayed its typical feminine grace yet still called Pauillac to mind with whispers of sweet cedar, gravel and lead pencil in the perfumed bouquet. In the mouth, it was a silky, seamless blend of red fruit over dark with just a fleeting hint of truffle. Lovely wine, as good as the last one I thought, though the Stockbroker said he felt my last bottle of this was better.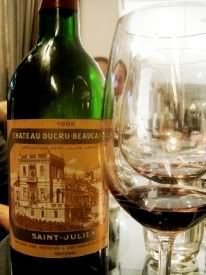 1986 Château Ducru-Beaucaillou
- Bernie Sim's bottle, he wasn't with us for dinner but at a nearby table with his other friends. That didn't stop him though from sending Johnny and I a glass each of this to try.
In all honesty, I am no big fan of this famous 1855 Classified 2nd Growth from St-Julien. I've tried several of their vintages and liked them well enough, but find them too expensive in relation to the enjoyment I derive from them. For St-Julien, I prefer the wines of Léoville las Cases, Léoville Poyferré and Gruaud Larose.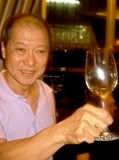 In any event, the flavors of this wine were nicely and comfortingly St-Julien. Suave, smooth and harmonious cassis, blackcurrant, suggestion of charcoal, tar, slight licorice, nuance of cigar box. The body, however, was sorely lacking, thin, virtually emaciated. The flavors were there and quite nice, but they just washed away with virtually no finish. Good for quaffing, I suppose, but not at the price Ducru Beaucaillou normally commands. That said, I am thankful to be able to have tried this wine as I wouldn't have bought it myself.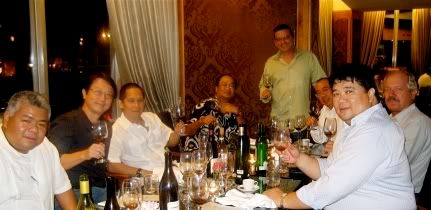 With Roquefort and Dried Figs came the star of the evening, the dinner's raison d'etre...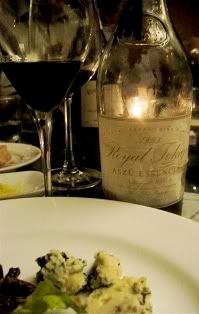 1993 Royal Tokaji Wine Company Aszú Essencia - The Stockholder's bottle. I've explained in previous posts the nature of this ancient Hungarian sweet wine called Tokaji Aszú, the measure of sweetness being measured by puttonyos up to 6, the higher, the sweeter. Aszú Essencia (or "eszencia") is different in that it is made completely from the juice of botrytis cinerea infected grapes without any base wine (of uninfected grapes). As such, Aszú Essencia has, by definition, higher sugar levels than Tokaji Aszú.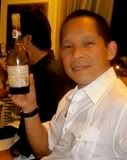 Tokaji Essencia (without the word "Aszú") is the highest level of this type of sweet wine, the difference between it and Aszú Essencia being that the former is made only from the free-flow juice of botrytis infected grapes (i.e., no manual or mechanical pressing, just the weight of the piled grapes themselves).

While Aszú Essencias are inherently darker than Tokaji Aszús, this wine appears, to me, more advanced than its 15+ years of age (these types of wines, like Sauternes, are very long-lived and get darker and darker as decades pass). There was a tiny bit of murkiness as well.

That said, it was a rare treat, displaying dried apricot, touch of canned peach, bit of orange marmalade, dark caramel, dried fig, roasted walnuts, suggestion of Turkish coffee, very faint nutty-sherry-oxidative notes (n.b., a whisper of oxidation is not necessarily a flaw as, traditionally, these types of wine are purposefully allowed a bit of oxidation). These flavors are ethereal, no heaviness, nowhere near cloying despite its sweetness due to its fresh, brightening acidity. What struck me most about this is how very clean it tasted, from strike to mid-palate all the way to the long finish.

Pairing this seemed like a no-brainer with the bleu and dried figs (as they are also traditionally paired). It would also go with foie gras, but I figured to make this the evening's pièce de résistance. I suggested that it be taken alone, with experimental sips, at most, with the cheese, figs and the following dessert of Vanilla Crème Brûlée. Of those three, I felt the wine was best with the dried figs. Johnny R commented that he could taste mostly the cheese at the finish - and, after trying it, I agreed - the roquefort was a bit too obtrusive - maybe a less agressive aged cheese would have gone better.

Cyrille then came out, greeted by a round of well-deserved, heartfelt applause and a fullisade of congratulations.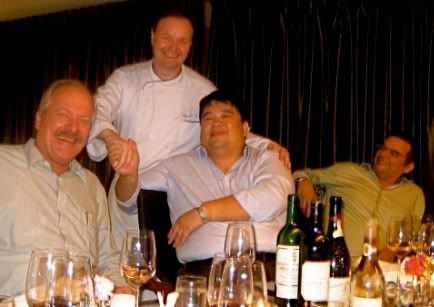 Many thanks, Cyrille and Anna, for the wonderful meal; of course, to the Stockbroker for conceiving and organizing this dinner, and to everyone in attendance who generously shared their wine and company that night.